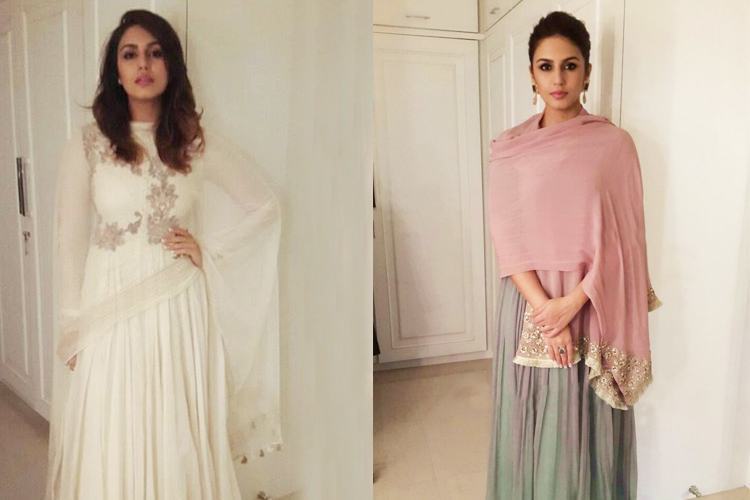 This Ramzan time flew by and before we knew it, we completed 19 days of the holy month so far. How crazy is that?
While Ramzan is quickly coming to an end and everyone being busy shopping for eid, Huma Qureshi on the other hand is busy with iftaar parties. Well, can't blame her for that because we have been doing the exact same thing!
[Also Read: What to Wear to Iftar Parties 2015]
The only difference between Huma Qureshi and us is, Huma Quershi looks like a total star and we try our best not to look haggard! Ha!
Anyway, coming back to the topic at hand, let us show you how pretty Huma looked at two recent iftaar parties
Iftaar Party #1
For the first iftaar party, Huma went the angel-esque way and wore a beautiful white anarkali by Rimple and Harpreet Narula. While the anarkali was rather plain, it looked HOT on Huma Qureshi and we are still trying to figure out – HOW? She styled her hair rather nicely and went with the strobe-effect makeup. Golden heels with white nail polish completed her look!
[sc:mediad]
Iftaar Party #2
The second iftaar party just blew all our minds. Would you please look at what she's wearing and take a moment to appreciate how beautiful she looks? In a Shruti Sheth anarkali which had the most boring colour combination (grey and pastel pink) Huma looked gorgeous. Who would wear grey and pastel pink? Looking at Huma look so gorgeous, we think, this is one combination we are going to give a try and add it in our list of staples. Statement earrings, updo, smoky eyes and strappy heels with ox-blood nails completed her look. LOVE? Or LOVE!!
Huma Qureshi totally nailed both her iftaar party looks and we love how she chose to look pretty and beautiful instead of sultry and sexy. Modesty is the key this month and Huma is totally leading us!