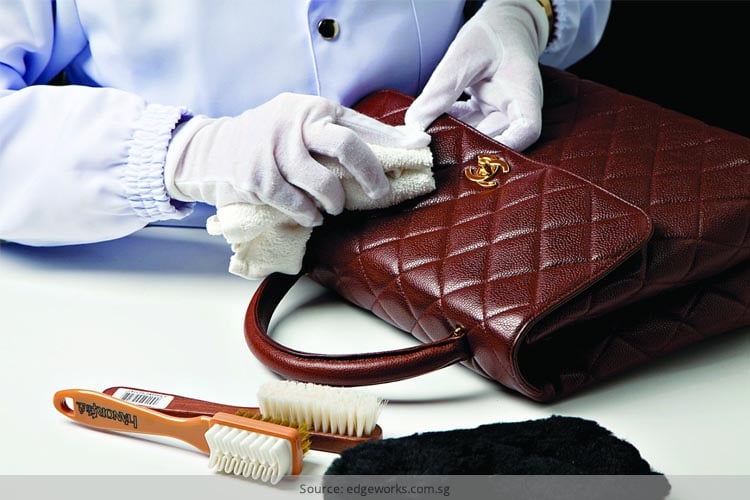 Leather handbags and purses have been ruling our wardrobe essentials for quite some time now. We can hardly resist ourselves when we see a pretty tan on a shopping website or even a store window. Once brought home, these leather bags become a staple addition to all our outfits and we want to keep using them forever and ever and ever. We carry them everywhere from coffee shops to workplaces, while traveling or even when visiting a friend casually. That's completely okay as long as you are comfortable carrying it around.
[Also Read: Stylish And Best Leather Travel Bags For Your Weekend Trip]
However, there is one itsy-bitsy problem. Amidst all this, we usually forget the most important thing, which is leather handbag care. We aren't just talking about keeping your handbag safe, we are talking about keeping your leather handbag clean. Yes! Handbag laundry is not really a myth after all, especially when you consider your super favorite leather handbags.
HOW TO CLEAN LEATHER PURSE
When To Consider Cleaning Your Leather Handbag?
Purchasing your handbag may have been an uphill task but taking care of the handbag is an equally challenging job. So, when do you actually start considering handbag laundry? Here is a checklist that you could use for taking the decision:
There is prominent stain on your bag that just doesn't seem to wipe off.
You can visibly identify shaded corners on your handbag.
Last and most obvious, the bag doesn't have the same appeal as before.
If you identify with any or all of the above points, you might want to consider washing your leather handbag or purse. After all, who doesn't love a clean leather purse.
Is Sending Your Handbag To The Laundry A Good Choice?
If you don't want to take a risk at all, you could always opt for some professional care like Margaret's CleanByMail® service. There are also a lot of laundry centers that offer to dry clean your purse for you. Some of these places also offer a leather handbag polish service, which means that you get a total handbag care package for your little darling. But, it is important that you consider some things before taking a decision.
[sc:mediad]
For minor stains and blemishes, handling the bag at home might be the best option.
Purse cleaning, especially cleaning a leather purse/handbag, isn't as simple as washing a basic tee and cleaning designer handbags can be risky. If you're not very careful, it's all too easy to completely destroy your bag. So, it's important that you treat your bag with care and always test a tiny portion of the bag first.
All laundry centers are not the same. Some cheaper ones may completely salvage your bag.
You may encounter some adverse effects of dry cleaning like:
The leather can get hardened and puckered.
The original dye can be removed in numerous places or you may get some discolored spots.
The handbag fabric may get scuffed in some places.
To avoid these things you may want to choose some reliable handbag care centers and also have a look at the chemicals they will be using. Do remember that different leather materials react to cleaning agents and chemicals differently. This way you could be 100% assured that your bag will come back to you in good shape and most of the times as good as new.
A Suitable Alternative
If you're not someone who would want to avail professional help, you can always choose to do it a home. Here is how to clean leather handbag at home.
There are a number of ways to clean your leather handbag at home, but one of the simplest ways to do it would be using the washing machine. But, do this when you're absolutely sure. The most important thing would have to be choosing your cleaning agents correctly.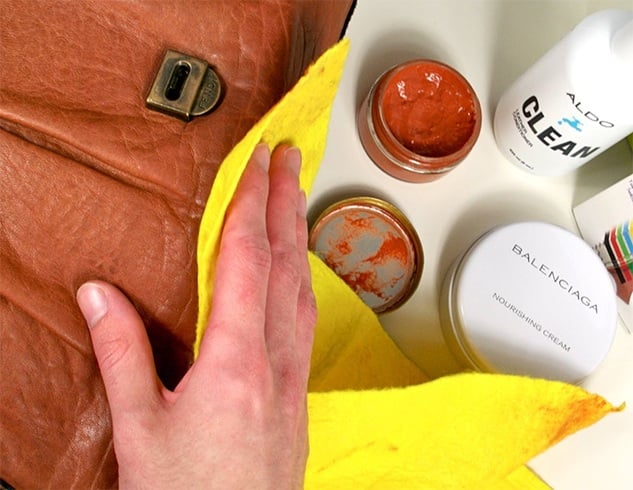 If you still want to go with this low cost alternative of some professional care, start with purchasing some Dr. Bronner's liquid castile soap or Murphy's oil soap or any other softening liquid soap you're fond of. Then, diligently follow the steps till the end.
Instructions
Step 1: Completely clean out your bag and make sure you have checked every little pocket. This is the most important step as it is the only preparatory step.
Step 2: Take about 1/4 cup castile soap and put it into the washing machine, with your bag.
Step 3: Set the washer setting to gentle hand wash cycle, turn it on and wait.
Once the cycle is done, you could choose to toss the bag in the dryer on low heat in between some clothes or towels for about 5-10 minutes. Otherwise, you can just hang it outside to dry off naturally. It is also advisable that you rub on some leather conditioner once your bag is completely dry as an aftercare measure. Once all done, you should have a clean leather handbag just as good as new.
Now, that you have some great tips on how to clean leather purse, you can choose the method that suits you the best and keep your favorite bags in shape for years.