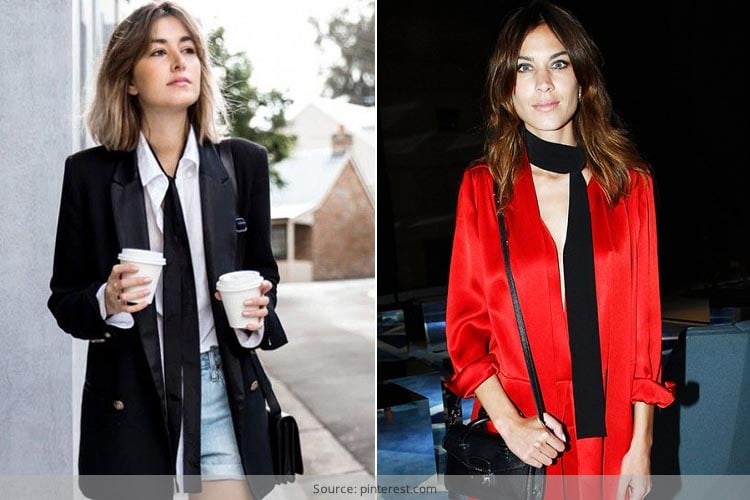 In our previous posts, we have spoken about how to drape a scarf, and those were the thick woolly ones. But now things have changed, because as you know, fashion evolves. So, here we are today talking about skinny scarves, the styles available around, the trends on skinny scarves women can wear and more. Take a good look at the various ways we found the humble skinny scarves can be worn, and emulate them to make fashion statements galore, just about anywhere you plan to go.
[Also Read: 20 Chic Ideas On How To Wear Scarves And Stoles Decoded]
7 Amazing Ways To Wear Skinny Scarves For Women
1. Spice Up Your Formal Look
If you are wearing one of the thin scarves to work, we would advise wearing black polka dotted ones with the tuxedo and a crisp shirt. For the bottoms, wear straight cut pants and complete the look with heels for the same. The thin polka dotted sheer scarf would be a fashion statement sans the need of any bling to wear at work, and it pulls through as a very professional look too. Woo your boss, your clients and be the reason why your colleagues go green with envy when you walk into your cubicle too.
2. Replace your Chunky Neckpiece With A Scarf
The devils color choice as told by many would be red and black. But if you really don't bother about the old wives tale, you can have a silk red dress worn for a party and give the chunky neck pieces a miss. Tie along the neck a silk scarf – one in dark black for the evening, and carry a sling bag with you. Complete the look with peep toed heels or maybe stilettos for the feet.
3. Twist It Like A Tie
For an evening out with your friends or maybe to create a cool chic fashion statement, you could wear denim shorts with a crisp white shirt. With the thin scarf in dark colors for company, what you could do is wear it at the collar opening in front, like a tie, leaving the tails to hang fashionably. Pretty neat and very feminine! Complete the look with sneakers for the cool tomboyish look!
4. A Double Tussle Elegant Printed Scarf
For more inspiration, you could take a long skinny scarf and pair it with a strappy frock or an off shoulder dress. Ensure that the dress is in black, or else it wouldn't do justice to the vibrant printed scarf. Wear heels for the feet and keep the makeup minimal. To enhance the look, you could wear chunky bangles on the wrist.
[sc:mediad]
5. Wear It As A Choker
Choker trends are in, which is why a long skinny scarf can be worn as a choker. What you could do is to wear a pair of bell bottom jeans, with a sleeveless shirt and an open trench coat in dark hues to make a look come through. Along with this, tie the scarf around your neck into a skinny choker; just ensure it isn't too bulky or tight, which is why looking for a silk or a satin scarf makes sense here. Complete the look with pumps or heels.
6. Tie It Like The Infinity Scarf
We have seen many ways on how to tie the infinity scarf and the ruffle scarf, but here is what we shall do with the long skinny scarf – wrap it around the neck and allow the tails to fall in front on either side. Wear it with tees and tops, a shirt or maybe a kurti, and you wouldn't need a statement piece after that to make your fashion sense rock!
7. Wear It Backwards
If you are bored of wearing the skinny scarf in front, you can wear it backwards to flaunt a sexy back. Backless tops and cholis galore, a skinny scarf worn backwards draws attention to the soft toned body you have, so why not have a blast wearing the thin silk scarf knotted behind?
We hope you gather your cute scarves and make fashion statements in your own imaginative ways with skinny scarves from now on! Do write in if you have any styling tips to share with us.