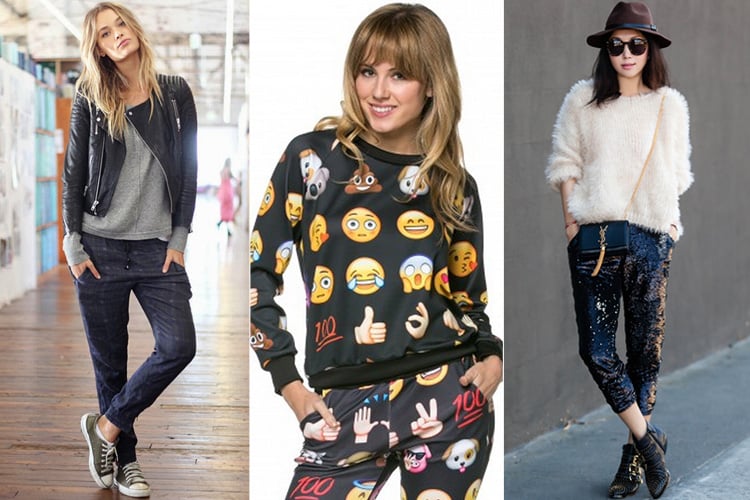 Well ladies, if you asked us our idea of a perfect winter afternoon, we did say a day spent snuggled up in our spot in a pair of lounge pants and sweatshirts with a new book and some hot chocolate.
How about making a statement with this comfort clothing combination the next time you step out?
With the fashion world tuning themselves to the athleisure mode, it won't be wrong to say that joggers are the new denim. The most trending lethal fashion weapon shined all through the spring summer paired with crop tops. With crop tops taking a backseat considering the dipping temperatures, sweatshirts have taken over as their all new companions.
With core sportswear brands like Nike and Adidas launching their casual athleisure collections, we are sure that this one fad is here to stay and slay.
To give your joggers a fashionable upgrade, here's a quick lookbook to inspire you to sport some head turning jogger and sweatshirt swag.
Sequined Joggers and Neutral Sweatshirts
Ditch those usual dresses and gowns for the evening, and opt to go edgy in a pair of slouchy sequined joggers paired with subtle sweatshirts. For some added brownie points wear the outfit with a pair of heels and tinted shades.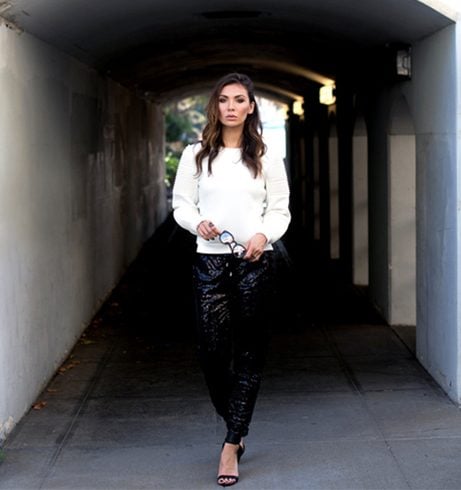 Club street fashion with high fashion, by opting for more furry sweats with a pair of sequined joggers. A statement sling is sure to amp up this look. Ankle length boots worn with slightly rolled up jogger pants will only add more styling credits to your kitty. Complete this one with a winter staple, woolen fedora and you will definitely have your moment of spotlight.
[Also Read: Sweaters To Wear With Leggings]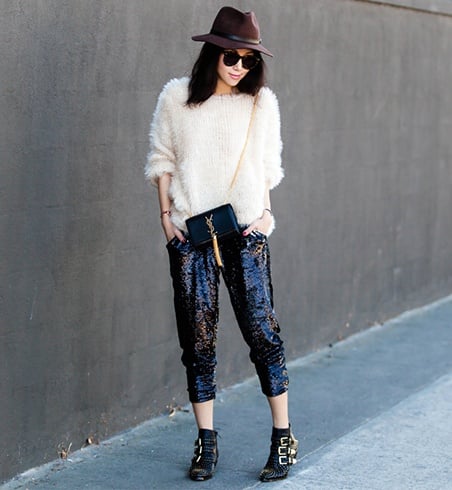 Ace The Basic Jogger and Sweatshirt Look
Basics are classics, which will render you much shine even when this extreme jogger fever is over.
To style your basic jogger and sweatshirt this season, a must try look will be to sport a shirt under your sweat and master this not-so-formal chic look. Boots are a must to seal this one.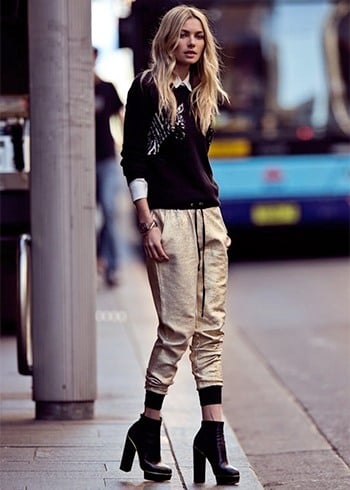 Be your fashion stylist and style up your go to jogger and sweatshirt look with an edgy eye catching choker neckpiece. That is surely an instant way to upgrade your statement style. A sling and a dark pout should perfectly justify this sweater weather appearance.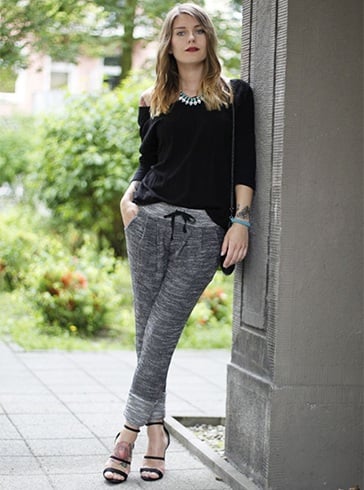 Elevate your everyday look layering your basic sweatpants and sweatshirt look with a denim layering. To add in more winter element a knitted scarf rolled around your neck is sure to amp up your oomph.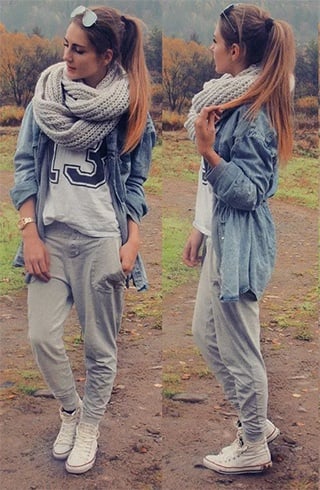 Branded Joggers Suits
Jogger suits are a must have in every wardrobe. With the character of joggers being redefined with every passing day we say, you too experiment with these separates.
If you love to flaunt your brand then we say this season opt to do the same in more brighter hues and redefine cool.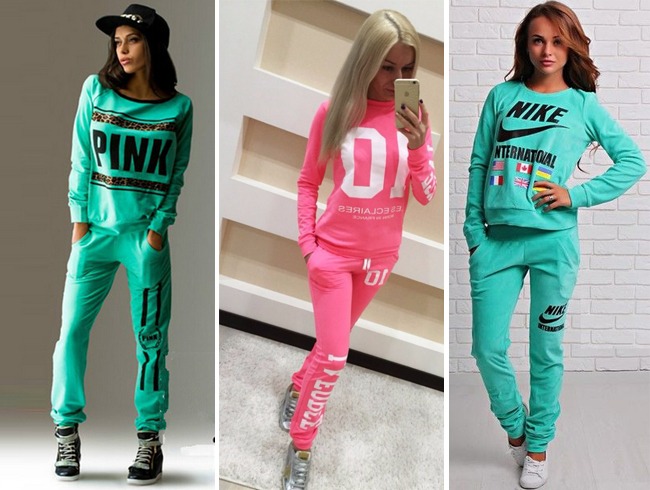 A dash of print is sure to upgrade your tracksuit to all new highs.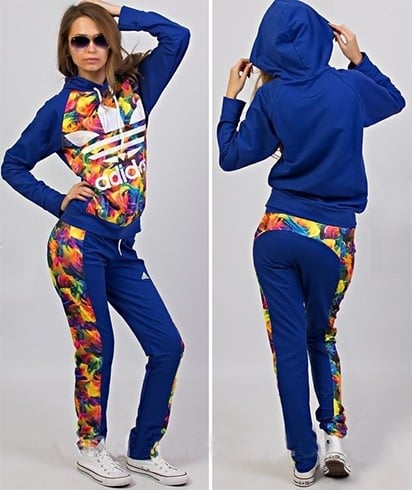 With camouflage at an all time high, something like this one will definitely get eyeballs hooked on to you.
[sc:mediad]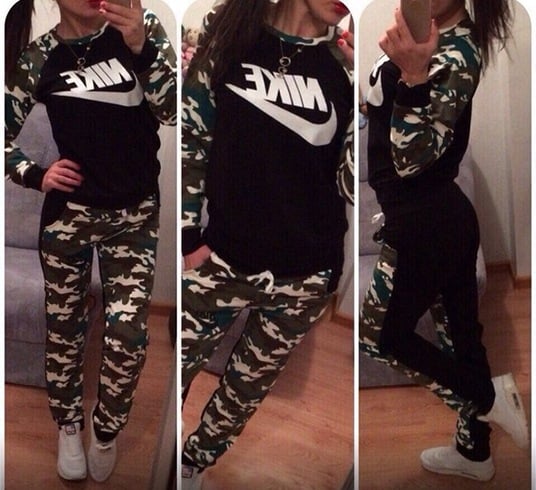 Keeping it low key letting the brand enjoy the spotlight may be a good deviation.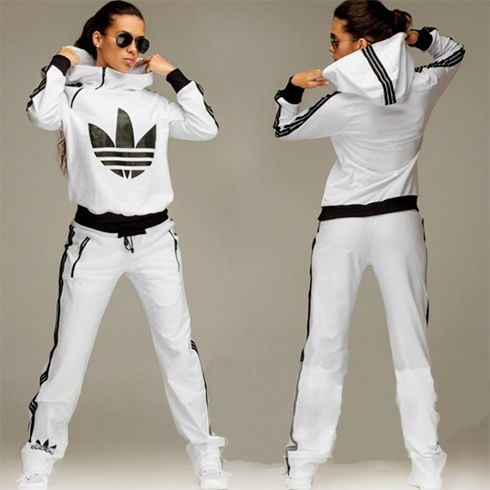 Playing a bit of a peek-a-boo with cropped sweats is also a great idea.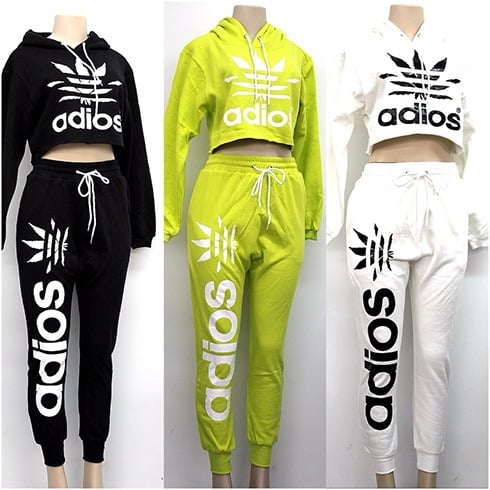 Joggers And Sweats Layered With Leather Jackets
For places that boast of superior chill, layer up your go-to basics with a leather jacket. A jogger paired with a basic sweat and a leather jacket will amp up your winter oomph keeping you warm within. A pair of sneakers should go just right with this look.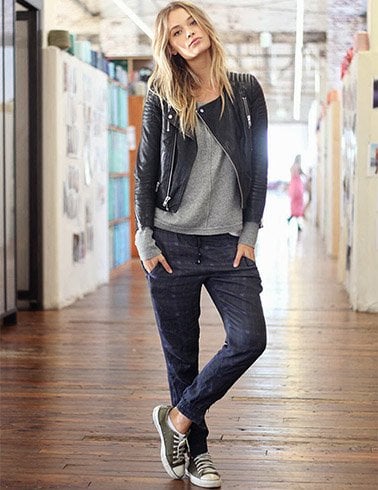 For some rock chic look, pull up your joggers a bit and complete the look with a nice tote bag and shades.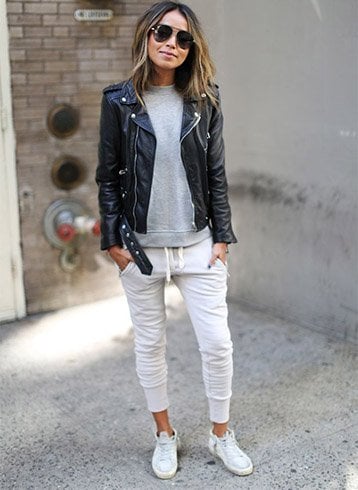 A high street feel can be added with a pashmina curling up your neck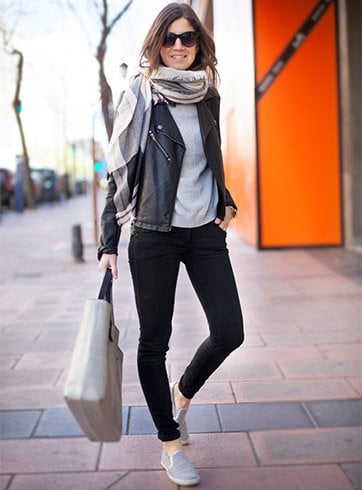 If basic is not your type, then make a statement in a pair of printed joggers or a bright solid color jogger to ensure that stare from onlookers.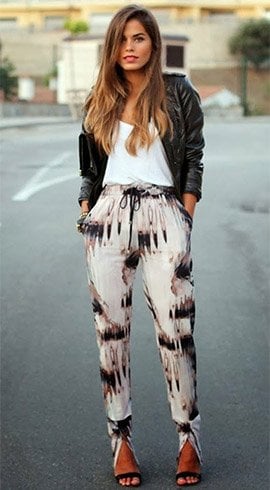 For some added twist you could also opt for a color like marsala for your leather jacket.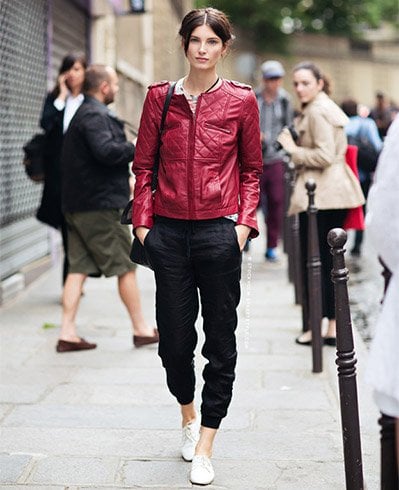 Standout Printed Joggers and Sweatshirts
For the lot who loves playing with their quirk quotient, we suggest you elevate your edgy character sporting prints the athleisure way this season. With sweatpants and sweatshirts on a high, experiment with prints that define your persona.
Bask in some gold sunshine and flaunt gold foil prints on your joggers and sweatshirt sets for a standout look. We suggest a complimenting leopard print footwear detailing should render some extra edge. If you find this heart of gold print then I suggest you grab it at once.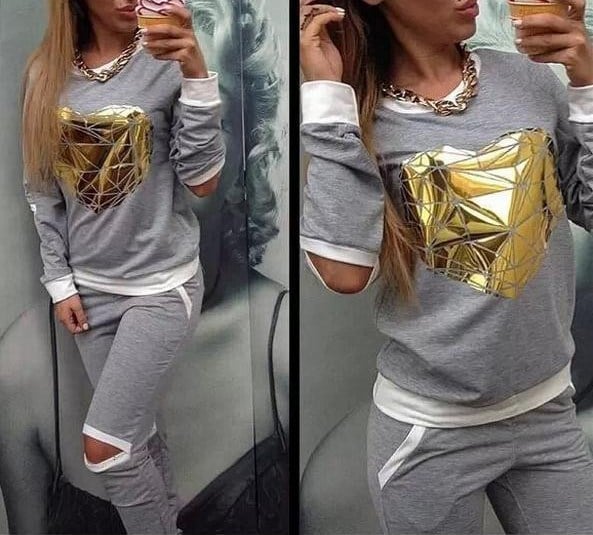 A printed sweatshirt paired with basic leather joggers could define the classier you. We heart that color and print along with that faded imagery of the leopard coming through.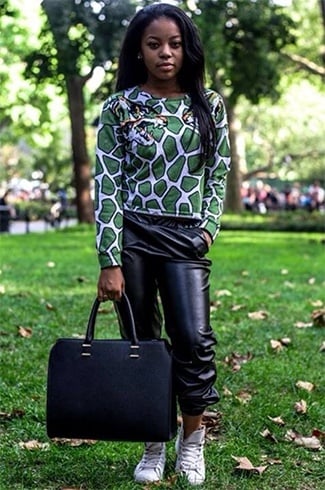 Spread smiles the solitaire way like this one pairing a cropped sweatshirt and leather joggers.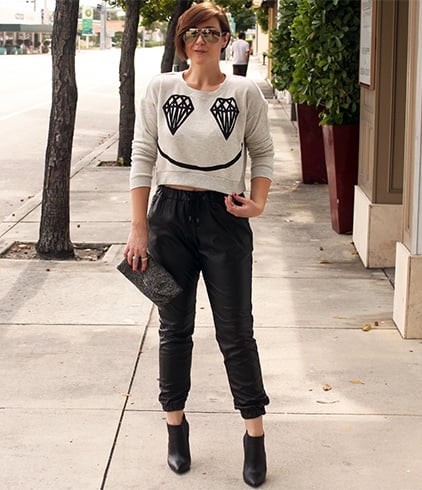 If Emojis is your style then you can opt for a power suit like this.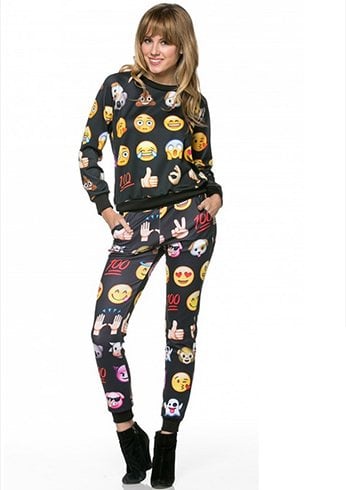 Monotone Joggers And Sweatshirt Separates
Tone on tone is trending high and when you mix two most trending fashion elements you are sure to emerge as a rising fashionista.
A tomboy look in a monotone jogger and sweatshirt set is a must this winter. If you are out to run your usual errands or to pick your latte, this spotting is sure to go unnoticed. A baseball cap will only heighten your tomboy disguise. Do not forget to round up this one with kicks.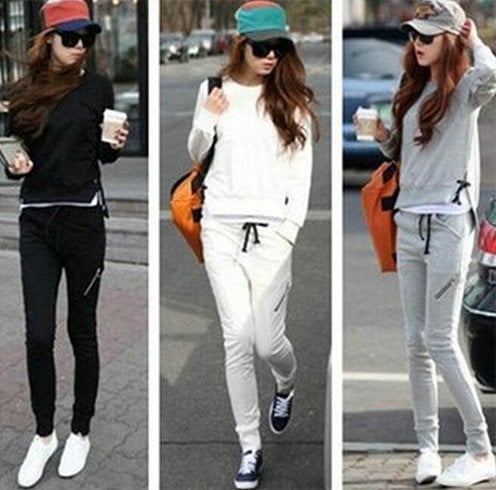 Upgrade your monotone lounge-wear look with an elongated layering in the same tone. Opting for pastels will definitely be like a breath of fresh air in your winter wardrobe.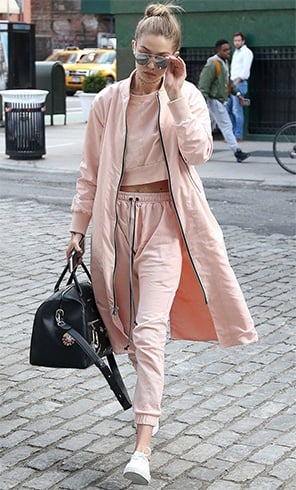 So, ladies, we hope we have left no stone unturned to get you all the inspiration to wear your favourite sweatshirts and joggers the fashionista way.
Images Source: pinterest