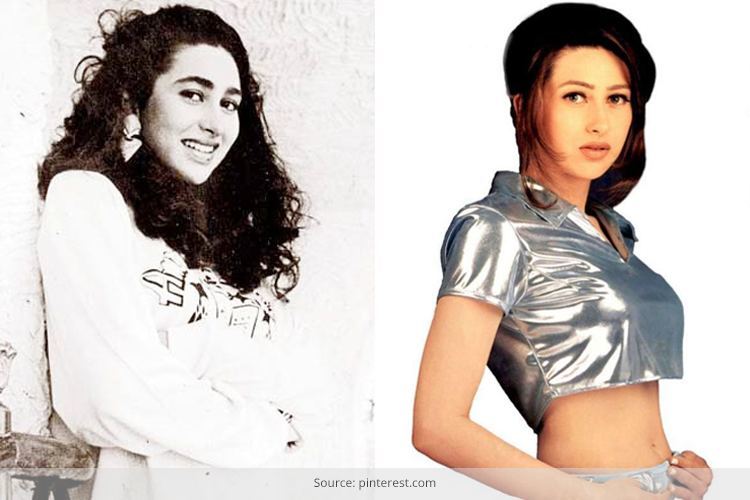 Remember how the media fashionistas poked fun at Karishma Kapoor's (Bollywood celebrity) caterpillar eyebrows and her sense of dressing. Well why wouldn't they!
Karishma hailed from the much acclaimed Kapoor 'khandan' – a royal name in the world of Indian cinema per se. It could be reason enough as to why everyone ranted and spoke ill about her sense of dressing back then.
KARISHMA KAPOOR DRESSES AND FASHION DECODED
Reminiscing the good old 1990s and the fashion back then, we cannot but rave a little praise on Karisma Kapoor style.
Was That The Case Always?
The answer is no and with regard to Karishma Kapoor style, and much before Bollywood went serious with its fashion trends somewhere in the last part of the 90s and the beginning of 2000, fashion statements were played with, experimented and some pieces went hideously wild.
Every decade has had its own fashion statement to make and to flaunt, and in the 90s, much more than Juhi Chawla or Raveena Tandon, Bollywood's sweetheart Karishma Kapoor made her own fashion splash with hits and misses in more ways than one.
She Made The Jump-Off Screen Statement
Talking about Karishma Kapoor style, the actress left no stone unturned in making an impact, albeit the misses. The 90s and with Karisma as a style icon, are known to go hand in hand. From sleek yet heavily embellished saris she wore to very garish and eye-sore costumes she flaunted. Karishma did add a spark to them all with her charm and grace.
That Was Then
Well she may not be in the limelight and on silver screen these days, but back in the 90s, she was the number one choice for every director. Actors made a beeline to cast opposite her, and her resume was highly weighted with commercial and author backed cinema alike.
[sc:mediad]
PYTs back then rushed to the malls and nearest master tailors to emulate Karishma Kapoor dresses, and that's when the movie 'Raja Hindustani' came about.
The actress metamorphosed into a woman, thanks to the designer touches of Manish Malhotra (eminent Indian fashion designer). We now got to see Karishma Kapoor in sarees, so chic, trendy, elegant and very beautiful.
Karishma's Style Showcased Women Empowerment
From jumpsuits to hot pants, sleek tartan short skirts to tracks and Indian ethnic wear too, Karishma Kapoor fashion through the 90s was a rage. With brilliant performances given over epic movies such as 'Shakti', 'Zubeida' And 'Fiza' to name a few, and pairing opposite the best Indian male actors that too, karishma proved her salt and mettle, time and again!
Yes she was a very fashionable lady of her times and still is, especially after the makeover done for the movie Raja Hindusthani, starring opposite Amir Khan (Bollywood celeb).
Here's a picture of her from 'Zubeida'.
Remember The Days Of Andaz Apna Apna
Before her transformation as a glam diva, Karishma dappled with the perms and the colour block fashion sense of the 90s. She wasn't a part of the cult status per se, but because the roles demanded so, she went ahead and flaunted her clothing style. Many wanted to emulate Karishma Kapoor makeup tips, but failed to do so.
Individuality and confidence galore, the hairstyles and makeup, fashion sense and carrying off her stance at award functions and events too, was much talked about of the actress. Often seen paired up with Govinda, Karishma Kapoor ensured that the cameras were focused on her glamorous looks, her eyes especially.
She Now Is 40
Who would say our glam doll of the 90s is now 40 years of age? There is a strict beauty regime she follows, handles her home with her kids, and also manages to do her media shoots, as and when called for.
The nation is waiting for her to make a comeback, and soon as well. Maybe she should bring back the dungarees and tees she once sported with total swag style, or the Sadhana styled churidar in white? Remember the movie 'Chal Mere Bhai', starring Salman Khan and Sanjay Dutt? That's the style quotient we want back for 2015 and beyond.
While many would rant and speak ill of the 90s fashion, one look at Karishma's style, and all mouths would shut. Maybe the next time we would want to research a little more to share with you the many Karishma Kapoor beauty secrets, which you could emulate. And, if that's not all, maybe a post on Karishma Kapoor fitness too, what say!