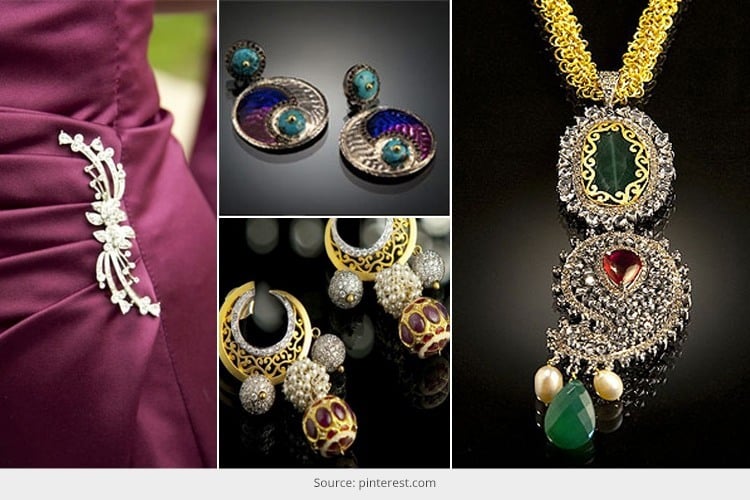 Don't we just love those chic designs and intricate embellishments on luxe jewelry numbers? And all credit goes to the minds and hands behind the manufacturing of the same. 2014 showed us a list of mind blowing designs to wear for parties, marriages, bridal events and cocktail get together moments. 2015 is a rage so far and today we would like to speak about seven famous new-age Indian and very desi designers who have made a name and a mark internationally too. Please read on and seek inspiration for the same, 2015 festivities are going to be a pocketful of bling, here, there and everywhere!
Raring To Make A Mark Further
Here are the top seven jewellery designer names that are making waves in the world of all things shiny and bling. With touches of ancient tribal art, amalgamated well with the new-age cutting technology and more, these are much sough after and coveted pieces of fashion that your eyes wouldn't mind feasting upon, day and night.
[Also Read: Bengali Jewellery Names]
Heard of Valliyan (a label dealing with accessories)? Valliyan is a celebrity brand and a posthumous winner of the eminent Grazia Young Designers Award for Best Accessories Designer, which Nitya won. She has worked burning the midnight oil to bring out the finest pieces of antiquity and modern art, to adorn the Indian lass!
TOP 7 JEWELLERY DESIGNERS
Raghavendra Rathore
The more we speak about Raghavendra's collection, the lesser would there be justice done to praise his name as an eminent new-age jewellery designer. He has already made a mark in making the best of men's wear and now his jewelry numbers talk nothing less than that of pure royalty. Take a look at his precious creations. From precious stones to diamonds, handcrafted delicacies and 18k gold embellishments, turban ornaments and brooches, buttons and lapels, bracelets so unisex and more, we loved each item presented.
Poonam Soni
Poonam Soni has been credited as the pioneer of new-age accessories in the nation, and hence an eminent name as a jewellery designer too. What began with a couple of sketches using a paper and pencil in the hands of Poonam, she now has a home based business and caters to the VVIPs across the nation.
[Also Read: Luxury Jewelry Designers]
Farah Khan
After her stint at the Gemology Institute of America (GIA), California in 1992-93, Farah interned for more than a decade with her family owned business as a Jewellery designer. She now caters to the rich and the famous, international VVIPs and all the way to Hollywood as well.
Suhani Pittie
Enlisted by the eminent WORLD GOLD COUNCIL as one of the top 10 Indian jewellery designers in the nation, Suhani made a mark with her individualism as seen through the chicest and most intricate designs on statement neckpieces and rings.
[sc:mediad]
Eina Ahluwalia
Nothing but luxe, and that is what Eina Ahluwalia can be best described as (her work says it all). Eina is also known as the pioneer of conceptual jewelry art, and the first to have made a mark in that domain in the nation!
Alpana Gujral
Quite famous on the international circuits of famous jewellery designers in India and abroad, Alpana is a veteran and known for her high-end luxe jewelry touches. She is a firm believer of the concept that jewellery is not meant to make someone look rich, but to adorn the existing beauty of the individual!
[Also Read: Top 10 Jewellery Designers in India]
Mirali Gulati
Based in the national capital of India, Delhi, Mirali Gulati has her own boutique and is a famous jewelry designer who got trained in the United States for two years. Once she attained the gemologist tag, the road ahead opened up and she made a name as a celebrity jewelry designer!
Here were the top jewellery designers in India who now are making more than just waves and marks in their own rights and domains. As India progresses forward and more markets open up to the wide range of fashionable services and products our country can give out, our jewellery designers in India are busy making hay while the sun shines. Bringing out the chicest and the most luxurious statement pieces for the world to be in awe of!
[Also Read: Bridal Designers on Instagram]