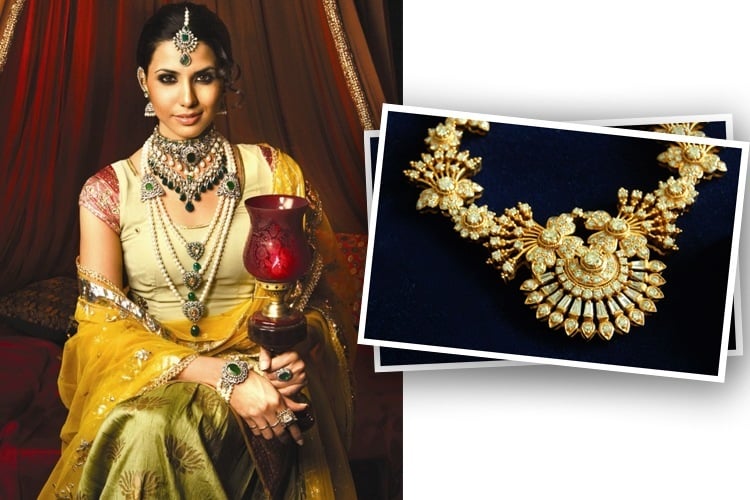 Jewellery is an important asset to mankind. It adds beauty, grace, femininity and exclusivity to a lady. Even the best of costume – ordinary dress or cocktail garment – looks dull and drab without a jewellery accessory.
All things said and done, the right jewellery is what completes a woman's look. And for this, India has a couple of leading Jewellery designers who have been producing the choicest of gold, silver platinum, diamonds to semi-precious gems. This in turn is a great boost for single and married women and would-be brides to wear and flaunt the best designer jewellery.
Jewellery selection is a tall task. But when you have the expertise and guidance of India's famous jewellery designers, then jewellery buying can become a cakewalk.
[Also Read:  DIY Jewellery Box]
To make your task easier, we bring you the most sought-after and popular names of jewellery designers to look for while choosing your jewellery.
Here are famous jewellery designers names
Amrita Singh
Amrita Singh is a top Indian jewellery designer whose designer jewellery is a blend of old world aesthetics with new world fashion. Her designs are liked by Hollywood celebs like Jennifer Lopez, Blake Lively and Jessica Simpson. Amrita was nominated many times by Fashion Group International (FGI).
She draws upon Mughal dynasty to create breathtaking Indian jewellery and accessories. Devoted she is in developing her two fashion lines: contemporary jewellery which includes innovative collections such as Bangle Bangle, and fine jewellery collection, Maharaja Jewels. In addition to jewellery, Amrita also designs scarves, specially-designed bangle towers, jewellery and cosmetics cases, iconic handbags, and a wide range of home decor items.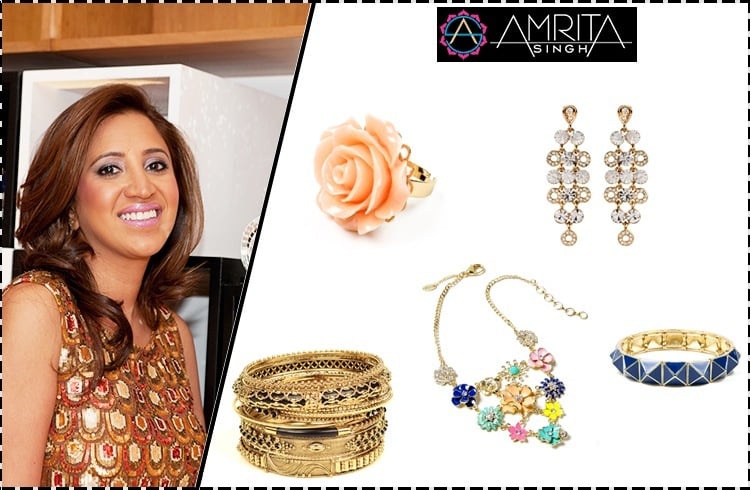 [Also Read: Fashion Designers]
Poonam Soni
Poonam Soni is the first Indian jewellery designer who introduced the concept of 'bespoke jewellery' and signature boutiques. Today, Poonam Soni has been successful in creating India's first jewellery brand and has niche clientele to cater to.
She has been a Gold medallist from Delhi University and has a way with rubies, gold and sapphires. For two decades, Poonam has been in the thick of doing customised jewellery in India, of which she is a pioneer.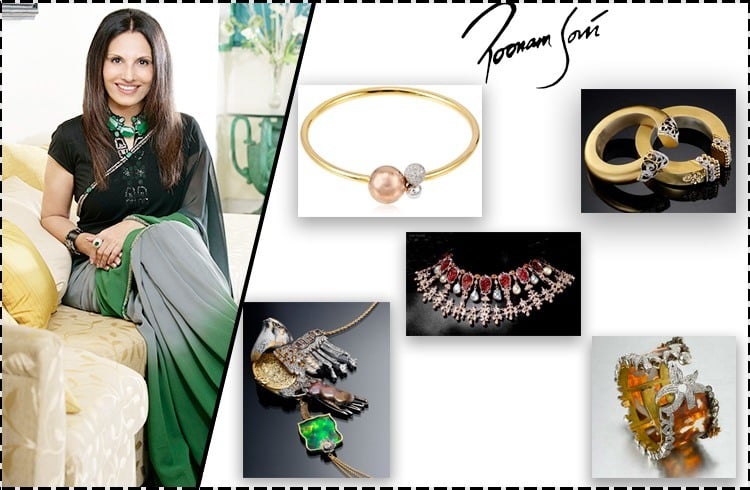 Farah Khan
Farah Khan is a renowned jewellery designer and gemologist whose foray into this field happened by chance when she was pursuing the course in Gemological Institute of America in California in 1992. Having completed 15 years as a jewellery designer, her jewellery creations have been seen on some of richest Indian businessman families and top Hollywood celebs. At the international level, she has designed for Swarovski when she participated in Swarovski 5th Anniversary celebration for Runway Rocks that was showcased in Mumbai and London in the year 2008.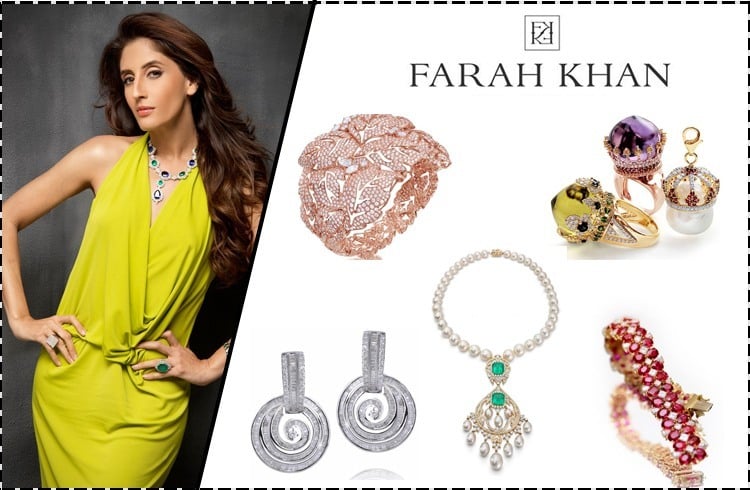 Suhani Pittie
Enlisted as one of the top 10 most inventive and ingenious jewellery designers in the world by the World Gold Council, Suhani Pittie came out with her training institute at all of twenty years of age. Recipient of the 'Singem Award for Excellence' in the field of Gemology, she has been enlisted by the Femina magazine in their "35 most powerful women in India, under 35″ list.
[Also Read: Gold Jewellery Design]
Suhani Pittie has also been written about in Fortune magazine as one of the five people to watch out for, in India. Felicitated with the Young Women Achievers Award 2012 for her contribution to fashion by YFLO (Young FICCI Ladies Organization), Suhani has been named as one of the 5 designers to watch out for from India by Vogue Italia. A finalist at the 'Young Fashion Entrepreneur Award '09′ held by the British Council, she was handpicked to showcase her collections to an exclusive audience comprising of Prince Charles, Prince of Wales, Camilla Parker Bowles, Duchess of Cornwall, Prince Edward, Earl of Wessex and Maharaja Gaj Singh Ji at the Bal Samand Lake Palace, Jodhpur.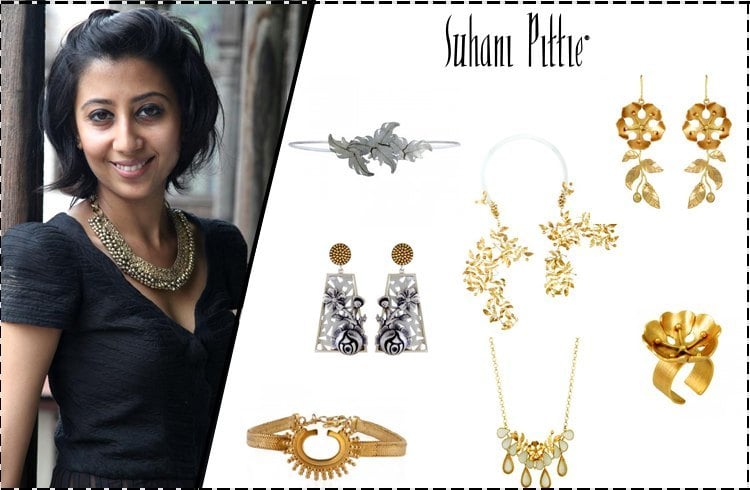 Eina Ahluwalia
India's first conceptual Jewellery Artist, her label 'Eina Ahluwalia' is synonymous with luxury jewellery. Each piece is intricate and intense with sterling silver, semi-precious stones. David Lamb – MD, Jewellery at World Gold Council has picked her as one of the hottest talents to watch out for.
The label is a regular at Lakme Fashion Week, Mumbai and has been featured in magazines such as British Vogue, CR Fashion Book by Carine Roitfeld, InStyle UK, Stylist Magazine UK, Her World Singapore, Madame Figaro France, Zeit Magazine Germany, Marie Claire, Harper's Bazaar, Elle, Grazia, Cosmopolitan, Vogue, etc. Her jewellery has graced the likes of New York-based fashion entrepreneur Fern Mallis, British pop sensation Delilah and film industry A-listers such as Freida Pinto, Sonam Kapoor, Deepika Padukone and more. Her Kirpan Necklace is featured in Lark Book Publishers collectors series '500 Art Necklaces.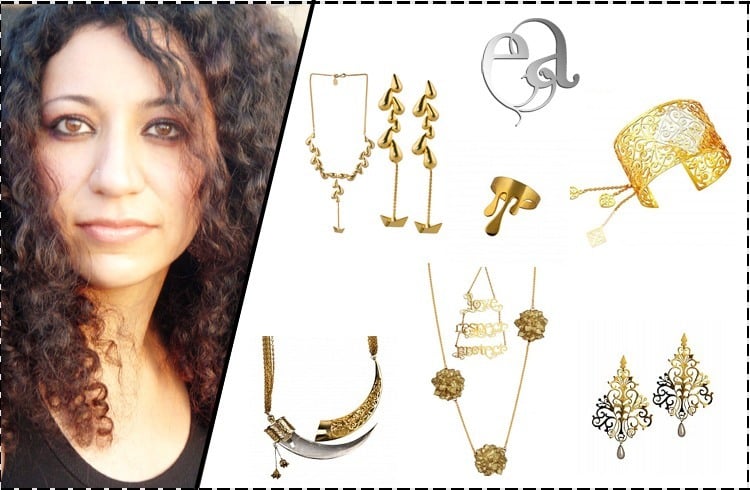 [Also Read: Cannes 2015 Special: Sonam Kapoor Setting Fire At Cannes]
Alpana Gujral
A veteran high-end jewellery designer, Alpana's collection of earrings and rings, necklaces and cuffs are artistically designed with the use of precious and coloured stones to enhance the sensuality of a woman.
She has worked closely with master craftsmen to develop her signature style of jewellery. When you are looking for jewellery to complement formal evening attire or casual one – Alpana Gujral's collection is a treasure to own.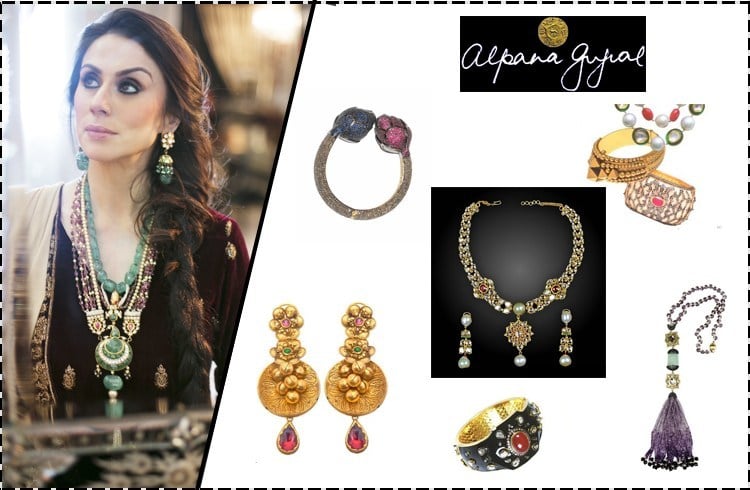 Mira Gulati
Started her passion for jewellery making in 2007 under the label 'Mirari', Mira Gulati, the founder and lead designer has created heirlooms using unblemished stones from around the world.
In the year 2008, Mira Gulati opened her flagship boutique in DLF Emporio, India's only Luxury Mall. In September 2010, she was awarded "Jewellery Designer of the Year" for the gorgeous peacock earrings with blue sapphire briolettes and diamonds. What a way to go!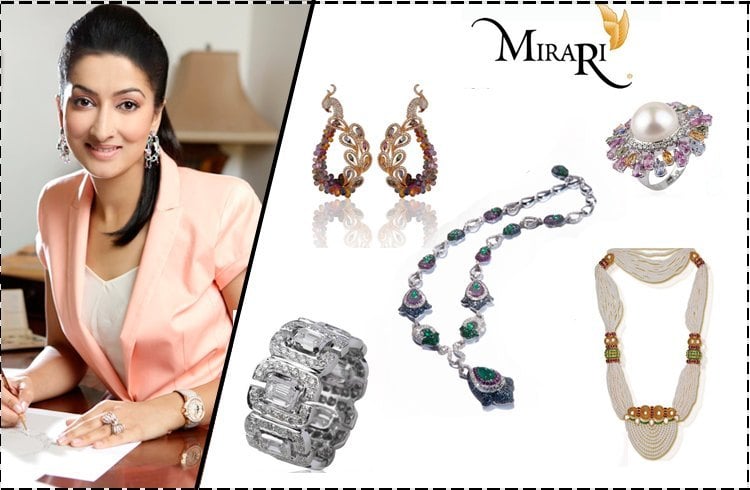 Nitya Arora
Founder of Valliyan, a four year old accessories label and winner of Grazia Young Designers Award for Best Accessories Designer, Nitya Arora has come a long way. After pursuing fashion at Parsons School of Design, New York, Nitya has showcased at Lakme India Fashion Week, designed jewellery for Bollywood movies and done trunk shows in Dubai, Egypt, New York and other places.
Few of the publications that have covered her work include Vogue, Harpers Bazaar, Elle, Marie Claire, Grazia. Besides jewellery, Valliyan also makes bespoke handbags and headgear for the free spirited woman. Nitya largely uses semi-precious stones, glass, crystals, metals, acrylic, wood and rare materials.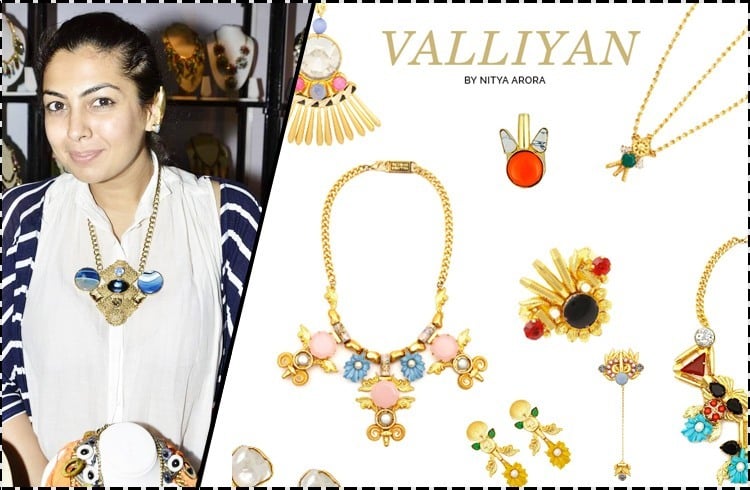 [sc:mediad]
Asha Kamal Modi
The brain behind the jewellery line "Art Karat", Asha Kamal launched her exclusive label of custom made and affordable jewellery in 1988.
She is a New Delhi based trained gemologist who has made a mark for herself as one of the most recognised jewellery designers of India. Her designs are different in style as is her bridal costume jewelry. Modi's magnificent jewellery collections feature heavy gold. Stunning chandelier earrings make one skip the heart beat, emerging as a popular trend this year.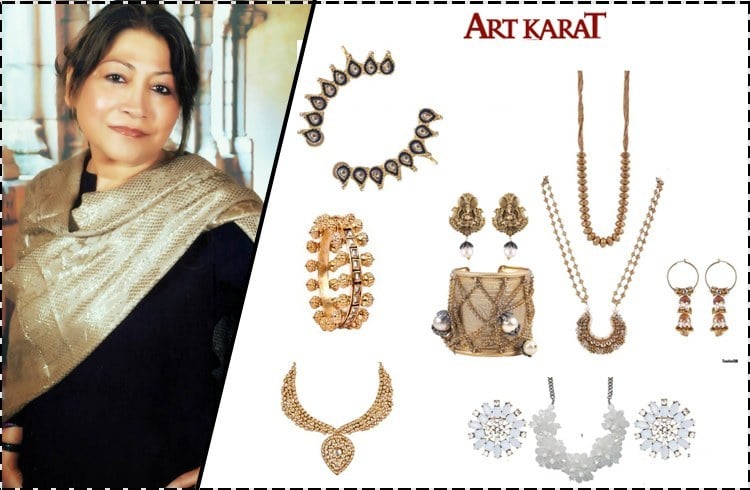 Neelam Kothari
We know her as a prolific actress in Indian cinema and now she is into jewellery designing as well. Neelam Jewels has emerged as one of India's finest and reputed jewellery brand.
Neelam is known for her exclusive handcrafted jewellery that has made a shout in Europe, United States, Middle East, Thailand and Asia creating jewellery of the highest order. Apart from the elite, her jewellery has made it to leading auction houses such as Sotheby's and Christie's.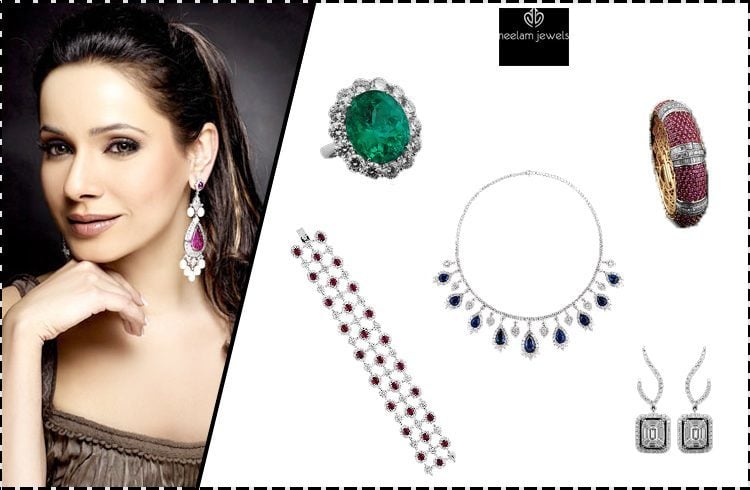 Hope you have all enjoyed this article on Top 10 Jewellery Designers in India as much as we have enjoyed in curating this list of fine and intricate designer jewellery for you.