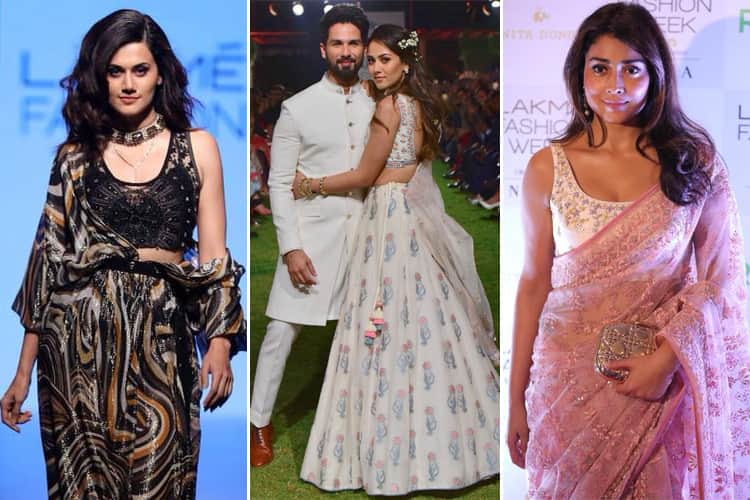 From nearly a fortnight, we have been keenly following every teeny tiny update of renowned fashion designer's creations that are being finely designed to showcase at Summer Spring edition of India Lakme Fashion Week 2018.
Finally the Summer Spring edition of LFW 2018 began to satiate our thirst for style and glamour. Among all the hustle and bustle of models, designers, makeup artists, hair experts, we managed to gather the details of every designer's splendid collection.
Dig in for details here-
Gen Next
This year, saying goodbye subtly to the withering winters, the young and talented designers of INIFD, calling themselves Gen Next, showcased their wonderful creations. The five labels that constituted Gen Next were Anvita Sharma and Asit Barik, Ayushman Mitra, Padma Raj Keshri, Mohammed Mazhar, and Helena Bajaj Larsen.
Mazhar began the show by showcasing his collection which was a tribute to the washermen or in other words dhobis, who contribute a great deal to fashion world. His collection was utterly simple, minimalistic in form of white outfits, shirt dress, pantsuits and skirts with steam press motifs.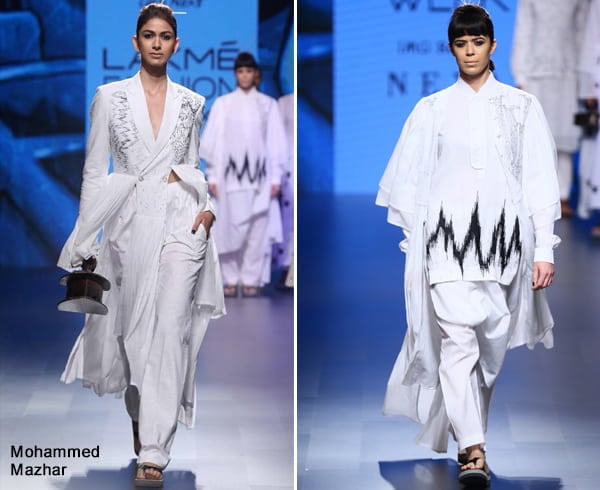 Anvita and Asit's designs included long shirts, high waist checkered pants, uneven jacket flaps giving a quirky vibe to their apparel.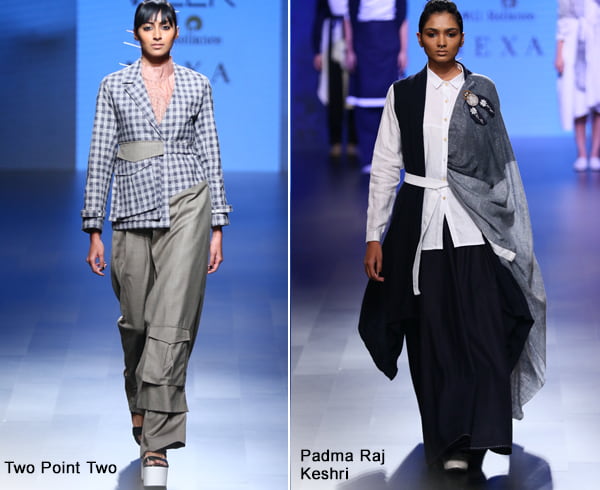 Keshri's collection brought to light kimono-esque dresses with vibrant dupattas, striped styles, stoles and long shirts.
Helena's designs included light whites, hand-printed details in black, red, gold and cream. And finally Mitra closed the Gen Next show with colors of springs.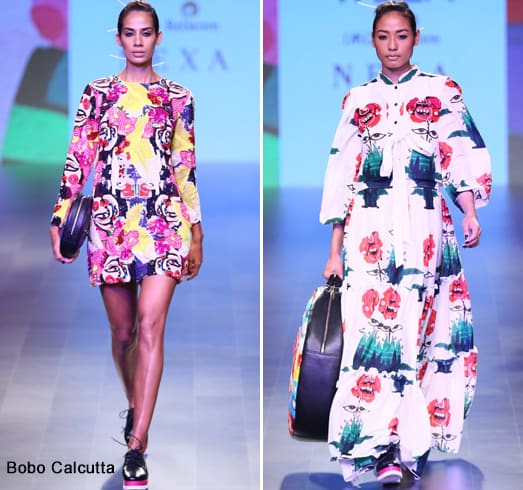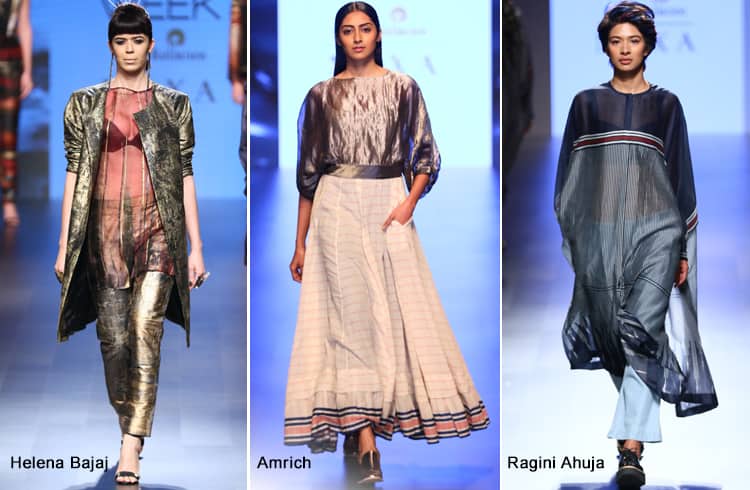 Ikai By Ragini Ahuja And Dhruv Kapoor
The ace designers Dhruv Kapoor and Ragini Ahuja put their creative heads together this Lakme Fashion Week Summer/Resort 2018 and showcased 'Free Spirits' collection. Their theme 'Free Spirits' was all about tales of displaced tribes who are looking out for a cultural identity. This collection consisted of denims, stripes and a good spread of abstract prints. From separates, long belts, sheer over fabrics, the collection looked wearable and simple with a quirky touch. Blending dark hues and loud prints, the collection looked every bit rebellious and attractive to the new age.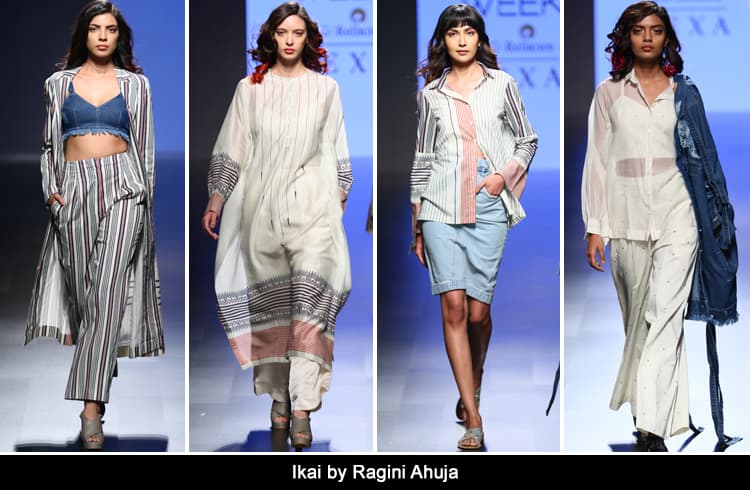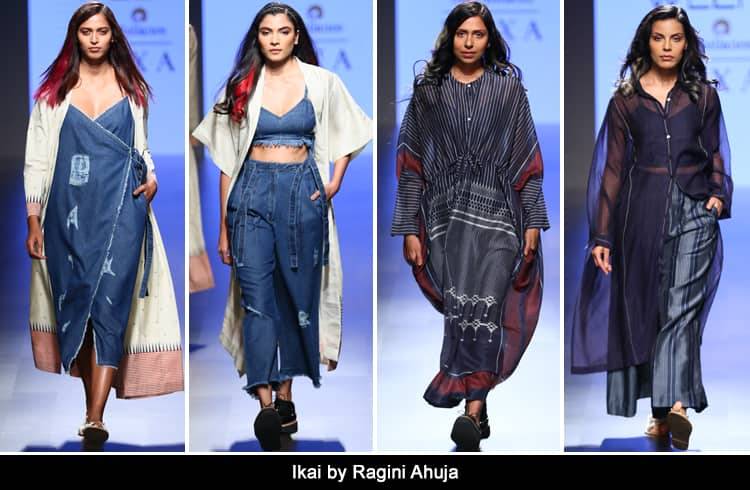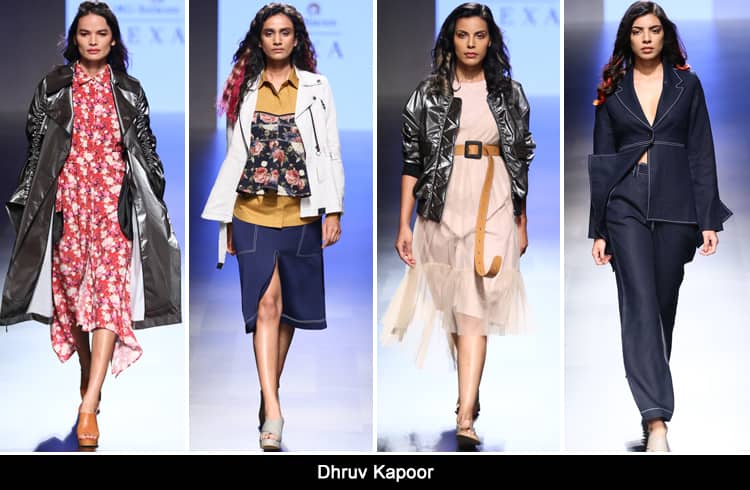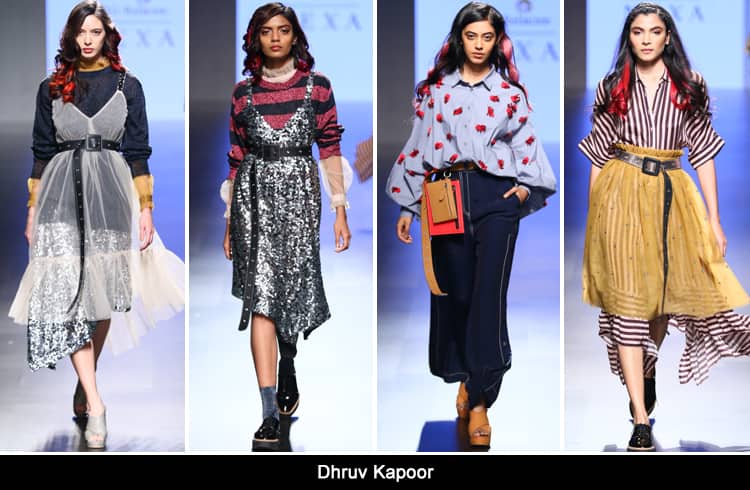 Half Full Curve Label
Rixi Bhatia (of Quirkbox fame) and her sister Tinka put together a new label devoted to the sexy, voluptuous women who weren't considered a part of the world of fashion for a long time now. The label Half Full Curve promotes women as their own kind of beautiful. Models from ages 19 to 80 walked the runway showcasing the delightful collection in pure georgette, Chanderi, dupion silk. With floral thread work, sequins, beadwork and lot of appliques, the collection focused on wild flower motifs in pastel shades. Absolutely love the lungi style skirts and cowl kurtas!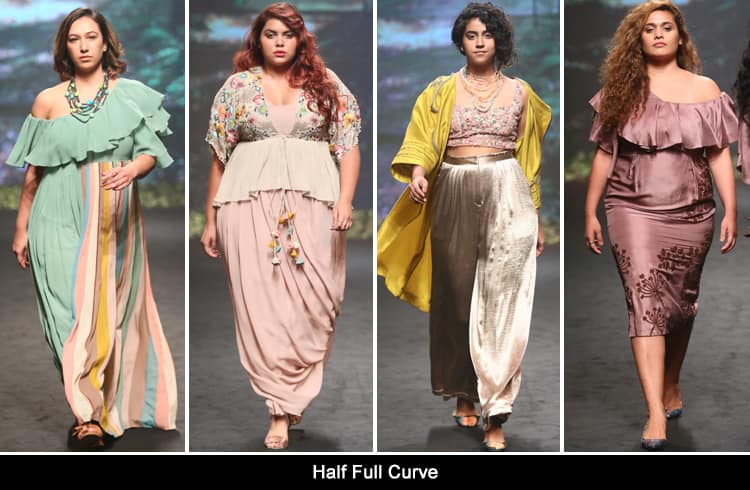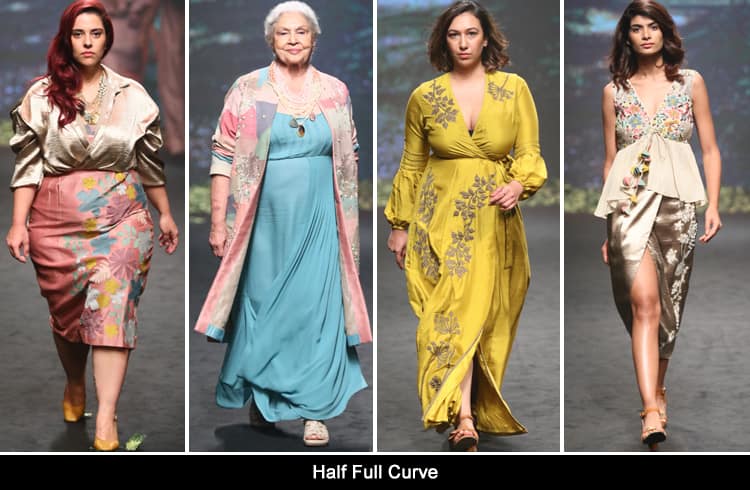 Amrich : Urvashi Kaur
Gentle tones, sheer textures, abstract prints, layering styles beautifully defined the strong thoughts of Urvashi Kaur. From sari, Kurtas, separates, and dresses, every creation had a unique feel about them. By painting their face with a vertical line splitting it into half, the designer gave the presenters/models a sense of tribal style.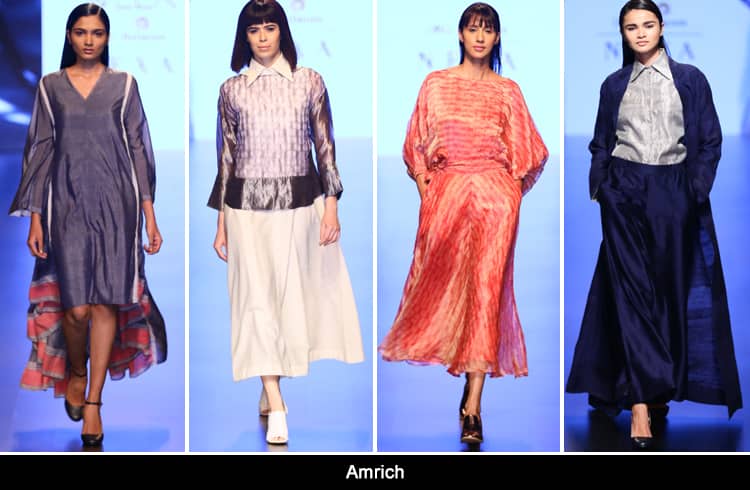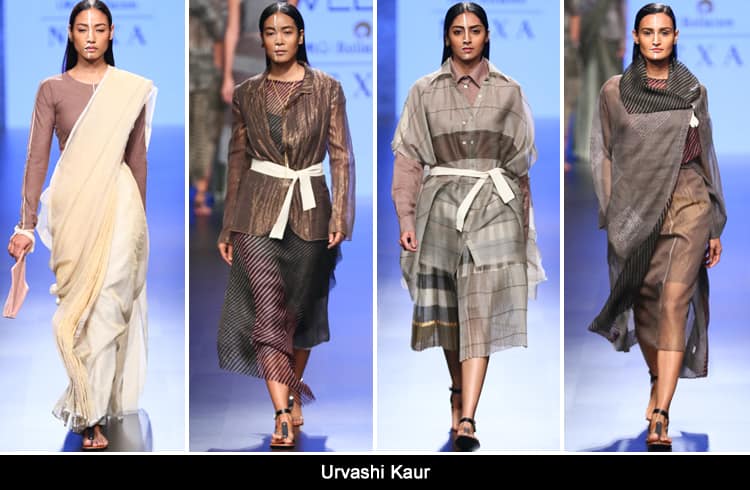 [sc:mediad]
Naushad Ali
The designer, Naushad Ali, created his explicit collection that was a pure inspiration of the renowned artist Paul Klee's idea of dot taking a walk. In Naushad Ali's designs, the dot is an inherent part of his fabric that flows, runs, walks and plays peek-a-boo. Every creation had a blend of mud resisting techniques and natural dye shades from Jodhpur.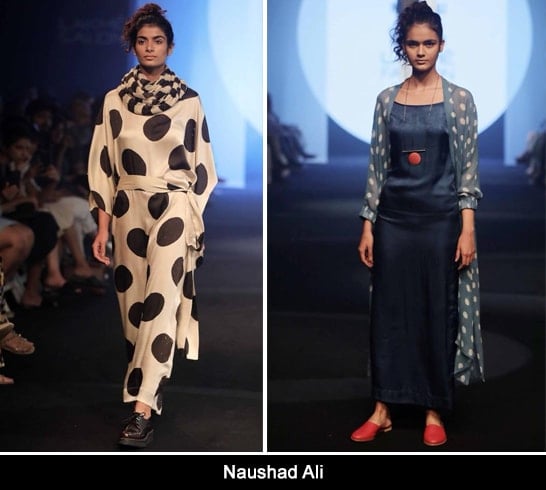 Ritu Kumar
The renowned designer, Ritu Kumar presented her collection 'Hip Hop Baroque' which primarily focused on blending the street culture with the rap couture. From asymmetrical hemlines, colorful sequins, sheer fabrics, and pleated long dresses, the collection spoke for every racing fashion theme. Also crafted were shimmer jerseys, sequined fabrics and georgette, that brought a trendy vibe to the collection.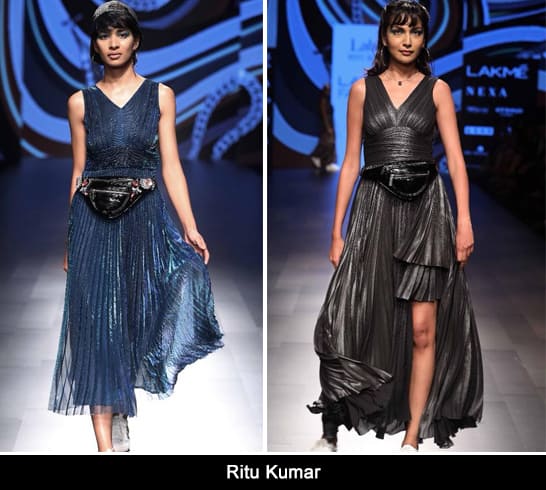 Taapsee Pannu walked the ramp to extend her love and support to her favorite designer, Ritu Kumar and left us speechless. Wearing a black bustier and shorts along with the maxi dress, Taapsee Pannu looked absolutely glamorous.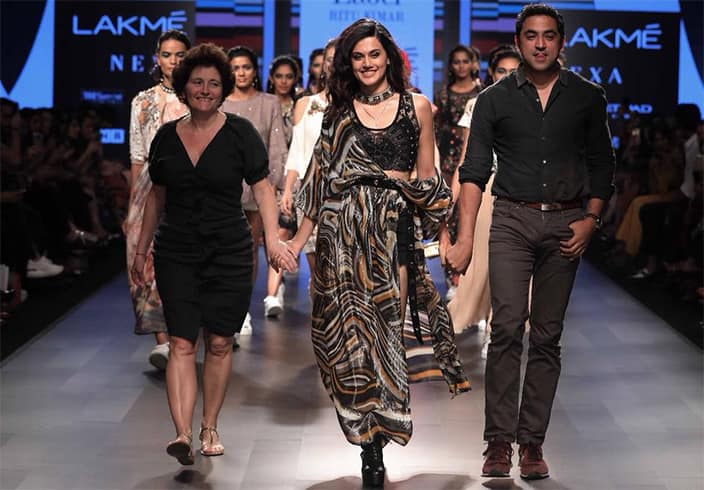 Rara Avis
Day 1 of LFW 2018 saw Rara Avis by Sonal Verma present their collection explicitly entitled as 'Koya'. The collection included floaty silhouettes, an array of prints and statement jewellery that was purely eclectic. The earthy fibres and shades were blended pleasantly with stacks of bold jewelry giving a strong ethnic vibe.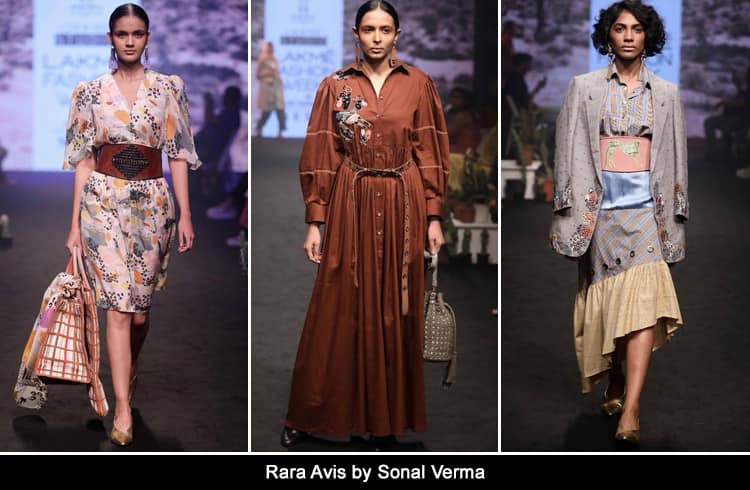 Anita Dongre
On a concluding note, Anita Dongre presented her collection 'Songs of Summer' and grandly promoted sustainable designs and patterns. Her collection combined subtle pastels, light fabrics, floral and botanical motifs in elegant and comfortable fabrics. From midi skirts, wrap tops and palazzo pants, the collection was heart-warming. And this year, she picked the right muses, the dashing couple, Shahid Kapoor and Mira Rajput to present her collection in the most grandeur form. It was a beautiful, soothing end to a intense day of fashion. Shriya Saran attended the closing extending her support to Anita Dongre dressed up in her label.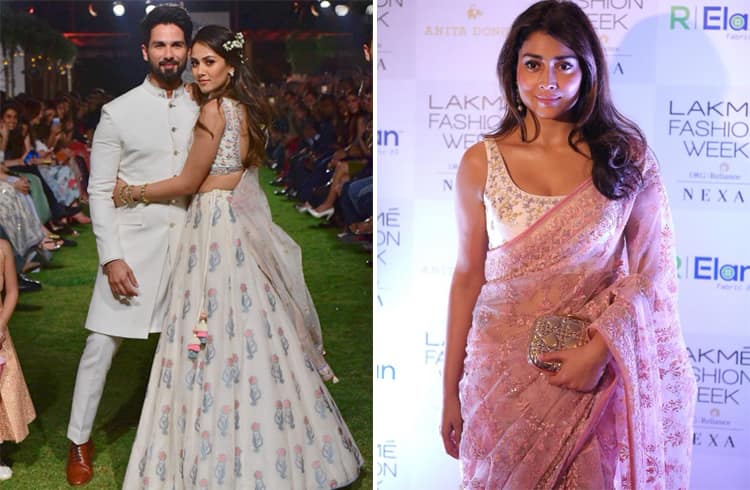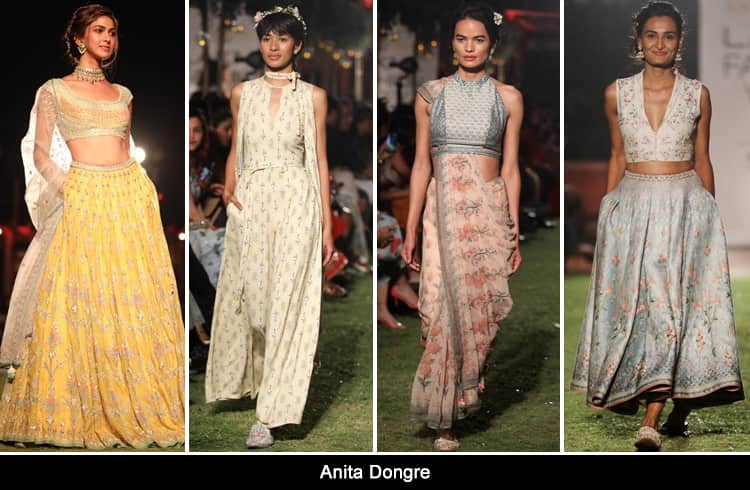 Stay tuned! We will be back with Day 2 updates very soon!
Images Source: facebook.com/LakmeFashionWk, vogue.in