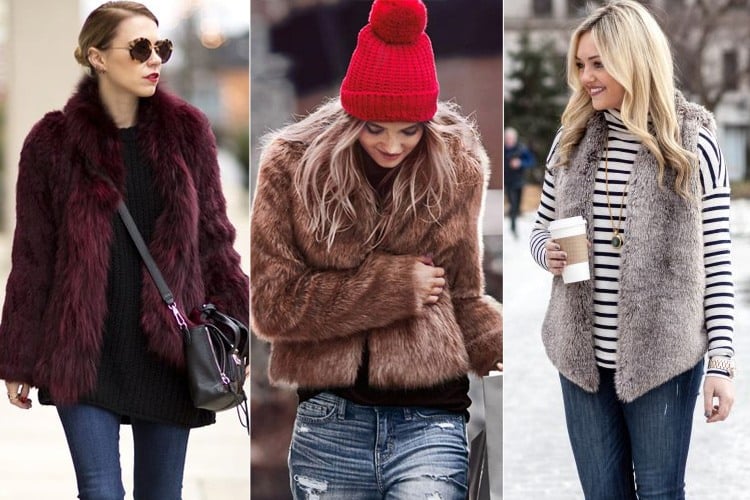 If where you live the climes are cold, you need to cover up and layer like a cool fashionista. This is why we are here to talk about how to wear faux fur casually. We do not believe in animal cruelty for fashion sake, and that is why we are going to promote and encourage people to wear more of faux fur and not real fur. Wearing faux fur is a cool fashion statement in itself. It's classy, sophisticated and very elegant to say the least, and it is very versatile as a piece for you to wear; goes just about with anything and everything underneath. So without much ado, we are here to show you how to wear faux fur casually. Please read on and take notes if need be!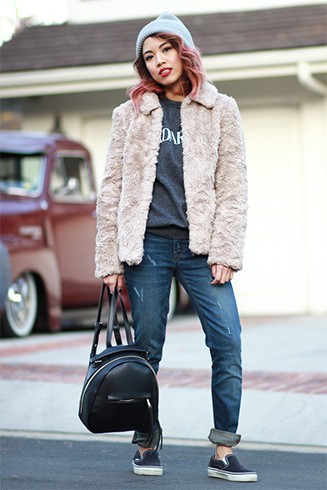 Let's learn more about how to wear faux fur casually
We personally would recommend only faux fur, which is super gorgeous and can create magical effects which would not otherwise happen with the likes of fur that is real. Pretty cool isn't it? If you take a look around, you would notice that women that wear faux fur are more at peace with themselves than others; fashion-wise. This is because, faux fur does not look any different from the real fur garments being sold out there, and the fact that you know that the fur is not real, it means you are not wearing another life on you and that is what gives you peace and makes you a conscious fashionista too.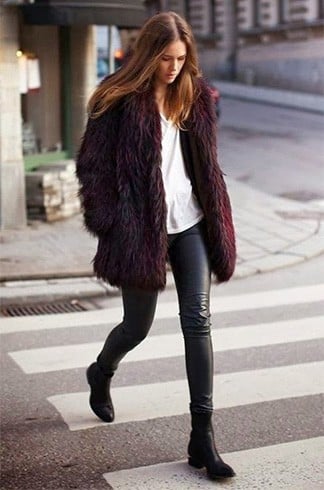 You really would not need real fur even if you live in very cold climes. There are synthetic options for you to choose from, and then toss it into the closet when the season is over. No one is harmed in the process. But let's now focus on how to wear faux fur, shall we? And also learn how to be super stylish in long and even in a cropped faux fur coat.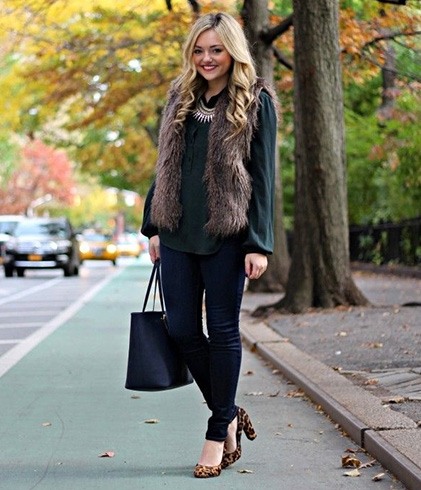 What kind of coat do you want?
Are you looking for coats that are long, or short? Or are you looking for straight haired coats or curly hair ones? There are a range and a super diverse number of them out there, which are pretty chic and cool in all ways to try and wear. The best part of wearing faux fur is that you can incredible fashion sense flaunted when you wear them and that the colors you choose would make you look like a diva; so be wise when you choose the style and the color. But remember, when buying faux fur, it would be wise to avoid the ones that are polyester shiny. They look super fake and tacky, much on the lines of what cheap wigs look like.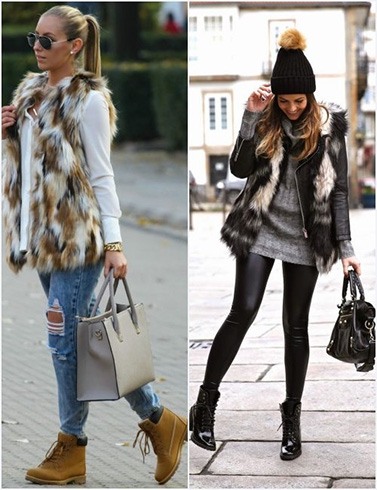 The length of the coat should be decided upon
Cropped faux fur coats look super cute and funky, and the ones that reach mid-length look super classy and nice too. If you want to add more drama to your looks, you could try the long ones, which flow all the way to the knee and beyond. But do remember to choose the right colors when learning how to pick, buy and how to wear faux fur jackets and coats of any length. You have to look into what suits you the best, and this is why it is important to try each of them on and look into the mirror for self-assessment, and then choose the one which matches your persona and style the most.
[sc:mediad]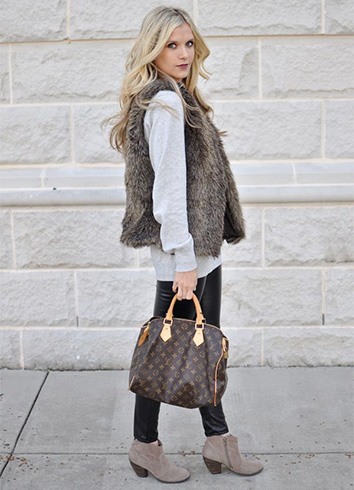 Can I wear a scarf with it?
When you look around for fashion tips on how to wear faux fur coats, you would notice many images showing you women on how they wear and style it. And in almost all the pics you would see them not wearing a scarf. Unless it is too cold, you do not need to have a scarf worn with the faux fur number you plan to wear on the outside. But if the climes are very cold and your neck needs warmth and protection, go right ahead and wear a scarf. Protection from the vagaries of nature is a must, and fashion needs to be practical as well. However, not just any scarf would do. You need to wear a scarf which brings about a very rich look to the whole attire. For example, you can choose cashmere or silk scarves, woolen ones too would look nice. The texture, style, and colors chosen for the scarves should be in sync with that of the faux fur coat.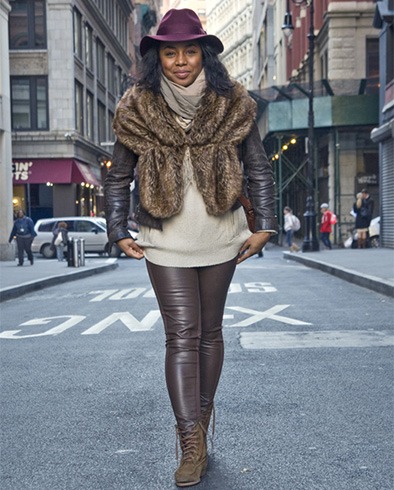 For a casual look
When thinking about wearing faux fur coats casually, keeping it simple is the best style advise we could give. When you dress simple and allow the faux fur coat to take over as the showstopper, it makes good fashion sense, say experts. The faux fur coat should be the 'star' of the whole outfit entourage you plan to wear. Since most faux fur coats are of the fluffy kinds, to balance the silhouette it would be wise to have bottoms worn that are not too dressy. The best thing then would be to wear skinnies on the legs – skinny jeans help balance the hip to leg ratio, and balances the whole look thereafter. Pair them up with low booties, masculine shoes or sneakers for a very casual look to come through. You still get to look sharp and not frumpy, but casual and sexy too.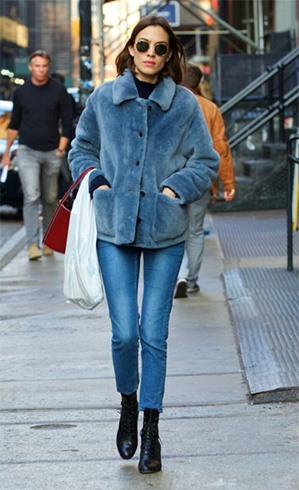 You can wear them with frilly dresses
While we are still learning how to wearfaux fur jacket, when wearing a fur coat, you can pair them up with a classic frilly dress or a long fashionable skirt. Since the faux fur coat is going to be bulky, what we want you to do is to create a balance. The skirt should be light and delicate, and that is the best combo you could make for fashion sake. You would make heads turn and quite an impression would be sent out too. Wear this look casually for birthdays or friendly gatherings. Complete the look with heels for the feet or low boots, sandals or pumps, or even knee-length boots if it is too cold out there and the legs need to stay warm when you wear a knee length delicate skirt in dark tones with a white fur coat.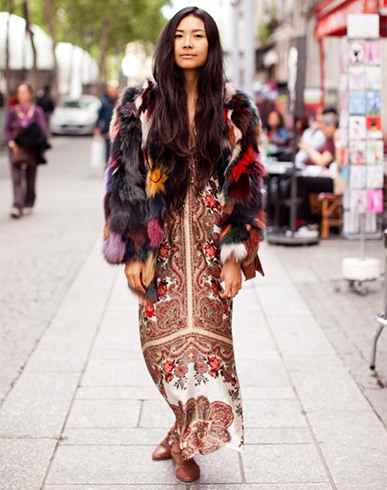 More Ideas On How To Wear Faux Furcasually
Take a look at the many options on how to wear faux fur casually
Striped tee, a sleeveless faux coat and a pair of washed denim with ankle length boots, make a perfect combination to wear.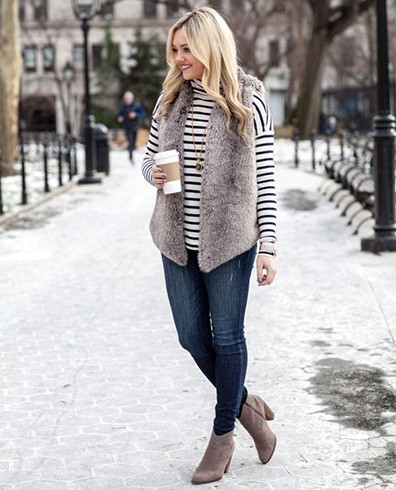 For a casual evening out on a coffee gathering with friends, tan shoes for the feet with denim and a black top, layered with a sleeveless neutral toned faux fur coat that is cropped and cute, would do the trick.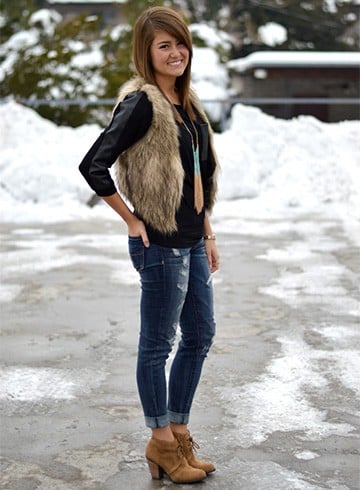 Wine colored long haired faux fur coats are super cool, elegant and suave to wear when styled with boots for the feet, shades for the eyes and worn over a full-length top and a pair of skinny denim. Perfect for Friday dressing we say!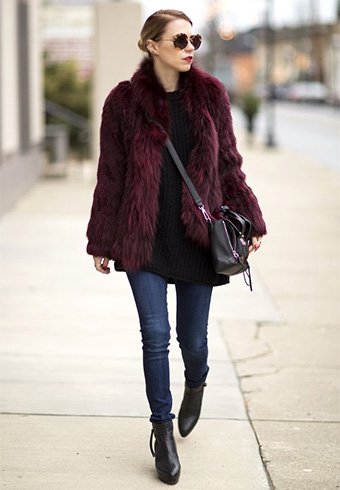 Ripped jeans and white sneakers are the coolest casual ways to flaunt a statement. Pair it up with an oversized cardigan and a full-sleeved cropped fur coat for an interesting and subtle fashion statement to come through. Neutrals all the way on this one.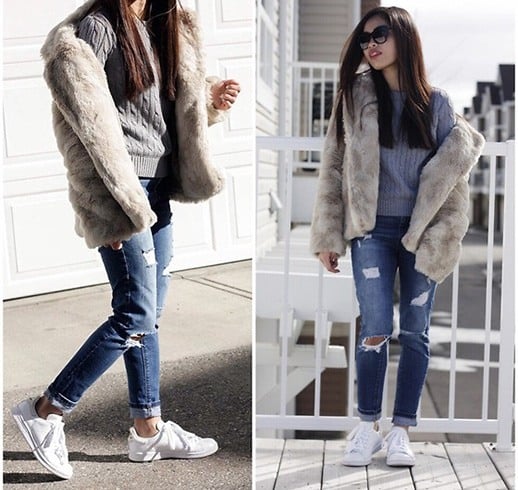 Long overcoats with faux fur touches can be worn with crisp shirts or tops, and a pair of skinnies in dark hues for the bottoms. Pair the look with sneakers and let the casual flow come through.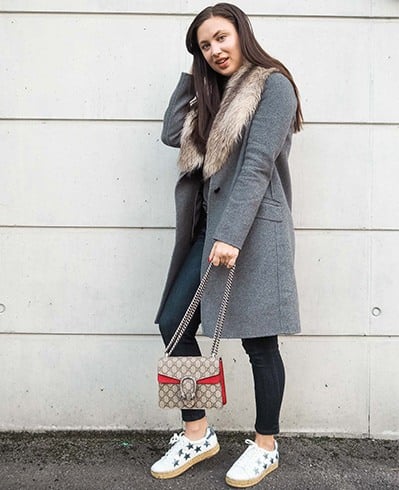 Here is How To Wear a Cropped Faux Fur Coat
To wear a cropped faux fur coat would be the same as wearing a long faux fur coat and all you need is imagination and creativity to style up. Here are a couple of ways to do that.
Play monotonish on the look this time or achromatic. Wear tone on tone colors and match the cropped fur coat in same hues to bring about one whole look. Can be worn to work on any given day if you please.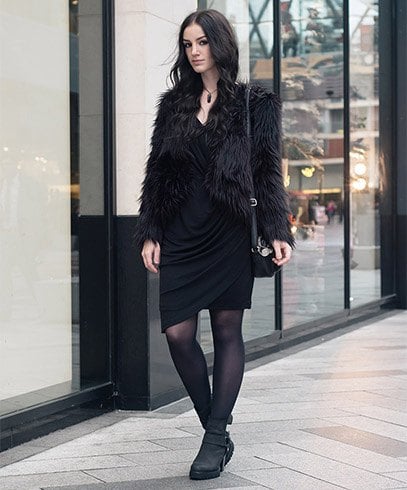 Bring in a casual touch mid week at work or anywhere you go with a burgundy deep wine hue on the cropped faux fur coat and over a crisp white shirt and black trousers. The look comes as clean and saucy at the same time very classy as well.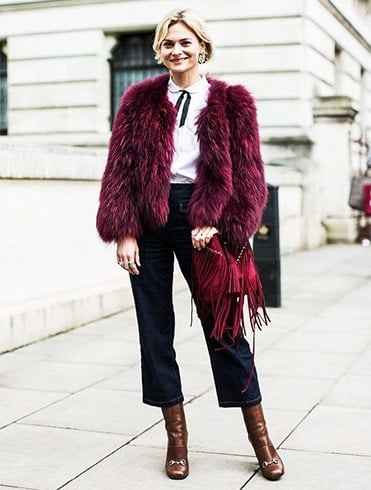 One of our favorites would be to wear the skinny denim with low ankle length boots, and a top, over which a dark shaded cropped faux fur coat can be worn. This would be a casual look not too casual, but pretty smart and sexy in its own ways to flaunt. Don't forget the shades to make a diva-like appearance.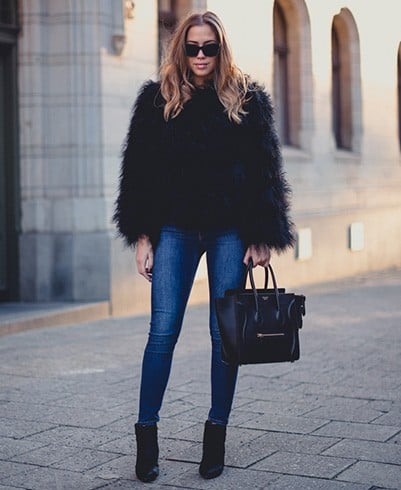 If you are into animal and wild prints, you can pair up your printed cropped faux fur coats with a lot of fun wearing skinnies for the legs and a simple white top for balance to come through. The fedora hat is optional, but if you choose to wear it, keep other accessories out.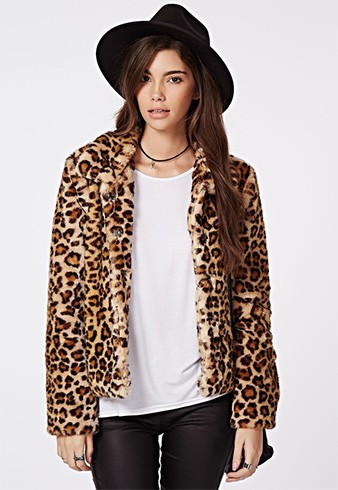 You can even try wearing a cropped faux fur coat over a casual monotone hued suit. Break the monotony with a pair of white sneakers. This would be a super cool way to embrace working on a Friday, with loads of fashion fun.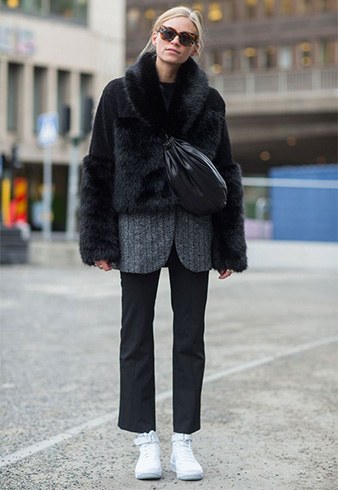 We do hope you liked our ideas on how to wear faux fur jacket. If you own a pair or have worn one, do let us know your styling options. Guess what, faux fur coats can be worn with Indian wear too, such as salwars and sarees when the climes are cold and you need to stay warm. It is all about pairing up the beautiful coats well and balancing the look. We hope you can get inspiration from our ideas we showed. Have fun!