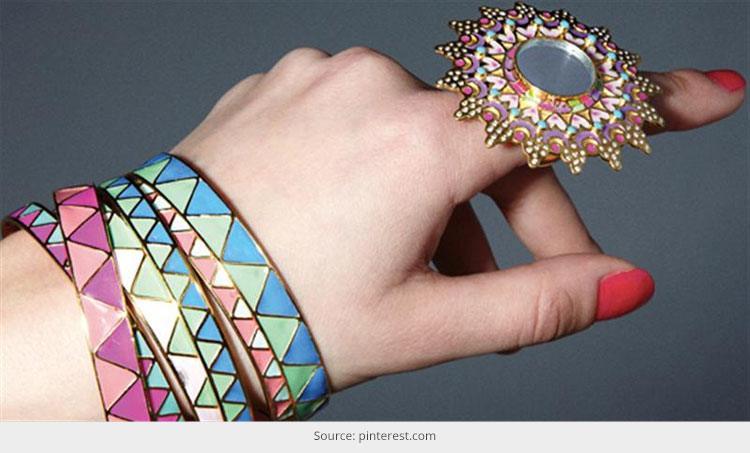 Day 3 – Fashionlady's Review on Indian Jewelry Designers Continues…
By now, we  have discussed about all the prominent jewelry designers of India; of course all female hotshots. In today's edition, let's talk about someone who has proved that creativity knows no boundaries and gender classification as well.
Although jewelry is something which has more or less always been attached to the feminine camaraderie, but its creation is always attributed by both the sexes in equal measures.
Just like top-notch jewelry designers like Alpana Gujral, Farah Ali Khan and Amrita Singh, the Indian fashion industry has blessed us with one more versatile talent house – Manish Arora, who has become an international brand because of his impeccable and state-of-the-art creations; be it apparels, footwear or accessories.
Manish Arora
He is the King of Kitsch – the internationally renowned Indian fashion designer, who is a wizard at incorporating Indian elements into his sumptuous design scheme. When two power houses come together, masterpieces are ought to be created.
'India Enchanted', the Spring/Summer 2013 collection showcased by fashion designer Manish Arora in collaboration with Indian jewelry brand Amrapali, depicted Arora's vision and Amrapali's finesse in fine jewelry.
When two talent houses come together
While Arora, one of the most sought-after contemporary fashion in the world today, is a equivalent to innovation and eccentricity, Amrapali, on the other hand is famous for putting in a nutshell the exclusivity and magnificence of Indian jewelry.
By combining the solo mélange of bright colors, which are Arora's trademark with Amrapali's outstanding craftsmanship, his creations have resulted in a sui generis collection that gives traditional Indian jewelry multiple folds and nonetheless a high-fashion makeover.
The nitty-gritty of Amrapali's signature bold design details fused with Manish Arora's flamboyant attitude which was evident in all the pieces showcased in the runway.
His collections clearly flaunted Rajasthani elements which came with a twist to Manish's  experience of Nevada, USA. His experiment in blending Indian craftsmanship with conceptual designs really worked out well.
Clasping tigers, maang tikka dragons!
[sc:mediad]
Geometrical motifs, which are always seen in Arora's designs, were seen on the ramp deciphering the psychedelic mirage-like figures based on matt gold, self-expression, lustrous holographic stones and lacquer coating beads.
A bridal haath phool (wrist accessory) flanked by a flaming pink dragon and ornate kada topped with tiger heads, are two of the stand-out pieces among Arora's treasure chest of jhumka earrings, maang tikkas, ear cuffs and delicate necklaces.
Tribal Inspiration
Inspired by the perversion of Indian royalty, Manish Arora and Amrapali worked closely together on the creation of contemporary jewelry items like necklaces, earrings, bracelets, rings and hair and hand accessories.
Manish retrieved into Amrapali's far-flunged archives of antique-inspired ornaments, redesigning tribal accessories using gold plate, gemstones and crystals and above all inducing the traditional Indian art of Meenakari.
By adding a contemporary twist with the existing Indian jewelry design, Manish gave these visually striking pieces a fresh perspective on East meeting West.