In the rumpus of Golden Globes and Oscar seasons, instead of pondering on the who's best dressed and who hasn't in the red carpet of Hollywood, in this edition we've decided to revive Michelle Obama – one of the best dressed First Ladies in US history.
While one first lady (Grace Coolidge) had brought in a radio, another first lady (Rosalynn Carter) brought in her sewing machine. There has been uniqueness related to each of the ladies, but more recently Michelle Obama has brought in her unique sense of style, which has made her a fashion icon in the entire world.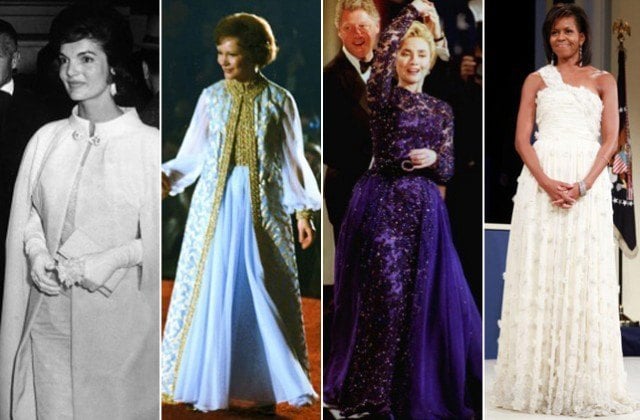 From her sleeveless dresses to her vibrant cardigans, a look at the First Lady's groundbreaking style is indeed going to take your breath away.
Here are some of the top picks!
In 2009, the entire world waited anxiously to see what the first lady, Michelle Obama would wear to her husband's historical inauguration and she did not disappoint.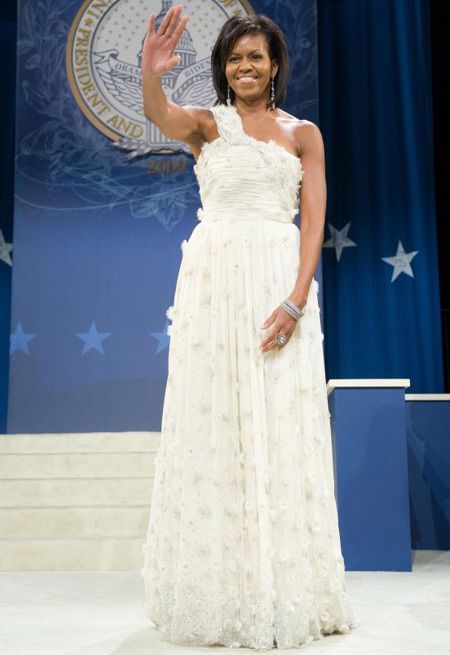 Moreover, the entire fashion industry got to know her great sense of style and elegance. She has been impressing through her fashionable attire till date and has become a great inspiration for the fashion aficionados.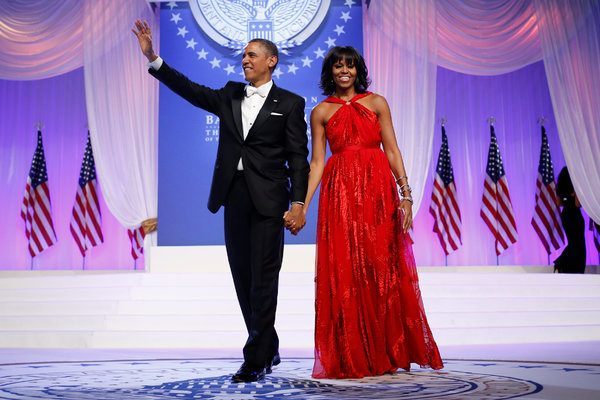 The entire world was anxiously waiting for what she would select for her 2013 inaugural gown. She wore a custom Jason Wu ruby chiffon and velvet gown.
From black tie dinners to receptions, Mrs. Obama continues to make fabulous sartorial choices, which make fashion editors and bloggers go to oblivion.
For now, we can peep into her past best formal-wears.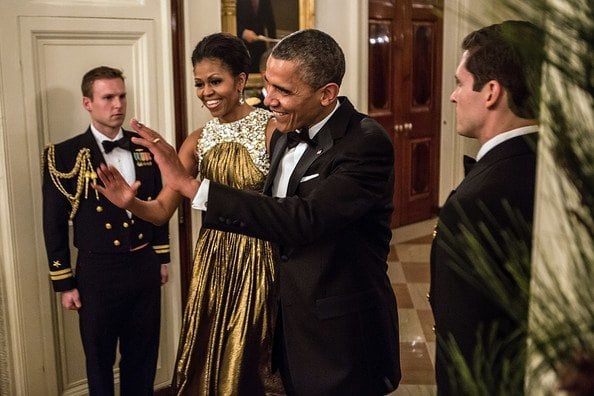 Mrs. Obama completely stole the show during Kennedy Center Honors in Washington D.C., as she looked stunning in a lamé chiffon frock by Michael Kors. The dress featured jeweled embellishments around the neckline along-with a pleated skirt.
The bare-arm silhouette enabled the First Lady to boast one of her favorite features — her toned arms!
In this image, she is dressed up to welcome Queen Elizabeth II and Prince Philip to a reciprocal dinner in London. She was the epitome of exquisiteness in this sleek Ralph Lauren gown.
To enhance it, she donned it with an exclusive necklace and matching bracelet. The off-shoulder silhouette is one of her signature looks, which keeps her at her best.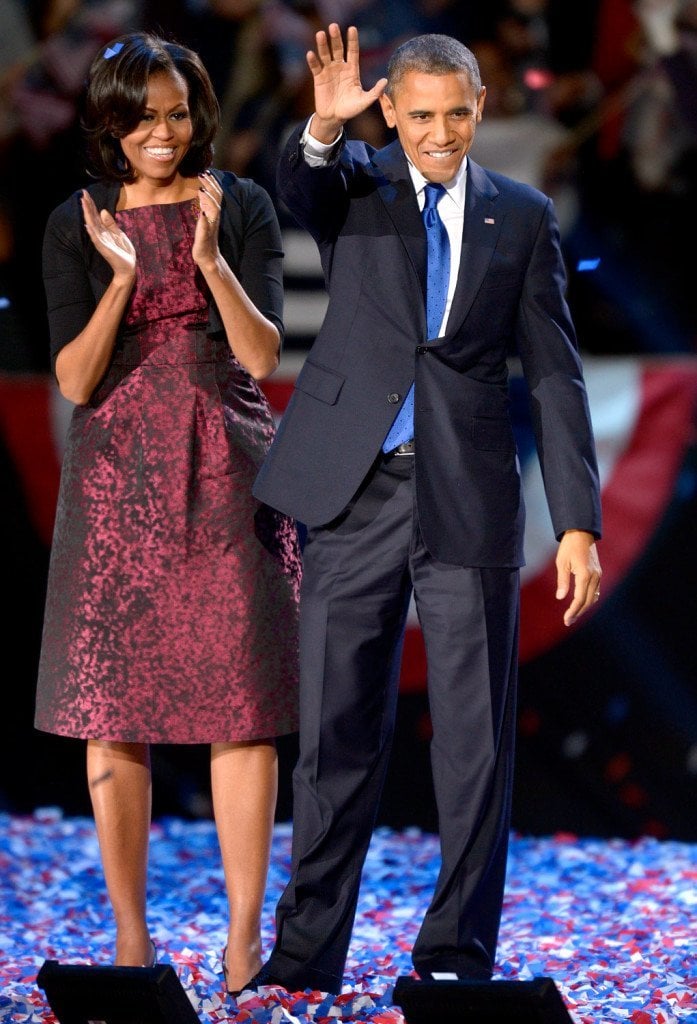 In the 4 years, she had mastered the art of dressing elegantly and with poise – and this was exactly clear in the Election Night, when Michelle Obama stood by her husband's side in this smart outfit, while he was delivering his victory speech.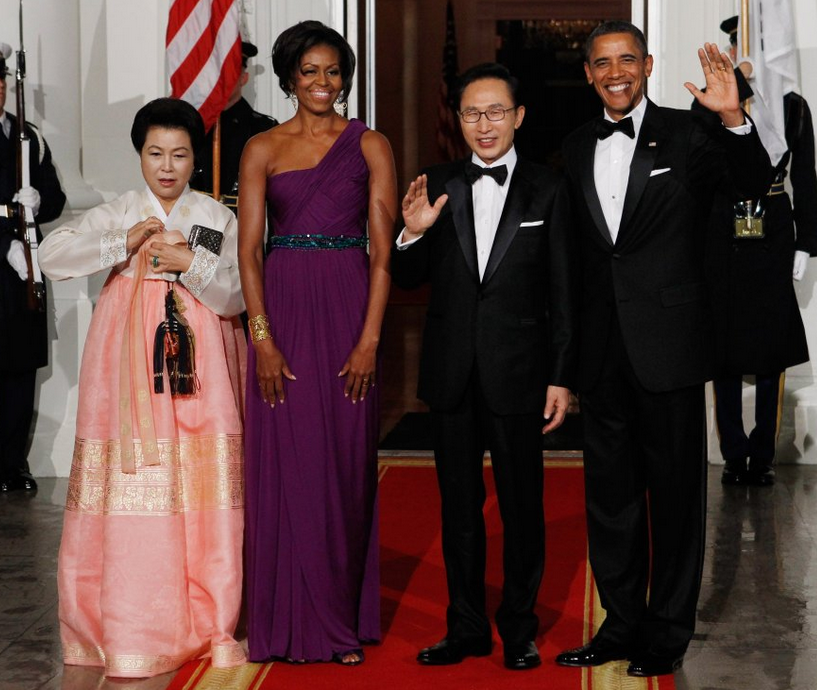 Even if you are not be an avid Mrs. Obama fan, you have to admit the fact that lessons can be learn from the first lady to dress, so as to show of one's assets.
For a state dinner with South Korean President Lee Myung-bak and his wife Kim Yoon-ok, the first lady donned this purple, one-shoulder jersey gown with a jeweled belt, designed by Korean-American designer Doo-Ri Chung.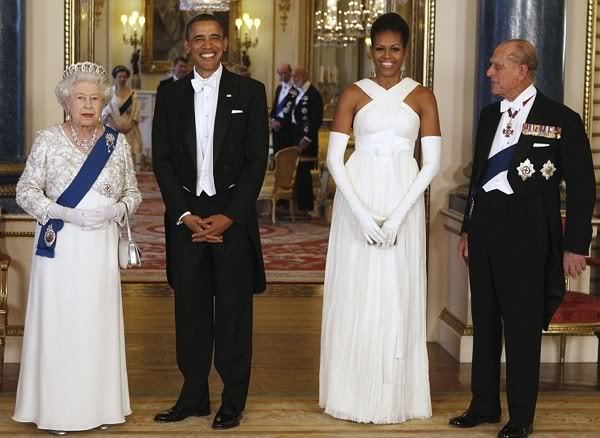 We loved the first lady's classic take on hauteur black tie dress at a formal state dinner at Buckingham Palace. The white Tom Ford gown with a vintage crisscross neckline paired with long gloves made for an elegantly ensemble fit for meeting the Queen.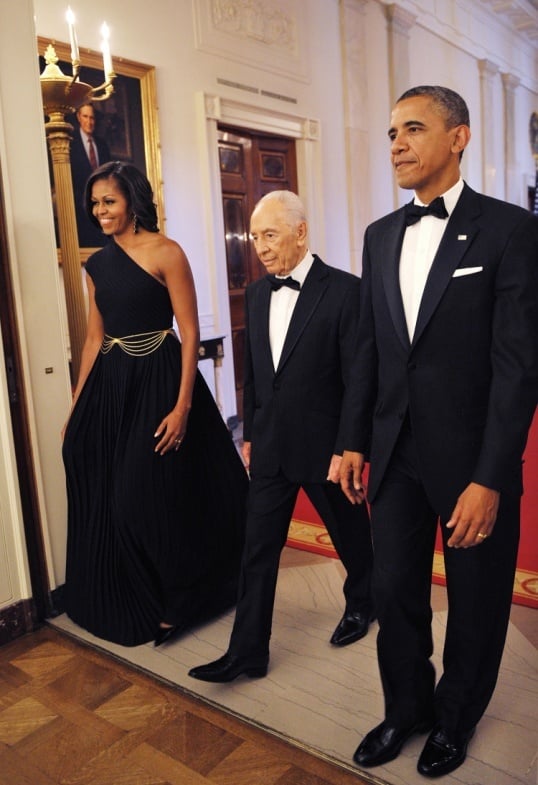 Last year, she wore a black Michael Kors one-shoulder gown for an East Room dinner with Israeli President Shimon Peres. She paired the modern shift with a vintage Dior belt.
[sc:mediad]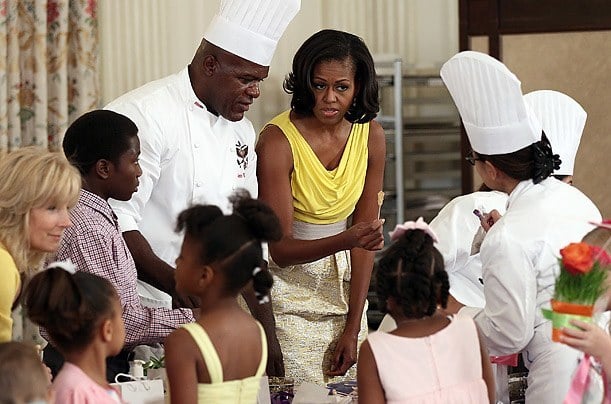 This is in following year, just one month earlier Michelle Obama attended a White House event for military spouses and children in a yellow Rachel Roy shift.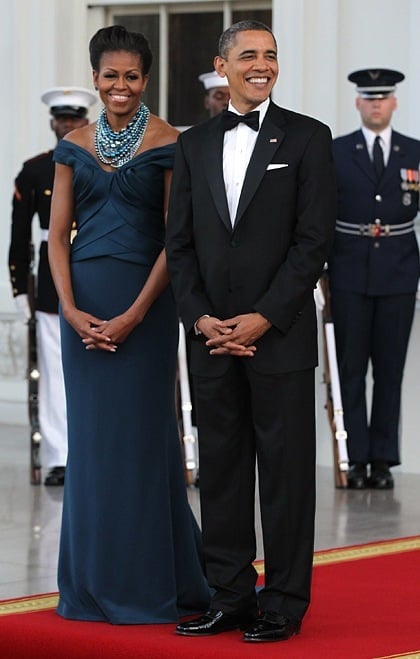 This get-up is proof that no one apprehends a statement necklace like the first lady. Mrs. Obama flaunted her skills for accessorizing a gown to perfection and, not to mention, her dexterity to don a flattering, perfect dress, when she paired an off-the-shoulder Marchesa gown with a multi-strand bauble necklace.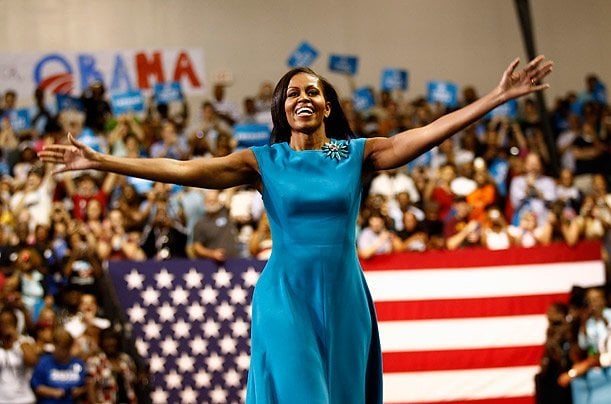 In this image, Michelle Obama introduced her husband at a Virginia campaign rally, wearing a blue dress along-with the same Erickson Beamon broche that she had worn to the 2008 Democratic National Convention in Denver.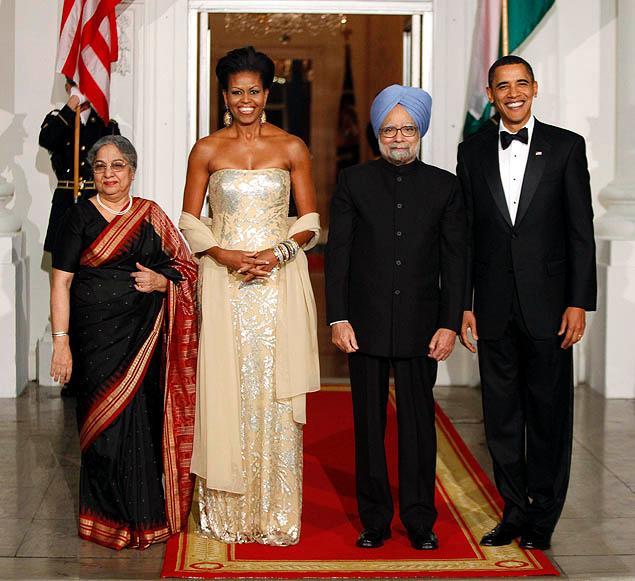 The first lady set the standard for exquisite evening gown when she wore this beaded nude number designed by Indian-born American designer Naeem Khan to the first state dinner in the Obama White House. She completed the look with gold bangles, bold earrings and a wrap.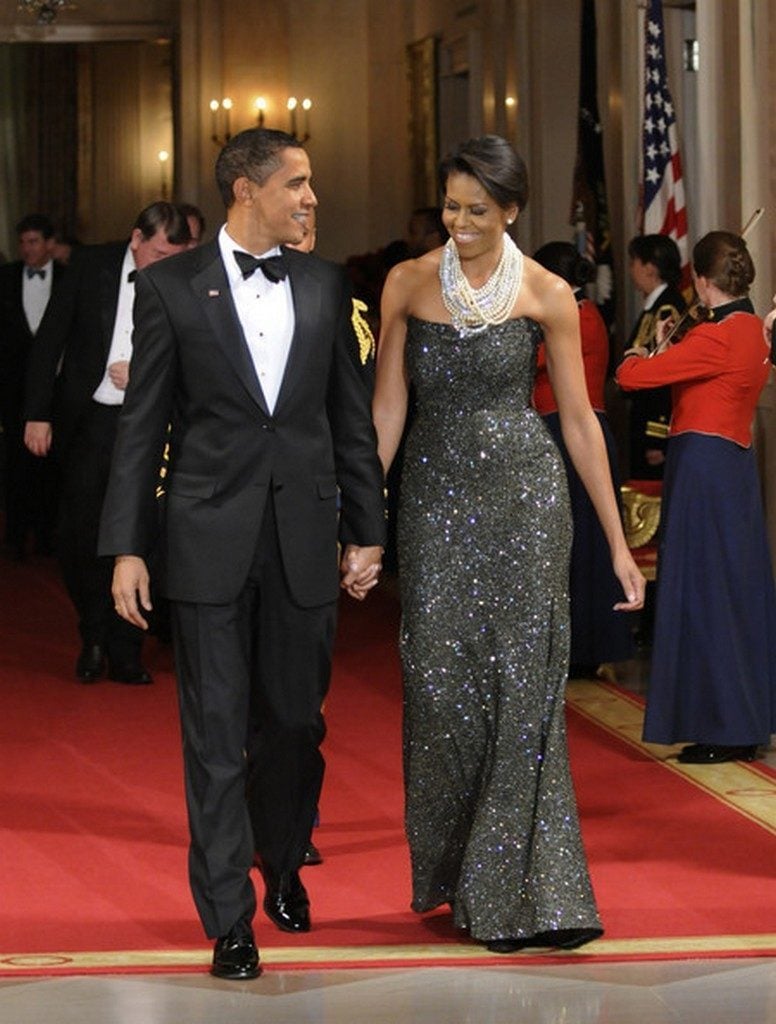 Mrs. Obama quite literally sparkled in the Peter Soronen gown that she wore to the National Governors Association black tie dinner. She looked extremely stunning by pairing the sequined gown with a pearl and crystal necklace by Tom Binns.
Her glowing skin and toned figure enhanced the value of this form-fitting number.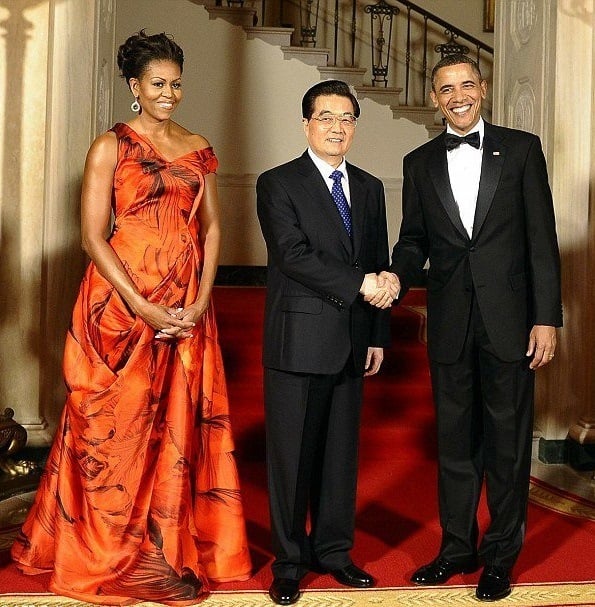 Not many ladies like Michelle Obama can pull off a couture gown, but she looked gracious in this red and black gown designed by Sarah Burton of the British design house Alexander McQueen.
The first lady donned this statement-making piece to a state dinner with Chinese President Hu Jintao. Coincidentally the gown's hue was widely considered as a nod to China, as red symbolizes joy and good fortune.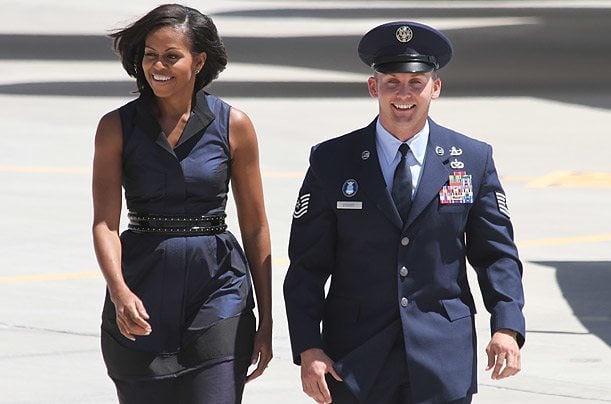 Dressed in a navy frock, the First Lady arrived in Albuquerque to attend a four-state campaign tour.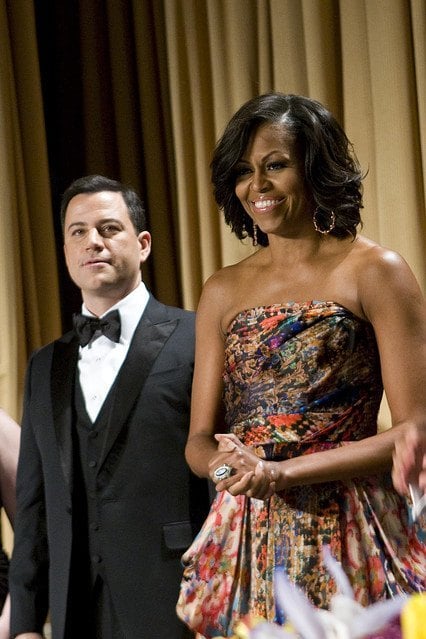 For the annual White House Correspondents Dinner, the First Lady picked a floral printed gown designed by Naeem Khan, the Indian designer she favors often for more formal events.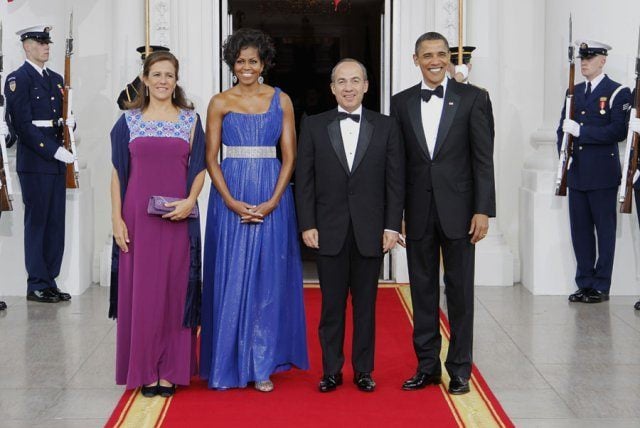 The first lady wore this one-shoulder, cobalt blue gown by designer Peter Soronen to a state dinner for Mexican President Felipe Calderon and his wife Margarita Zavala.
Her silver earrings, eye shadow, belt and shoes perfectly complement her sparkling gown.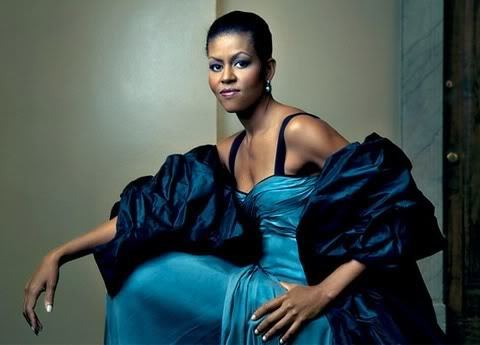 Did you know?
Michelle Obama prefers the designer of the country she is visiting or has a dinner with that country's representative. Political smartness or just a coincidence?:cool:
Images Source: pinterest.com