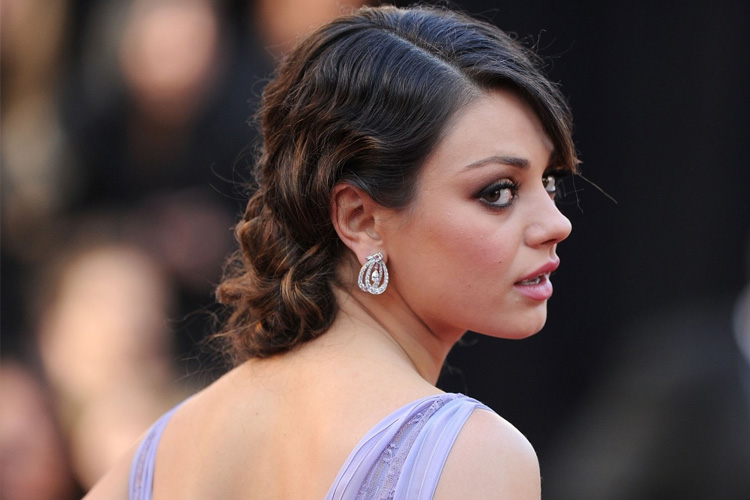 Personal Details
| | |
| --- | --- |
| Name | Milena Markovna Kunis |
| Birthday Date | 14 August 1983 [celebrity_age_calc data="1983-08-14″] |
| Birth Place | Chernivtsi, Ukraine |
| Sun Sign | Leo |
| Eye Color | She is one of the very few celebs that have heterochromia condition. Her left eye is green and right is brown |
| Hair Color | Brown |
| Nationality | American |
| Religion | Though from a Jew family, the actress has claimed to be an atheist. |
| Education | She graduated from Fairfax High School in 2001 and attended Loyola Marymount University and UCLA briefly. |
| Occupation | Actor, voice actor, model |
| Marital Status: | Married |
Family Details:
| | |
| --- | --- |
| Father | Mark Kunis holds a degree in mechanical engineering but worked as a cab driver |
| Mother | Elvira Kunis runs a pharmacy. |
| Siblings | Michael Kunis |
| Spouse | Ashton Kutcher |
| Children | Wyatt Isabelle Kutcher (Daughter), Dimitri Portwood Kutcher (Son) |
Body Status:
| | |
| --- | --- |
| Build | Curvy hourglass body type |
| Height | 5'4" |
| Weight | 52 Kgs |
| Waist Size | 25 |
| Hip Size | 32 inches |
| Shoe Size | 5 (US) |
| Dress Size | 4 (US) |
| Body Measurements | 32 – 25 – 32 |
Favorite Things and Hobbies
| | |
| --- | --- |
| Color | White and Blue |
| Food | Chinese and Ice Cream |
| Drink | Penicillin and Blue Moon |
| Place | Los Angeles |
| Sport | Football and Baseball |
| Brand | Aerosmith |
| Film | Dirty Dancing and the Wizard of Oz |
| Television Show | Dexter and 8 Simple Rules |
| Music | Martin Garrix and Beyonce |
[sc:mediad]
Mila Kunis Weight Loss
The actress had to lose oodles of weight for the filming of the Black Swan. "I didn't starve myself," says Mila. "I did do it in the healthiest way possible. I don't recommend anybody ever doing it." So this is how she worked on it.
Workout Plan:
Celebrity trainer Brian Abercrombie knew he would have to focus on the entire body instead of any one particular part when he began working with Mila. Like always he applied his tested formulae of P.A.S.E, that is, power,  agility, strength, endurance.
The 5'4" tall actresses generally works three times a day, but if a role requires special vital stats, she doesn't hesitate in stretching it to 5 days a week. It ideally looks like a week of intense circuit and strength training followed by a quick weekend. She also mixes it up with a range of outdoor activities including running and hiking.
She doesn't mind adding some fun to her work out with outdoor sports activities like jet skiing.
Diet Plan:
To look her stunning best in Friends with Benefits and Black Swan, Mila resorted to a clean and balanced diet. Her meals were a perfect blend of proteins, complex carbs, and essential fatty acids. She made countless swap of foods of high carbs with their low carb substitutes. Like she swapped her favorite sugary cereal with the regular oatmeal porridge, muesli took the place of corn flakes, nut replaced biscuits, and dark chocolate for chocolate.
Her low GI card used quinoa or brown rice with lean proteins of chicken, lentils, and beans. Sources of healthy fats like coconut butter, avocado, and olive oil also made successful inroads to her day.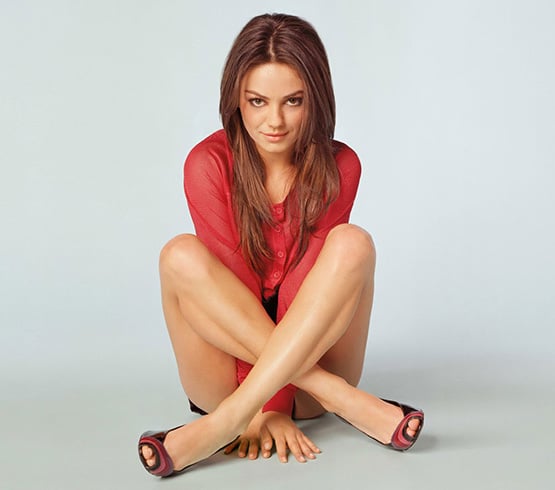 Facts About Celebrity
The actress can flaunt quite a sarcastic tone. In fact, she was the one to lend voice to the super sarcastic pipes of the much under-appreciated Meg Griffin.
In 2007, Kunis had auditioned for a role in Judd Apatow's film Knocked Up. The part eventually was bagged by Katherine Heigl, but that didn't stall Mila's meteoric success.
Kunis once revealed to W magazine that she had to brave through multiple injuries for a transformation as a ballerina for grand her role in 'Black Swan.' And a torn ligament along with a dislocated shoulder turned out to be really painfully and the actress was left a couple of two scars on her back following her injuries.
The award winning performer has declared her fondness of video games such as World of Warcraft and would rather sit at home playing games than go out. At one point, she adds, she grew so addicted that to get rid of the addiction she had to get the programme wiped out of her system – her account continues to be active though.
Images Source: pinterest