Is art only restricted to canvas, fabrics, artifacts, and pottery? Human mind is a reservoir of huge creativity. It only needs avenues of expression. Jewelry is one such form where there is no end to shapes, curves and inspiration. Heard about Modern Art Earrings? Let's find out more about this new and evolving jewelry idea and examples.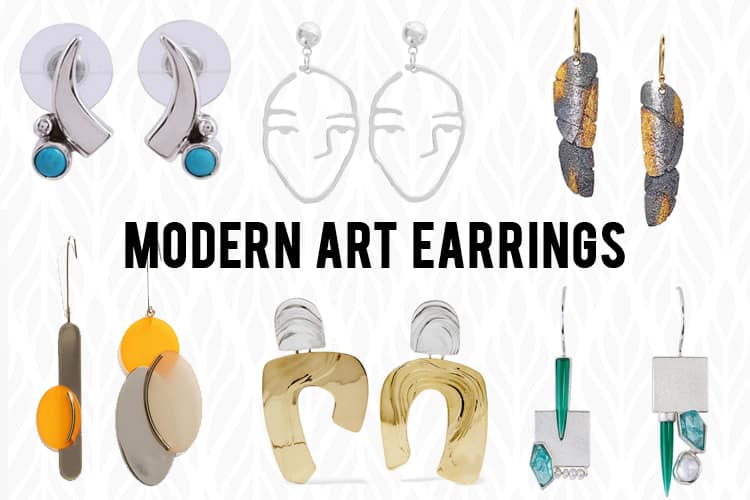 Modern Art Earrings:
Hold your breath as you are about to see some of the latest earring designs in modern art.
1. Moon Fantasy:
These modern dangle earrings from Guatemala are crafted from aluminum, with caress beads of hormigo wood. The hooks are of 925 Sterling silver. Brushed-satin finish, these Modern art earrings have been handcrafted by artisans at Peten Artistic Jewelry.
Price: $34.99
2. Crescent Art:
Turquoise button earrings from Mexico designed by Guillermo Arregui. Made of high polish sterling silver, they are fitted with circular stones of natural turquoise. The high point? Well, this modern art earrings carries the initials of the artist.
Price: $34.99
3. Spoon Love:
Made in Sweden, these spoon earrings have sterling silver ear wires. The design has flowers inside which looks gorgeous. Surprisingly light, they are made from antique 5 o'clock spoons. You can see the stamp of "Sweden" on one of the pictures below.
Price: US$ 32
4. Rustic Bronze:
Artistically stamped bronze drop earrings with drop length of 2 inches. Ear wires made of blackened bronze are gentle on the ears. Great for everyday wear!
Price: US$ 28
5. Curved Leaf:
Modern hammered gold drop earrings crafted in India. They are hard to miss given the twinkling texture and curved leaf silhouette. Contemporary in every way.
Price: $14.99
6. Elephant Charm:
Regal elephant faces make an integral part of these massive-looking signature hoops. These earring trends are a bold statement which instantly attract attention and eyeballs.
Price: $12.99
7. Square Story:
Get your ears hugged with these squared, huge hoop earrings. Made of shiny resin, these honey-colored modern earring designs are open-ended with square edges and post closure.
Price: $18
8. Dinosaur Dandy:
Modern age Jurassic in resin earrings with a brass dot. Handmade in Australia, each earring piece is unique. To be treated like a ceramic, as it can break when dropped on a hard surface.
Price: $135
9. Totem Gold Tryst:
Recapturing the tradition of lost wax casting, these 'Totem' earrings look uber cool in misshaped semi-circles. A topping of contrast silver discs and ridges inspired by water ripples make these modern art earrings a delight. Artist is Leigh Miller Newman.
Price: £190
10. Quirky Face:
Jewelry from A Weathered Penny is always classic, cleverly designed and on-trend. Line drawings by famous artists go into the making of the face collection of these silver earrings. Handmade in London.
Price: £17
[sc:mediad]
11. Silhouette Magic:
Wolf and Moon's huge earrings creation is nothing less than spectacular. Inspired by 20th century abstract and modernist artists, these hand-painted earrings made in lightweight wood come in geometric shapes. Crafted and designed in London.
Price: £95
12. Bamboo Beauty:
Bamboo goes one step ahead – in lightweight earrings this time. A creation of Cult Gaia, these Ark bamboo, and gold-tone earrings are crafted from natural bamboo in a crescent shape. Suspended from polished gold-tone bars, the earrings fall just above the shoulders.
Price: £85
13. Oval Hooplah:
These gold-plated and asymmetrical Montana oval hoops in black are for the city girls. Perfect for those who are in a hurry to put on style, or those who like to put on something easy.
Price: £27
14. Sculptural Sensation:
These Amalfi earrings give a new perspective of modern-day sculpture. Gold-colored, they look minimalist and groovy. Just right for your meeting with the interior chaps, or those into arts and beyond.
Price: £35
15. Beautiful Promise:
Niobe Earrings in Copper Blue from Promises Promises show you how a promise can look in the form of earring trends. Hand-dyed clipped circle, two-tone jesmonite stone, and geometrically shaped polished metal deliver the promise of satisfaction. The finishes range from brass/green jesmonite, steel/pink or copper/blue. Handmade in London.
Price: £22.50
16. Cascade By Memphis:
These archival earrings created by the Memphis Design Group stand out for their colorful decoration and asymmetrical shapes. Handmade limited-edition pieces.
Price: $275
17. Glass Effect:
Designer sisters Marina and Susanna Sent continue their experience in glasswork with this contemporary jewelry design. These Modern art earrings take inspiration from the colors and necklaces worn by the Maasai people who live in Kenya and northern Tanzania. What stands out in these earrings is the sterling-silver posts and a red glossy glass bead.
Price: $48
18. Ibis Earrings:
14K gold-filled and cultured pearls inspired by the sculpture of Brancusi. Handcrafted to perfection. A classic tribute!
Price: $128
19. Museum-Worthy Gems:
When pink tourmaline and citrine triangles are connected by 14K yellow gold curves, you are seeing a pair of glam-worthy earrings. While pink tourmaline is the gem of creativity, citrine is the gem of optimism. The best of both worlds, actually!
Manufacturer Direct Price: $234
By now, you must have guessed the popularity level of modern art earrings. Well, it's fast catching up with the social divas – the ones who want to try out new abstract look with no holds barred. This trend is already making a buzz on social media and has many women in the fashion, art and corporate sector readily accepting it as a welcome change from the conventional jewelry metals.
Conclusion:
So how did you find this article on Modern Art Earrings? Have you ever looked beyond conventional jewelry and tried out new experimental options in earrings? Tell us in the comments below and do share this post with your friends and family members. It can be a reference point in new gift options.