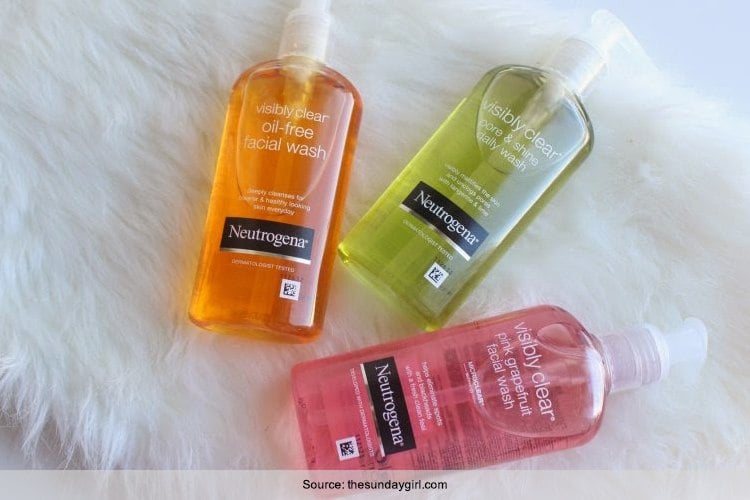 Growing up came with its fair share of problems and those who had to face the acne monster were particularly unlucky. Most of us relied on good cleansers and face washes to keep our skin squeaky clean and prevent an unlucky outbreak.
One of the most trusted products even now to combat acne and other related skin problems is the good old Neutrogena Face wash and thanks to their ever popular demands, we have picked some of the best face washes that can help you get rid of acne once and for all. Read on to know more:
Top 7 Neutrogena Face Washes:
1. Neutrogena Oil-Free Acne Wash (Pink) Grapefruit Cleanser:
Review: Good for normal skin, bane for dry skin
Price: Rs. 1740
While the pink color of the face wash can attract anyone, this particular one focuses on keeping your skin clean and removing any oil and grime from your face. It is recommended for people who have a sensitive to normal skin. Those of you who struggle with dry skin, stay away because this cleanser tends to dehydrate your skin even more. The product claims to be made with 100% naturally derived grapefruit extract and vitamin C – both of which work to brighten dull skin. Neutrogena Oil-Free Acne Wash Pink Grapefruit is great for cleansing the skin and can clear up acne in a couple of weeks. The only dampener is that it is not easily available in India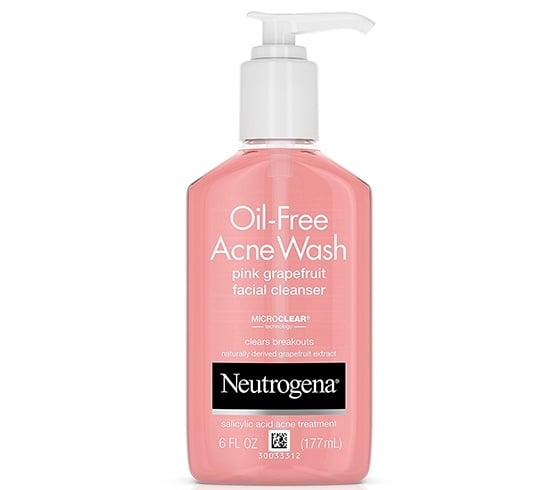 2. Neutrogena Naturals Fresh Cleansing + Makeup Remover:
Review: A cleanser that doubles up as a makeup remover, it's a win-win for everyone!
Price: Rs. 1419
This particular product from Neutrogena has got rave reviews from most of the users because it is very good to cleanse the skin with and also acts as a very good makeup remover. Even waterproof makeup fades away in a jiffy using this cleanser. It will also not leave your skin feeling dry and can be used every day. An acne-prone skin will actually fare much better with a light cleanser like this. The bottle lasts for pretty long and you don't even need copious amounts to clean your skin. Again you may not easily get your hands on this product.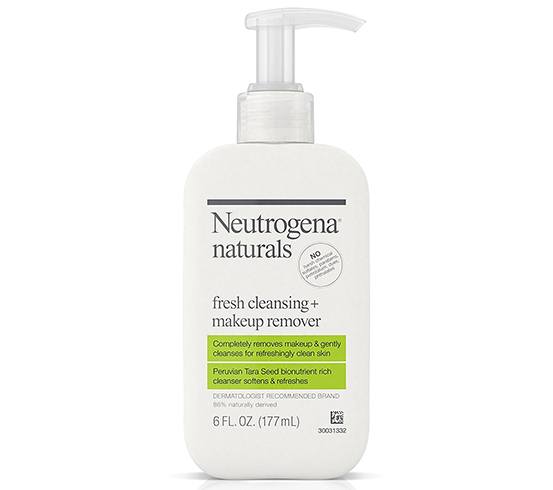 3. Neutrogena Oil-Free Acne Wash:
Review: The Holy Grail for all women (and men) troubled with acne
Price: Rs. 549
One of the most popular face washes from Neutrogena, this one is something that all acne-sufferers swear by. A lot of users go gaga about this particular Neutrogena face wash because it actually seems to work wonders for their skin. The root cause of acne is clogged pores. The main advantage of this Neutrogena face wash is that it contains some very effective cleansing agents and also salicylic acid. This combination works as a highly effective anti-acne treatment and helps to cleanse the pores. The product is alcohol-free and oil-free and it does not cause any irritation or dullness.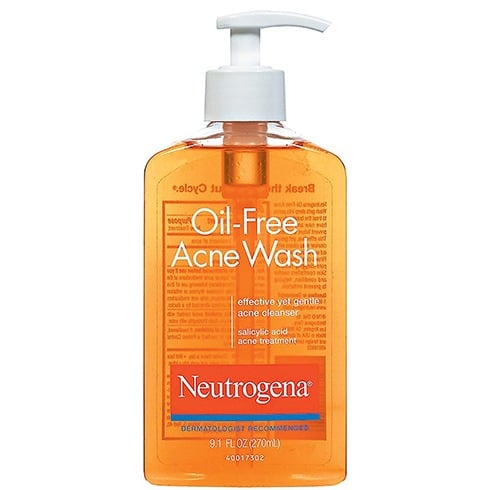 4. Neutrogena Deep Clean Facial Cleanser:
Review: A cheap and effective way to ensure clean skin, every day!
Price: Rs. 399
Like we said before, Neutrogena is one of those brands that is trusted for its good quality skin care products. This is another face wash from their range that has climbed the popularity charts because of its super cleansing properties. The USP of this product again is the presence of salicylic acid that works wonders to deep cleanse all your pores and removes all the free radicals, grime, and dirt from your skin. For those who have a really sensitive skin and are prone to frequent breakouts, this product is dermatologically tested and noncomedogenic. It can help exfoliate the dead skin cells and give you a glowing and blemish-free visage. This face wash also has a very mild fragrance and does not irritate your skin at all. If you are looking for a face wash that is gentle enough to be used every day, you can surely have this one in your bathroom cabinet.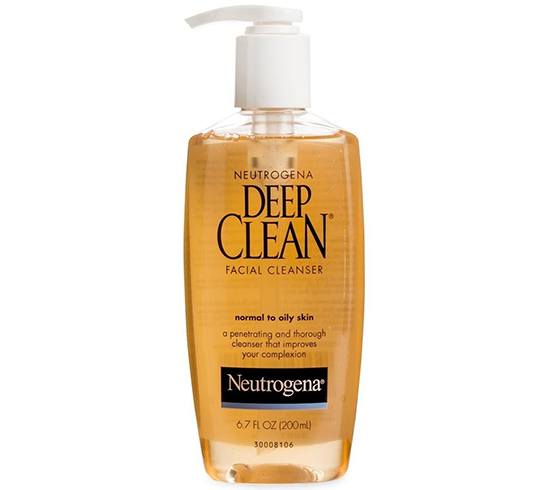 [sc:mediad]
5. Neutrogena Ultra Gentle Hydrating Cleanser:
Review: A god-sent cleanser for people with allergies
Cost: Rs. 1429
The best thing about this cleanser is the fact that it is a hypoallergenic creamy formula that leaves your skin feeling soft and clean without drying it out too much or making the pores too tight. Any acne-prone skin has a tendency to be super oily, but this effectively stops your skin from releasing excessive sebum. It is fragrance-free and extremely suited for people who are allergic to strong smells or have a very sensitive skin.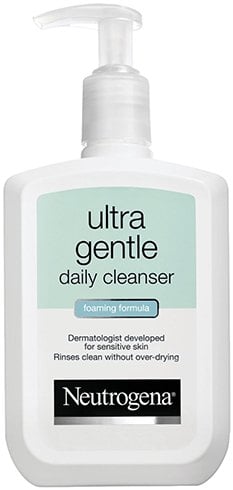 6. Neutrogena Visibly Even Foaming Cleanser:
Review: A gentle cleanser for those who have an uneven skin tone
Cost: Rs. 2238
There are very few cleansers in the market that promise to give you a radiant and even complexion. Neutrogena's Visibly Even Foaming Cleanser is one of them. With the goodness of Vitamin C and Soy extract, this gentle cleanser is super good for those who have acne-prone skin and also those who experience dry and patchy skin. It cleans your skin without actually drying it up too much. Its refreshing fragrance makes users love this product even more. The cleanser has a white, yet thick consistency and there are visible soy granules which are not too abrasive for the skin yet gently exfoliate it to refine its texture as you cleanse. You can safely swap this cleanser with your daily night time face wash. The only kink in this arrangement would, however, be the fact that this cleanser is a little expensive and hence using it every day will burn a hole in your pocket!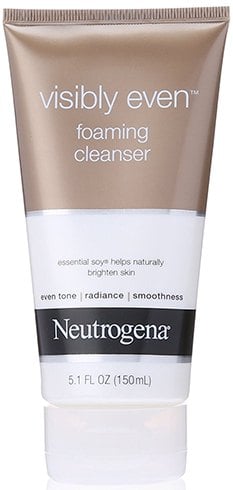 7. Neutrogena Pore Refining Exfoliating Cleanser:
Review: Visibly reduces the appearance of open pores
Cost: Rs. 1352
Dermatologist tested, alpha and beta hydroxy formula that works with gentle microbeads to sweep away dead surface skin and soothe over rough, uneven patches. It penetrates deep into pores to visibly reduce their appearance for clearer looking skin. If you feel the pores on your skin are conspicuous and give your face a rugged texture, then this is your go-to cleanser. Reduction of the pores not only helps in getting a healthy skin but also in fighting the visible signs of aging.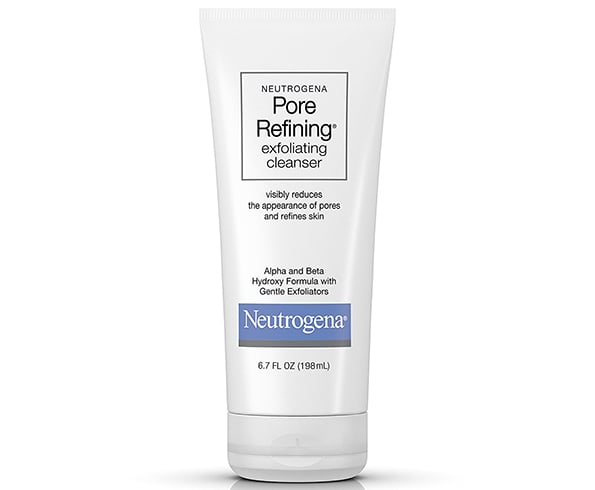 So here are the best picks from Neutrogena's face wash range. Most of them are gentle enough to be used every day. You can watch your face become radiant and your skin problems disappear magically by using any of these face washes. Choose the one that specifically caters to your skin type to get best results. If you still feel that your acne remains stubborn go ahead and consult a dermatologist. Remember, a balanced diet and a healthy lifestyle are key to good skin.
Do share your feedback with us if you give any of the above Neutrogena products a try.