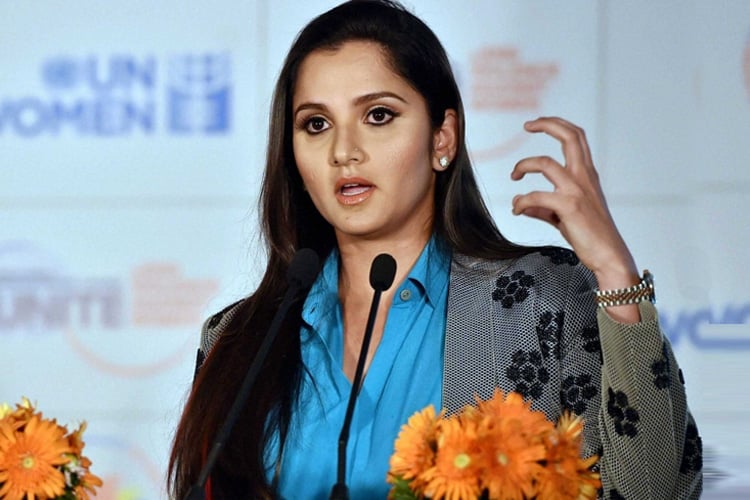 Personal Details
| | |
| --- | --- |
| Name | Sania Mirza Malik |
| Birthday Date | 15 November 1986 [celebrity_age_calc data="1986-11-15″] |
| Sun Sign | Scorpio |
| Eye Color | Dark brown |
| Hair Color | Dark brown |
| Nationality | Indian |
| Religion | Muslim |
| Education | Nasr School (Hyderabad); Graduation from St. Mary's College (Hyderabad) |
| Occupation | Tennis Player |
| Marital Status | Married |
Family Details:
| | |
| --- | --- |
| Father | Imran Mirza (Journalist) |
| Mother | Nasima Mirza |
| Siblings | Younger sis Anam Mirza, No brother |
| Spouse | Pakistani Cricketer Shoaib Malik |
| Children | None as yet |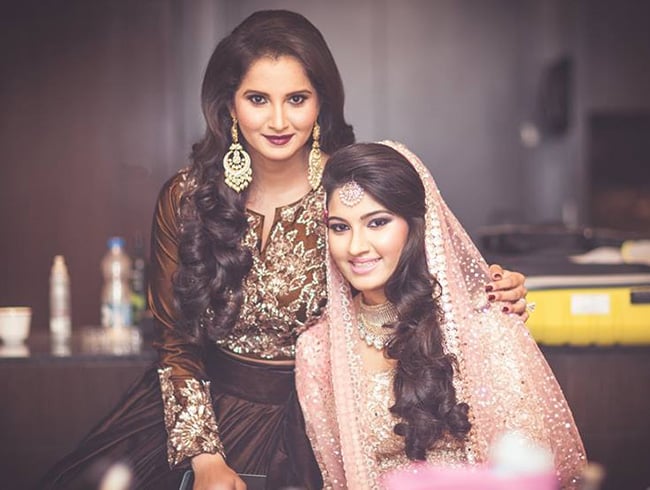 [sc:mediad]
Body Status
| | |
| --- | --- |
| Build | Slim |
| Height | 5 feet 6 inches |
| Weight | 57 kg |
| Waist Size | 26 inches |
| Hip Size | 36 inches |
| Shoe Size | Not known |
| Body Measurement | 38-26-36 inches |
Favorite Things and Hobbies
| | |
| --- | --- |
| Color | Black, Red and Blue |
| Food | Quite naturally, it is (and has to be) Hyderabadi Biryani |
| Place | Paris, London and Thailand |
| Sport | Swimming |
| Brand | Dolce and Purplelight |
| Actor | Brad Pitt, Salman Khan, Arjun Rampal and Akshay Kumar |
| Actress | Kajol and Kareena Kapoor Khan |
| Film | K3G (Kabhi Khushi Kabhi Gham), KKHH (Kuch Kuch Hota Hai), QSQT (Qayamat Se Qayamat Tak), Phool Aur Kante, Mohra, Maine Pyaar Kiya |
Sania Mirza Weight Loss
What's the secret of Sania Mirza health and fitness? We find out.
Workout Plan:
Sania follows a strict workout schedule packed with Gym, running and aerobics.
Gym is 4 times a week and 3 hours per workout for Sania.
In addition to that, Sania runs on treadmill and goes for long runs and sprints.
When she is not playing tennis, Sania trains for 5 to 6 hours a day.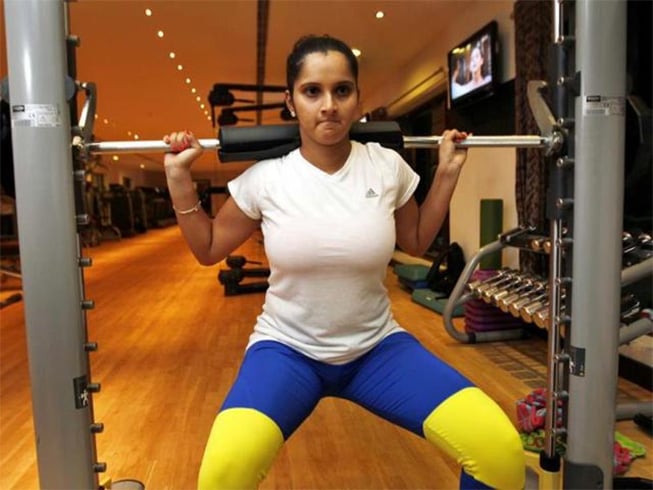 Diet Plan:
Sania's secret behind her perfect game is her diet – in which you will find all natural foods full of vitamins and proteins. That's because she requires more of energy to play well in tennis.
On-season, Sania takes plenty of carbs (since there is a lot of energy needed to play the game). While training in off-season, Sania cuts down on the carbs and eats more of protein.
Any guess what is her source of protein quota? Variety of meats and that includes biryani, haleem and chicken 65.
By the way, Sania loves spices. Like a true blue Hyderabadi, the tennis player is all for biryans and spicy curries.
In an interview she did with Sports Keeda, Sania said "I'm allergic to gluten, so that limits the food that I can eat. Indian food is fine in that regard; for a gluten-free diet it's easy with the rice and stuff. I have dal and rice when I want to keep things light."
Does Sania ever shy away from a big helping of biryani or a slice of cake? NO way. Whenever she indulges in foods rich in calories, she makes sure to do an extra 20-30 minutes of work-out the next day (to burn the excess of calories).
Social Profiles
Interesting Facts
Sania became the UN Goodwill Ambassador for South Asia in 2013. She also became the 1st South Asian woman to be so. Applause-worthy!
In 2014, Sania Mirza became the brand ambassador of Telangana state.
Sania achieved the World Ranking #27 in singles in August of 2007. This is her best career ranking.
Do you know – Sania's mom Naseema was selected as the manager for the 2-member tennis team for London Olympics 2012.
Images Source: pinterest