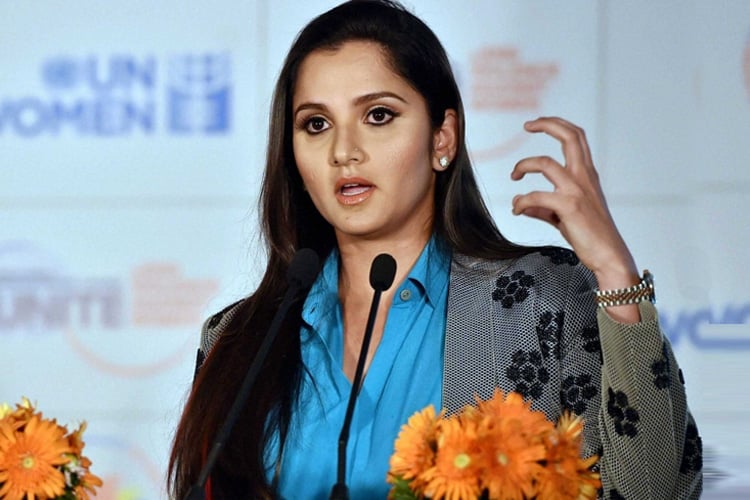 As a young junior player, she won 10 singles and 13 doubles title. With passing years, her name became synonymous with success. She is the recipient of the awards most Indians gun for – Arjuna Award, Padma Shri Award, and Rajiv Gandhi Khel Ratna Award. She is the first Indian woman to win a tennis WTA title. She was also ranked India's No. 1 player from 2003 to 2013. She is right-handed (two-handed backhand). Her nose-ring is a distinctive feature. What more would one need to confirm she is a true tennis star in all sense? Meet the accomplished lawn tennis player Sania Mirza.

Sania Mirza Height | Sania Mirza  Age | Sania Mirza Family | Sania Mirza Professional Career
Personal Details
Name
Sania Mirza Malik
Birthday Date
15 November 1986

(31 years)

Sun Sign
Scorpio
Eye Color
Dark brown
Hair Color
Dark brown
Nationality
Indian
Religion
Muslim
Education
Nasr School (Hyderabad); Graduation from St. Mary's College (Hyderabad)
Occupation
Tennis Player
Marital Status
Married
Family Details:
| | |
| --- | --- |
| Father | Imran Mirza (Journalist) |
| Mother | Nasima Mirza |
| Siblings | Younger sis Anam Mirza, No brother |
| Spouse | Pakistani Cricketer Shoaib Malik |
| Children | None as yet |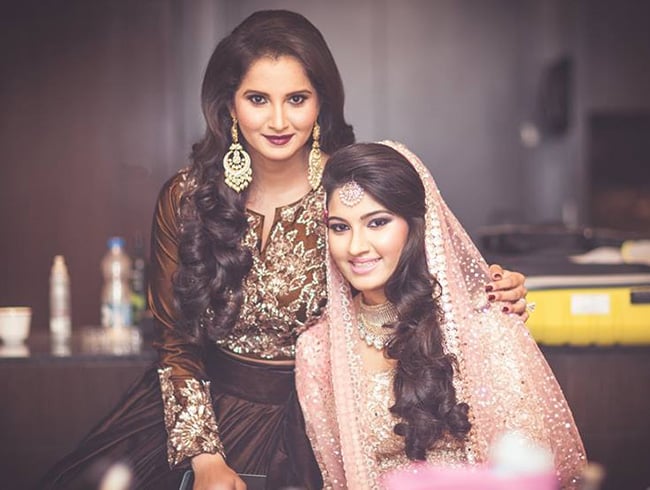 Past Relationships:
Before her marriage with cricketer Shoaib Malik, Sania had an affair with her childhood friend- cum-businessman Sohrab Mirza. In fact, in the year 2009, Sania got engaged to Sohrab. But as luck would have it, the same year their relationship ended.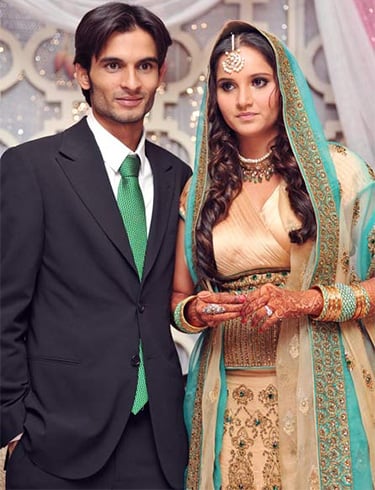 In 2008, Sania had a fling with an Indian actor, the handsome Shahid Kapoor.
Was her marriage to Pakistani cricketer Shoaib Malik a cakewalk? No, it wasn't.
Malik was accused by a girl of having married her already. Given the blame-game, Malik could not marry Sania easily. Finally under media pressure, he had to divorce the girl in question before marrying Sania Mirza.
Sania and Shoaib started dating each other in 2010. After a dating period of 6 months, they finally tied the knot on April 12, 2010 at the Taj Krishna Hotel in Hyderabad.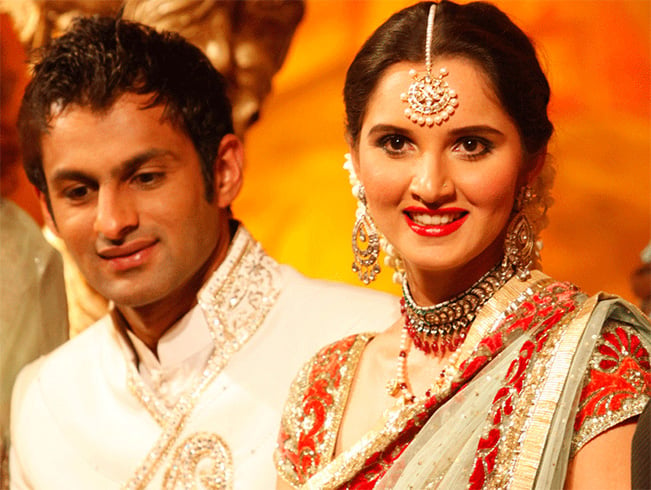 Body Status
| | |
| --- | --- |
| Build | Slim |
| Height | 5 feet 6 inches |
| Weight | 57 kg |
| Waist Size | 26 inches |
| Hip Size | 36 inches |
| Shoe Size | Not known |
| Body Measurement | 38-26-36 inches |
Favorite Things and Hobbies
| | |
| --- | --- |
| Color | Black, Red and Blue |
| Food | Quite naturally, it is (and has to be) Hyderabadi Biryani |
| Place | Paris, London and Thailand |
| Sport | Swimming |
| Brand | Dolce and Purplelight |
| Actor | Brad Pitt, Salman Khan, Arjun Rampal and Akshay Kumar |
| Actress | Kajol and Kareena Kapoor Khan |
| Film | K3G (Kabhi Khushi Kabhi Gham), KKHH (Kuch Kuch Hota Hai), QSQT (Qayamat Se Qayamat Tak), Phool Aur Kante, Mohra, Maine Pyaar Kiya |
Professional Career
First Debut: In the year 2003 in AP Tourism Hyderabad Open
Brand Endorsements: Bournvita, Sprite, General, Adidas, Country Club, Krrish Group (for their Delhi franchise in Indian Badminton League in 2013).
Career Achievements: It is a confirmed fact that Sania Mirza has SUCCESS written in her hand. In 2002, 2006, 2010 and 2014, she won 2 Gold, 3 Silver and 3 Bronze medals. At the 2010 Commonwealth Games, she won a silver medal in Women's Singles and a bronze medal in Women's Doubles.
Sania has won 3 Grand Slam Mixed Doubles Titles i.e. Australian Open, French Open and US Open.
In 2015, Sania won one of the Wimbledon Championships along with Swiss Tennis player Martina Hingis. She also got 1 WTA rank in the Women's Doubles event.
Remuneration: Not known
Net Worth: $8 million
Know this? Sania Mirza is the first Indian player to have won more than 1 million US dollar.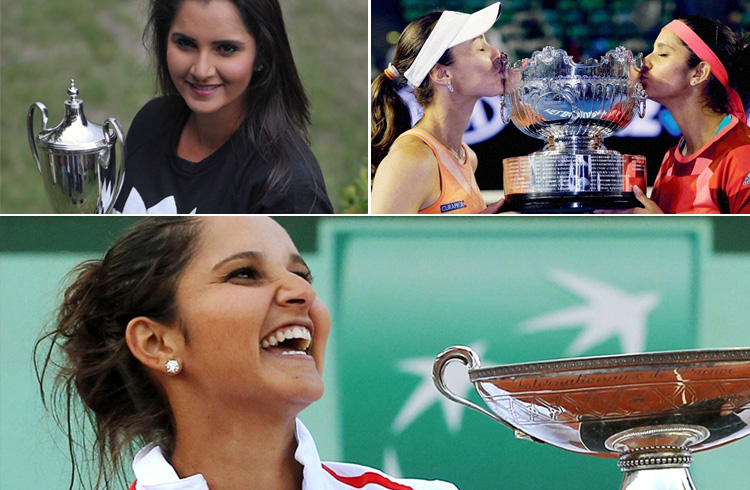 Sania Mirza Weight Loss
What's the secret of Sania Mirza health and fitness? We find out.
Workout Plan:
Sania follows a strict workout schedule packed with Gym, running and aerobics.
Gym is 4 times a week and 3 hours per workout for Sania.
In addition to that, Sania runs on treadmill and goes for long runs and sprints.
When she is not playing tennis, Sania trains for 5 to 6 hours a day.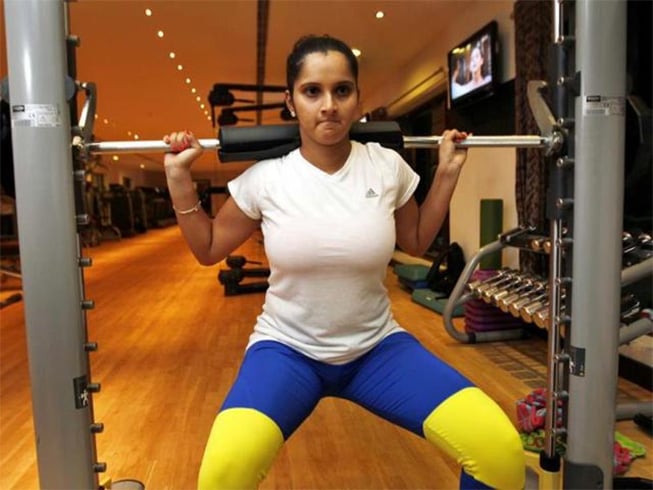 Diet Plan:
Sania's secret behind her perfect game is her diet – in which you will find all natural foods full of vitamins and proteins. That's because she requires more of energy to play well in tennis.
On-season, Sania takes plenty of carbs (since there is a lot of energy needed to play the game). While training in off-season, Sania cuts down on the carbs and eats more of protein.
Any guess what is her source of protein quota? Variety of meats and that includes biryani, haleem and chicken 65.
By the way, Sania loves spices. Like a true blue Hyderabadi, the tennis player is all for biryans and spicy curries.
In an interview she did with Sports Keeda, Sania said "I'm allergic to gluten, so that limits the food that I can eat. Indian food is fine in that regard; for a gluten-free diet it's easy with the rice and stuff. I have dal and rice when I want to keep things light."
Does Sania ever shy away from a big helping of biryani or a slice of cake? NO way. Whenever she indulges in foods rich in calories, she makes sure to do an extra 20-30 minutes of work-out the next day (to burn the excess of calories).
Social Profiles
Interesting Facts
Sania started playing tennis when she was all of 6 years. Imran Mirza, her father, did her initial coaching followed by Roger Anderson.
Apparently, a lawyer filed a case against Sania Mirza for showing disrespect towards the national flag. Also, in the year 2014 a fatwa was issued against Sania on grounds of her outfit in tennis courts. You can't expect lady tennis stars to play dressed in a sari, can you?
Sania likes the famous tennis star Steffi Graf.
Is she a filmi-freak? YES, because Sania has watched Karan Johar's Kabhi Khushi Kabhi Gham around 30 times!
Sania became the UN Goodwill Ambassador for South Asia in 2013. She also became the 1st South Asian woman to be so. Applause-worthy!
In 2014, Sania Mirza became the brand ambassador of Telangana state.
Sania was conferred the honorary degree of Doctors of Letters from MGR Educational and Research Institute in Chennai in 2008.
In 2010, according to Google trends, Sania Mirza was the most searched sportsperson that year.
Sania achieved the World Ranking #27 in singles in August of 2007. This is her best career ranking.
Do you know – Sania's mom Naseema was selected as the manager for the 2-member tennis team for London Olympics 2012.
Such an achiever she, is that one can't resist watching her display skills on court. Tell us what you like most about Sania Mirza, other than her grip on tennis.
Images Source: pinterest