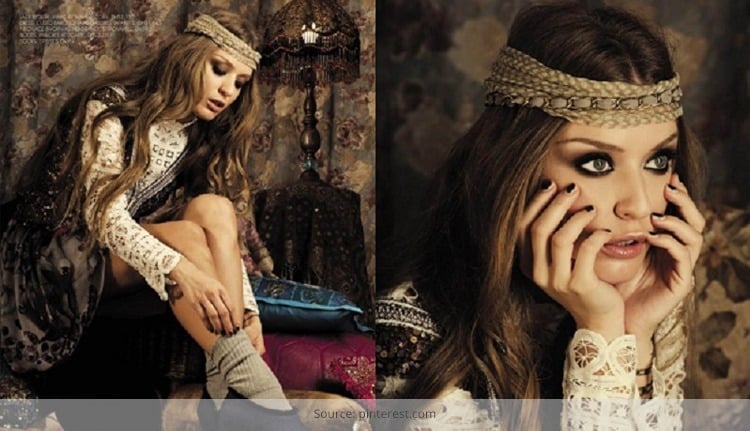 This season revamp your fashion quotient with the best of trend setting styles conceived by bohemian and hippies influences. Fashionlady offers you some top picks on boho chic fashion accessories. Do have a read!
But before that what is boho chic fashion?
Well, it is a female-oriented style statement inspired largely from Bohemian and hippie culture. This fashion had touched heights in 2004-2005. Remember when Sienna Miller was engaged to Jude Law and was frequently seen donning this avatar? Just like their relationship, the trend was short-lived, not to mention only in media glares. This enduring fashion is always on high, provided you pull it off well.
The boho chic look that developed in 1960's once again became a rage in 2004 and thanks to Sienna Miller who popularized this culture once again, when she appeared in 2004 Glastonbury Festival.
The city of London was hugely influenced by this style and by mid 2005, boho chic has become almost ubiquitous in parts of London and was seen in almost every British high-street fashion boutique. Its aficionados were sometimes referred to as 'Siennas'.
Features included "floaty" skirts (notably long white ones), furry gilets, embroidered tunics, cropped jackets, large faux-coin belts, sheepskin (UGG) boots and cowboy boots, baggy cardigans and "hobo bags". Demand was so great that there were allegations the following year of some sub-contractors' having used cheap child labor in India for zari embroidery and beading.
Having said that Fashionlady offers you some beautiful boho chic fashion accessories and outfits to help you create your own bohemian style statement. Continue reading!
Black Stars Murano Necklace by Boticca
The jewelry designer has used Murano glass to conceive this unique Boho neck-piece. The beads are carved out of typical Venetian technique manually. The designer usually travels to Venice to collect such beads and is very particular with her creations. Her jewelry collections are definitely a traffic stopper, everyone notices them!
Boho Chic Oscar de la Renta Jewelled Handbag
This boho chic satchel is crafted of black suede accented by black leather and embossed goldtone hardware, encrusted with semi-precious stones and beadwork on front and back profiles of the bag. The bag is enabled with beautiful heavy black satin double braided straps, which add more feathers to its glamor.
Bhangra Beaded Dress by Matthew Williamson
This boho chic dress is full of character and artful in design. With intricate embellishment, this Bhangra dress exudes opulence. This is one of the most Matthew Williamson's elaborate creations this season demanding attention and making a show-stopping statement.
[sc:mediad]
Hippie Chic Leather Watch Bracelet by Breo
Banking in the Boho/hippie trend, this funky leather watch bracelet is adorned with metal charms and unique decorations. The design is versatile and can easily mix with other bracelets in line with the current 'stacking' trend.
Jinny Paisley Studded Mini Skirt by Isabel Marant
This pink hued cotton mini skirt features an ivory and lilac paisley-print with silver metal studs and eyelet embellished edges. The fitted skirt has a low-rise, slanted side pockets, jet back pockets and a small hem slit on each side with a zipped center front fastening.
Now you can create your own 'I never liked you anyway' statement by pairing your skirt this way –
Boho Turquoise Encrusted Bracelet by Forever New
Now add a boho chic appeal to your style with this trendy stone studded clasp bangle! The Turquoise stone set against metal enables this pair with a stylish edge. You can pair this trendy bracelet with any outfit, from your casual day wear to evening ensembles.
This lovely piece will work wonders with a patterned shirt with a pair of casual blue jeans!
Michon Skirt by Peter Pilotto
'All those different textures, the skirts with those hemlines, the way everything moved was incredible,' ~ Vogue's Sarah Harris on Peter Pilotto's Michon Skirt. And we can't help but agree. This stretchable crepe-designed Michon skirt was the opening look at the fashion show. Just grab your cue from the runway and go wild with clashing prints.
ZiGiny Flat Sandals
These are women's must-have ankle-strap sandals, which are cute yet boho and can go with numerous outfits and style, especially if you are a worshipper of Bohemian fashion.
Hope you enjoyed this special edition on Boho chic fashion. Do share your views with us!