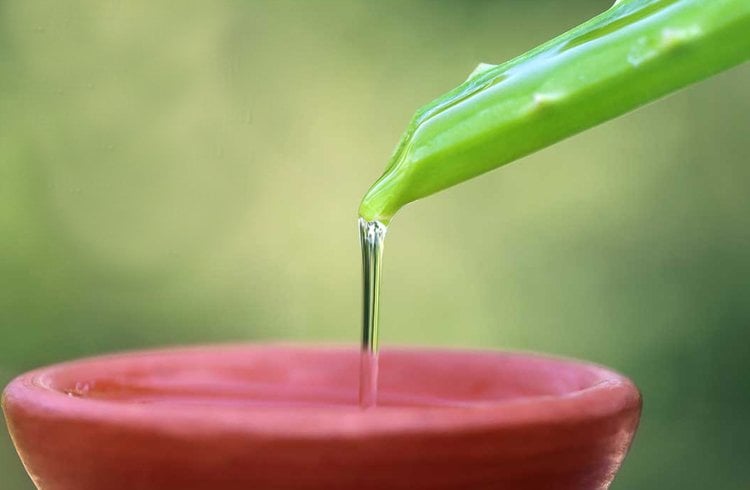 Most of you would be familiar with this cactus-like green plant with tiny thorns. It is a common plant found in our kitchen gardens. But the superb thing about it is that it's juice extract is the most favoured ingredient in facial creams and shampoos.
Welcome to the world of Aloe Vera juice, the miracle plant, also known as 'Ghritkumari Saar' in Hindi. Aloe Vera as a plant is widely used in beauty products, health juices and even diet supplements. Therefore, it would be wise to call Aloe Vera juice as the humble caretaker of health.
[Also Read: Aloe Vera for Rash Around Mouth ]
What makes Aloe Vera Juice the most popular recommendation from the medical practitioners? Let us find out.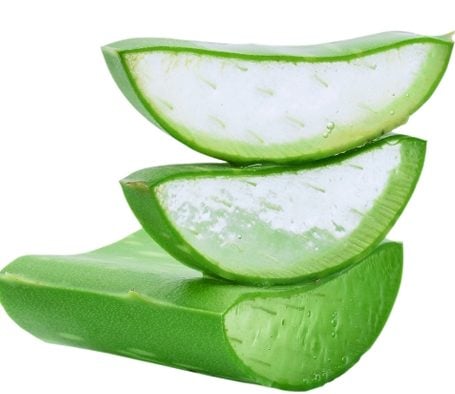 Aloe Vera Juice Benefits
The beauty of Aloe Vera juice is its translucent nature. Most of you who have had Aloe Vera juice would be able to identify it as the see-through gel, which is bitter as well. But then since it has unbelievable healing properties, who would not want to make use of Aloe Vera Juice by drinking it or applying it on skin and hair?
On that note, how about sinking deep into the world of Aloe Vera juice and discovering its known and unknown benefits, starting from the skin.
Aloe Vera Juice For Skin
According to Bill C. Coats, "Since the skin needs nutrition of its own, Aloe Vera, when formulated into a properly designed personal care regimen, can treat, exfoliate, restore, reveal and provide constant, impressive nutrition to the human skin." What a nice way of establishing the relation between Aloe Vera juice and skin?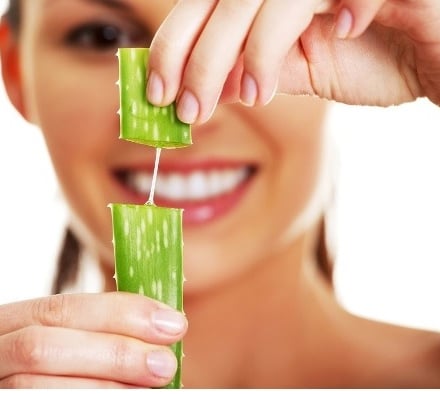 1. Prevents Signs Of Aging: Wrinkles are inevitable, as far as human species go. Aloe Vera juice counteracts the action of the free radicals by removing the dead skin cells, thereby averting the signs of ageing. Aloe vera juice is rich in plenty of vitamins like vitamin A, B, C and E which prevent the skin from the suffering of aging by providing essential strength to the skin tissues.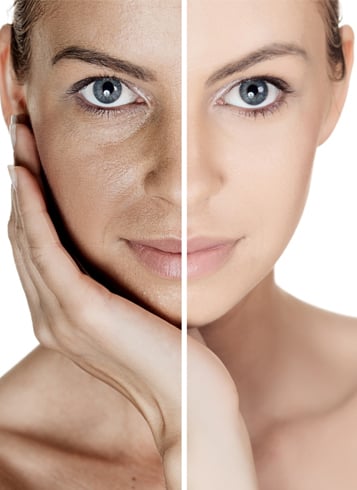 2. Moisturizes Skin: The juice of Aloe Vera is a great moisturiser as it penetrates into the deepest layers of the skin. Just as drinking water quenches your thirst, similarly Aloe Vere Juice quenches the thirst and dryness of your skin.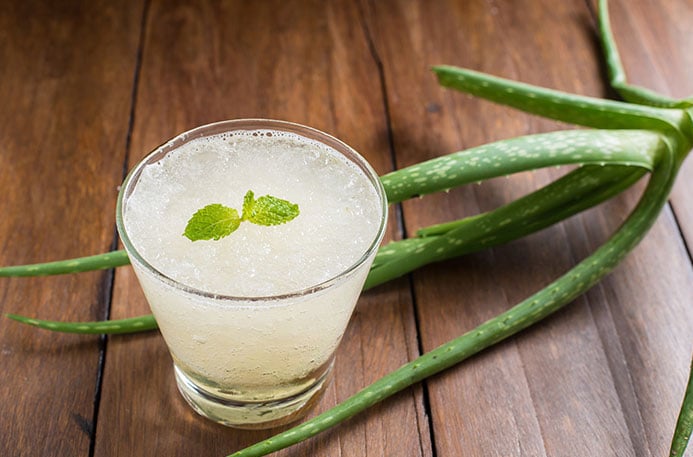 3. Acne Treatment: Aloe plant is soothing and anti-inflammatory, and is just right in healing acne scars and preventing new breakouts. When you add a few drops of lemon juice to aloe vera juice, you will find it exfoliating your skin, unclogging pores and fading away acne spots. Even honey and aloe mask is a good package for treating acne, as honey is known for its anti-bacterial properties.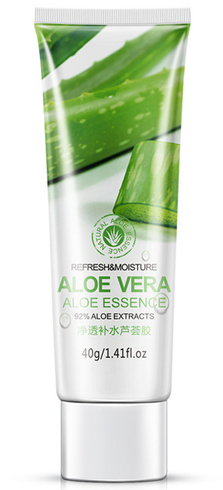 4. Sunburn treatment: Aloe Vera juice helps in healing sunburns. In fact, aloe vera oil works effectively in moisturising the skin, reducing the chances of skin peeling which happens due to sun damage. Moreover, aloe vera juice gives your skin a cooling effect, which gives you the much needed relief in soaring temperatures. People who have used self tanners and want to get rid of it now, aloe vera juice can come to your rescue..
5. Heals External Wounds And Insect Bites: Yes, it gets painful when an insect bites or when an external injury happens. Aloe vera juice brings the much needed relief due to its anti-inflammatory properties which makes it the go-to herbal product when it comes to seeking relief and faster healing.
6. Reduces Stretch Marks: Aloe vera is a skin saviour. The enzymes, vitamins, minerals and fatty acids in it help a lot when it comes to reducing stretch marks. The collagen content in the aloe vera plant improves the skin's elasticity.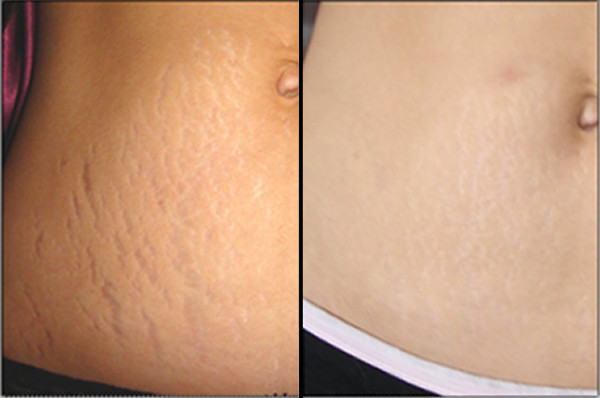 The next thing after skin is hair. Let us find out how aloe vera juice combats the hair woes.
Aloe Vera Juice For Hair
Now the aloe vera juice is not just a boon for skin, it offers a great package for all your hair problems, while repairing dead skin cells on the scalp. When you wash your hair with aloe vera juice, you can look forward to absolute relief from pesky hair fall and dandruff problems.
Diane Gage, who is the author of Aloe Vera: Nature's Soothing Healer has the following to say, "Keratin, the primary protein of hair, consists of amino acids, oxygen, carbon, and small amounts of hydrogen, nitrogen, and sulphur. Aloe vera has a chemical makeup similar to that of keratin and it rejuvenates the hair with its own nutria nts, giving it more elasticity and preventing breakage." Let us see how aloe vera juice proves it's talent and capability on the hair care front.
[Also Read: Benefits of Sugarcane Juice for Skin, Hair and Health]
7. Promotes Hair Growth: Seeing glossy hair will not just be limited to ads or commercials that we see, they can be yours in reality, too. Aloe vera juice not just cleans your scalp, it nourishes your tresses from the roots, thereby giving you long luscious hair and frizz-free, too. If the problem area of hair loss is bothering you, your hair will get happy results when you use aloe vera juice to wash your hair.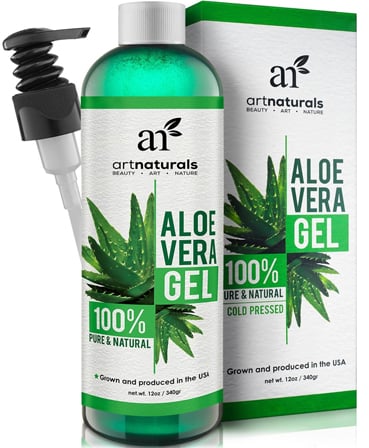 8. Reduces Dandruff: Say goodbye to dandruff by washing your hair with Aloe Vera juice. It is free from chemicals and preservatives which give it a major plus point over conventional OTC shampoos that claim dandruff-fighting. Many girls who have used Aloe Vera Juice for their hair haven't turned back to the fancy shampoo labels which vie for our attention.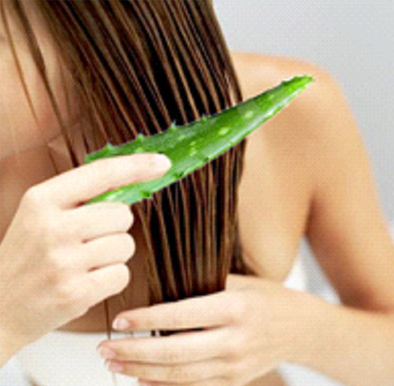 9. Maintains pH Balance Of The Scalp: Healthy hair has a pH between 4.5 and 5.5. Whenever the pH level of hair gets imbalanced, it can lead to many scalp conditions and problems like weak hair strands, scalp getting flaky, dry scalp, eczema, hair loss, even scalp eczema and scalp psoriasis (red patches on the scalp). The juice of Aloe vera helps restore the pH balance to your hair, thereby warding off any infection or hair breakage from a pH level gone haywire that could lead to bald spots on your scalp.
10. Conditions Hair: Aloe vera plant has proteolytic enzymes which play the role of a great conditioner, leaving your hair soft, smooth and shiny. The juice of aloe vera is an excellent and natural home remedy aimed to make your hair problems a thing of the past.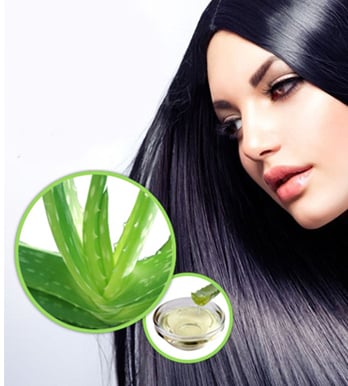 It is important to know how to make a hair pack using the juice of aloe vera gel.
How To Use Aloe Vera Juice For Hair Pack
Just as Aloe Vera is a natural "beauty" find, it is also a "hair treasure". Whether it is hair fall, dandruff, or dry hair, aloe vera juice mask eliminates all these problems on frequent use.
Cut an aloe vera and extract it's gel using a spoon or scooper.
Now with the use of your fingers, apply aloe gel on damp hair from the hair scalp till the hair ends.
Get a warm towel for yourself and wrap your hair in it for 15 minutes (give adequate time for the aloe vera gel to sink in your hair).
Then wash your hair using a mild herbal shampoo. Aloe vera gel is of great help in reducing the sebum (or oil) on the scalp.
Now that I have talked more about beauty and hair side of using aloe vera juice, let us find out about it's health side too.
Health Benefits Of Aloe Vera Juice
Beauty aside, the endless health benefits of Aloe vera juice are worth writing a thesis on. Let us take a look on what makes the plant Aloe Vera and it's juice a health craze.
11.  Alkalinity: If your body has an acidic pH, then it is a breeding ground for disease and illness. What you need to do, in order to come out of this situation is eat and drink alkaline foods such as aloe vera juice to restore the normal body pH. Other than aloe vera juice, you can take alkaline foods like citrus, leafy greens, root vegetables, nuts and seeds, coconut vinegar and apple cider vinegar.
12. Hydration: Did you know that the aloe plant is dense with water, which makes it a perfect recipe to fight, prevent and treat dehydration? When you stay hydrated the whole day thanks to aloe vera juice, you not only gain a whole lot of nutrients needed by your body, it also helps your body system flush out the impurities and toxins. This is very important as your body has to rely on kidneys and liver to detoxify blood and produce urine.
When you have come out of a heavy exercise session, it saps your body of water and body salts. This is the time your body needs to be rehydrated by taking extra fluids. Instead of taking coconut water, try drinking aloe vera juice after a hard workout session.
13. Liver Function: Aloe Vera Juice plays an important role in detoxing your body, and keeping your liver healthy. Liver organ in our body works best when the body is hydrated and nourished. And the juice of aloe vera is best for liver because of it's hydrating nature and the fact that it is rich in phytonutrients.
14. For Constipation: Each morning, many of you might be complaining of irregular bowel movements and constipation. When you drink Aloe vera juice, it helps increase the water content in your intestines. And when that happens, it stimulates peristalsis, which makes bowel movements easy. Therefore, whenever you are facing the problem of constipation, drink aloe vera juice religiously. It helps in maintaining as well as normalising the healthy bacteria in your gut, thereby balancing out the healthy intestinal flora.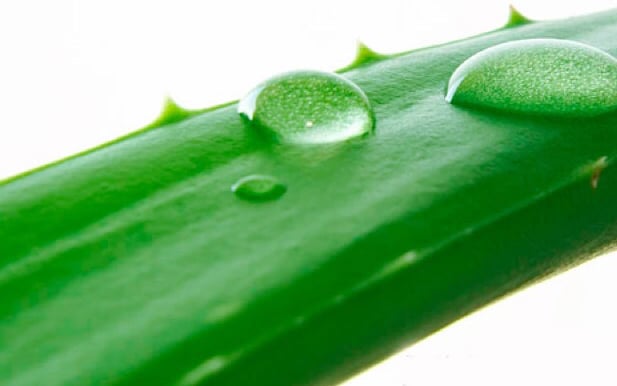 15. Nutritious Boost: Know why Aloe Vera Juice is the most blessed of all? Because it is immensely rich in nutrients. While it has important vitamins and minerals like vitamins B, C, E, and folic acid, it also has small traces of calcium, chromium, copper, sodium, selenium, magnesium, potassium, zinc and manganese.
Aloe vera is one of the only plant sources of vitamin B-12, which makes it excellent for vegetarians reading this blog.
16. Heartburn Relief: When you are experiencing heartburn, drink a glass of aloe vera juice. The compounds present in it control the acid secretion in your stomach. Such is the effect of this juice that it has also helped gastric ulcers from getting larger and out of control.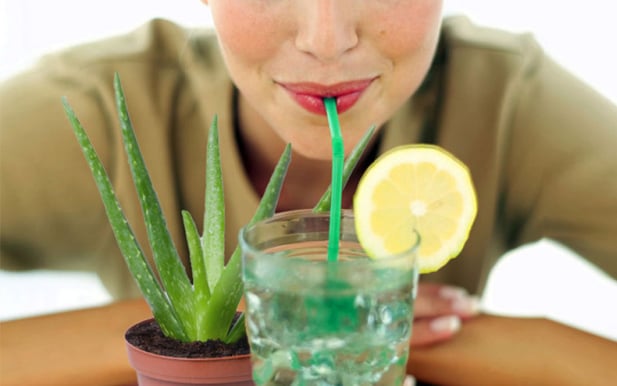 17. Digestive Benefits: The Aloe Vera plant has enzymes that help break down sugars and fats so that your digestion runs smoothly. If your digestive system is not operating smoothly, then chances are your body won't absorb the nutrients effectively from the food stuffs that you are eating. This means you have to keep your digestion abilities smooth so that no hiccup happens in digestion.
Aloe vera has a wonderful quality of decreasing irritation in the stomach and intestines. The juice helps in treating irritable bowel syndrome (IBS) and other such inflammatory breakouts in the intestines.
18. Diarrhea Risk: Aloe vera juice has a laxative called anthraquinone. If the juice of aloe is taken in large quantity, it can put you to the risk of diarrhoea, electrolyte imbalance, pain, cramps and dehydration. So monitor your drinking pattern of aloe vera juice. However, the good news is that aloe juice has anti-inflammatory properties which soothes the irritated colon while the antibiotic properties of it clear out the bad bacteria, thereby treating the abnormalities in the digestive tract such as diarrhoea.
19. Drug Interactions: Taking the juice of aloe vera does not put you to any health risk. But when taken with certain medications can cause negative side effects. So it would be better that you consult a doctor first before taking aloe vera juice. Examples of side effects of aloe juice when taken with other drugs include lowering of blood sugar levels (when taken with insulin to treat diabetes), hypertension (when taken with medicine to lower potassium levels).
20. Lowers Risk Of Cancer: Aloe vera juice is seen as a preventive medicine for cancer. Aloe Vera gel slows down the creation of new blood vessels that feed cancerous cells. Apart from lung cancer, aloe vera has been shown to help prevent skin cancer.
21. Hemorrhoids: I have been often referring to the anti-inflammatory benefits of aloe vera juice in this blog. And the juice doesn't disappoint in treating haemorrhoids. Apply the gel of aloe vera directly onto your anus, and you will feel immense relief from the itching feeling and burning sensation in the rectum. Plus the astringent properties of aloe vera soothe irritation of the skin and shrink haemorrhoids too.
22. Oral Health: When you are drinking aloe vera juice, it is safe for your teeth. Moreover, since the tooth gel of aloe vera is non-abrasive, it is ideal for those of you having sensitive teeth. Aloe Vera is now increasingly being used in toothpastes, mouthwashes, as well as dental floss. Whether it is the tackling of gum tissue problem (disease is called gingivitis) or tooth decay, aloe vera juice destroys the harmful bacteria, thereby cleansing and soothing the gums and teeth.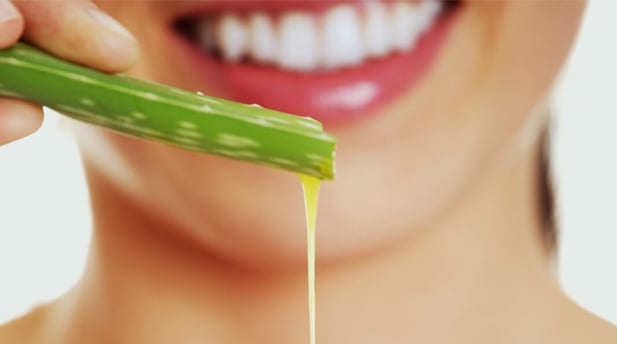 23. Diabetics: According to a new study from Thailand, Aloe vera may improve the control of blood sugar in patients suffering from Type 2 Diabetes.
24. Builds Immunity: Aloe vera juice has polysaccharides which help the immune system to fight out ailments such as asthma, and eczema.
25. Stimulates The Metabolism: The juice of aloe vera stimulates your metabolism and reduces Body Mass Index (BMI) by converting carbohydrates and fats in your body into energy, instead of storing them.
26. Weight Loss: Aloe vera juice is not just suitable in the pursuit of better health, it is a winner in weight loss programs and removing excess fat, too.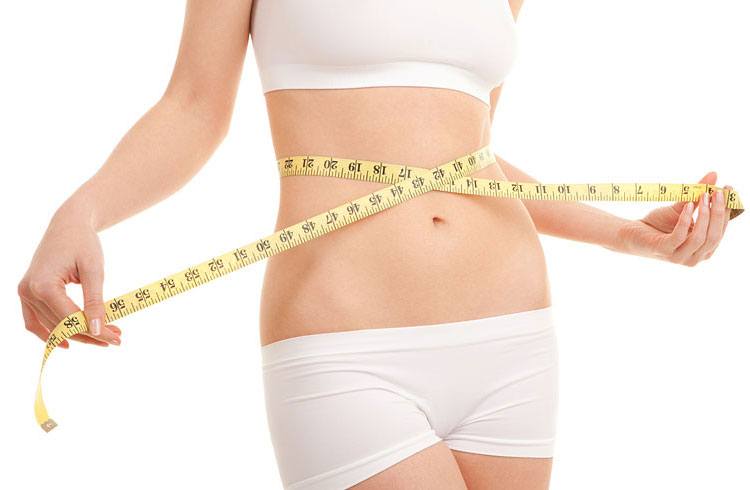 Aloe Vera Juice With Lemon: Mix water with 1 tbsp of fresh aloe vera juice. Now combine this with the juice of a freshly squeezed lemon. Stir it well and drink it daily. If you want, you can add artificial sweetener to this, in order to neutralise the bitter taste.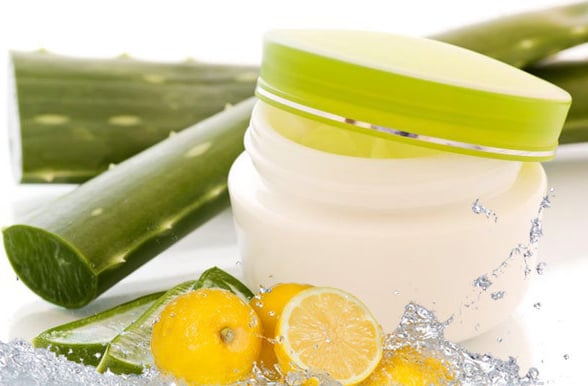 Aloe Vera With Honey: Both aloe vera and honey get a thumbs-up for their weight loss properties. So if you want to lose that pesky flab, mix 1 tsbp honey with the diluted form of aloe juice and drink it every day for best results.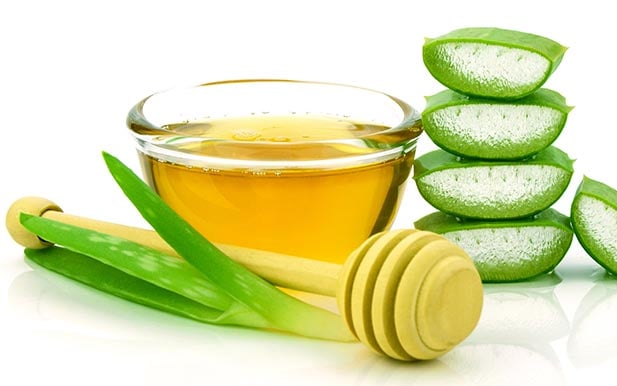 Having read so much about the multi-farious benefits of aloe vera juice on skin, hair and health, let us know how we can make aloe vera juice in the comfort of our home.
How To Make Aloe Vera Juice
Well, it isn't hard to make your own aloe vera juice. Only thing is you should keep these points in mind while preparing it.
First of all, the leaves of aloe vera should be organic.
Secondly, see to it that the aloe plant you have chosen is edible. Either, buy already cut leaves of aloe vera plant or for that matter grow your own aloe plant.
If you have a fully grown aloe plant, then remove the leaves from the plant which you would like to use. Don't harm the aloe vera plant, though it has a natural tendency to heal itself.
If you plan to remove the leaves of the aloe plant, then use a sharp knife. The idea is to leave a clean cut so that the aloe plant heals swiftly on its own.
Start the cutting process by cutting the aloe leaf near the plant base. Remove the inner leaf gel by splitting the leaf into half lengthwise. This is a nice way to reveal the gel and juices in the leaf. Now scoop out only the gel part. In doing so, avoid the outer yellow coloured areas, which is the outer leaf, as this doesn't have the desirable substance you are looking for, in terms of the juice.
Now that you have separated the inner leaf gel from the aloe vera plant, put into a blender. Now is also the time to add ingredients like lime, fresh lemon, orange juice to meet your taste expectations. Go ahead and add organic fruit to this preparation, in case you wish to. But before you start blending, keep in mind that you have added 2 to 3 tablespoons each of aloe vera gel and citrus component.
Once the blending of original mixture has been done, add a cup of cold water to it. If you find the taste to be too strong, then dilute it further by adding water. You can even add a dash of apple cider vinegar to add more nutrient and taste value.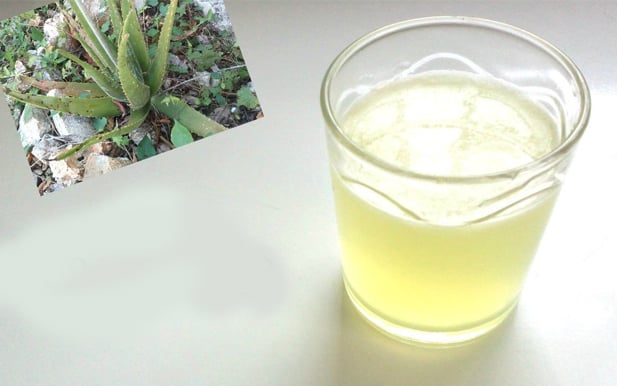 Now that we know how to make aloe vera juice, let us know the tips of how to take it.
[sc:mediad]
How To Take Aloe Vera Juice
The juice of aloe vera plant cleanses the intestinal villi and helps get rid of the toxin build up around it. The best way to take aloe vera juice is to take it early in the morning after you have you wake up. This is the time when stomach and intestines are empty and drinking aloe vera juice at this time is helpful and beneficial.
On the consumption part, take 2 doses of the aloe vera juice a day – one in the morning and the other in the afternoon. Alternatively, you can take the second dose three hours before going to sleep.
The juice of Aloe vera can be used in beauty treatments such as face packs. Here are tips on how to use it in face packs.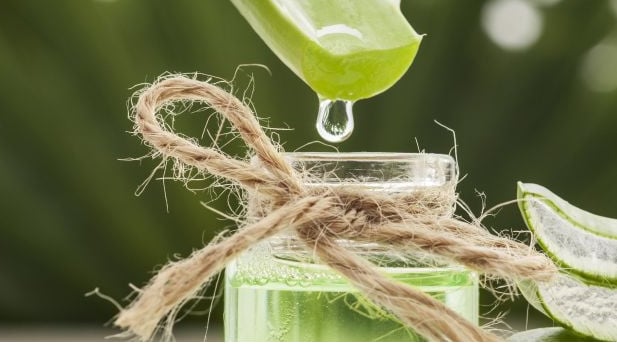 How To Use Aloe Vera Juice In Face packs
Aloe vera gel helps retain the firmness of the skin, rejuvenating it, hydrating it and keeping it look fresh at all times. When you make aloe vera juice face pack, here is how you can claim good and beautiful skin.
1. For Glowing Skin
Ingredients: Aloe Vera, Turmeric, Honey, Rose Water and Milk
Method: Put 1 pinch of turmeric, 1 tsp honey, 1 tsp milk and few drops of rose water in a bowl and make a paste out of it. Add aloe vera gel to this paste and combine all the ingredients well. Now apply this paste evenly to the face and neck for 20 minutes. Then wash it off with lukewarm water.
2. For Tan Removal
Ingredients: Aloe Vera, Lemon Juice
Method: Make a paste of aloe vera and lemon juice and apply it to the sun tanned area. Leave it for 10-15 minutes and wash it off. You can also use a cotton ball to apply this paste over the affected area.
3. For Skin Pigmentation
Ingredients: Aloe Vera, Rose Water
Method: Make a paste of aloe vera and rose water and apply it to the face. Leave it for 20 minutes and rinse it off using cold water. This pack doubles up as a fairness pack too.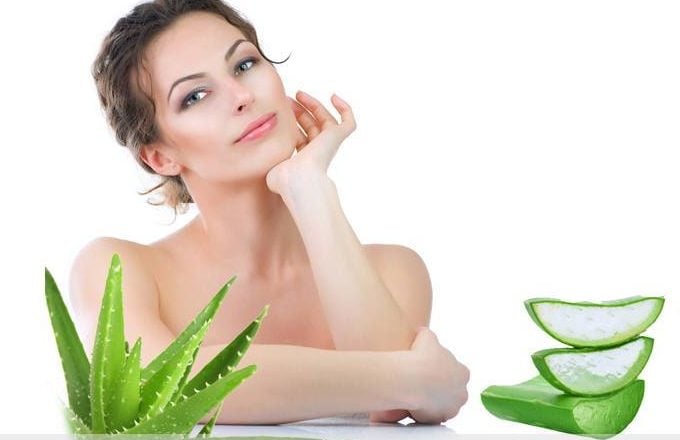 After reading this piece, we can come to the conclusion that Aloe vera juice is a healthy drink for the body and immunity. Drinking it in leaf form will certainly improve health, lower blood sugar level, and reduce weight.
I hope your knowledge, vision and appreciation of aloe vera juice has gone up many times after reading its benefits and intake. Tell us of the situations in your life when aloe vera juice brought your skin and hair the much needed relief and happiness.
Images Source: Pinterest