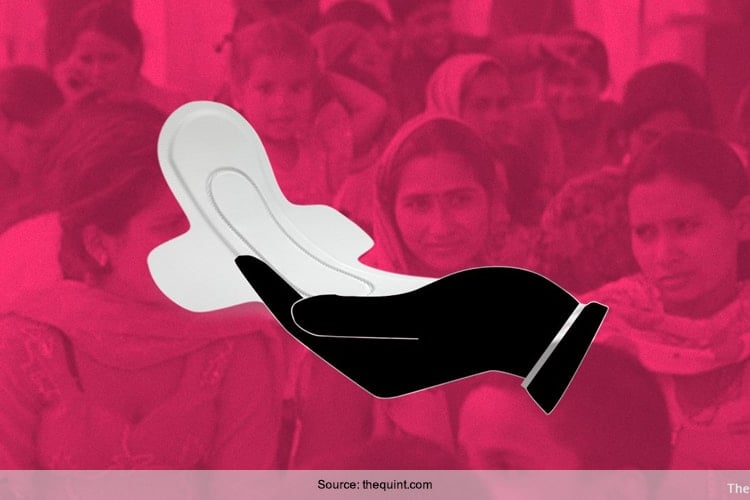 It's the age of Tinder and Insta. So when you are using short puzzling words thanks to social media, it sounds cool. But when we talk about respecting women's biological needs, it's a hush-hush behind-the-curtain affair.
Look at the irony – six inches gap between saree and blouse is seen as divine (to men, I suppose). But two inches gap between jeans and top is treated as shameful (by many who carry the thinking and beliefs of the past). When the subject is explaining feminine hygiene and normalized period talks, is it still seen as a curse? While menstruation is the topic of discussion, which category does it fit in – myths or taboos, or both? Or something which is usual and a part of life, a part of a woman's normal existence and a biological change in a woman that society needs to respect? How about opinion?
Jago Grahak Jago or Jago Woman Jago?
Well, despite the darkness in clouds, there is a silver lining. Thanks to conscience-pinching films like "Padman" and social media abuzz with #feminism and #HappyToBleed, there are 5 ways the conversation around menstruation has changed.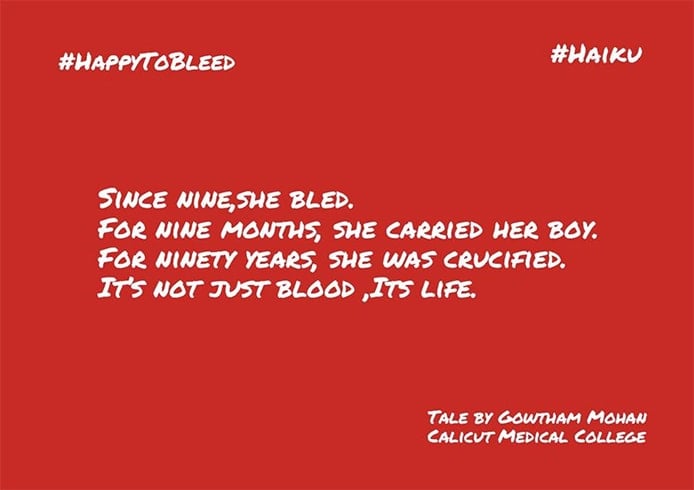 Did I hear ladies saying "I don't want to be strong, I just want to be STRONG"? Or "Daag Acche Hain?"
If yes, then let us decode the sticky subject of Menstruation, the global conversation, explaining feminine hygiene, and such personal matters which are not being shunned anymore, but being talked about openly, and receptively.
#1 Heard of Menstrupedia?
It is a firm which educates girls about menstruation through "comics", a novel and engrossing way indeed.
Its Co-founder Aditi Gupta says that taboos around menstruation are deep-rooted. She says "For thousands of years, it has been ingrained into our cultural practices." 
Since menstruation and female hygiene has been a part of the cultural baggage and taboos for so long (pretty long, actually), it is hard to shake it off so easily and look at it in a different light. Perseverance is the key thing here.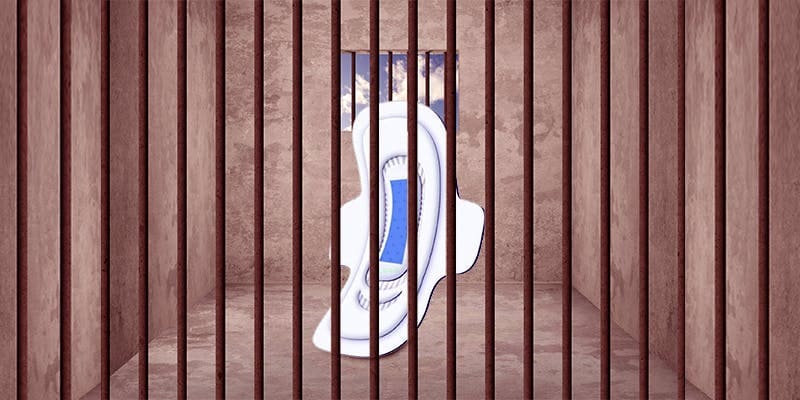 #2 That Menstruation Is No Longer Impure And Dirty:
When you do a thorough study of the cultural diversity around, you will find that menstruation is associated with impurity and seen as dirty.
Suhani Mohan of Saral Design says "There is a consistent belief across India that 'period blood is dirty' which then leads to different manifestations across cultures and incomes like not entering the temple and kitchen, hiding menstrual blood stains, embarrassment in talking about periods etc."
It is this one belief that leads to misconceptions – not one, but many and therein lies the challenge – of how to address these taboos and change the way periods are perceived.
#3 Sex Education And Awareness:
The school curriculum preaches male and female anatomy. That is why education is the best way to break the myths and taboos surrounding menstruation. And it is the first step towards changing the situation and negative opinion on menstruation by explaining feminine hygiene. It is also a precursor of 5 ways the conversation Around Menstruation Has Changed.
Suhani Mohan further explains "It is really important for every girl to have access to sex education and know that period blood is the lining of the uterus, so technically every human has lived in that area before being born. How can a 'fetus' nutrition be dirty? 🙂 We try to use this narrative in most school awareness sessions to break this taboo." What a way to go about explaining feminine hygiene in the myth-centric world.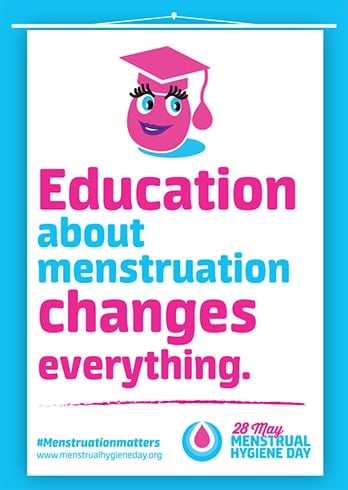 This is in close lines to what is being done by Menstrupedia which uses comics not in one language but in different languages to teach and educate young girls about menstruation.
#4 Battling The Stigma Associated With Menstruation:
In the modern world, teaching Menstruation is not seen welcome. Teachers often skip through the chapters on reproduction and menstruation in school.
Ignorance is not bliss but can be the breeding ground for many a misconception.
Keeping this in mind, the Ahmedabad Global Shapers started The Science Project. The aim? To help make the connection between science as a field and the biological process that women go through every month.
[sc:mediad]
"The Science Period", an initiative by the Global Shapers Community which is an initiative of the World Economic Forum, is a global network of local communities led by young people who are socially-driven.
According to Madhish Parikh, a social entrepreneur and Global Shaper at Ahmedabad Hub, "since the discussions around menstruation are hushed up this leads to girls being severely unequipped to understand and take ownership of their bodies."
Ownership of their bodies is a point well-said!
Who is the target audience?
The target audience is girls from class 5 to 10, age 10 and above, from Govt. to CBSE to State boards schools.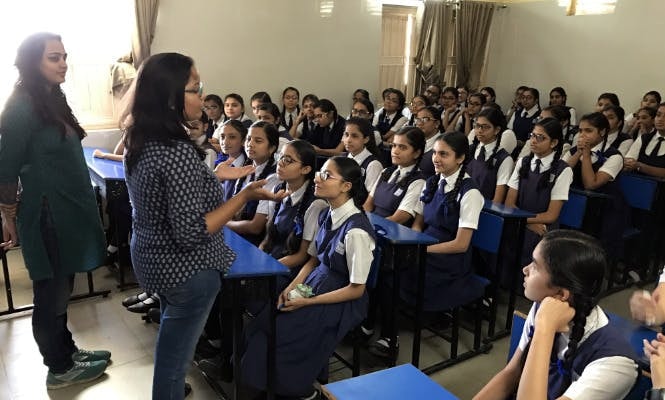 Why is this age group starting from class 5 onwards?
That's because this subject needs to be taught everywhere and since the medium of experiments can be understood by the students of all strata.
What has been the impact of such an initiative in schools?
Madhish Parikh shares the initial discomfort the school girls went through and their pin drop silence when their team started to talk about menstruation.
But that's not a dampener.
Madhish further revealed "We have designed the workshop to ensure that they engage with the content and don't feel shy in participating. More often than not, towards the end of the workshop, the girls ask us deeply thoughtful and important questions about menstruation, which only goes to indicate how they have been just brushing them under the carpet so far. Of course, that's not healthy at all".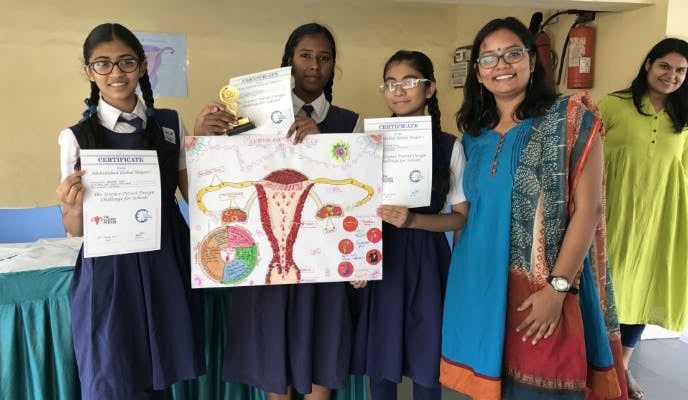 You must be eager to know the impact of the "The Science Period".
Well, it has impacted the lives of 400 girls so far. So amazing it has been that Madhish shares his own experience.
"Not only have we seen these girls clear up their doubts about periods with us, they also actively and enthusiastically participate in a 'design challenge' that we run. In this challenge, we invite school girls to create a working model of the uterus which explains the full menstrual cycle. These working models are beautiful, in every sense of the word, because when they walk around with it in school, without being ashamed of it. It feels as though one is witnessing women empowerment live."
Madhish further adds, "Once a teacher asked a girl to cover up her uterus-model. However, the same teacher expressed her gratitude, once she had attended one of our workshops. She even shared her 'period story' with the students, and thus, we saw some of the shame being lifted from the room."
This is woman's empowerment in the true sense of the word and should be taken to the Harvard and Oxford to motivate the global conversation on menstruation. Yay or Nay?
#5 Men Need Education Too About The Monthly-Cycle:
Why just women? Change can happen only when men are empowered too. Suhani Mohan has a valid point when she says "It is important to impart sex education to boys. India is a patriarchal society and most buying decisions are taken by the head of the family or the husbands. Right knowledge about menstruation in women can help in bringing a change in the attitude of the family towards menstruating women."
Absolutely and bang-on!
Making men aware of the 5 ways the conversation around menstruation has changed can go a long way in making men think constructively about menstruation, and not look down upon women.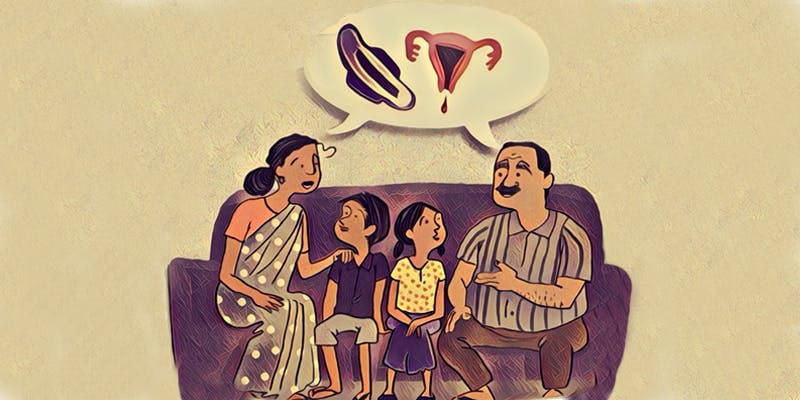 Hope I have addressed the myths and taboos on menstruation in the best possible way. What are your views on menstruating women? Shouldn't they be accepted as normal for something which is biological to them? Write in and tell us. With Women's Day not far, this topic can change the way men look at women as also the way women look at women.