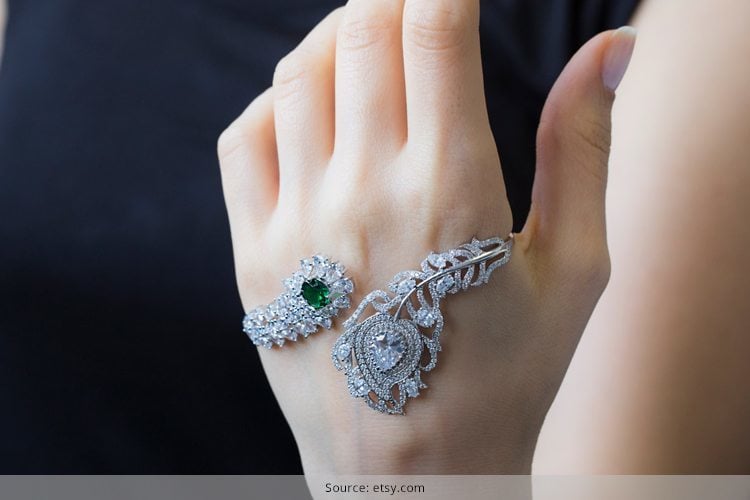 We all know how to add that attention-grabbing oomph, glam and style to our neck and necklines, waist, ears and wrists. But why neglect your gorey haath when they can make men go drooling over it? Ladies hands' are meant to be kissed, not confined to the kitchen fumes and detergent stains, what say?
[Also Read: Vintage Sterling Silver Charm Bracelets]
Fashion is a matter of how you dress up your hands. And Palm Cuff Bracelet is an awesome accessory after midi rings that goes many a mile to make your hands and fingers look a statement in itself.
So, What Is Hand Palm Cuff Bracelet?
Also called hand bracelet, hand band, handlet, Palm Cuff Bracelet or hand palm cuff bracelet is meant to give a well-groomed finishing touch to your sexy outfit.
Where did these fashion bracelets come from? As always, it's the television, social media, magazines to fall back on. Because they are unique to look at, Palm Cuff Jewelry aren't meant for everyone.
Expressing freedom and love for fashion, the hand palm cuff bracelet has not only been used as fashion hand attire for the glitterati but also as insignia for military and as currency!
How Did Palm Cuff Jewelry Evolve?
Rumours have it that the present day hand palm cuff bracelet was based around the prayer style beads worn in Eurasia by men who used to wrap it around their palm. In fact, the first of the Palm Bracelets was a simple fitting of beads. As time passed, more distinct and stylish designs evolved in palm cuff bracelet which became more of a fashion statement.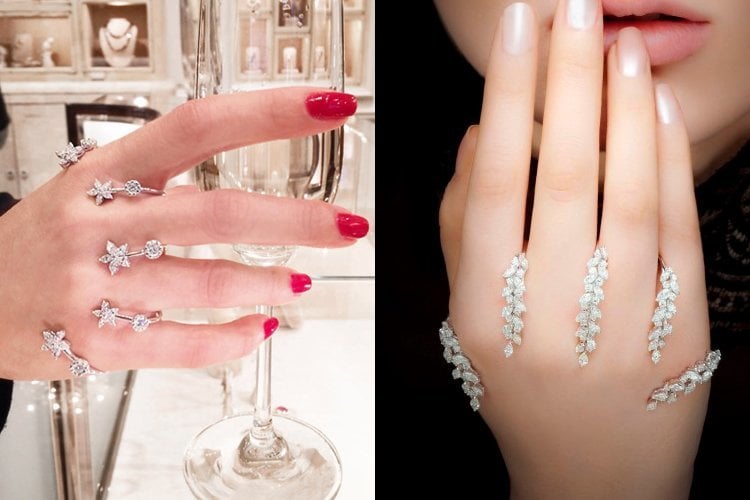 Palm Jewelry Gracing The Fashionistas And Filmy World
Native to the Middle East, this jewellery is inching its way into the hands of the well-dressed.
Couple of international style icons and Hollywood starlets such as Rihanna, Salma Hayek, Sarah Jessica Parker, Jennifer Lawrence, Nina Garcia and Alicia Keys to the home-grown Sonam Kapoor have all sported this hand bling on red carpets and blingy shows.
Any connection between the Filmfare Awards South 2015, and hand palm cuff bracelet? Well, for once it was a stylish affair. The cine ladies sported their designer gowns and experimented with different accessories. But what got the attention of onlookers were actresses Regina Cassandra and Raai Laxmi who ditched the regular bangles and bracelets in favour of the off-beat and contemporary palm cuffs. What a way to steal the limelight!
The Show-Stopping Trend Of Palm Jewelry
For most of you, palm cuffs might appear to be awkward and cumbersome. But fashion knows no ifs and buts. It's the quirkiness of Palm Cuff Jewelry that is not only appealing it has the ability to win many hearts. This explains the reason why it has been able to create a stir of sorts in the world of fashion and glamour.
If you have a knack of putting on a trendsetting style, the edgy and elegant palm cuffs could well be a bold breakthrough for you.
[sc:mediad]
Things To Keep In Mind While Wearing The Cuff Bracelet
Talk of hand jewellery and are you going to sport it with rough-looking skin on. You need to pay extra attention to your manicure before wearing the palm bracelets.
Whenever you have to go for the night dos, you can stack up palm bracelets or wear it in an entwined stone-encrusted piece. For everyday use, you can choose to wear a simple slim band.
You can also pair your hand palm cuff bracelet with midi rings. This twin effect will make your hands sparkling than ever before and make the heads turn.
So ladies, hand palm cuff bracelet is a sought-after creative way to dress up your ignored palms. Get ready to adorn your lovely hands with the lovelier and saucier Palm Cuff Jewelry and see how your fanfare doubles up. This is going to be one helluva fashion chutzpah which is absolute fun, unique and a beautiful addition to any jewelry box!
Drop in your views on how you feel adopting this raring-to-go trend of Palm Cuff Jewelry.