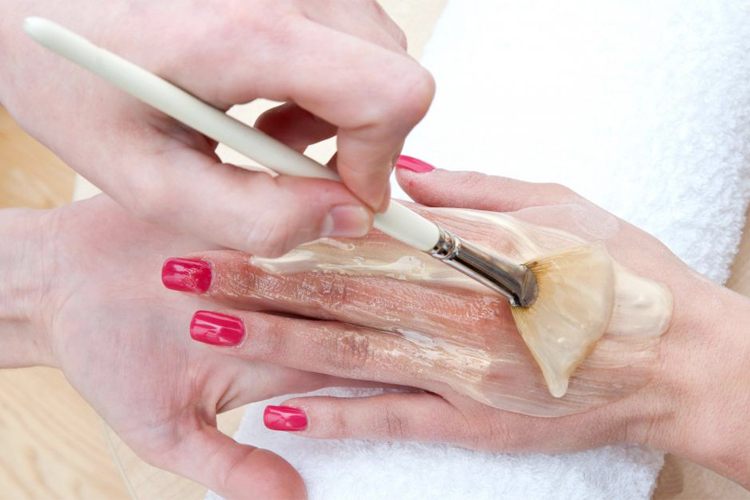 Whenever you are on a manicure mission to a parlour or salon, there is one common thing you will find in standard manicures. They largely focus on the finger nails where beauty technicians rub lotion into the fingers or give palm massages. All this is done to increase blood flow into the fingers.
The beauty of Paraffin Wax Manicure lies in the fact that the health of the entire hand is given priority, not just the hand so that your hands experience ultimate relaxation.
Paraffin Wax manicure is a beauty treatment for your hands which combines nail buffing and polishing with skin softening as well as moisturising. It means the entire hand is dipped into paraffin wax, before or after the nails are polished, so as to seal in moisture and softness quotient.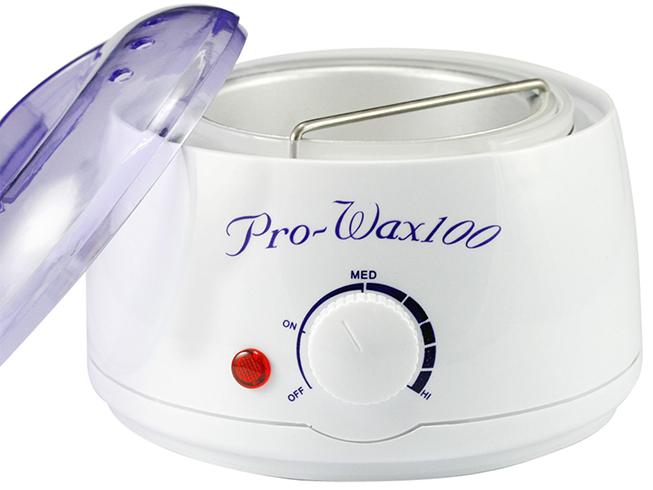 The wax is left on the skin of the hands for some time, say between 5 minutes to half an hour. Once it is removed, the skin feels silky soft and hands revitalised.
Moisturising Properties Of Paraffin Wax
Paraffin Wax is oily by nature, and so is able to lock in moisture. When you apply it to the skin, it restores suppleness by opening pores and boosting blood circulation.
In fact, talking about paraffin wax manicure benefits the paraffin wax manicure treatment has therapeutic properties as it relieves sore joints and muscles, thereby increasing the motion in the hands and easing out the symptoms of eczema, arthritis and other ailments.
Process Of Paraffin Wax
Most of you would be eager to know what is a paraffin wax manicure and how to do a paraffin wax manicure.
Generally speaking, beauty salons melt paraffin blocks in manicure "basins" that have been designed for soaking of hands. Once the wax melts, the manicurists rub the hands of the customer with moisturizing exfoliating scrub. This is done in order to remove dirt as well as dead skin.
Sometimes the nails are shaped and polished first, but adequate time should be given to them to completely dry off before dipping them in paraffin. When the nails have dried and scrubs rinsed off, that is the time to start Paraffin Wax Manicure.
[Also Read: How To Do Manicure At Home]
Don't forget to remove jewellery before dipping your hands in the softened wax in the basin. Also the wax should be warm, but not extremely hot.
Usually a single coat in the paraffin wax manicure procedure is ideal. Sometimes double or triple dip is done to ensure the best seal.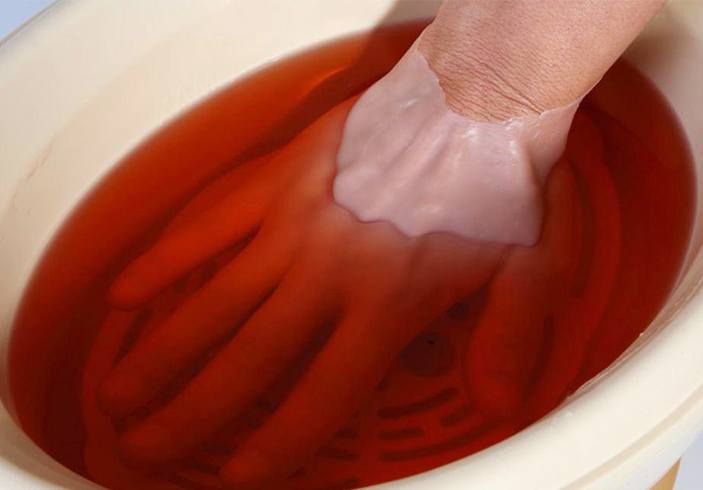 Thereafter, the manicurist slips a small plastic bag over each hand so as to lock the moisture. Subsequently, warm towels are placed on top. The wax is then left to set.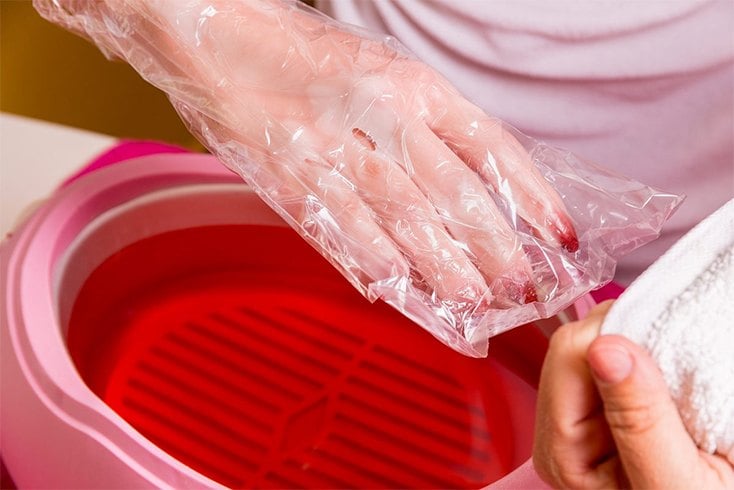 Paraffin Wax Removal
You will notice that the paraffin wax will peel off easily from the hands once it has cooled on its own. The best part is that at this juncture the hands begin to feel very soft.
[sc:mediad]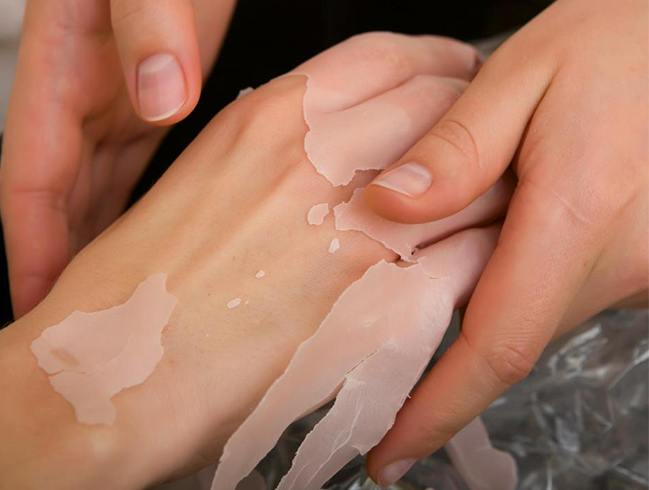 Should you wish to polish your nails after the treatment, then apply a dehydrator to the nails. This will help remove any residual oils which prevent the polish from sticking to the nails.
Thereafter, you can proceed with the manicure after selecting the colour of your choice, and following it up with nail trimming and buffing, and then polishing.
Extras
Some salons and spas add fragrance or essential oils to the paraffin wax in order to make the manicure look luxurious. There are some who like to give intensive hand or even full arm massages in order to pamper.
Safety Precautions
The biggest risk of Paraffin Wax manicure could be burning. So it is very important to check the temperature of the wax before dipping your hands in it. The paraffin wax should be melted and creamy, not bubbling or smoking as it could be inflammable. Instead of going for a hot temp, it is better to go for warm.
Those of you who have irritated skin in the form of rashes or cuts should ideally wait before going for a paraffin wax manicure treatment.
So how did you find the concept of Paraffin Wax Manicure? Like to try it out or recommend it to your friends? Feel free to write in your replies and comments.
Images Source: wisegeek