What do you do when your skin gets parched and thirsty for moisture? Apply a battery of foreign brands in creams and lotions, isn't it? And tell yourself you have got the best bet. But when you apply Patanjali Body lotion – you have got the best product for skin nourishment and hydration. How? Let us find out.
Ingredients Values of Patanjali Body Lotion:
Goodbye skin dryness forever! Because Patanjali Body Lotion has a combination of nature's goodness and the best of Ayurvedic ingredients for your dry and extremely dry skin.
| Ingredients | Quantity |
| --- | --- |
| Wheat (GEHOON) Oil – Triticum Aestivum | 10 mg |
| Lodhra Extract – Symplocos Racemosa | 2.5 mg |
| Manjistha Extract – Rubia Cordifolia | 2.5 mg |
| Turmeric (Haldi) Extract – Curcuma Longa | 2.5 mg |
| Aloe Vera Extract –  Aloe Barbadensis | 2.5 mg |
| Cucumber (Kheera) Extract – Cacumis Sativus | 2.5 mg |
| Saffron (Kesar) – Crocus Sativus | 0.05 mg |
Here is the List of Patanjali Body Lotion Benefits:
Three major benefits are present in Patanjali Aloe Vera Body Lotion (which will make your skin happy)- it reduces and eliminates skin dryness, cracks and fissures in the skin, and dermatitis. To top it all, it is non-greasy and perfect for all skin types.
1. Dermatitis
How to Use: Regular application of Patanjali Body Lotion on the skin reduces the chances of frequent and intense itching of the skin. It shields the skin from irritants by producing a soothing action.
Note: If there is a discharge oozing out from a skin lesion, then do not apply Patanjali Body Lotion. Consult a doctor for treatment and relief.
2. Dryness of the skin
How to Use: Since it is a herbal moisturizer, the body lotion from Patanjali keeps the skin soft and supple, glowing and vibrant.
Usage Pattern: Patanjali body lotion for winter is a good choice when you are prone to dry skin. Apply the cream on a regular basis to avoid the onset of the dry skin itself.
3. Cracks and fissures in the skin
How to Use: This problem happens most (even worsens) in winters. Dryness of the skin is the culprit. Patanjali Body Lotion smoothens out the cracks and fissures in no time. Use the lotion twice a day for best results (depending on the severity of the crack or fissure).
Usage Pattern: Apply Patanjali Body Lotion on the skin once or twice a day. You can change the frequency of the application depending on your skin dryness.
During winters, you might have to apply this lotion more frequently because the skin tends to become dry and harsh. Which is okay, nothing to lose.
Before applying the lotion, just make sure that your skin is a little wet. This will keep the skin moisturized for a longer period of time.
Should you want to apply Patanjali Body Lotion on your face, first apply a moisturizing toner. Instead of choosing a cotton swab for the purpose, just pat the toner on your face using your fingers. Then, apply the lotion while the skin is little damp. Patanjali body lotion on your face can give you healthier skin in no time!
Patanjali Body Lotion Side Effects:
From the external application point of view, Patanjali Body Lotion is SAFE. Safe and Effective too!
Why so?
[sc:mediad]
It is made with natural ingredients – meaning pure herbs. This means the Patanjali Body Lotion is chemical–free, safe to use. It is only the herbal components in the lotion, which can be an area of botheration for a few due to its smell. But relax, it can hardly be an area of concern considering the quality and effectiveness of the Patanjali Body lotion.
Few situations need to be kept in mind:
Pregnancy: Pregnant moms need not worry about using Patanjali Body Lotion. It is not known to have an adverse effect on the growth/ development of the baby. So by all means, go ahead and apply the lotion externally on the skin.
Lactation: A word of caution – Lactating mothers should completely avoid applying this lotion on the breast skin.
Contraindications: Open wounds can make the situation worse. So applying Patanjali Body Lotion over open wounds is a strict NO-NO. The lotion should not be applied even to the cracks that are deep or bleeding.
Patanjali Body Lotion Review:
The tagline on the tube of Patanjali Body Lotion reads "Rejuvenates skin and Increases skin glow".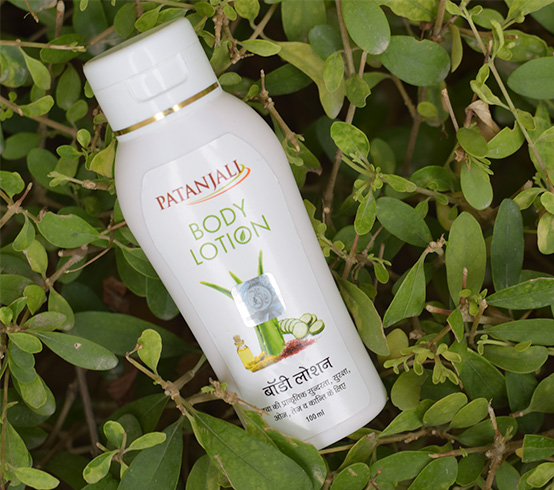 Patanjali Body Lotion Price:
Priced at INR 60 for 60 ml, the Body Lotion from Patanjali comes in a plastic sturdy bottle with a flip-top cap (which is easy to carry in a handbag as much as display it on the dressing table). The user-friendly and easy to use packaging is a major plus point of this Body Lotion.
What about it's Availability?
Patanjali Body Lotion is easy-to-grab in Patanjali stores and departmental stores. In fact, Patanjali stores are coming up everywhere in metro cities. For the online shopper, you can happily book it online on Amazon, Flipkart, Nykaa etc. So you needn't lose sleep anymore thinking where to get this lotion from.
Talking about the fragrance part, it has a wheat-germ like smell. Since it has aloe vera, it gives your skin extra-moisturizing effect. So when you apply this lotion on your hands, arms, neck, legs, toes and even stomach, your skin is in for major moisturization benefits. If you look at the benefits, you will be surprised considering they come in for just 60/-. Try it once, if you haven't, and you will know what you have been missing out on all this while.
Tips:
This might surprise most of you.
Did you know, the Patanjali Body Lotion is useful for diabetics?
It is a known fact that diabetics stand a higher risk of suffering from skin ailments like Athletes' Foot and ulcers (which are non-healing).
This is where the goodness of Patanjali Body Lotion comes in. It blocks the chain of reactions that occur due to skin dryness. This Patanjali body lotion for summer is also an ideal choice, as it is grease free.
So, whenever you are down with diabetic-related skin ailments as mentioned above, start applying Patanjali Body Lotion for immediate relief.
Final Words
To put it in a nutshell, Patanjali Body Lotion is simply incredible. It is not only cheap in terms of pricing, it's great for the adequate skin moisturization it delivers.
When are you including Patanjali Body Lotion in your daily skin care regime? Write in your thoughts, likes and comments and tell us how you found this piece.