Want to take your perfume obsession to the next level? Then let us carry you through our list of 10 perfumes under 5000 IPerfumes Under 5000 INR To Buy For WomenNR. Yes, with dreamy balance of depth and longevity, from the likes of Tommy Hilfiger, The Body Shop, and Clinique, there's guaranteed to be one for all.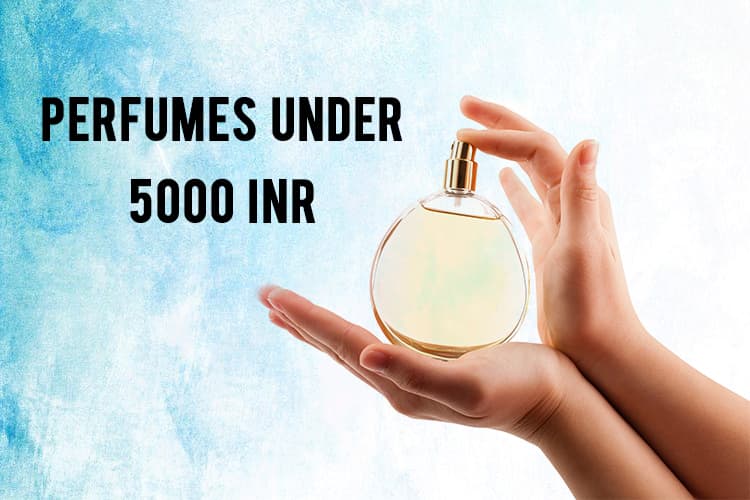 So be ready to screenshot the best picks, because these are the women's scents we just can't stop using.
10 Perfumes You Are Sure To Fall In Love With:
Here is everything you need to know:
1. Clinique Happy In Bloom:
Fragrance:
Freshly cut floral scent with top notes of muguet and freesia. Think, amber florals teamed with white wood.
Description:
Clinique's classic fragrance wins bonus ratings for the prettiest packaging. The spring in a bottle is for the minimalist and will instantly sit cute at your dressing table. The scent is a dreamy bouquet of flowers-which is hardly a surprise given the name, Happy in Bloom.
Price: Rs. 3,634 for 50 ml
2. The Body Shop Atlas Mountain Rose Eau De Toilette:
Fragrance:
Subtle fresh roses notes, teamed with tangy notes of warm amber and blackcurrant.
Description:
Let's take a moment to adore this pink Glossier perfume. Suitable for vegans, the bottle will perfectly fit your palms. Described by The Body Shop as a dewy, floral fragrance, it has subtle hints of white amber and blackcurrant that makes it familiar and soothing.
Price: Rs. 1,545 for 50 ml
3. Estee Lauder Pleasures Bloom:
Fragrance:
Primarily sweet with precious notes of rose, freesia, and peony peak, but reveals down to a soapy base nuance.
Description:
Estee Lauder's Pleasure Bloom has become one of the popular perfumes around, and it's a predictable guess. The floral notes of rose and peony peak give a sweetness that develops into a tingling soapy scent. It's unique and 100% guaranteed to become your most-reached out amongst your perfume collection.
Price: Rs. 3,995 for 50 ml
4. Carolina Herrera 212 Limited Edition
Fragrance:
Top notes composed of spicy notes of pink pepper and champagne rose, the middle notes has a fruity/floral blend of rose bouquet and peach tree flower, while the base notes has a musky/woody blend of Queenwood, musk.
Description:
This perfume smells so good, seriously. The rose bouquet, peach tree flowers, pink pepper, and champagne rose notes give a delicious freshness while the musky notes of woody Queenwood ground the perfume and provide it endurance.
Price: Rs. 4,950 for 60 ml
5. Avon Little Black Dress:
Fragrance:
Pleasant but smoky, the floral/fruity/musky fragrance is irresistible and loved by all.
Description:
Think, apricot blossom, jasmine, sandalwood and delicate notes of ylang-ylang that dries down into a musky scent. The sweet, smoky trail provides this fragrance a rich that is classic and long-lasting.
Price: Rs. 1,499 for 50 ml
6. Burberry Blush Eau De Parfum:
Fragrance:
You guessed right, fresh florals. Punchy trails of glazed pomegranate, lemon, crisp apple, wisteria, and jasmine.
Description:
If you're after a fragrance that lingers on and get you immense compliments, then pick this. With fresh notes of pomegranate, lime, apple, and jasmine, this is the least overpowering. Be ready for everyone around you wanting your signature perfume, its' that amazing.
Price: Rs. 3,500 for 90 ml
7. Skinn by Titan Sheer Eau De Parfum:
Fragrance:
Woody means fresh spice; this is refreshing if you want a perfume that's
unique.
Description:
From the brand edition comes this delightful musky and herbs fragrance. It's fresh, light, and not overpowering. Thanks to its top and middle notes of essential oils and addition of leather accord. Top notes of lemon, rosemary, and basil oil sit against its patchouli notes.
Price: Rs. 2,300 for 100 ml
8. Calvin Klein Eternity Air EDP for Women:
Fragrance:
Fresh, fruity notes paired with musky base.
Description:
Inspired by fruity smell, this dreamy scent is a serious crowd pleaser. With top notes of grapefruit oil followed by blackcurrant and finishing with a base of cedarwood oil, and skin musk, its exactly what'd expect from the brand. Divine.
Price: Rs. 5,300 for 100 ml
9. United Colors of Benetton: United Dream Stay Positive Eau De Toilette for Women:
Fragrance:
Fresh, fruity spices; Soft but sensuous!
Description:
This fruity balmy perfume will make a perfect gift for you. Pretty fruity trails of lemon and bergamot orange mixed with a base of sandalwood and amber; make this your go-to-perfume throughout the summer days.
Price: Rs. 1,990 for 80 ml
10. Tommy Hilfiger- Women's Tommy Girl Edit:
Fragrance:
Clean, light, and refreshing! If you wish for a fragrance that's light but divine, this is it.
Description:
With clean, top notes of apple blossom, tangerine, camellia flower, and apple blossom, this designer fragrance is every bit wearable. The wild heather base gives it a lingering powder and ensure compliments wherever you're headed.
Price: Rs. 4000 for 100 ml
Which perfume would you love to give a shot? Let us known in the comment section below which ones you're ready to take on.