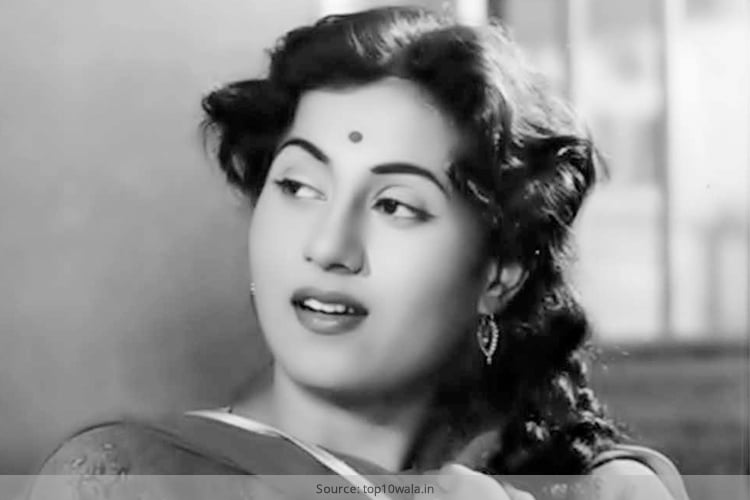 There is always a leading lady in every decade that makes the world stand up and notice the trends she endorses. Back in the day, it was the gorgeous Bollywood girl of Indian cinema, Madhubala actress.
Her iconic eye makeup, fashion statements with wavy hair and being a ravishing diva of her times, Madhubala actress has the 'no-care' attitude when it came to being who she was.
Madhubala actress, as many described her to be was a lady that knew exactly what she wanted, how she wanted her celebrity status to be upheld and how she wanted to reign on many hearts too- but she didn't go OTT and was never ever caught up in unwanted controversies too.
[sc:mediad]
This is why she has always been the peerless beauty of many hearts. A smile from her that flashed on the screen, and her charming ways that made many hearts skip a beat- a look into the archives of Madhubala Filmfare, shows us the panache and grace, the glitz and glam of a diva that once ruled the silver screen.
When we look at the days gone by, the Madhubala actress photos says it all. Going back in time, the gorgeous diva sported light and soft fabrics in sarees that had broad prints, and she seemed to love her floral touches too.
The tucking of the pallu to the right side of her waist or leaving it free and flowing, were her signature styles. In movies though, she followed the directors touch, and was always ready to gel into the look that was being ready for her.
[Also Read: Bollywood Actresses In Retro Look]
Back then, she was a cult queen of minimalistic fashion, and she had no qualms making the same known to the world. This is why, PYTs and the gorgeous divas these days we see, rave about the gorgeous Madhubala, and all want to be like her.
Madhubala was always the talk of the town, for her hair and her makeup too- minimal and chic. Shoulder length flowy hair in waves, and the red iconic lips were what all the women back then wanted to emulate and wear.
The charming ways of Madhubala cannot be undermined, onscreen and at events galore. She was playful in her fashion style, and was thus known as the VENUS OF THE SCREEN in the Indian film federation.
Back then, there was an American magazine in the 50s that spoke of the Indian diva with high respect and regards, stating "she's not in Beverly Hills", and comparing her on high stead with the beauties of Hollywood.
What a proud moment it was for the Indian women back home to know one of them is being talked about back then in Hollywood. Madhubala thus set a very high standard with regards to female fashion, grooming, hair and makeup.
In the end, Madhubala always believed in being the daring diva she was. She had no qualms about wearing clothes that were a little to revealing for her times, and she cared two hoots about anyone from the media talking about the same.
You have it, you flaunt it, and that is what the gorgeous beauty believed in. But dare we say she went over the top, she didn't allow anyone to tell her otherwise with her fashion statements.
We hope the film actress Madhubala and her various images show here in this piece has inspired you to be who you are and to dress the way you want? We would also want to in our coming series talk about Madhubala beauty tips and the much read about Madhubala beauty secrets too.
Do write in and let us know what you thought about this post, and if it struck a chord with you or not? We would be glad to hear you out!