There are no surprises to know that multihued engagement rings are having a moment now. If you are a non-traditional bride with a romantic streak, then a pink engagement ring will fit your fingers perfectly. Pink engagement rings come in a number of hues like light pink diamonds, warm sapphires, morganite, and garnet. All these shades are more versatile than you might ever think.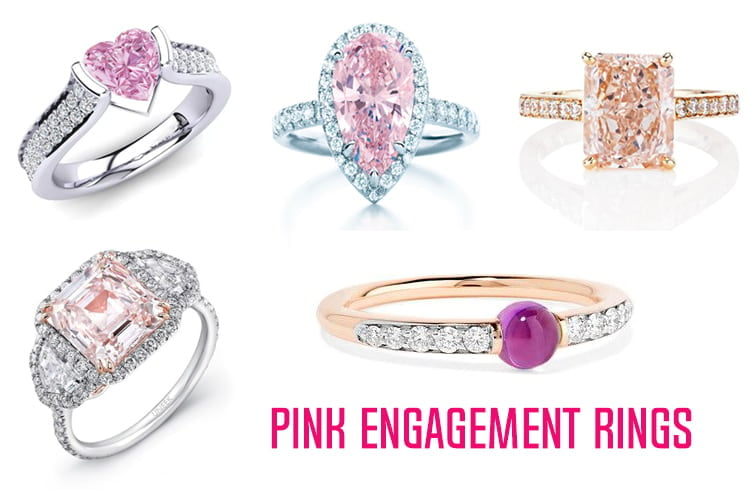 If you have dark skin tone, then look for fuchsia pop. If you are fair-skinned, then look for sheer pinks. And if you have an olive complexion, then look for peachy shades.
From rose-tinted marquise cuts to classic diamond halos, there's something for every bride-to-be.
Pink Engagements Rings and Styles to Shop for:
For those who've been eyeing a pink-colored ring, we've collected 30 sparklers that are all guaranteed to make you blush in pink.
1. Romantic Pink
Are you looking for cheap pink engagement rings? This morganite pear-shaped sparkler comes in warm tones that perfectly complement its rose gold band. All the more, its universally flattering shape is sure to make any bride impossible to say no.
2. Sapphire Pink
Do you want to stand out from the crowd? This vibrant pink sapphire ring bordered by two moon cut diamonds is sure to make jaws drop. The ring is set in a classic platinum band to keep a modern edge.
3. Radiant Blush Pink
This is for the non-conformist bride who doesn't shy away from some serious bling. The simple and stunning radiant-cut pink engagement ring will get instant likes. The ring is set with a rose gold setting, adding depth to the diamond's blush color and asymmetrical pave diamond band lending the ring a serious trendy edge.
4. Rose Gold and Purple Sapphire
The marquise cuts are making a major comeback, and how. The look is all together modern and delicate. This unique engagement ring comes in a combination of rose gold and purple sapphire to further elongate your beautiful fingers.
5. Vintage Pink
Gemstones, like garnet, can give your engagement ring a vintage feel. The distinction between the cushion-cut rhodolite garnet and diamond halo is an absolute stunner. Adding to its heirloom look is the rose gold band.
6. Geometric Pink
This radiant cut light blue diamond engagement ring flanked with pink diamonds in a geometrical holo will have you feeling like you're the luckiest bride ever.
7. Fancy Rose Gold
If you want to move away from the full-pink trial, try this three-tier stone engagement ring accentuated wit fancy pink diamond center stone. The radiant cut gives the ring a trendy look, while the rose gold casting and flanked diamonds add to an old romantic twist.
8. Pear-Shaped Pink
The pear-shaped pink sapphire ring is for the modern bride, not afraid to sport a vibrant burst of color.
9. Pink Diamond Halo
If a centerpiece stone is too much for your liking, a subtle hint of pink diamond halo may be right for you. It brings out a unique twist to the classic round-cut center diamond.
10. Rutilated Quartz Pink
This is perfect for the bohemian bride. The customizable set of stacked rings features delicate Rutilated quartz and inverted white diamond trillion flanked as its centerpiece. The contrast between the emerald-cut center stone and diamond bands is beautifully set with negative space design.
11. Double Halo Pink Diamond
The round-cut pink diamond flanked by white pave diamonds is feminine. A rose gold bezel allows the center flanked fancy pink diamonds to stand out and appear larger.
12. Pink Cushion Ring
The pink cushion aura ring with white halo, De Beers ring is a classic. The center stone encircles the diamond with a thin metal rim customized to hold the stone tightly in place.
13. Pink Sapphire and Gold Diamond Ring
The 8k gold diamond and pink sapphire ring can provide an extra sparkle to your fingers. The sparkly center stone flanked with extra gold diamonds easily highlights the center stone. The ring is suitable for both the modern and vintage loving bride.
14. Pink Tanzanite Ring with Diamonds
The pink tanzanite ring with diamonds by Gemporia boosts the appearance of the big center pink diamond. It is securely held and protected by the center stone.
15. White Gold Pink Diamond Ring
The white gold pink diamond ring by Glamira is a total stunner. This ring exudes femininity and freshness. Brides-to-be can instantly fall in love with the heart shaped sparkler.
[sc:mediad]
16. Peach Pink Scalloped ring
The solitaire engagement ring features a 9x7mm cut natural morganite, set in a solid 14k rose gold and scalloped diamond band to complete its classiness!
17. Champagne Pink Sapphire Ring
The emerald ring cut 18k rose gold diamond 3.2ct Peach Champagne Sapphire ring is gorgeous and features a natural, non-treated sapphire in peach champagne stone. The stone is 3.2ct, eye clean, emerald cut, and unheated.
18. Blush Pink Ring
The delicate blush pink ring flanked by diamonds is one of the most classy and elegant engagement ring settings. Similar to the graceful detailing, this ring setting uses arches of metal to hold the diamonds.
19. Radiant Pink Double Halo Ring
The Uneek radiant pink diamond engagement ring with split upper shank and two-toned double halo in platinum and 18k rose gold is stunning. The gorgeous engagement ring radiates with a beautiful 1.03 carat radiant cut fancy pink diamond center flanked by two-tone double halo. The split upper shank gives the ring a modern flair by making it a one-of-a-kind piece.
20. Vintage Floral Pink Ring
The stunning unique engagement ring featuring an 8×8 mm cushion-cut peach champagne sapphire in a solid 14 k rose-gold floral setting and finished with scalloped diamond band, completes its elegance. Its matching wedding band is also sold separately.
21. Platinum Pink Ring
This is for the bride who loves a fancy cut pink diamond ring. The 2 carat pink diamond platinum engagement fits right to the bracket.
22. Cushion-Cut Pink Diamond Ring
To celebrate the magic of true love, Tiffany introduces the Tiffany Soleste Collection featuring a pendant and ring, both with cushion-cut white diamonds, flanked with white diamonds in pink and platinum in 19 karat rose gold. The pink diamond engagement ring Tiffany features exquisitely matching stones assembled. Each stone is hand cut and set by master artisans.
23. Absolute Pink Tiffany Rings
This ring, because there is nothing like Tiffany rings for the special bride. Plus, pink diamonds are almost better than diamonds.
24. Pink Camo Rings
This is for the bohemian bride who loves a distinctive design. The AKARI Cobalt Swarovski crystal ring is perfect. The pink camo engagement rings created by Thorsten Rings are made of tungsten carbide or ceramic. Tungsten carbide is a durable material that is perfect for anyone looking for a durable engagement ring that will last for years.
25. Rose Gold And Amethyst Ring
The 18-karat rose gold, diamond, and amethyst rings are just gorgeous for any bride.
26. Pink Radiant Cut Diamond Ring
The De Beers 888 master diamond solitaire featuring a 3.68 carat pink radiant cut diamond and white diamond ring set in rose gold is too exquisite for any bride to say no to.
27. Ruby Rose Ring
The Anna Sheffield ruby round rosette rose cut one carat ruby center with 0.1 carat white diamond ring in 14K rose gold is beyond beautiful.
28. Princess Cut Pink Sapphire Ring
The ring features 0.09 carats of diamonds and 0.85 carats of pink sapphires with a 1 carat princess-cut center stone.
29. Pink Marquise Diamond Ring
This premier gem from Forevermark light pink engagement rings set in 18k white gold and rose comes in 1.44 ctw.
30. Triple Pink Diamond Ring
Triple pink diamond ring pink gold band set features three square diamonds with 0.36 carat in burgundy, peach, and old rose.
So these are our favorite picks of pink engagement rings and styles. Do you have a favorite? Shoot us a comment below.