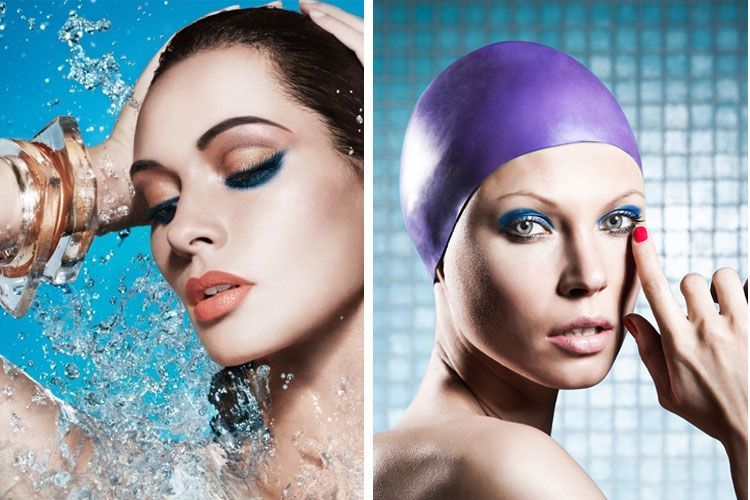 To look sizzling in a beach or a pool party this season may not be a mean task. However it is not impossible either! Most of us feel, that there is absolutely no need of makeup in the pool or while under water. While this season, women are busy dipping into the pool, lakes, or spend all day by the beach with a tad bit of sweat, it makes good sense to fill up your makeup or beach bag with some water-proof essentials before you hit the pools/bay. You don't want to look dull when you end up with a bunch of hotties right? Just confidently dive in and ride the waves along! Here are some easy ways to look beautiful and natural while you are under water.
[Also Read:Beach Makeup Tips]
It is important to put your best face forward looking like picture perfect, when you are enjoying a dip or a splash under water. So focus on applying high quality water proof make up. Read on to find out how, in simple steps you can transform yourself into a beach beauty.
To Be A Vibrant Beach Beauty
 Firstly, never step out with a bare or raw face, as this will make the face susceptible to damaging effects of water, chemicals and UV rays. Before you think makeup, put slight bit of moisturizer, followed by liberal amount of sunscreen with SPF 20.Wait for atleast twenty minutes for the sunscreen to sink into the skin.
Dab a hint of silicon-based primer to your eyelids and lips. Your lipstick and eye makeup will last the entire day.
Try to avoid greasy applications like foundations or concealers, as they would surely smear as soon as you get into water. And if you are extremely reluctant to dive into the water without proper coverage, then get yourself a quality water resistant and water proof foundation and concealer. Make sure you blend it well into your face and body.
[Also Read: Things You Shouldn't Take To The Beach Vacation]
Since you are ready with your sun-kissed beautiful glow on your face, apply an oil free bronzer in a shade that gives out a natural tan and boosts your skin's color as well. Dust the bronzer on your eyelids, just above your cheekbones, and on the apple of your cheeks, besides a fair bit on your forehead, temples, and chin. You can wrap it up with hint of pink powder blush on your cheeks.
[sc:mediad]
You can enhance your eyes by using water-resistant coloured eye shadow. Use an eyebrow brush and dust a little waterproof cream or powder eye shadow over each of the eyelids. Alternately, you can use a water proof brow powder that stays long after you are in water.
If you are keen on giving yourself the catty look, streak waterproof, silicon-based eyeliner right above your lashes and just like that you are set to gift yourself an edgy look.
For alluring or dramatic heavy lashes look, use your normal mascara the usual way and then apply waterproof mascara as a top coat.
To give your lips a quick makeover, use a matte lipstick in vibrant hues as cherry red or rich fuchsia, which will compliment tan and pink cheeks alike! And if you want your lipstick to do the multi-tasking, go for the rosy cheeks look by patting little lip stick onto two of your fingers and then tap it onto your cheeks. Start in the middle of the cheeks, stroke outwards so that you get a rosy flushed look that appears real.
Women, what are you waiting for? Simply get set, look chic even when you are submerged under water. Don't let all that water stand in the way of getting dolled up. Go ahead and dive right in like a diva!