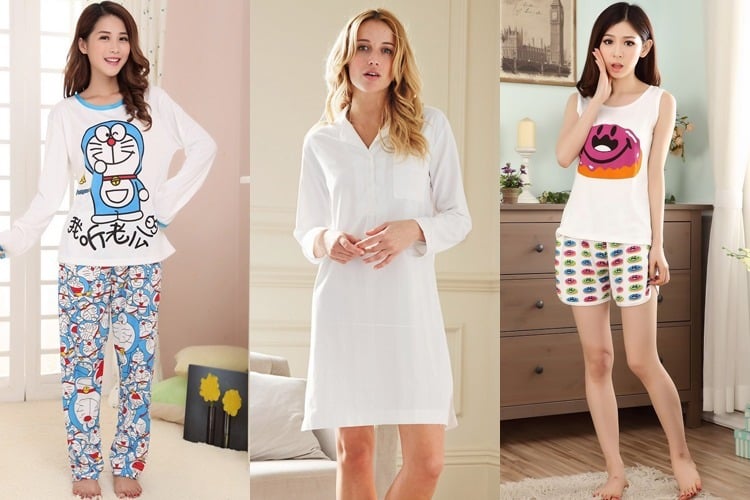 A good night's sleep has a great impact on wellbeing of an individual. Majority of factors contribute to a good night's sleep- Room temperature, bed, lighting and a comfortable nightwear. A good nightwear is the most important of all.
There are plenty of options available for women when she is looking for an ensemble and same goes for nightwear too. There are options a plenty which are guaranteed to make them feel both sexy and comfortable.
[Also Read: Points to Remember While Shopping Your Nightwear]
We bet, you at least have one favourite nightwear that you love to lounge around in.
Here're some nightwear options that are sexy and comfortable at the same time.
Pyjamas– The most important ingredient in any slumber party. Pyjamas or PJs as they are fondly called are sartorial equivalent to a comfort food. They are bound to be everyone's wardrobe-must-have. Rarely there is a garment which can be as versatile as our good ol pjaymas. They can be worn while running errands, lounging around in the house, apart from sleeping. But this doesn't mean pyjamas have to be boring. You can wear pyjamas in some quirky prints to spice up your wardrobe. We found this interesting mustache print pyjamas for ladies online.
Sleeping shirts– Comfortable and versatile- Sleeping shirts were the answers to our prayers on ur quest to the most comfortable nightwear. Sleeping shirts has almost magical ability to transform into sexy from comfy. We found some super comfortable sleeping shirts online which are perfect nightwear.
You can choose an oversized sleeping shirt or a sexy one depending on the mood.
[Also Read: Lounge Wear]
Shorts set – For the effortlessly cool lady who exudes style no matter what she does, a snug pair of shorts set in plaid or prints is the perfect nightwear. Not only are these cosy when you are sleeping they can also be worn when you are lazing about in the house- sipping on a hot cuppa or reading your favourite book.
Opt for the ones in snazzy prints and plaids to jazz up your night wear wardrobe.
[sc:mediad]
Onesie– Fashion police is still debating on whether or not it can be worn outside the house. But no doubt it makes for a comfortable and cosy nightwear and loungewear. You can opt for onsies in the prints and fabric apt for the season. In summers, experiment with onsies in florals. Its multi functionality makes for a great loungewear too.
Camisole and shorts– A sexy and cosy camisole and shorts set makes for a perfect partner for a women's boudoir. Opt for the one in sheer fabric or in cotton depending on the occasion.
While choosing a nightwear you should keep some factors in mind
[Also Read: Fabulous Summer Nightwear]
Think about the environment. Environment plays an important role while selecting a night wear. If you are travelling or on a work trip, chose a garment which is more appropriate for the setting. A payjama is a great option for a slumber party or a work trip.
Sleeping conditions– A nightwear should be cosy, comfy and keep the wearer relaxed.
Texture, style and prints– While selecting a sleepwear, fabric, style and prints are also important. You can opt for fabrics like silk, satin or cotton depending on the environment. Avoid fabrics like polyester which is not a breathable fabric. In warmer climates fabric like cotton will be a great option. In colder weather nightwear like Onsie is a great option. Wear them in the season's hot style florals and plaids.
So ladies, like we always say, take the cue from us and chose a stylish and comfy night wear.