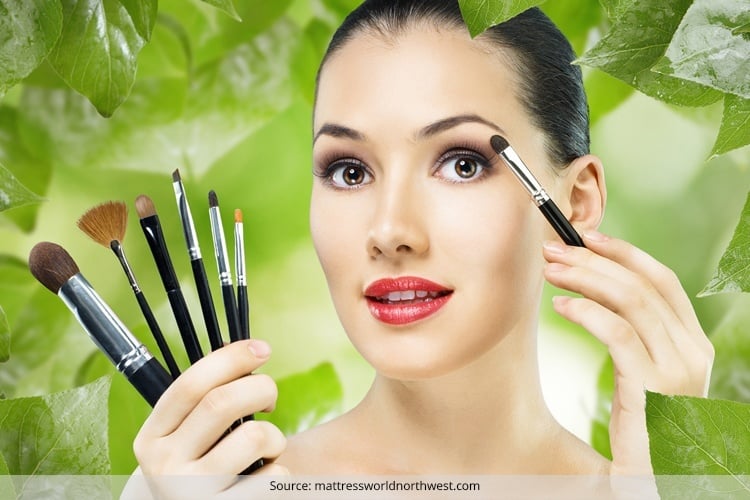 On an average, how much time do we spend a day to dress up ourselves and look beautiful? We presume many hands would go up in the air, unless the girls and womenfolk are occupied with something or the other.
[Also Read: Unusual Beauty Hacks Every Woman Must Know]
For your convenience, we round up best tricks in getting gorgeous at one go. Whether it is brushing up the hair or skin, these beauty tips will get you looking pretty from head to toe. Here we go!
Eye makeup removal
In order to do it, we usually rub our eyes sideways meaning left to right or right to left along the contours of the eye. This can rip our eyelashes off and even lead to crow's feet. Just wipe off your eye makeup with a removing tissue in downward motion, meaning from up to down, in order to keep your eyelashes safe and intact.
Sunscreen application
When you are applying sunscreen, let it flow from the center of your face outward, and then from your chest up to your neck and under your chin. Let it be in the upward and outward motions only.
Eye cream application
Start from the inner corner of your lower eyelid towards the outer corner. Now do the same from the outer corner to the inner corner of your eye.
Foundation
Apply foundation starting from the center of your nose toward the face edges. When done this way, it will help keep the middle point of your face bright.
[Also Read: Foundation Hacks Your Must Learn]
Concealing blemishes
You can achieve this by applying the concealer first followed by patting with makeup sponge until the time it goes invisible. Avoid using the tip of your finger, as your skin temperature can end up melting the cover up. Give beautyblender® micro.mini a try.
Blending blush
Through your fingers, blend cream blush in a circular motion on the center of your cheeks, and then lead them towards your temples.
Powder blush
Powder usage as you know is hard to keep a tab on as compared to a cream. So in order to avoid pink particles of the powder from getting close to your nose, apply powder blush a little far away from your nose and on your cheeks.
Bronzing time
It's time to apply two different shades of bronzer using the "3 technique." Dip a fluffy brush into the darker shade of bronze followed by a lighter shade. Now using a fluid motion, bring the brush to your skin by making 3 in an 'inverted' way starting from the forehead to the cheekbones to the jawline. Try out Dolce & Gabbana Bronzer Duo.
[Also Read: Best Bronzers for Indian Skin Types]
Highlighting cheekbones
Dust the powder highlighter on your cheekbones using a fan brush.
Brow bone highlight
Get a highlighter pencil and diffuse it under your brow bone with your finger to make it look more natural and flawless.
Translucent powder over T-zone
If you want your makeup not to get disturbed one bit, apply setting powder over your T-zone (forehead, nose, chin). That's because this is the area that produces maximum oil.
Brush your brow
Using mascara brush your eyebrow hairs from the beginning towards the tail of the brow. You can try Benefit Gimme Brow.
Eyelash Curler
Hold your eyelash curler at a 45° and squeeze a bit to get fancy curled lashes. This way the eyelashes would get an extra lift from the root, making them look longer, extra-curled and desirable.
Applying Mascara to your upper eyelashes
Wiggle the mascara band back and forth to your upper lashes. This will help them look thicker.
Applying Mascara to your lower eyelashes
Hold the wand in a vertical manner to make mascara application easier. Give They're Real from Benefit Cosmetics a try.
Lining your eyelash line
Do it in one continuous motion starting from the inner corner of the eye towards the outer lash eye line.
Creating cat eye
Doing it is easy. You just have to use a spoon handle against the outer corner of your eye and create a straight line. Now flip the spoon in such a way that it looks pasted on the eyelid. Use the outer edge to make a curved, winged tip.
Applying eye shadow
Using a windshield wiper motion back and forth, apply the eyeshadow on the top of your eyeball.
Draw an 'X' effect on the lips
Do it in the center of your upper lip to get that definition. Now line your lips.
Spray dry shampoo
To fix up oily hair, sprinkle Bumble and Bumble Prêt-à-Powder dry shampoo on the greasy roots. This will help freshen up your style and add volume.
Salt spray
Doing a salt spray on your hair will add waviness and texture.
Dry Texture spray
Lift your hair and let it fall when you apply dry texture spray. This will bring all over volume, particularly when it comes to the layers underneath.
Alternate hair wrapping
Do it in sections of hair by using the curling iron barrel to get natural-looking curls.
Dust styling powder
Whether yours is a braid or bun, dusting styling powder such as Osis+Dust It Powder from Schwarzkopf would bring you grip onto the hair part you want to work with.
Bobby pins
Now lock your hair using bobby pins to keep them in place all day.
Concealing your scalp
In order to do it, run your eyeshadow brush coated with eyeshadow along your hair parting. This will make your hair look thicker.
Hairspray
Hold your hairspray between six to eight inches away from your head. If you keep it too close to your scalp you are likely to have crunchy-feeling hair.
Cuticle oil
Put cuticle oil all over your nails in a horseshoe curve way and then run the brush over your nail tip. This would keep the nail cuticle hydrated and it would strengthen the nail tips from cracking, tearing off, or peeling. Try out Lumos Dadi'Oil Organic Nail Treatment to get best results.
Now without batting an eyelid, get started with these beauty solutions and see how refined you look.