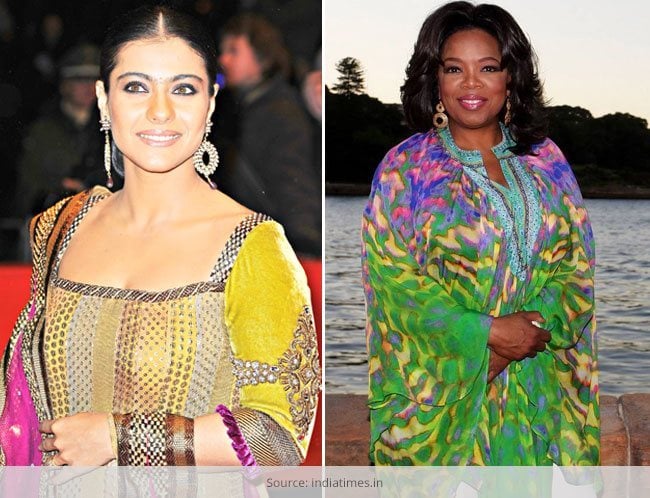 Ever heard of 'John Lennon Sunglasses' that were round in shape and had tinted lenses? Or Mariah Carey who after dislocating her shoulder wore a diamante arm sling in NYC Charity contest?
Yes, high-profile cinematic names in Hollywood and Bollywood have delivered hits but their list of fascinations and collector items would make a good cup o' delight for us. Ranging between hot beauties on wheels to pieces of antique art, furniture and libraries, the star possessions are not only expensive, they carry signature value too.
Next time your heart beats to the latest song and dance number while watching it in a cineplex, think of what fascinates our heroines that is private to them and heart-throbbing for us.
Here are some prized possessions of female icons that might leave you awe-struck and spell-bound (besides the beauty of the owner, of course)!
Kajol
Be it 'Simran' or 'Anjali' on screen, she is the gorgeous lady whose beauty and talent has given us some golden hits in the history of Bollywood. Her first love apart from her husband Ajay Devgan has been the Om-shaped ring that was gifted by him. What a spiritual gift, huh?
Parineeti Chopra
With her svelte looks, the Pareshaan Pareshaan girl Parineeti Chopra (of Ishaqzaade fame) has created her footprints in Hindi cinema. Her most prized possession has been a Jaquar car that made up blow her money that she had reserved for buying a dream house.
Vidya Balan
The good luck charm of The Dirty Picture superstar Vidya Balan is none other than a beaded bracelet that she mostly wears on her right wrist. Chances are her hand moves done from the right hand may have contributed majorly to her films being box-office hits.
Madonna
The Princess of Pop, Madonna's prized possessions include two fur coats – one made of Persian lamb wool worth about $4,200.00 US and the other is a Chinchilla coat worth nearly $58,000.00 US. And let's not forget her fur hat worth just over $1, 640.00 US.
Lady Gaga
Stefani Joanne Angelina Germanotta, popularly known as Lady Gaga, might be having many prized possessions but the one she treasures most are the well-preserved costumes of Michael Jackson that she bought for hundreds of thousands of dollars at an auction. Some of them include his famed sparkled glove, his awesome jacket from the 'Thriller' video, jewel-coloured socks and more. It is another story that the Lady has never worn his clothes after the purchase, whether performing on stage or off stage.
Paris Hilton
Women are known to have a fetish for diamonds. Paris Hilton is among the very few female celebs known to have a fleet of expensive cars including a pink colored Bentley Continental to the tune of whopping $285,000 (Rs 1.7 crore) that has diamond crusted dashboard.
[sc:mediad]
Oprah Winfrey
What would you expect of a personality of Oprah's stature? Luxurious diamonds, cars, villas, the works, maybe. No, you are wrong. The one thing that is most dear to her heart is a photo album of her dogs. In fact, she has a tastefully bound photo album of her poochies – Luke, Layla, Sadie, Sunny, and Lauren.
Miley Cyrus
An American singer, songwriter and actress Miley is kind of addicted to one-piece clothing. Whether it is one-piece pyjamas or hooded unicorn jumpsuits, she finds onesies very comfortable. But the one she holds dear to her heart is of Chanel label. Tweeting a selfie dressed comfortably in Chanel onesie with the brand tag displayed on her back, Miley is yet to tell the price tag of the onesie.
Lea Michele
Actress, singer and author, the American born Michele chooses to drive either a $45,000 BMW 320d or $35,000 Toyota Prius. As for the car interior of Toyota Prius, she got green suede custom-fitted on the seats and steering wheel and oak panelling on the armrests and doors.
Tabitha Simmons
She is a footwear designer but her beloved object is more than a shoe. It is a skull ring bought from the famous Venetian jeweller Codognato, an enamel, crystal and gold. The ring was gifted to her by her husband Craig McDean who searched heaven and earth to trace this piece.
Kim Kardashian
Kim Kardashian is known to have a fetish for perfumes, jewelry, and she's been very candid on showing her fascinations. However, the most amazing prized possessions in her kitty have been three diamond and jade bracelets that she bought at a 2011 auction. Interested in knowing about the price? Well, it comes for USD$65,000. Why so whopping a price tag? The previous owner of this delightful looking bracelet was none other than Elizabeth Taylor who happened to be Kim's idol.
Anne Hathaway
Anne's acting abilities melt even the toughest of hearts. What have melted hers are a few exclusive and flashy looking gems from Tiffany & Co. that cost her a million USD as she sported them to the Oscars.
Beauty has unending definitions and possessions. Keep watching this space for more awesome finds and delights.