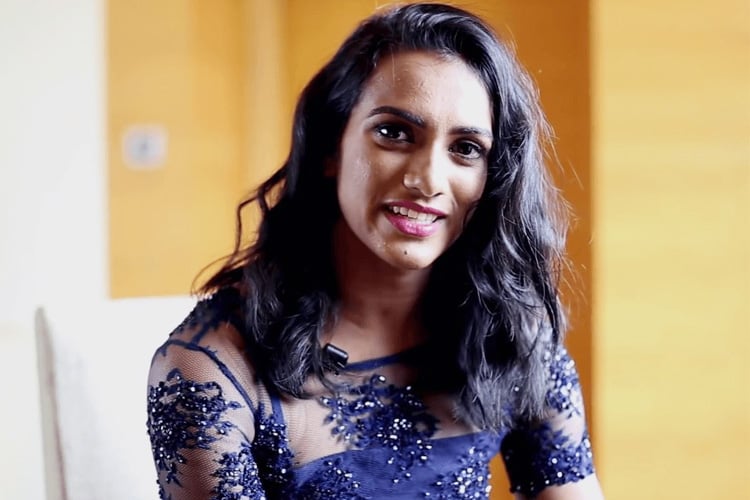 She used to travel 27 kms everyday just to fulfill her passion. And what was that? Leaving behind an incredible mark in the field of Badminton. Years later, she created history by entering the finals of the Women's Singles at the Rio Olympics 2016. And yes, she made us proud there as she clinched Silver Medal at the age of 21 at the Rio Olympics.

Sindhu Height | Sindhu Age | Sindhu Boyfriend | Sindhu Family | Sindhu Professional Career
Personal Details
| | |
| --- | --- |
| Name | Pusarla Venkata Sindhu |
| Birthday Date | 5 July 1995 [celebrity_age_calc data="1995-07-05″] in Hyderabad |
| Sun Sign | Cancer |
| Eye Color | Black |
| Hair Color | Black |
| Nationality | Indian |
| Religion | Not known |
| Education | St. Ann's College for Women (Mehdipatnam); now pursuing MBA |
| Occupation | Professional Badminton Player |
| Marital Status | Single |
Family Details
| | |
| --- | --- |
| Father | P.V. Ramana |
| Mother | P. Vijaya |
| Siblings | One elder sister Divya |
| Spouse | N/A |
| Children | N/A |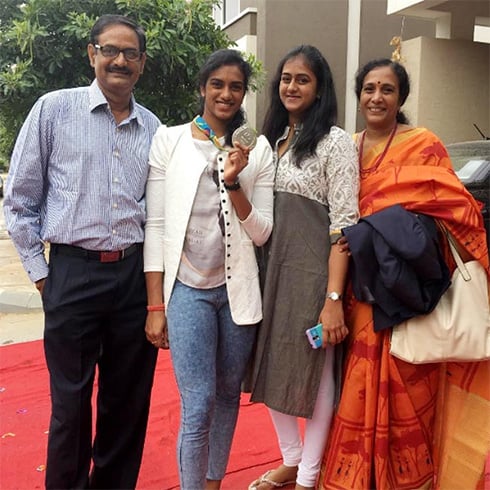 Past Relationships
The ace shuttler P V Sindhu is yet to date (and confirm) her affair(s) with men.
We await the good news, one day, some day.
Body Status:
| | |
| --- | --- |
| Build | Slim |
| Height | 5 ft 10 1/2 inches |
| Weight | 65 kg |
| Waist Size | 26 inches |
| Hip Size | 36 inches |
| Shoe Size | Not known |
| Body Measurement | 34-26-36 |
Favorite Things and Hobbies
| | |
| --- | --- |
| Color | White, Black, Yellow |
| Food | Biryani, Mysore Pak (a sweet), Chinese, Italian cuisines |
| Place | London |
| Sport | Cricket |
| Brand | Not known |
| Actor | In Tollywood, Mahesh Babu and Prabhas are Sindhu's favourite male actors. In Bollywood, it is Hrithik Roshan, Salman Khan, Aamir Khan, SRK. |
| Actress | Kajol, Anushka Sharma |
| Film | Baahubali, Dangal |
PV Sindhu Weight Loss
Fitness is her biggest religion, other than her racquet skills. Since the age of 8 (the tender age when girls are busy dressing up in frocks, shoes, ribbons and all that) Sindhu has been under the mentorship of her coach Pullela Gopichand.
Workout Plan
100 push-ups and 200 sit-ups a day is what Sindhu does (this is the start, there could be more). The sit-ups are not of a single type. They come in varied exercises (7 to 8) that activate the core and abdominal muscles.
Then, it is 600 to 700 abdominal routines thrice a week for Sindhu. On a conservative note, PVS does about 600 pushups and 2400 abdominal exercises each week.
Though Gopichand is the master planner, there is another guide – Kiran Challagundla who looks into the fitness of Sindhu.
Says Kiran "Sindhu is a tall girl. For her, balance and stability drills are essential. The routine has to keep varying and we tweak it each week. Graded loading is the key".
Every 2 months, the player is put through a blood test so that her nutrition and supplements can be tweaked in order to compensate for any deficiencies. In fact, Sindhu's body weight and heart rate are monitored on a constant basis, to keep assessing her physical condition.
Building –up Sindhu's endurance (the kind that her sport demands) is another focal point stressed upon by coach Kiran. "We do different things. Like two to three sets of ten 400m runs or one 2.4 km run. Some days, we push for a 10 km run. The point is to keep the training varied, not let the body get used to it and therefore stop growing".
After the usual 6-odd hours of training, Sindhu has to get into 'recovery' mode. Two forms of recovery – 'active recovery' which is equal to yoga, sleep, relaxing in the swimming pool and light fitness. And then, there is 'Passive recovery' which is icing, massage etc.
Diet Plan
Any clue, what's there on Sindhu's plate?
Well, to start with, each meal that Sindhu takes is measured out. "A challenge that we have with Sindhu is that her appetite is very less. We monitor each meal and give her high calorie food when she's not feeling hungry enough."
Which is why, supplements are the key. "Even during the Games she has been carrying three types of nutrition supplements in her bag. These vary – high energy, protein-based or recovery inducing." They can be either fluid-based supplements or energy bars.
There is a fully-devoted team behind the making of a champion.
Social Profiles
Images Source: pinterest