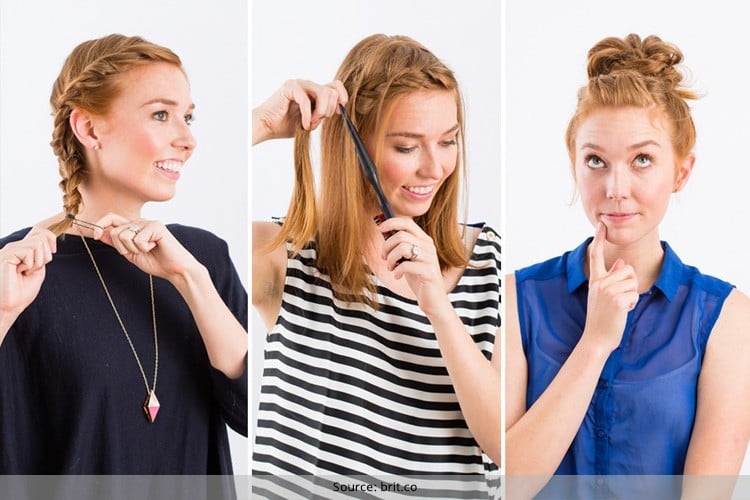 For many decades now and across the world, women have been sporting bangs and fringes. While the ideal look is that of the hair falling over the forehead or at best the side cheeks, most women don't want bangs simply because with the Indian climes and the busy schedules they lead, they don't have the time to care for it. Bangs can get annoying at times, since they keep falling over the face and the same is not seen as professional when it happens at meetings and at work. This is why we would want you to keep your bangs, and check out the hairstyles for bangs we have that wouldn't make you cringe. Bangs can go with short hair, medium hair and very long hair, and here are a couple of hairstyles for bangs, which would rock the scene sans the annoyance for you.
[Also Read: Hairstyles With Bangs That Remove 10 Years From Your Face]
Keep The Bangs Away With Hair Accessories For Bangs
Not just with pins and hair bands, but hairstyles for bangs are easily maintained and managed with other chic styling ideas. Here are a couple of them for you to drool over.
1. Have you thought of braiding the bangs backwards and leaving the hair behind, loose and cascading? If you are in the mood for the seventies run down, this was a style best worn by divas back then. From Zeenat Aman to Parveen Babi, Shabana Azmi to Smita Patil, the back braided bangs with loose hair was a style statement in the flower power days.
2. Try a messy twist to the bangs when out with the girls for a college fest. You could pair the look with rompers and tees, street style hot pants and spaghetti tops, or maybe for pool parties where the look is very casual. This would be a hairdo where bangs won't irritate your eyes anymore, since it would be braided sideways into the fishtail hairdo.
3. A braided crown would be another way to hide or style bangs, and makes for a very cute and princessy look that can be worn for formal parties to evening casual hang outs with friends. What you would need to do is to side braid the bangs first, and then clip them backwards over one another, depending on the length. You could also use a faux braid accessory and push back the bangs, allowing the rest of the hair to fall in front.
4. Perfect for women with a heart face shape, the side-swept pop up bangs can hide away while accentuating your makeup and contouring. The process is simple and easy; under five minutes that too. You don't need too many hair accessories for bangs for this hairstyle. Comb your hair straight and partition the bangs sideways from left to right. Using the clip of a comb clutch, secure the pop up side swept bun, towards the ears and let it set with mousse or gel. You are ready to party now!
[sc:mediad]
5. Once again we shall take a leaf from the past to make a fashionable blast, hiding bangs with mid section partitioning. For this we would first comb the bangs straight and allow it to fall on the forehead. Once that is done, use lean and slim hair accessories for growing out bangs, clipping the hair sideways with a twist. Do this on both sides, ensuring that there are no braids formed but just wavy twists to secure.
6. If you would like a bohemian touch and flaunt a few strands of the bangs, you could do so with a chic floral touch. What we see here is a model with a vibrant yellow and white floral hair band, neatly placed on the third eye zone, where the hair is pushed back and a few strands of the bangs falling within the perimeter of the hair accessory!
7. Women with medium to short hair can style their bangs using hair styling products to create short hair updos. Cascading side twirls or a messy updo with a tiara, we leave that choice to you. Try one of them and get creative, as long as the bangs don't pose trouble for the day, you'd be fine!
[Also Read: Best Short Hairstyles For Thick Hair]
Do pick up the right hairdo clip in bangs or else the styling would not be thorough and secure! Did you like our simple ideas on how to hide and style bangs? Let us know in the comments below.