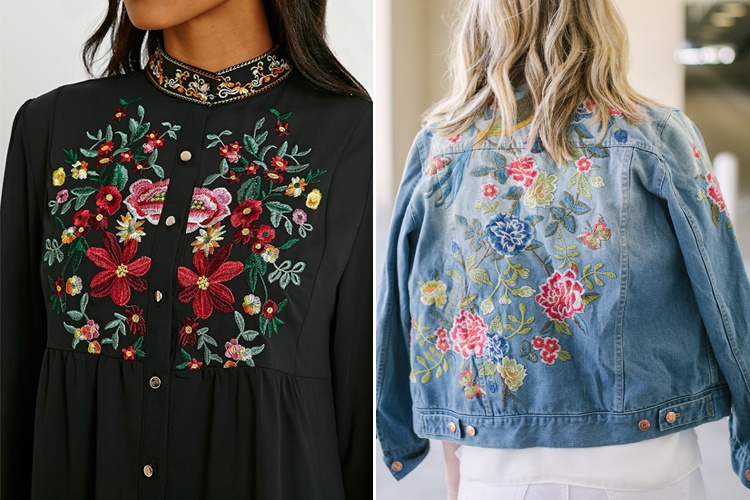 Embroideries had never gone out of style, but what a surprise! This season embroideries have hit the fashion trends really hard. Every celeb is rocking some floral thread work on their favorite clothing in style. We know you do want to board this fashion train too. But in case you don't know how to own the trend, and if it will at all suit your personal style, here's us elaborating on the various ways one can rock the colorful thread patterns in style.
Sheer Tops
The piece you see below is what everyone is raving about these days. You will see an item like this on every latest haul video of each of your favorite fashion YouTuber. Recently, upcoming actress Sara Ali Khan was seen at an evening event rocking a similar piece in black with a bra to match underneath. You can follow suit. To go for a more conservative look throw in a vest or spaghetti top underneath. Though available in white too, it's the black sheer tops with floral embroidery that are calling for everyone's attention. Match them with regular denim, shorts or a skirt. We say let the action be on the top, so keep the bottom wear basic.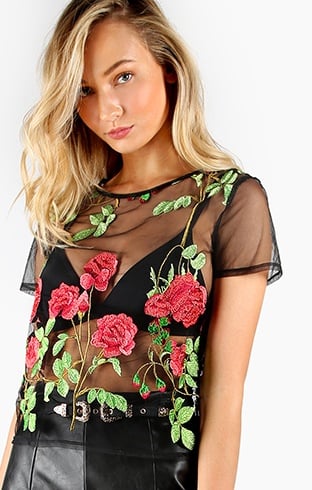 Sheer Separates
The exact style shown above can also be worn as separates. The embroidered pattern looks great against the skin. For the lower half of the garment, what you usually get is a straight cut skirt. The length of these skirts is kept pretty short, to match the sexy mood of the outfit. Usually, these separates are worn for night events only. Dark lipsticks in berry or plum shade would go perfectly to make a statement look. Makes for a great date night outfit or one you would slip into to spend a glamorous girl's night out with your squad.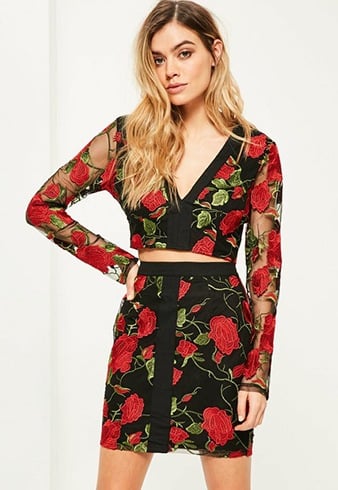 Evening Gown
For a classic look, say for a formal occasion like a reception or say a red carpet event, wear your floral embroidery dress like this. The one shown below is straight from the runway, but if you don't want to shell out a fortune on a dress like this, we say look for first copies of these designer babies. The nude sheer of this dress creates a naughty illusion, but you rest assured. There is no scandal involved. A floral gown like this one will make all the heads turn in your direction without you trying too hard.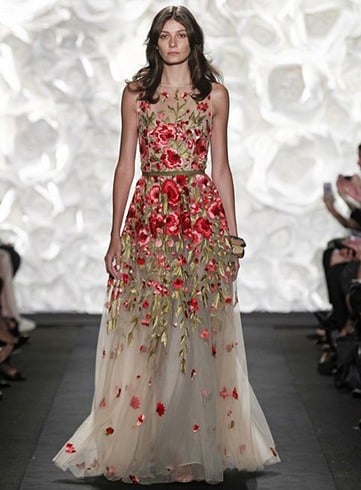 Little Black Dress
You can never go wrong with the LBD, don't we all know it already? There can be so many ways one can style a cute little black dress, so why not try some thread work on it too. This frock we have picked for you today makes an adorable outfit for an evening outing. The collared piece, with a structured bodice and a flared skirt, has an interesting and intricate display of chain stitch styled embroidery. Though a little black dress is considered a western attire, the desi handiwork on the outfit makes it a well-balanced piece of fusion attire.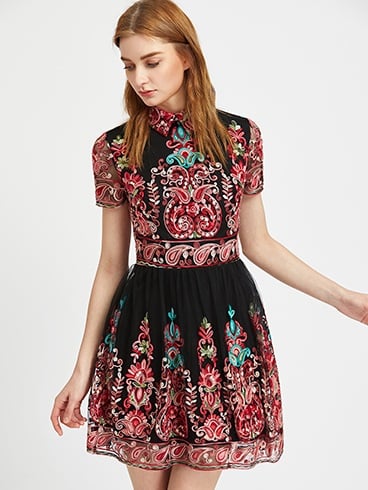 Salwar Kameez
Let's take a little break from the western section and look at what the ethnic segment has to offer. Given that thread work has been a part of Indian attire for centuries, it's not a surprise that designing houses have brought a large collection of embroidered salwar kameez and anarkalis. The peach color item here with white rose patches on the bodice could be worn for any day-time Pooja or brunch. The thread detailing is limited to the upper-half of the body leaving the skirt area plain and hence saving it from being too traditional an attire unfit for casual events. These pieces look apt with well-fitted churidars and a pair of stilettoes. Alternatively, a pair of embellished jutis would look equally endearing.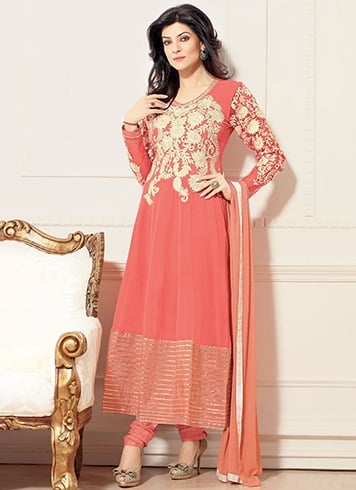 Sarees
A timeless Indian wear that refuses to go out of style even after thousands of years is the simple and sophisticated saree. There is absolutely no venue to which the six yards won't be appropriate. Any time of the day and there is a saree for it. Sarees are also a great way of flaunting some detailed and colorful embroidery work. When it comes to a saree, you can wear the floral embroidery in two ways, either limit the work to the border and the palla or go for an overall spread. The former would look good when worn to special formal occasions, whereas the later makes a good choice for sangeets, wedding anniversary of a friend or mehndi ceremonies. But again, there is no hard and fast rule – if you are confident rocking a heavily embellished saree for a day event at work, go ahead and follow your heart.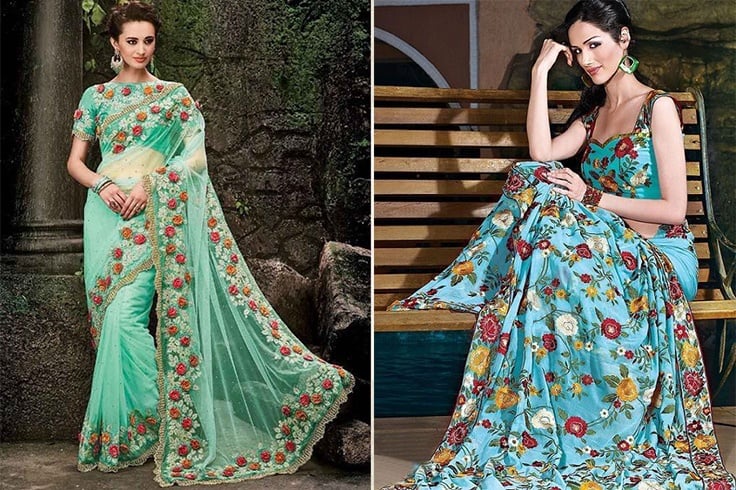 [sc:mediad]
Jackets
Embroidery work can also up the style quotient of your winter wear. Look at this bomber jacket for instance. The maroon backdrop acts as a flawless base for that beautiful floral pattern. No one would want to wear their hair down when the back of a jacket looks that mesmerizing – but of course, don't you want to flaunt the beauty that is gracing your back. Such detailed patterns are found on denim jackets also. Like seriously, how cute is that blue jean jacket with red roses stitched all over it? Throw this baby on a summer dress or a solid tee, it works both ways.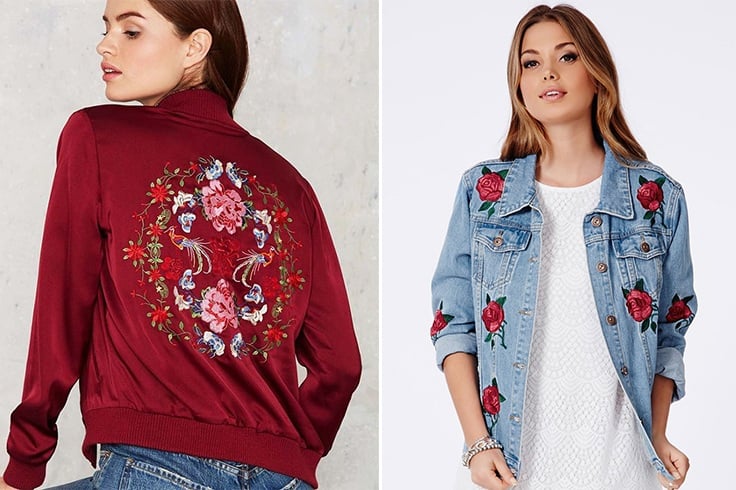 Gujarati Jackets
For a more desi look team these traditional pieces with a cotton kurta in a contrasting color. I always wear my Gujarati jacket against a dark-colored kurta as the contrast of colors makes for a delightful wear. Want to go a little heavy? Pick one with mirror embellishments. These pieces can turn the most boring kurtas into a ramp scorcher in no time. Looks wonderful as office wear in summers too. Accessorize them with colorful pom-pom necklaces or tassel earrings for a more enchanting look.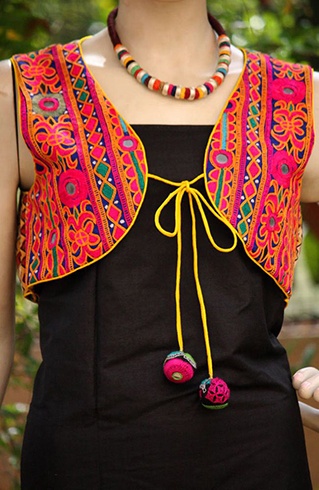 Coti/Koti
Tell us if these silk coties with the bel or vine pattern is an epitome of elegance or not? This is a special kind of embroidery which is characteristic of the northern state of Jammu and Kashmir. This vine-patterned embroidery is also typically seen in many Kashmiri Shawls that women across the length and breadth of the country swoon over. Button-up silk Koties with floral embellishments can up the glam quotient of your boring board meetings this winter.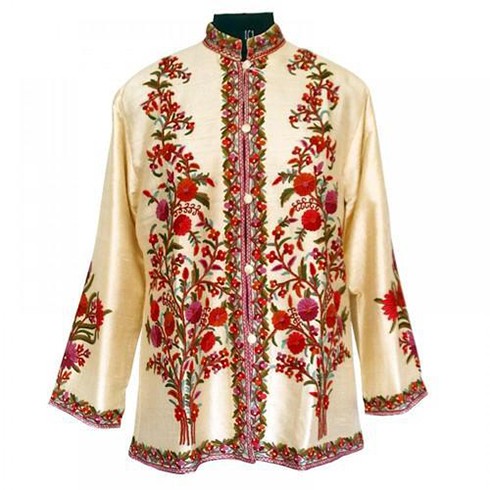 Scarves and Shawls
Another way to show off some appreciation for artistry is by draping a scarf in style. Scarves can be worn around the year as a fashion accessory or for practical purposes like shielding the hair and face from dust and pollution, whereas shawls remain to be a staple of winters only. Now pick some bright colored scarves with sophisticated floral embroidery to stand out during an average dull day. For winters opt for a darker shade with thread work all over it making it a treat for the eyes on gloomy mornings. Be it scarves or shawls, they go perfectly with both western and ethnic attires. One can never make a fashion mistake with these pieces.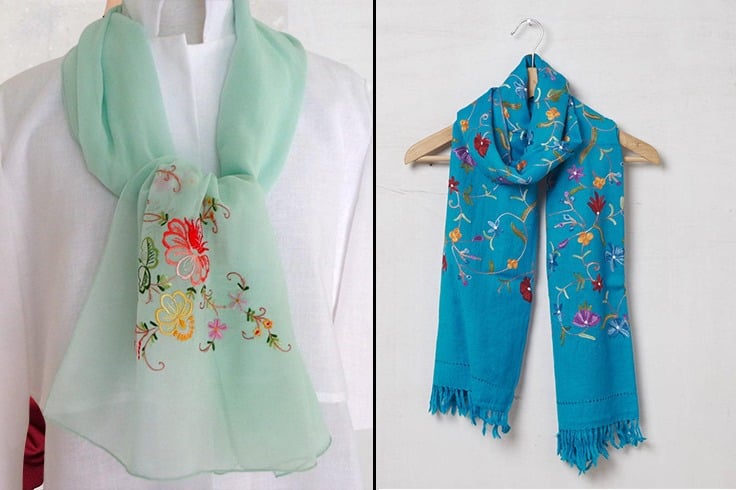 Shirt and Shirt Dresses
I am sure you all have seen a few of such similar items on every shopping site in the past one month. Just like the sheer tops, we discussed at the beginning of this article, these shirts with a little floral patch are topping the style charts these days. Mostly worn in the lightest shade of sky blue, these collared shirts with floral motifs are perfect pieces to blend femininity into the robust character of what looks like a formal day wear. The best way to wear these shirts is to buy a size larger than yours. Loose is the fit in this case. These would be longer than the usual shirts, so if you get one that reaches anywhere near your thighs, you can double them up as a shirt dress. Team these shirts with trousers to work. For an evening party, ditch the trouser, and secure the belt around your waist. Isn't this the perfect definition of two in one?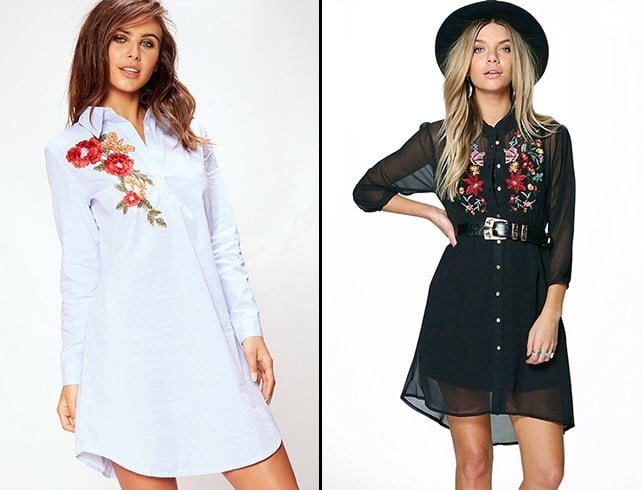 Skirts
Foliage in thread work makes a great appearance on skirts also. As they go with every fabric one can imagine, embroideries make for a fine embellishment on skirts of all kinds. You may pick the flared one or the form-fitting one depending on your taste and body type. We love how the leather skirt in black here features some delicate red roses. Red and black together make for one of the most classy combinations in fashion. Even for the denim skirt, a little vine pattern brought some charm to the plain looking garment. Girls who want to go for a more flattering and flirty look can opt for the like of the red skirt with a generous flare to it.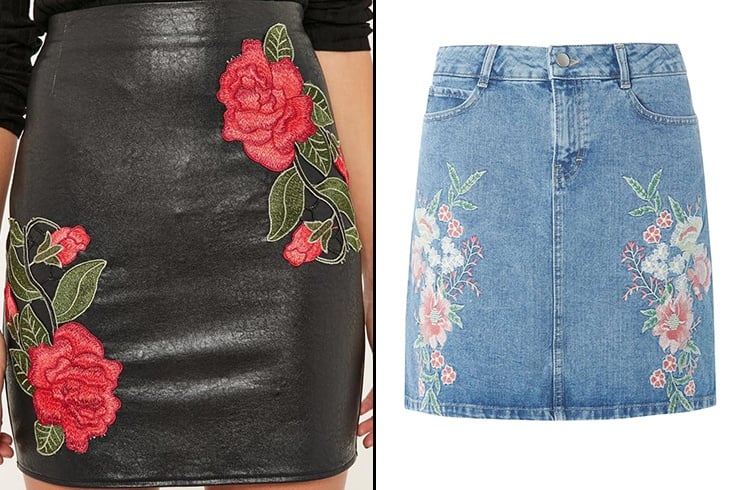 Denim
Just like the sarees in the east, the denim in the west is an example of evergreen fashion. They change their cut and styling, or the 'in' shades from time to time, but never are these babies totally out of the fashion scene. We know skinny jeans is all that we are shopping for these days. Guess what? You can rock some embroidery in jeans too.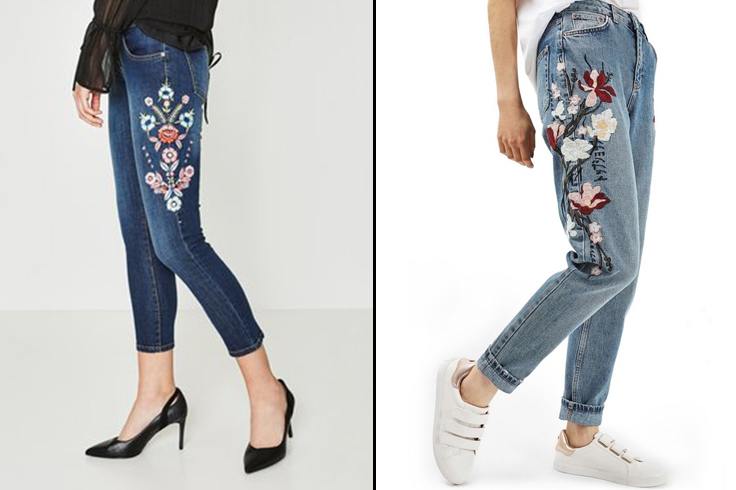 Footwear
Yep! Now, this may sound a little unique and never heard before. But the craft has been dominating the footwear industry too. How adorable are this suede boots! Love the block heel too that adds to your height and the floral detailing at the sides takes care of your fashion statement while stepping out. These patterns look great on denim sneakers and plain sandals too. The sneakers shown here could be teamed with any bright colored skater dress, shorts or skirts. Donning it with some Indian or formal wear? Try the beige sandal here. The rich design is apt for a more serious rendezvous and would go well in combination with a crisp white chikan salwar kameez too.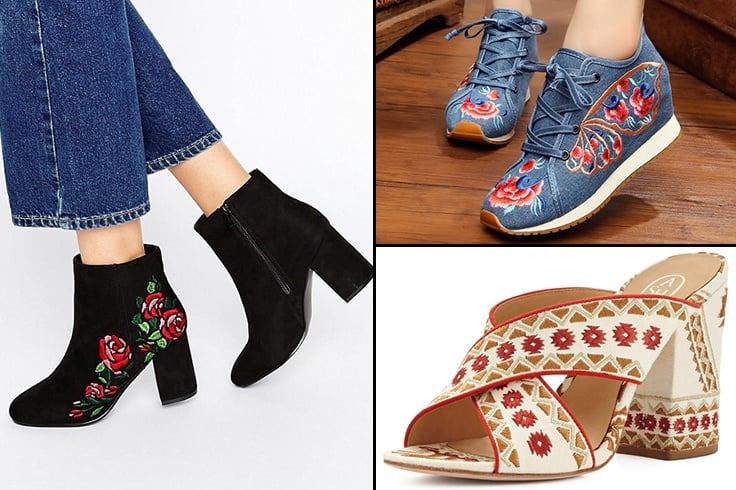 Handbags
The moment a trend takes the fashion industry by storm, it's only obvious that brands would cash in on its popularity. It was only a matter of time before the embroidered patterns made a show-stopping appearance on our handbags and we have to accept that we are but amused. How pretty are these leather babies for a kitty party or Sunday brunch? The beauty of these handbags is that not only do they take your style game a few notches up when you are dressed to kill but also they would add glamor to your regular outfits. So you can choose to dress up or down while carrying these cuties.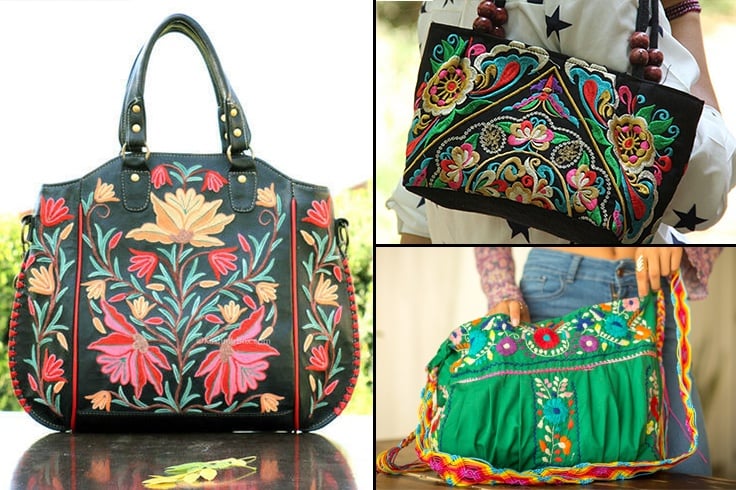 Interesting Anecdote:
I came across these umbrellas in Bapu Bazaar, Jaipur and they immediately caught my attention. Aren't these simply amazing? Now we get that you cannot brave the monsoons with these umbrellas, but it would make a great companion to walk through the harsh sun in summer. They would also make great home décor. If you are a follower of the DIY videos on YouTube you would know how to make lampshades out of umbrellas. We are including this here because fashion doesn't mean only to deck yourself up. It's about making beauty a lifestyle. Pretty sure you would find similar pieces on any fashion street.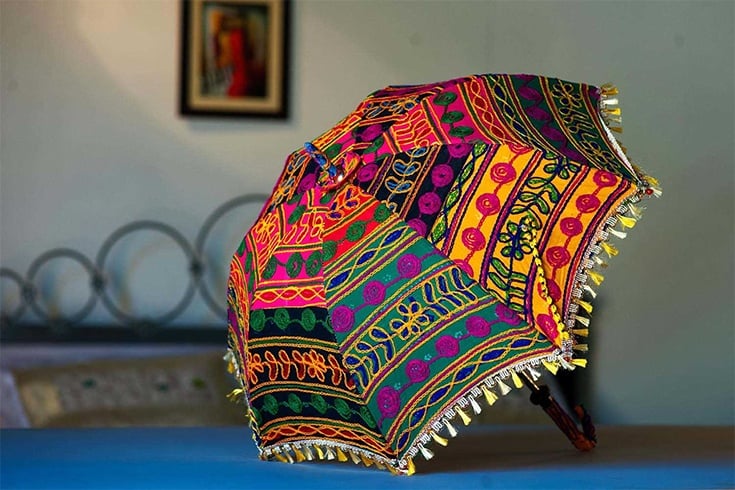 These were our take on embroidery, an age-old craft that our grandmas would spend hours perfecting. Now you find the same patterns reinvented on designer pieces. Tell me how proud you feel now. Now that you know how to ace the style game with those colorful threads in your wardrobe you can pick what suits your style. For those who have inherited the art from grannies and moms, can also try some DIYs with colorful threads themselves to do justice to their creative skills and fashion sense. Tell us which embroidered clothing is your go-to style this season in the comments section below.
Images Source: pinterest