Fairytale stories keep enchanting us year after year. The media and press cover some weddings of the queens and princesses transporting us to the real venue or rather a dreamland. The costumes, the glamour, the aura, the opulence, everything is such a treat to watch and memorable too. Hey, how many of us know about the royal wedding hairstyles of all time? Eh, this sounds intriguing.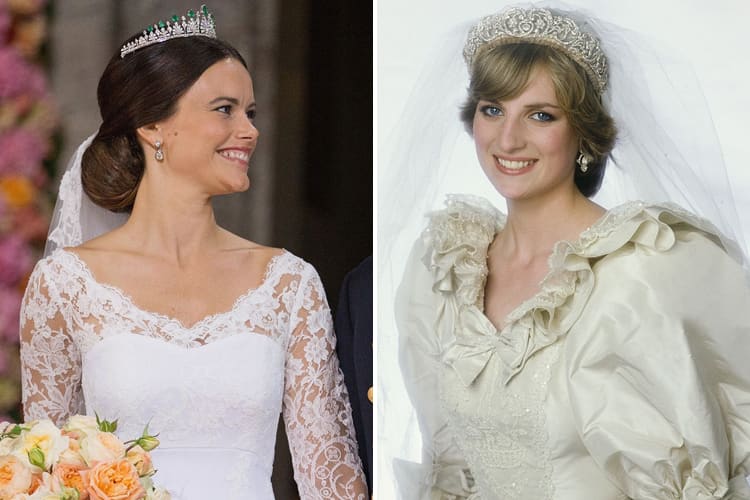 But am afraid not many of us remember the hairstyles worn by the lovely ladies. Isn't it? Don't worry. Come closer to your screen as I take you through princess hairstyles for weddings.
First of all – some real time juice!
Did you know the nuptials of the late Princess Diana to Prince Charles that was shown on television got a cool 750 million viewers worldwide? Wooow!
Years later, when the Duchess of Cambridge stepped out of a vintage Rolls Royce in her now-iconic Sarah Burton creation from the Alexander McQueen label to marry Prince William on April 29, 2011 (this means their anniversary is around the corner), it virtually sent shockwaves throughout the bridal industry. It also led to the birth of Kate Middleton wedding hairstyles or the Kate Middleton effect. Before Kate Middleton, there was Grace Kelley, whose bridal style had been an inspiration for countless celebrity brides, including Miranda Kerr.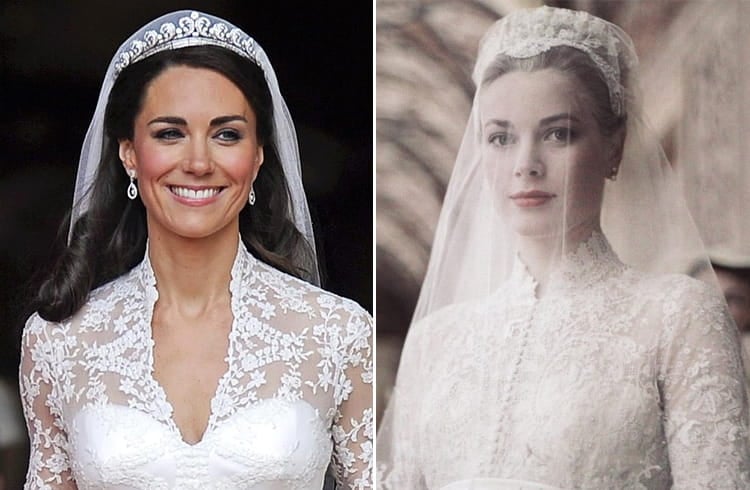 Surely, royal brides employ some of the best hair stylists. There is always an option for a bride-to-be to follow Kate Middleton's effortless waves or Princess Caroline's bohemian-inspired updo. There is never an end to sporting royal hairstyle you know.
List of the most iconic royal wedding hairstyles of all times.
Here are some of our favorite royal wedding hair moments which are inspiration enough for your wedding hairdo.
1. Queen Elizabeth II:
England's longest-running monarch Queen Elizabeth II walked down the aisle with coiffed curls that stopped at her shoulders.
2. Diana, Princess of Wales:
It was a timeless and most memorable fairytale wedding history had ever witnessed. Late Diana's wedding to Prince Charles was televised where she wore her notable short bob, complete with veil and tiara. Has any Princess been able to replicate Diana's wedding-hair? Dunno.
3. Catherine, Duchess of Cambridge:
There is not an iota of a doubt how the Duchess of Cambridge stopped the world with her princess looks during her nuptials to Prince William in 2011.
And what hairstyle ideas did she adopt?
She wore her iconic brunette waves in a half-up-half-down style. More importantly, it was the "demi-chignon" or half-bun (a secret as closely guarded as the bridal gown that Kate Middleton wore).
Who created this unique bridal hairstyle for Kate? Her trusted personal hairdressers James Pryce and Richard Ward who started arranging her hair at 6.30am on the day of the wedding to create the distinctive cascading tresses.
'Kate decided in February how she wanted to wear her hair,' said Mr. Pryce, who has been styling and cutting Kate's hair for four years.
'We had three options, hair up, hair down and a half up, half down. For a while, Kate was also thinking about having flowers in her hair, but then she decided she wanted to wear a tiara.'
The demi-chignon was held in place by the sparkling Cartier Halo tiara. Added Mr. Pryce 'She knew what she wanted and that she wanted a romantic dress. That was the theme of the hair-do – she wanted it off her face and not around her shoulders because she wanted to show off the lace of her dress. Romantic was the keyword for the day.'
That is why it is worshiped till today as Kate Middleton wedding hairstyles.
4. Victoria, Crown Princess of Sweden:
How sophisticated Princess Victoria of Sweden looks. Here she is in a simple updo, which she wore for her wedding to Daniel Westling.
5. Marie-Chantal, Crown Princess of Greece:
Updos very much have the liberty to look voluminous. Princess Marie-Chantal of Greece looks so graceful with the touch of volume she added to her wedding-hair.
6. Princess Noor bint Asem:
Most of you will be thinking about her gorgeous veil but Princess Noor of Jordan's half-up-half-down hairstyle is more clap-worthy.
7. Princess Margaret, Countess of Snowdon:
This royal hairstyle of Princess Margaret cannot be challenged. So beautiful her royal pairing is of her diamond crown with her elegant updo.
8. Queen Letizia of Spain:
Rocking a side-swept bun during her wedding to King Felipe goes to prove how Queen Letizia of Spain has a thing for updos.
[sc:mediad]
9. Grace Kelly, Princess of Monaco:
For more than sixty years now, brides are still trying to emulate the iconic bridal look of Princess Grace Kelly of Monaco. The Princess wore a sleek looking bun for her wedding and made a dream bride!
10. Masako, Crown Princess of Japan:
Princess Masako of Japan curled her voluminous updo during her wedding to Prince Naruhito.
11. Countess Stéphanie of Luxembourg:
This is one of the most memorable side-swept princess hairstyles for weddings that was sported by Countess Stéphanie. It gives a new definition to an elaborate updo. For her wedding to Prince Guillaume, the Countess pinned her veil in-between strands.
12. Princess Sofia, Duchess of Värmland:
During her nuptials to Prince Carl Philip, Duke of Värmland, Princess Sofia tried something new – a modern take on the conventional updo by parting strands down the middle.
13. Caroline, Princess of Hanover:
This is one of the coolest hairstyle ideas perfect for the bohemian bride. Princess Caroline of Hanover dressed her updo with small flowers for her dream wedding.
14. Queen Anne-Marie of Greece:
You can see how Queen Anne-Marie of Greece was clearly ahead of her time as she sported a trendy bob cut for her wedding to King Constantine II.
Having seen so many royal hairstyles, which according to you are the royal wedding hairstyles of all times. Please add your comments below.