Sparkly things bring on the right kind of shimmer on all occasions. But it is difficult to remove the glitter from clothes and yourself, unless you have tried all the hacks we will suggest below. Below is our guide for removing glitter from pretty much everything- skin, clothes, nails, and hair.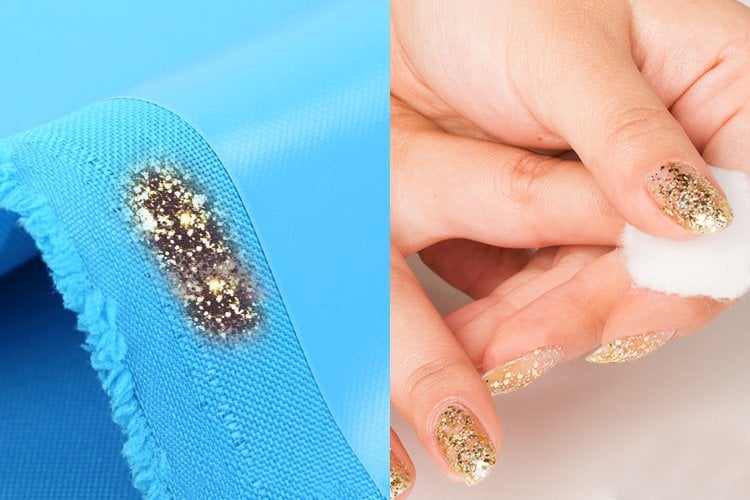 How To Remove Glitter From Clothes?
Glitter can really annoy you when it transfers to your clothes. Here are a few ways to remove glitter from your clothes: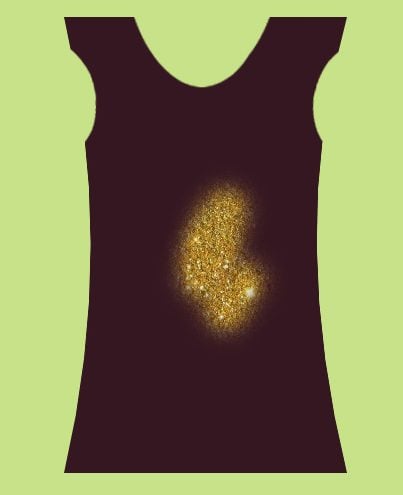 1. Tape Or Lint Roller:
There are several experts who suggest making use of tape or lint roller. For this, you may simply stick it to the sparkle-covered clothing, using aerosol hairspray. Allow it to dry and then rewash clothes, or else the glitter may reappear on other clothing items in the washing machine.
2. Hair Spray:
If you own a glitter dress and it keeps shedding off, then make use of hair spray. But do not overuse the hair spray as it may dull off the shine. Hence, use it sparingly.
How To Remove Glitter From Hands?
Glitter is decorative, but rather stubborn when transferred onto skin. And even worse, when it is rubbed against sweaty palms and hands. But there are few ways to get rid of glitter from your hands that do not involve harsh rubbing: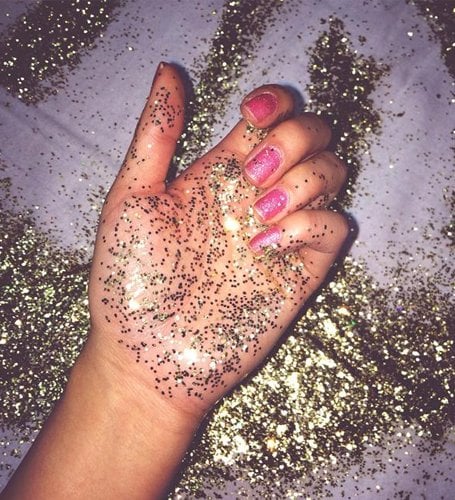 3. Making Use Of Poster Tack Or Putty:
This is a quick method used for making craft style glitter. The poster putty adhesives are also known as blu-tac, sticky tac, etc. You can also make use of play dough instead of poster tack. Take a small blop of the poster tack and roll it into your hands, making a round shape. Allow the ball to roll over the glittered area of your hands. Roll and dab the ball over your hands. This can allow collecting the glitter over the tack ball. You may repeat the process until the glitter comes off. Dispose the poster tack and rinse your hands using warm water.
4. Coconut Oil:
Coconut oil is a good method for making craft and makeup glitter types. You may either use the coconut oil in its solidified form or warm. Apply the coconut oil over the glittered area. Use circular motions and watch the glitter come off slowly. After all the glitter has come off, wipe your skin using a damp cotton face wash or commercial hand wash. This can easily remove the coconut oil and glitter from your hands. Wash off your hands in warm, soapy water. This can remove any remaining glitter.
5. Lotion Or Makeup Remover:
Have a lotion or makeup remover? These are quick and ideal solutions for removing glitter from your hands. You may rub the lotion or makeup remover over the glittered areas of your skin. Rub skin in circular motion to remove the glitter. Rub the lotion or makeup remover using a damp cotton pad, wipes, or balls. Discard the pads or wipes after one use as it can collect glitter. Continue rubbing with fresh wipes until all the glitter comes off. Wash your hands in warm, soapy water. This can remove any remaining lotion and glitter.
6. Rubbing Alcohol Or Nail Polish Remover:
Soak a cotton ball or pad in rubbing alcohol or nail polish remover. Dab and gently rub over glittered area on your hands. Hold the soaked pad or ball in place for a minute. After that, wash hands in warm, soapy water whilst gently scrubbing. Dry hands and apply hand cream or lotion.
How To Remove Glitter From Nails?
Glitter nail polish is pretty yet difficult to wipe off. To get it off without ruining your nails, make use of an acetone nail-polish remover.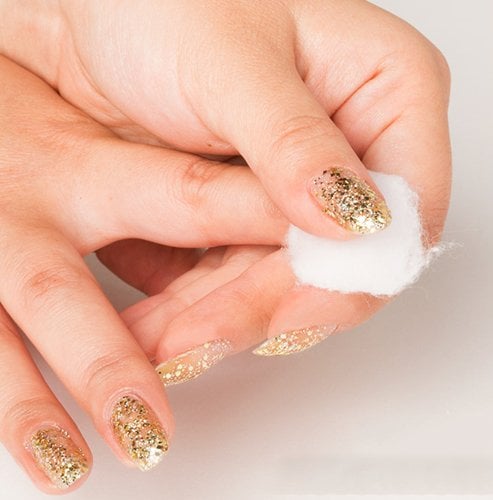 7. Tin Foil:
Soak cotton ball with acetone nail polish remover. Apply the soaked cotton ball over your nails and wrap it using aluminum foil. Allow it to sit for five minutes and let it slide off the foil. Or, make use of felt with acetone to rub it off quickly.
8. PVA Glue As Polish Base:
Here is a simple solution to remove glitter nail polish with ease. Make use of a layer of PVA glue mixed with water as a base coat for your manicure. Then paint the glitter on top. Once you are ready to remove it, peel the glue. You will see every scrap of spark will lift off the nails in one peel off session.
How To Remove Glitter From Face?
The hard reality about glitter is after you've had all the fun, it is annoyingly hard to remove it from yourself- so here are few methods you can try to remove it easily without damaging your skin.
[sc:mediad]
9. Natural Oils:
Make use of natural oil like olive oil or baby oil. Dip your fingers in the oil and lightly rub the olive oil over the glitter. Rub in circular motions lightly to remove it from skin. Follow these steps on how to remove glitter from skin by wiping off your face using a water-soaked cotton pad for removing oil and glitter.
10. Sello Tape:
It is almost impossible to apply glitter particularly on your eyelids without smearing it over your cheeks. And you probably will end up washing your face and ruining your makeup. Instead of all these hassles, wrap sellotape around your fingers to gently lift off the glitter specks.
How To Remove Glitter From Hair?
Below are few solutions to remove glitter from your hair. These are perfect to tackle the flecks from hair parting.
11. Paper Towel And Hairspray:
Blot your hair scalp using a paper towel sprayed with hairspray. While the towel is still damp, lightly blot the glittery areas onto scalp. The glitter will stick to the hairspray. The damp spray will not stick with your hair. This will lift off the glitter flecks without pulling the hair.
Apart from following these handy tips, we suggest using gloves and aprons, to avoid spillage on your clothes and getting the glitter smeared on your hands. After all, prevention is better than cure!