While the modern age beauties stun us with their uber chic and super stylish cocktail dresses and glamorous evening gowns, the heroines from yester years bring a new flavor. We love the stylish collection of sarees worn by veteran actresses Hema Malini, Jaya Bachchan and Rekha. Their wardrobe becomes the envy of Indian women and each saree is a delight in itself with beautiful detailing and intricate embroidery.
From Rekha's rich and elabortate Kanjeevarams to Hema's sophisticated chiffon sarees, their saree collection is highly exclusive, famous and desired. We bring to you the latest saree collections styled by these ethereal beauties who continue to stun their fans and audience with their timeless beauty:
1) Rekha – Apart from the fact that she looks almost similar at every award function, she wears some of the most gorgeous kanjeevarams, elaborate and dramatic make- up, richly colored lips and loads ipof eye kohl. She pairs her sarees with chunky and heavy jewllery and either lets her hair cascade beautifully or makes a graceful bun with a gajra. She does not shy away from wearing loud mang tikkas, chunky gold bangles and dramatic traditional jewllery. She carries matching purses and clutches in vibrant colors, beads, mirrors and Indian crafts.
Here's Rekha at the Ahana Deol wedding function looking resplendent in a peacock and gold colored saree with lovely bangles and a bejwelles clutch: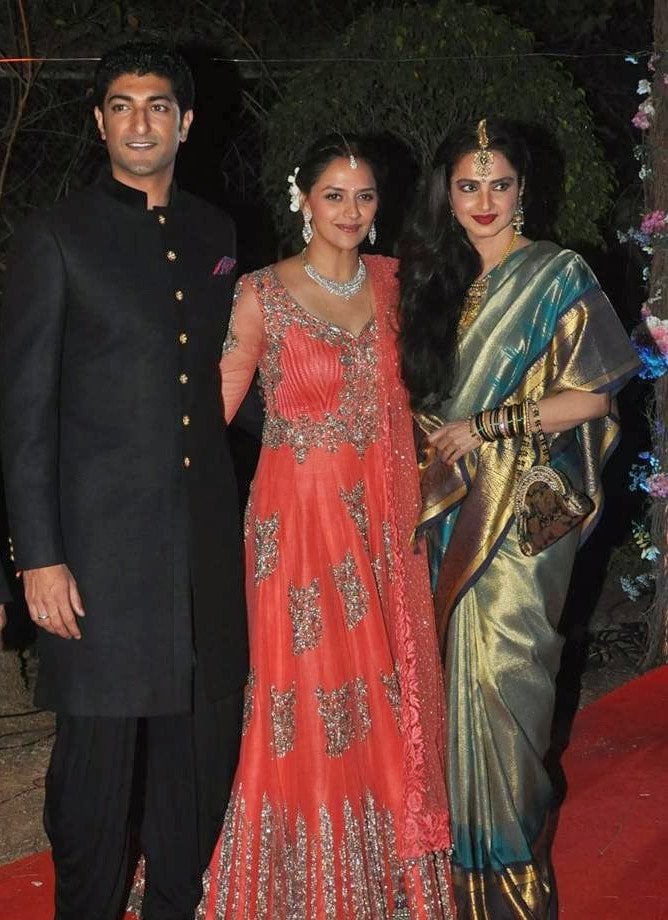 Here is a priceless moment from the Life Ok Screen Awards, when Rekha met Jaya and they greeted each other warmly and affectionately after a hiatus of 33 years: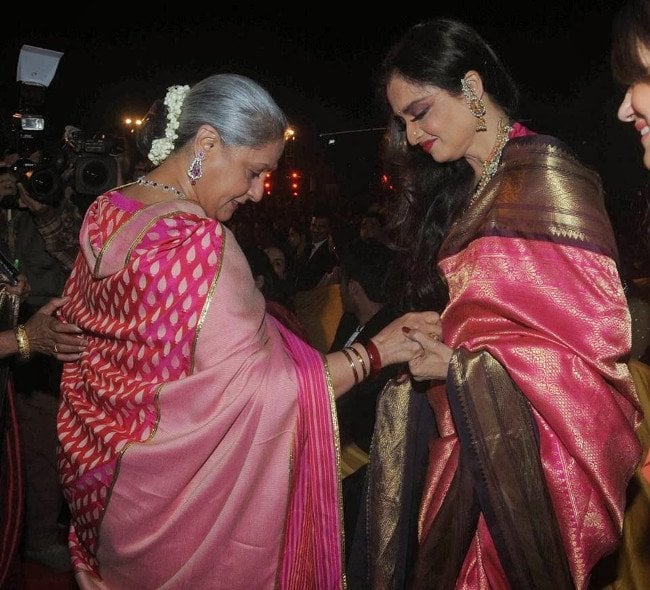 Check out the gorgeous sarees worn by both the veteran actresses – Rekha in a huge gold kanjeevaram border and pink-gold saree which dazzled brilliantly. She wore matching kaanchan earrings, a grand necklace and did her signature style open tresses.
At the Filmfare Awards, she was perhaps the only diva dressed in a gorgeous scintillating gold saree which gave her the appearance of a goddess. With red hot lips, chunky traditional gold jewllery, gajra and a resplendent pallu, she oozed radiance and looked every inch the diva: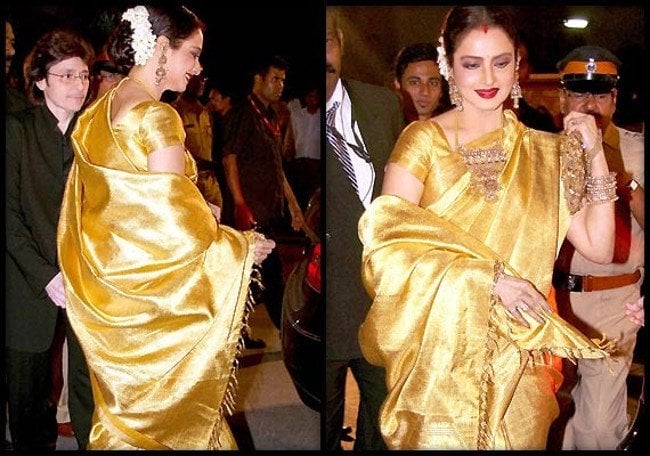 2) Hema Malini – This dream girl from the sixties has aged beautifully and still has the charisma which earned her millions of fans in her young age. She is the proud mother of 2 daughters who made a foray into classical dancing and have eventually got married to eligible groom. She has definitely surpassed her daughters in terms of beauty, grace and charm who have neither been blessed with her magical screen presence or lovely features. While the botox might give her flawless, wrinkle free look, the natural and original signs of ageing might have enhanced her natural beauty. Her classic smile and peaches & milk complexion are evergreen. We love her saree collection and the way she carries them off with style & elan:
[sc:mediad]
Here's Hema malini at the wedding reception of her daughter Ahana Deol to businessman Vaibha Vora. Dressed in a shimmery blue-silver sheer saree with a pretty silver blouse: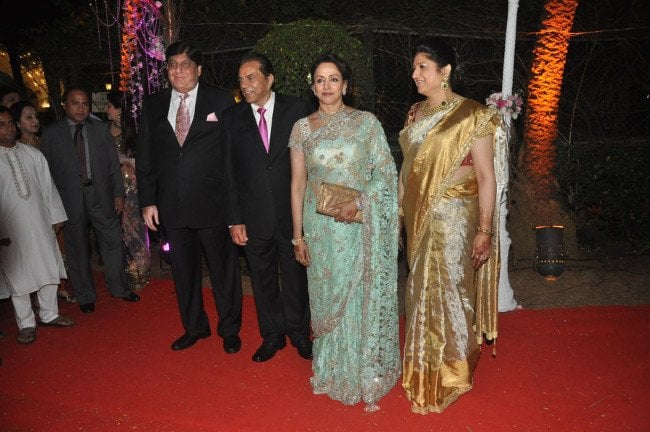 Hema Malini looking glamorous in a black saree with lovely gold flowers and elegant jewellery woth her daughters and damaads: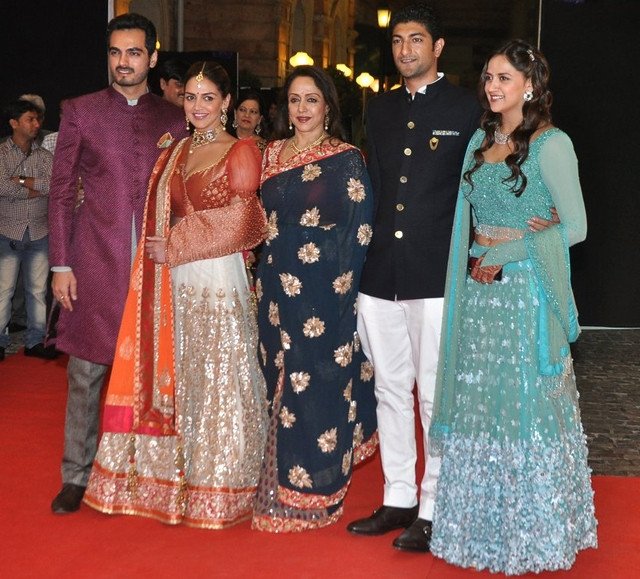 When Hema Malini appeared at Comedy Nights with Kapil, she looked ten years younger in this sheer cobalt blue blouse and saree: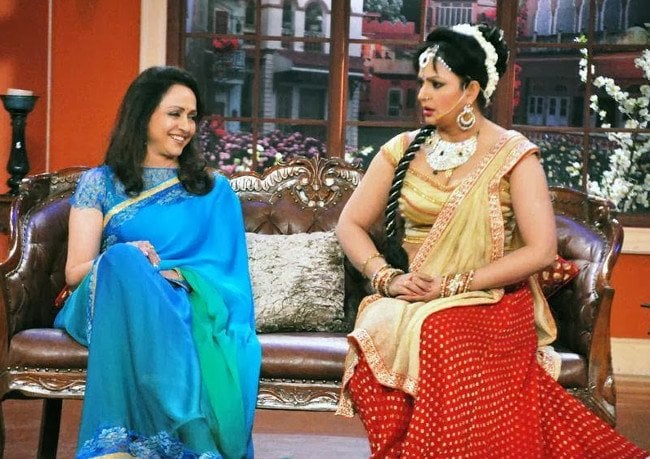 3) Jaya Bachchan – Perhaps the unofficial leading lady of bollywood, she has travelled a long way from being the simple, sweet actress Jaya bahaduri to being the wife of one of the most influential and powerful public figures in India. Jaya in her yester years was the typical Indian beauty with her petite figure, long cascading hair, expressive eyes and a sweet simplicity. She was a powerful actress with her realistic roles, natural acting skills and amazing screen presence.
Switching to the present day, she looks resplendent in beautiful sarees, gajras, kohl lined eyes and a timeless grace.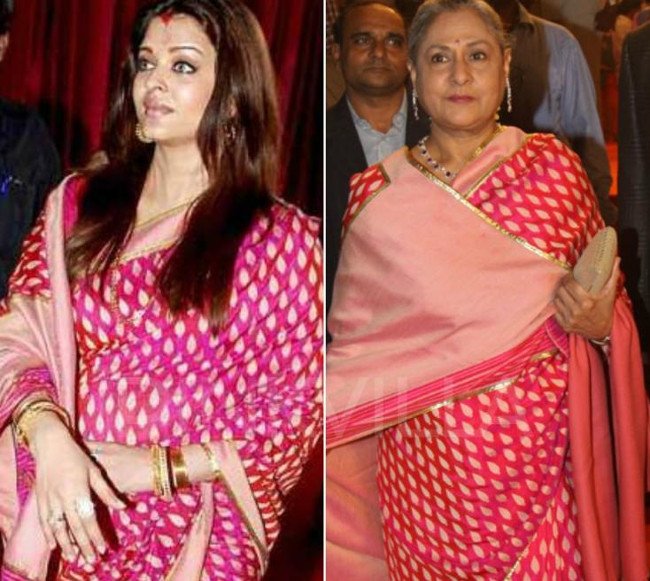 This saree seems to be a favorite with the Bachchan family as Jaya Bachchan wore it to public appearances both in 2010 and 2014. Even bahu Aishwarya was spotted wearing the same saree!
Here's Jaya at a fashion show wearing this pretty pink saree :