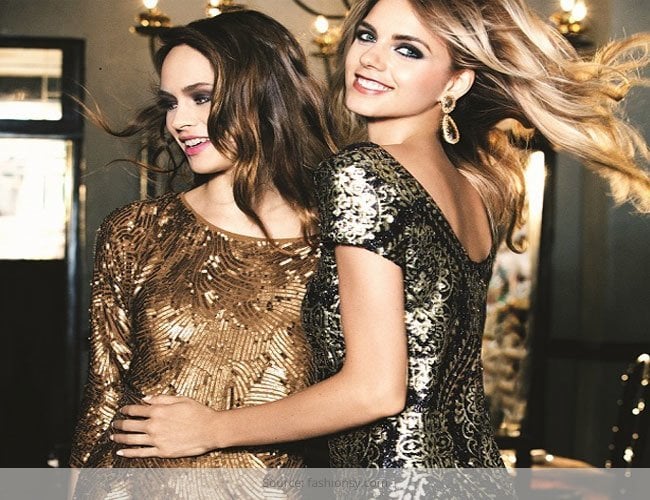 Have you planned what you're going to be wearing this New Years Eve? No? Well that's okay, there's no need to panic. Here are some great ideas that you can get inspired from. Who wouldn't love to welcome 2015 in style and look awesome in the New Year bash photos?
Don't play it safe this New Years Eve, opt for an edgy bustier crop top and pair it with leather pants or a pencil skirt for the ultimate femme fatale look. Studded or sequined bustier tops will sure add some much needed bling to your outfit and get you into the mood to PAAAAARYYY!!!!
Bored of the LBD?
Tired of the good old LBD and looking for something different? How about a pair of super cute dressy shorts? Lacy or sequined shorts look super hot and are perfect for ushering in the New Year. Pair them with a chiffon shirt or top and a pair of killer heels to complete the look.
Jumpsuits
Another great choice for a New Year Eve outfit is the strapless jumpsuit. Apart from being super stylish, this is also a great option if you want to look trendy but are not too keen on showing a lot of skin. Top it off with an embellished jacket for a look that is chic and comfortable.
Go Minimal
Opt for the minimalist look. While all your friends come out in all their finery, go the other extreme and opt for the minimalist look. Look classy and different in a white outfit in a classy cut. Keep it simple with bare minimum jewellery – just one statement piece and no more. Complete the look with a pair of nude pumps and you'll look like a million bucks.
[sc:mediad]
Ballerina Skirts
If you're looking for a girly outfit, then try the whimsical ballerina skirt. You can combine it with pretty much anything, from a tee shirt to a crop top or sweater. It is such a dreamy and fun look and will be perfect for the style diva who wants to wear something that's girly but not overly so.
Peplum's For a Formal Sit Down Dinner
A more formal option that would be perfect for a New Year Eve dinner is the peplum dress. Opt for interesting colours such as green and blue instead of black to keep your look less formal and more festive.
High Waist Trousers
Another no-skin look is the high-waist trousers with silk top outfit. This is a super chic look that is also comfortable. To create an illusion of a taller frame, wear shoes that are the same colour as your trousers. This will help make your legs look longer.
Cocktail Dresses
Of course you can always opt for the ever-reliable cocktail dress with some interesting cut-outs at the back. You can't go wrong with a sexy cocktail dress and a pair of high heels. Add some statement jewellery to it and your New Year Eve outfit is ready.
Depending on where and how you're planning to spend New Year's Eve, pick an outfit from one of the above mentioned ones. And if you don't have the budget to splurge on a new outfit, make what you have work for you. Add a brooch or a scarf to revamp your old LBD and finish up the look with bold red lipstick and tada – you've given your LBD a makeover and are ready to dance your way onto a brand new year! Happy New Year!