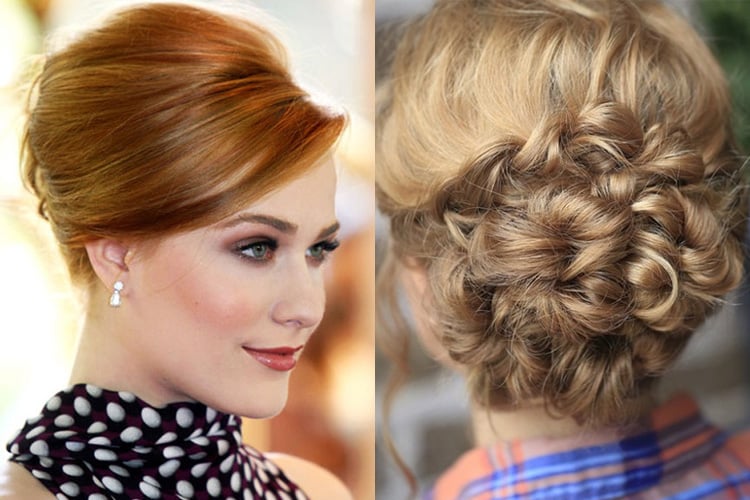 Homecoming is definitely less formal than the prom night but its importance is no less. Being slightly less formal, it allows you to be little carefree and show your lighter and fun side as you dance the night away. Looking chic and beautiful is a very important element to make that night perfect. If your homecoming party is just around the corner and you have already decided on the stylish dress and accessories, it's now time to complete the look with equally stylish and complementing homecoming hairstyles!
6 Best Hairstyles For Homecoming
Keeping your needs in mind, we have compiled some awesome hairstyles for homecoming for you to duplicate and rock the night.
1. Waterfall Braid With Loose Curls
This season, braided hairstyles for homecoming are an absolute rage. Give your long and thick tresses some romantic voluminous curls which are thick on the lower part. Braid your hair from both sides in the waterfall style and tie them at the center at the back. Oozing a wild exotic vibe, this is one of the best homecoming hairstyles for long hair which complements almost every girl and every dress.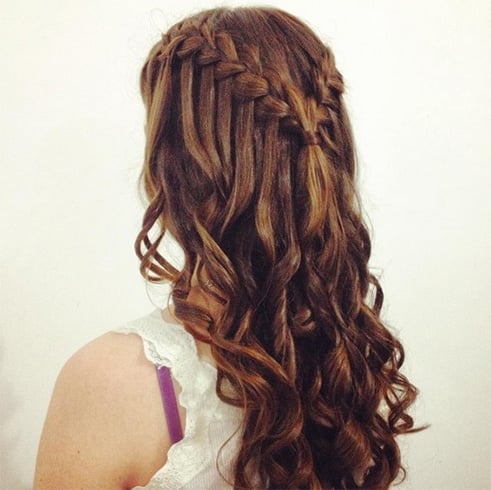 2. Cross Over Beauty
One of the edgy homecoming hairstyles, this is perfect for naturally curly long tresses. Tame sections at the back by twisting and securing them with bobby pins in criss-cross fashion. Oozing a complicated and stylish vibe, it is one of the easiest DIY homecoming hairstyles to duplicate at home.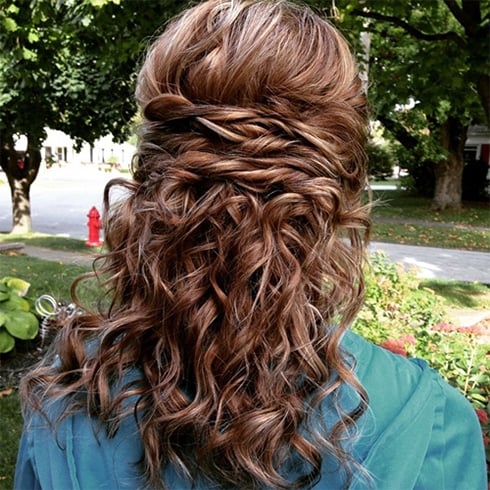 3. Braided Updo
Another way to rock braids is through some innovative homecoming hairstyles updo. Creating braids of multiple hair sections and finally bringing them in a low updo will look extremely stylish and elegant. Give it a naughty vibe with braiding from all sides of crown and bringing them together as a messy updo. The trick in both styles is to let loose some strands around the face for a soft and innocent look. You can also make it look exotic by doing a fishtail-Dutch braid right at the crown and a low bun at the nape and slightly sideways; it would look mesmerizing with a long gown. The variation with this homecoming hairstyle is endless.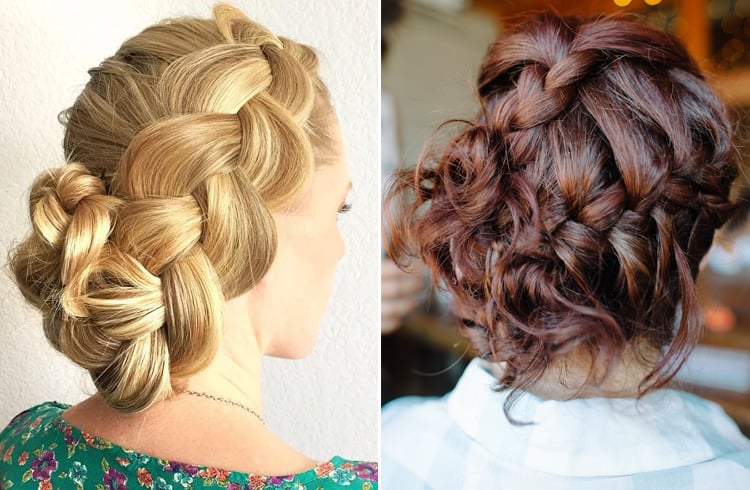 4. Ponytail Homecoming Hairstyles
Whether fancy or simple, ponytails never go out of fashion. A bunch of easy hairstyles for homecoming, they are quick to make and amp up your look notches higher. First curl your hair with a hot barrel iron and brush them to have flowing waves. Add some volume to the front and finally grab them together and secure with a band. Cover the band with hair and after a hair spray, you are ready to rock it with a backless dress.
[sc:mediad]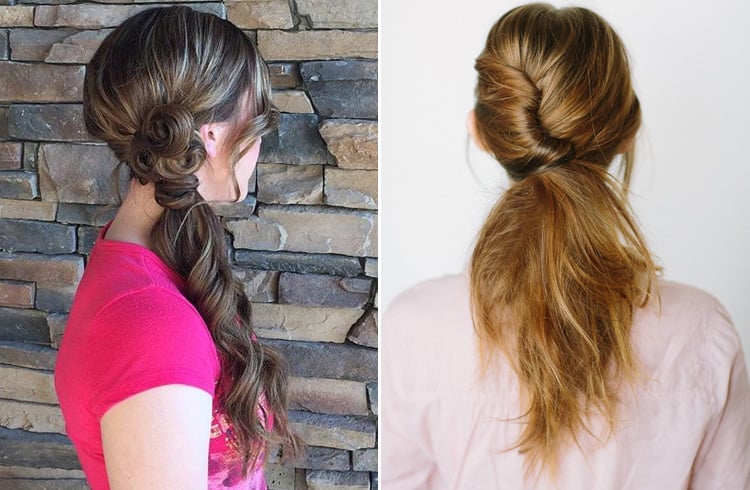 Get inspired for some curly hairstyles for homecoming by taking some sections of hair and setting them up in fancy rounds right at the point where the side ponytail is tied. Such side hairstyles for homecoming need no further embellishment and are bound to grab eyeballs.
Convert it into an edgy homecoming hairstyle for shoulder length hair by doing away with curls and making a pony tail at the back with a half French twist and half ponytail. The style would look chic with just about every dress.
5. Homecoming Hairstyles For Short Hair
Updos are not meant exclusive for long tresses. You can rock a bouffant style updo even with a bob length hair and add that glamorous edge to your look for the evening. Nothing looks better than styling your hair in some quick homecoming styles like the chic wavy style or styling them in full curls and simply pinning back the bangs. The simple feminine style will win all with its charming ooze.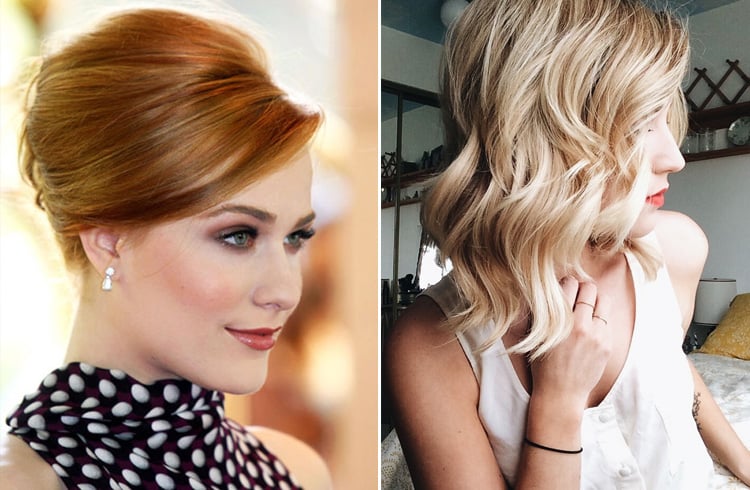 6. Homecoming Down Hairstyles
For those of you flaunting blonde hair, rock any of the half updos blonde homecoming hairstyles with the color and texture of hair adding that extra edge to the hairstyle. Create some pretty spirals of sections of hair at the back almost like you are arranging a flower. The final effect of it will be stunning especially with the blonde hues adding its own signature. This rosette half down is glamorous yet sensual enough to help you nail the look to perfection.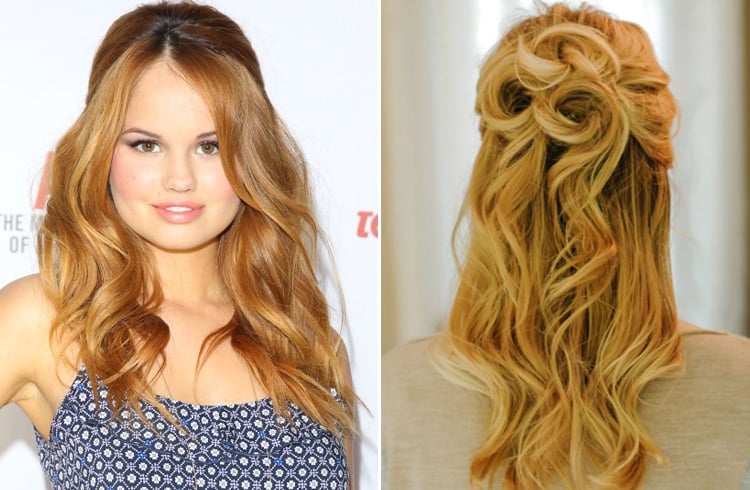 Another way to make blonde hair look hot is by adding some texture to it. Create some messy waves after you have spritz some texturizing spray to damp hair and allowed them to dry naturally. Now just tease them a little with the comb and tie them simply at the back with bobby pins. The blonde hair framing the face will make you look like a fairy.
We hope you have found your inspirational homecoming hairstyles for your picture-perfect look! While you are getting swept off with all the attention, remember to share your joy with us below.
Images Source: pinterest