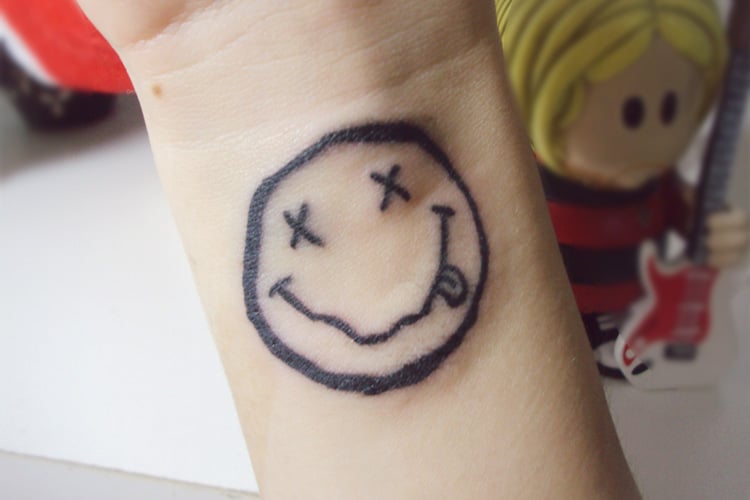 When it comes to getting a tattoo, we are always confused or we have literally no idea what we should be getting. An important thing to understand is that your tattoo is going to be forever. Well, not exactly forever, but just so you know – removing tattoos is a very expensive procedure. So why not get a relevant tattoo instead of regretting it?
Smiley tattoo is quite a favourite with tattoo enthusiasts. It's tiny, it's dainty and it's beautiful. For those of you who are beginners at getting a tattoo, starting with a smiley tattoo is a good start. In this article we will talk about the different smiley face tattoos that exists. Some of them have meanings; some are just a personification of happiness. Whatever the reason, it is best to get a dainty tattoo and then proceed to get a bigger one.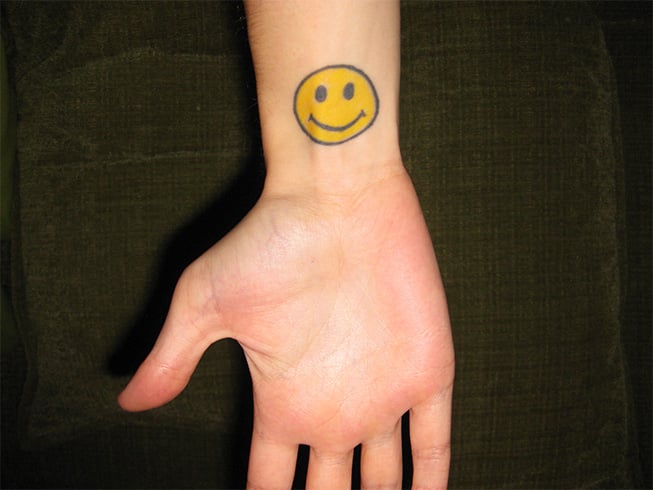 Smiley Face Tattoo Inspirations For You
The typical smiley tattoo came from the emoji that looks the same. This emoji is used to show the emotion of happiness and is universally accepted. So if you are getting a smiley face tattoo, it will mean that you are generally a happy person.
This small smiley face tattoo along with a smile.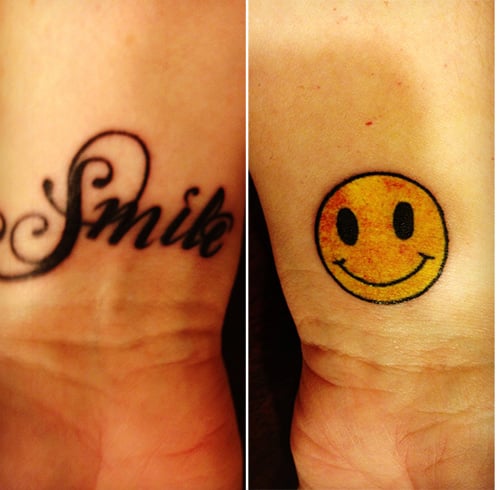 A smiley face toe tattoo to remind yourself that everyday is a new day and you should start it on a happy note!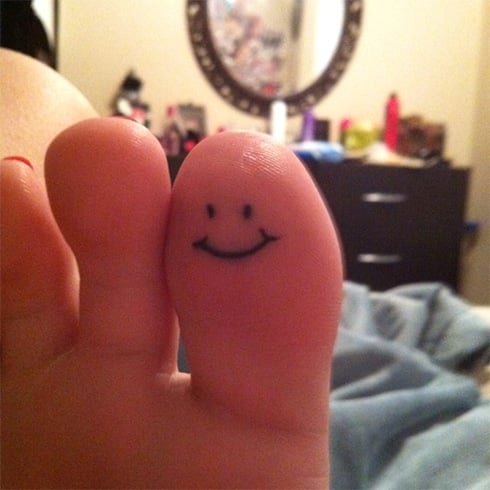 A very basic smiley face tattoo means you love minimalism. Just get the lines tattooed like this one.
[sc:mediad]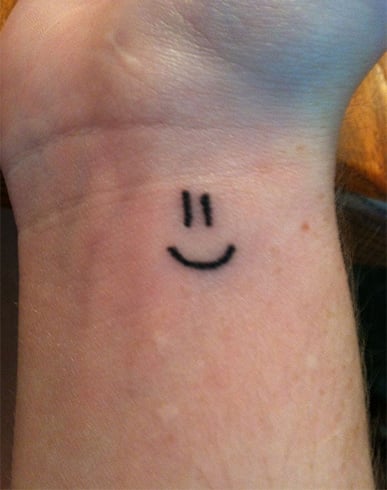 Or this one hidden among your fingers.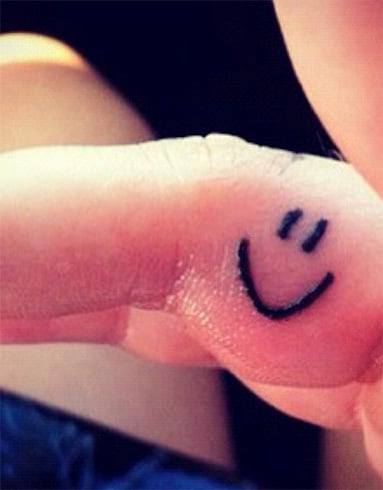 One very common tattoo among rock lovers is getting a Nirvana Smiley tattoo. It's a beautiful piece of art and unlike any tattoos you have ever seen.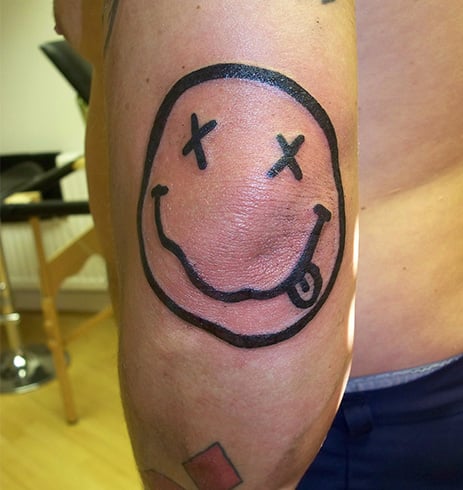 Unlike any other smiley tattoo, it does have the ingredients of a smiley tattoo but there is something different about it. The tattoo first appeared in Nirvana's album 'Nevermind' in the year 1991.
Ever since the smiley face tattoo became even more popular and theories began circulating about who came up with this iconic smiley. One theory says that it was inspired by the logo of a strip club in Seattle. The other theory talks about the fact that the smiley represents a drunk person or someone under the influence of drugs and hence the face!
Whatever the theory, everyone we know who loves Nirvana will definitely get a tattoo honoring this band.
Smiley tattoos are also quite a rage with many celebrities. Here are some of the popular celebrities rocking smiley tattoos.
Miley Cyrus and her tiny smiley tattoo on her foot – It's tiny and really hard to spot, but we think it is cute.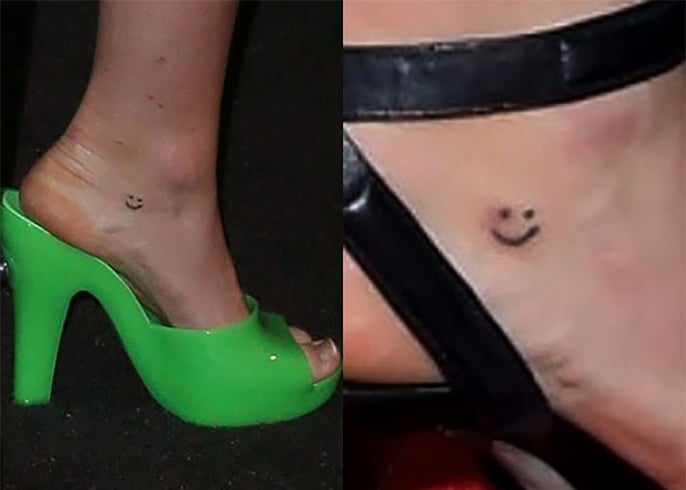 Demi Lovato debuted her smiley face tattoo for an album and it is on her little finger. We think it can't get any cuter than this.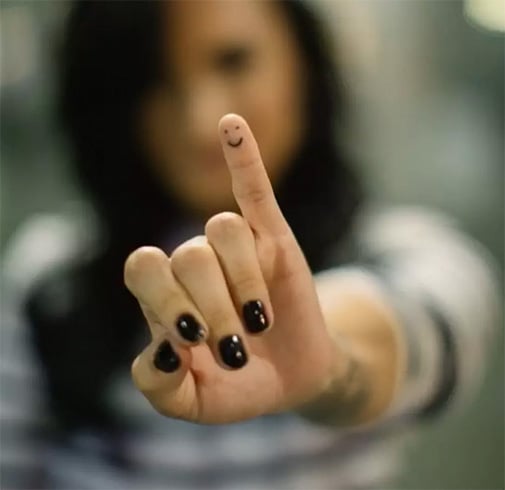 Lilly Allen has always been our favourite quirky popstar and she proves her eccentricity with a smiley tattoo that looks like this.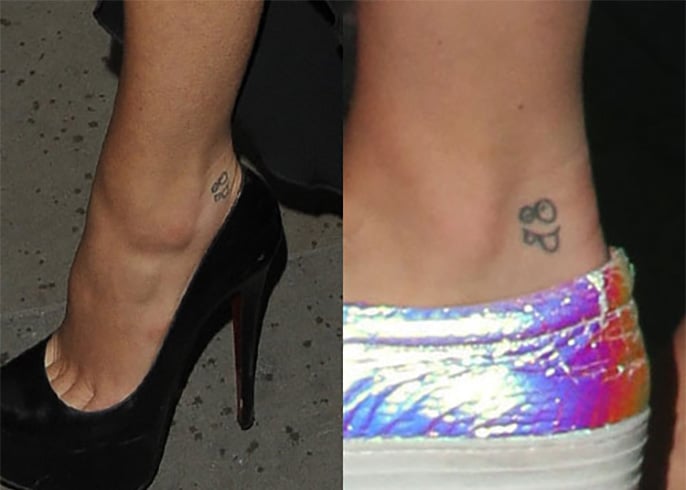 Incidentally, Lilly is so fond of smiley tattoos that she has another one just like a bracelet on her hands too. It's easy to spot, unlike her other smiley tattoo.
Our hearts go out to Kesha, the songtress who was troubled a lot by her record producer. However, we wish her all the smiles, just like her tiny tattoo on her foot.
Bon Bon is such a happy song and it always manages to get your foot tapping. No wonder the singer sports a smiley tattoo.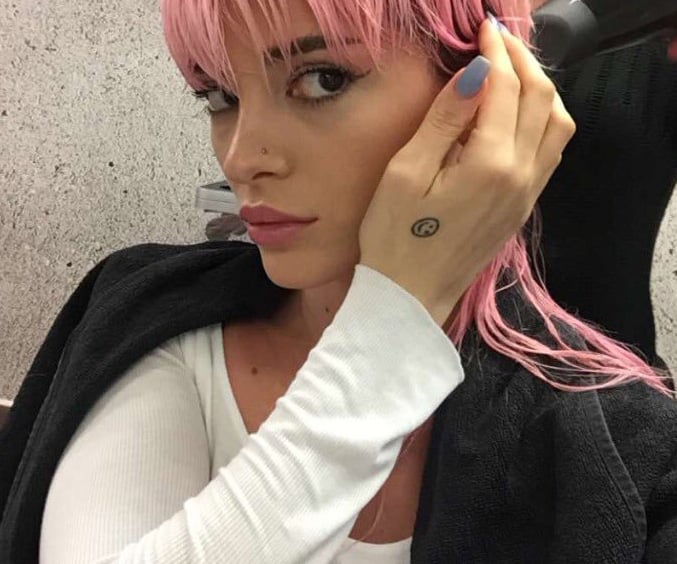 So there you go! All the smiley tattoo inspirations for you. Always make an informed decision before getting a tattoo done and we are sure you won't regret it then!
Images Source: pinterest