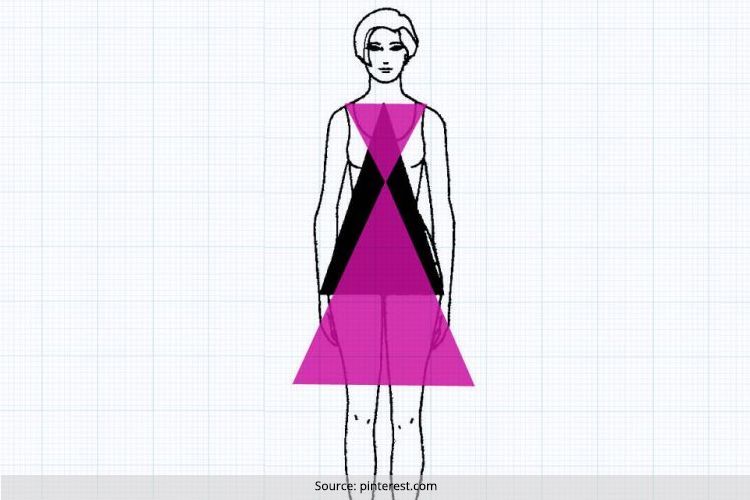 Pear-shaped women are basically triangular in shape. They are characterized by narrower upper half with a comparatively wider bottom half and look absolutely fabulous when the outfits are chosen properly. But sometimes, finding proper clothes may turn out to be quite tricky for pear shaped women. It becomes even truer in case of bottom-wear.
So today, I'm going to discuss about skirts and how pear-shaped women can find the best styles for them. I'll mainly focus on the skirt styles that a pear-shaped body must avoid so that you can get an idea of what ultimately will work for you.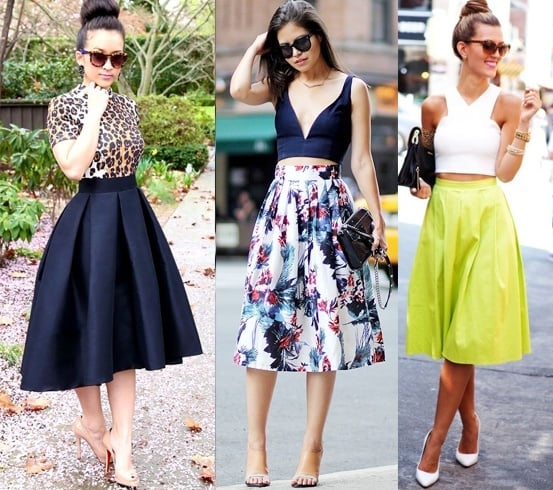 Here we go on skirts for pear shaped:
Not Too Long or Too Short – Just Above The Knee
The length of the skirt matters the most for a girl with a pear shaped body. You need to be highly conscious about how long it goes down your bottom and where exactly it ends. A perfect skirt should extend right up to the top of the knees of a pear woman. If it is too long or too short, you will never be able to achieve that sexy killer look. Those who are exceptionally tall or short may still go for a little more or less length respectively. But otherwise, stay away from highlighting your problem areas i.e. hips and thighs by choosing skirts of wrong length.
Rightly Fitted – Avoid Tightly Fitted Skirts
Be it rightly fitted or tightly fitted, a skirt that embraces the lower section of your waistline in a clingy manner should always be avoided at any cost. To be more precise, you need to steer clear of skirts that remain tight all over your bottom half. Being form-fitted, they will put emphasis on your wide hips and large thighs instead of camouflaging them the right way. As a result, your bottom will look even heavier, which you surely do not want. Rather, go for skirts that come with slight flares. They will expose your beautiful legs without drawing attention to the troubled sections.
Say NO to Low and High Waistline
If you are an attractive pear, make sure that you double check the waistline of your skirt before purchasing. A low waistline is a big no-no for you as it may bring the focus on your heavy lower body.
Conversely, if you choose a super high waistline, you will do it wrong again. The best pick should be something, which sits around your actual waist perfectly. This can enhance your silhouette beautifully. However, if picking something high-waist becomes necessary, stick to dark shades and flared styles only.
Thus, skirts for your body type, but not be either a high or a low waist.
[Also Read: The Skirt Vocabulary]
No Extra Volume to The Hips
While checking the waistline, you should also check whether your favourite skirt has a voluminous structure at the hips or not. As a pear shaped figure itself is quite large and wide near the buttocks, it is always recommended that you avoid any more volume there. What you actually need is a skirt that is fitted at the waistline and flared down to the hemline. It will give your natural shape a boost without looking too clingy on you. So, skirts for pear shaped body must not be the drape style or the ruffled style. Keep away from these as much as possible.
 [sc:mediad]
Light or Medium Colored
Next comes the color of the skirt that you must take into consideration prior to spending money in it. No matter how stylish the attire is, if you don't find a darker shade, just skip it. We have already told you that a pear shaped woman should de-emphasize her wide hips and thighs as much as possible. And only dark shaded bottom wear can help her in her way. So, forget light or medium shades. If you really want to rock a skirt, go dark.
NO Large Bold Prints
Who doesn't love large beautiful prints on skirts? But ladies, if you are so-called pear women, you must try to stay away from large bold prints on your bottom wear as they can only highlight your problem areas instead of hiding those bulges. Rather, you may opt for small, subtle prints that will give you an elegant look.
[Also Read: What Not to Wear If You Are Pear Shaped]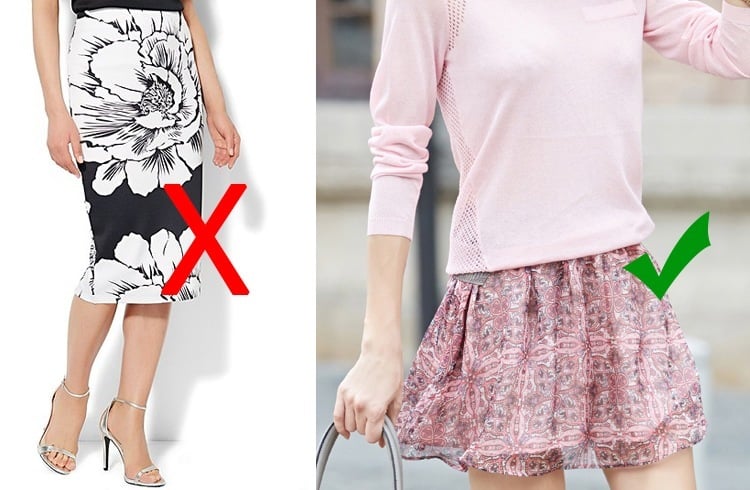 NO Detailing
Last but not the least; try not to select a skirt with lots of detailing, especially around the bum area. Yes, we totally know how those pleats, ruffles, and other such girly details attract you. But the more you will fall for skirts that are rich in detailing, the broader as well as more prominent your hips will appear. Hence, it will always be wise to pick something simple or softly-pleated. We also suggest you to evade all sorts of shine and glitz.
So, you gorgeous pear women, hope you have got all your skirt-related queries answered in this post. Just find the most suitable skirts for pear shape women and rock the styles!
Hope this article on skirts for pear shaped women is helpful.