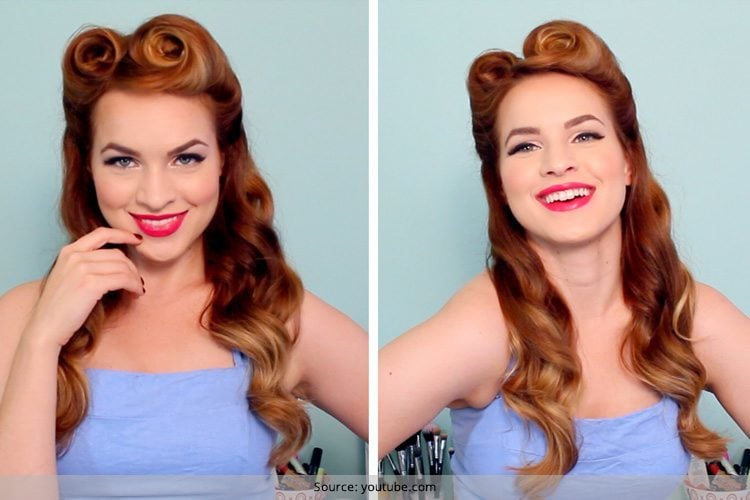 Did you see Katy Perry rock her retro hairdo at the recent award function? Well, it's not just her who is rocking all kinds of vintage hairstyles. Celebs and 'normal' people alike are all in for easy retro hairstyles right now! Retro hairstyles are timeless, simple and very easy to recreate, provided you have the right kind of tutorials to help you along the way! In this article, we will tell you how to do step by step retro hairstyles.
[Also Read:Movies That Got The Best Vintage Hairstyles!]
How To Do Retro Hairstyle
These are cheap and easy and you won't even need many resources to copy these styles! So, let's get started with how to do retro hairstyle looks!
The Rolls And Braid Game
The easiest among all the hairstyles, this one is very simple and easy to do. You can add a scarf to it for making it even prettier. This is the step by step process on how to do retro vintage hair style:
Lightly back-comb the hair at the crown of the head and middle part it.
For the braid, make a small one on one side of your hair. Now, secure this braid with a small scrunchy.
Do this with the other part of the hair too and join the braids together at the back of the head.
For the remaining hair, tie it into a ponytail it at the base of the neck and secure it. Your roll and braid hairstyle is done, but you can add a scarf to it, like we mentioned above. Take the scarf and lay it on the center across the top of the ends of the ponytail. Now slowly roll the ends around the scarf.
This is the pictorial representation of how you can do this vintage hairstyle:
The Petite Victory Rolls
This one requires a little bit of patience though! Also, remember, this hair will look and hold much better with hair that is at least a day old. Do not shampoo your hair if you want this hairstyle to look good. Here is what you will need:
Curling irons
Bobby pins
Fine-toothed comb
Hairspray to hold the hair
Step-by-step tutorial:
1. Centre part your hair and take two sections of your hair. Pin both these sections of your hair behind your ears and you would be using them later
2. Curl top two inches of your hair in two sections and pin them with bobby pins. You can also use curl pins
[sc:mediad]
3. Now take the front sections of your hair which you had kept aside in the first instance and straighten it upwards till the front part of it is smooth. Curl in one direction spray your hair once you are using the curling tongs or irons. Bobby pin your curled rolls and spritz them carefully with a setting or holding spray. Make sure to bobby pin your rolls from inside out so that no pins will show
4. Repeat step 3 on either side of the hair so that both the sides match properly. Make sure you scrunch your curls properly for a more gorgeous look. Generously spray your hair
How To Fake A Bob
Faux bobs were all over town and are really pretty. While the style takes a little bit patience and practice, the results are breathtaking! It's a look which will make everyone wonder whether you really chopped off your locks!
[Also Read: Steps To Achieve The Big Hair Look]
Here's How To Do It:
Divide hair into four sections and carefully curl each section — except some of the hair at the nape of your neck
Braid this hair strand and pin it securely with bobby pins. This has to be very tight.
Open your curls for some waves
Now again, divide your hair into two sections use a piece of tissue to wrap around each section.
Remove the tissue and begin to roll the hair under and continue rolling until you reach the nape of your neck. Take your bobby pins and secure the roll to the braided portion at the nape.
Use generous amounts of hair spray to set your hair!
These three vintage styles are the most popular ones during this time. Follow the instructions to get them right!