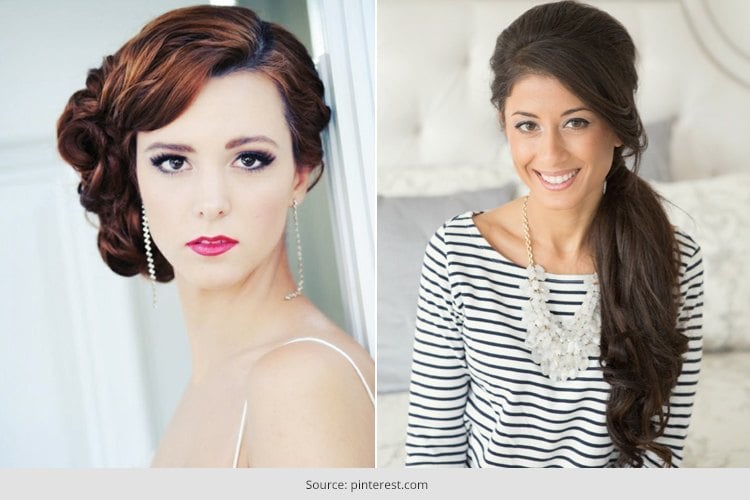 Thanks to our Hollywood and Bollywood movies, retro never actually goes out of fashion! Retro hairstyles are in fact, coming back in fashion and from Oscars to the Grammy's, you can see many of our A-list celebs sporting hairstyles of an era gone by. In this article, we will give you some amazing and easy retro hairstyles-hairstyles which will not even need many styling products. Retro hairstyles are bold, dramatic and BIG. Big Hair, Don't Care seems to be the motto all around. The sixties were rightly called the roaring sixties because hardly anyone cared about anything else other than their big and dramatic hair! Scarves were used big time, geometric cuts were darn popular and timeless waves are still coveted now.
[Also Read: Retro Eye Makeup]
Easy Retro Hairstyles You Will Simply Love
So, with no further ado, let's start off some ways to get easy retro hairstyles of your dreams:
Tie 'Em Up With Colourful Scarves
Like we said before, scarves were uber popular with the ladies in the sixties. They tied their hair in fancy updos and added a scarf for an extra measure. These always looked beautiful! The Rosie Riveter look is still popular, though many of us consider it hipster. So, if you are looking to tie up your hair on a casual date or go out for a ladies' day out, don't forget the scarves.
Here's how to do it: Take a simple printed scarf or a floral one. Spritz up the volume in your hair with the help of a spray or some mousse. Create a side part and tie your hair in a pony near the crown. Set your hair into random curls with a medium barrel iron and use it to create a messy bun. Now, tie the up do with a scarf to finish your look!
Here are some inspirations for you:
A casual and retro variant of the bun and scarf up do is this one:
Side Ponytail For The Win
This is the easiest among all the retro hairstyles and also is one of the classiest retro/vintage looks. Ensure that the hair near your crown area isn't too teased. Add some beachy waves ot your hair or just tousle your mane.
To do that, give your hair some good volume by using a dry shampoo. Tease the hair with a tail comb to create lift. Now smooth the teased area and secure the hair with bobby pins to anchor the volume. Now use a scrunchy to tie your hair into a side ponytail behind your ear. Use a spray and spritz it to keep the hairstyle in place. Here are some side ponytails for your inspiration:
[Also Read: Vintage Retro Makeup]
The Soft Bob
Bobs were all over town in the sixties and are still in vogue. It frames rounder faces wonderfully and makes it possible for the face to look much thinner. You can achieve these structured waves by just using hot rollers. The key is to use minimal makeup with this look because mostly the soft bob would be framing your face.
[sc:mediad]
Here's How To Do It: Take 1-inch section of your hair and spray it with a mousse or spritz. Now after spritzing, put those sections into a hair roller. When the rollers start to feel cool, let your hair down. Now use dry shampoo on your crown so that your hair doesn't look limp.
Another way to flaunt this soft bob look is also to colour your hair in auburn or dark mahogany. Dark, earthy browns give an even softer look.
Here are some soft bob hairstyles you can take cues from:
These are our list of the prettiest retro hairstyles that are still making splashes in the 21st century. Even celebs are flaunting these hairstyles in a big way.