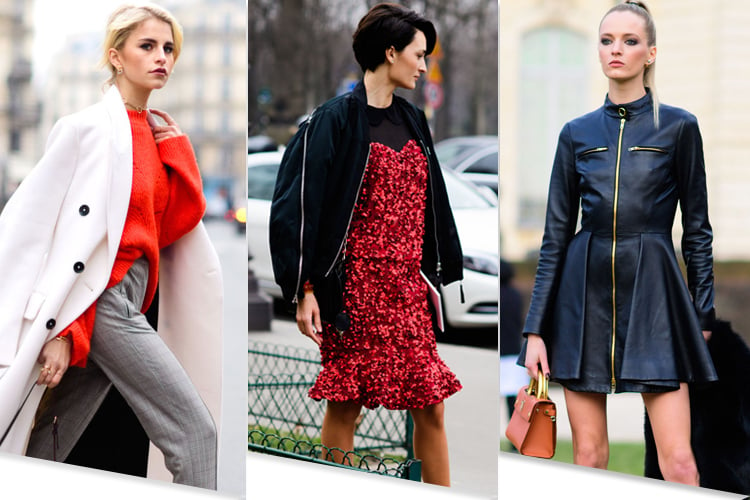 Need some new fashion inspiration this season? Don't you worry one bit, renowned fashion photographer Tyler Joe's got you covered. Everything they are rocking trotting the streets of Paris over the couture week, those fashion models you try and emulate, is here for your eye only!!!
Winters would be a furry affair in Paris – and that is just so expected. But the versatility of the Persian fashionistas in carrying the fringed coat is unmatched and leaves us more than impressed. This softness of this pink coat against the rough and tough denim overall is quite a contrast, and we are also enjoying the minimal print on the model's silk scarf. Influenced? A 100 per cent.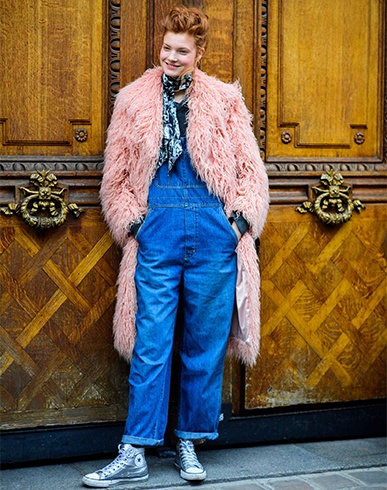 We have seen how you coordinate things that don't coordinate at all – and now we will see how they put together pieces that look similar. Like this camel jacket with the similar tan lace-up boots against a monochromatic backdrop created by the black leather pants and black and white sweater.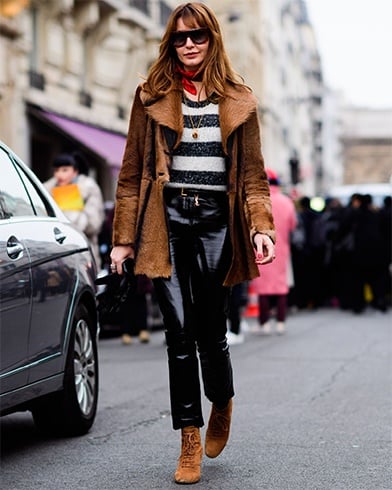 To achieve a more boardroom look, we may steal a tip or two from this hi-class model with oodles of attitude. The neutral shades of ash grey on her trouser and trench coat. The red hot woolen top claims all the attention sitting as the only source of some color. Also, you may learn a thing or two from the way this top is tucked in, it's the most casual way of wearing something to office and yet winning every deal.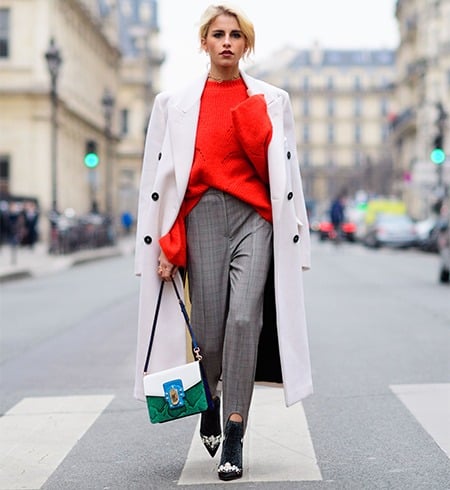 While we are still learning about fur coats and mix and matching, the street style of Paris has more to offer. The warm tone of yellow glasses is the only exception on this ensemble gathered with a cozy furry sweater, a pencil cut knit skirt and a camouflage bomber jacket – all in grey. I like how the jacket can be worn in two ways – so when you are feeling colors, you could just turn it inside out and have the woods with you.
[sc:mediad]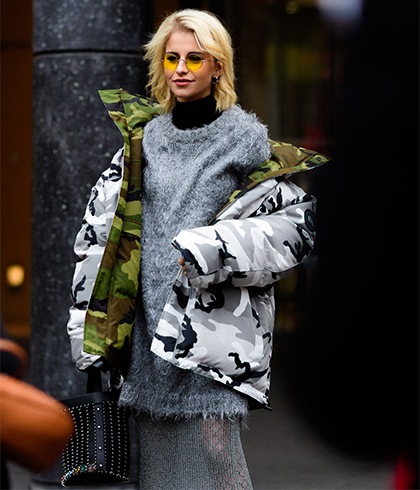 Now that the streets of the fashion capital for the world has trained you enough on wearing fur, we will learn something about rocking the bling. Can we just spend a moment in admiring the exquisiteness that is the outfit in here? The blingy buttons of the jacket prepares us for some more shimmer we are about to see in that uber shimmery dress beneath. Are we not loving the navy blue and gold number with that asymmetrical dress?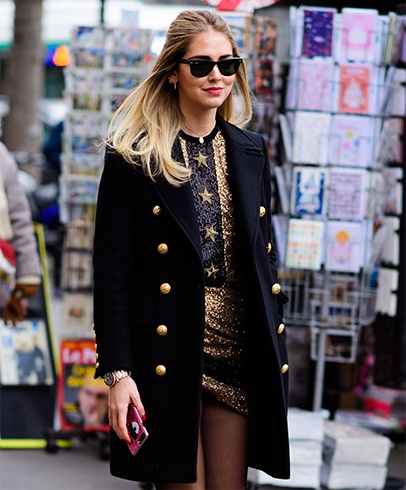 One thing the French capital sure knows is to shine. From one gleaming dress to another, are we ever conditioned to handle so much of sexy in one day? The streets of Paris are showing how you team a glitter red dress with a pair of green shoes. But again, whom are we kidding – it's freezing cold in the European city and you do need a bomber jacket to keep you warm.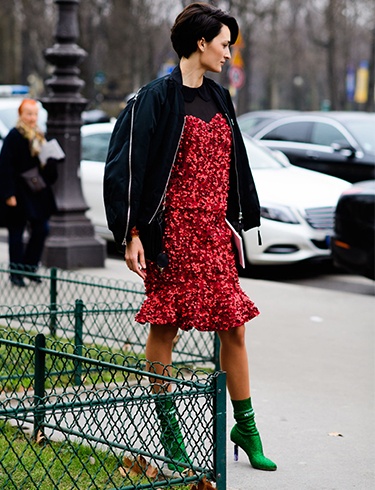 Getting some wild vibes? Channel your inner wilderness in French style. A thick blazer coupled with a cheetah print palazzo is what is on own mind now. Only if we could lay our hands on that fury scarf to double as a scarf on our waist!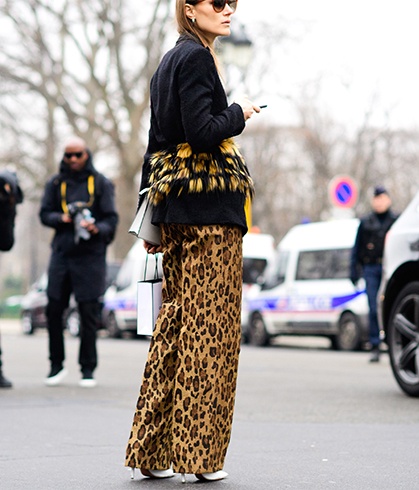 Look, whom we spotted combining animal prints and fur without a flaw – its Olivia Palmero. She knew that a black turtle neck, a boat neck white shirt would only look good when layered with the thickest fur jacket – on that animal print. It's wild.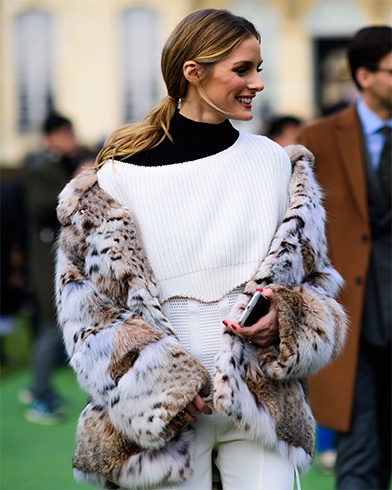 Dior was the most loved designer during the Paris couture week and we know it after seeing a bunch of who's who trotting the cold streets in glamorous creations by Dior. Diane Kruger doesn't mind a little cold brushing against her shoulder. She is impeccable in her black outfit warming up the atmosphere with that one helluva cleavage.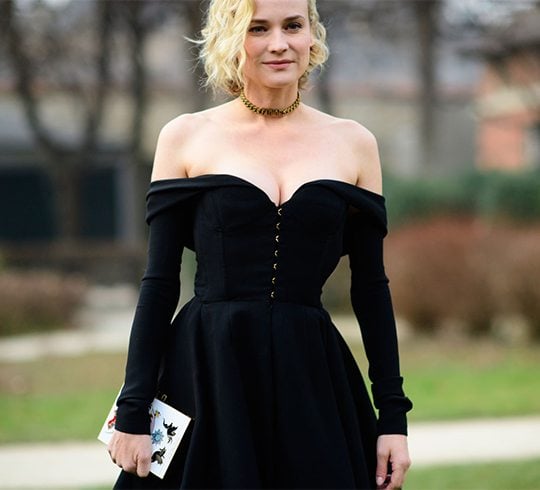 Daria Stroukus was spotted boasting her leather dress by Dior. The well-fitted zipped dress complete with some distinct pleats claim all the attention or the bystanders. We are totally digging this little black dress emitting tons of sexiness.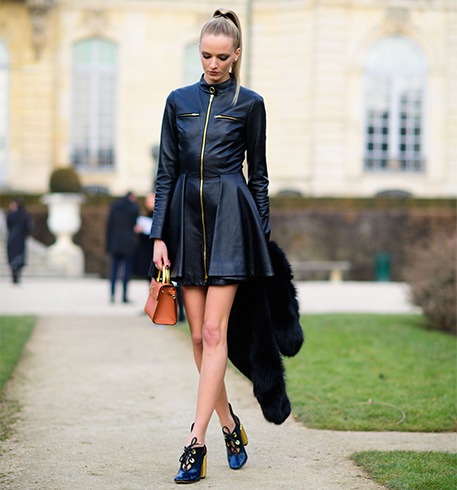 Paris street style can be termed as the mother of all fashion inventions. You can be that girl who loves to throw on a pair of denims and you can also be that girl who wants to flutter in a floral frenzy. What do you do when you want to be both these girls together? You layer them like a pro. How? Look below – that is how!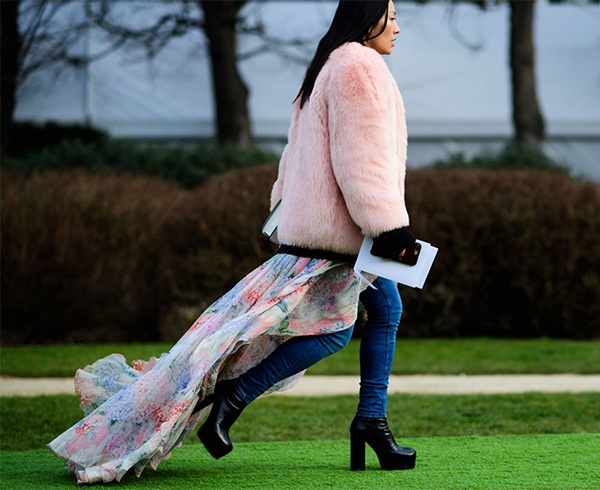 Enough for a day of inspiration? Which of these unique looks are you going to try today? Be the girl who can do all and fails in none.
Images Source: elle.com