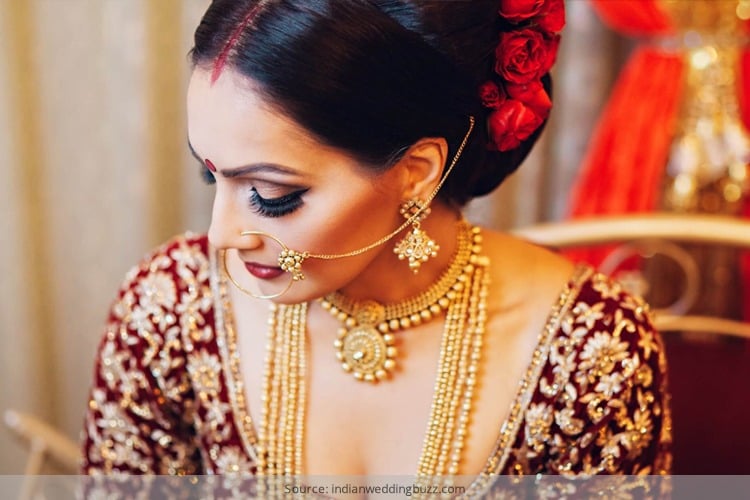 While scrolling the numerous pages of any social media platform, you may have come across many beauties flaunting their makeup skills and hairdressing techniques. They leave us in awe for sure, and inspire us in more ways than one to try new tricks, tips and hacks to doll up with. And it isn't only the videsi girls doing their thing on Instagram these days, we have our desi beauties too rocking the makeup artist Instagram scene. Here we are with a couple of instagrammers from India that are making the face of makeup artist instagrammers beam with pure beauty and light. Take a look!
Gorgeous Indian Makeup Artist Instagram Page You Need To Follow
[Also Read: Instagram Has The Best Of The Top Bridal Designers]
@corallistablog
Ankita Srivastava, the lady behind this handle on instagram tells it all that we need to know about beauty and makeup or makeovers to be precise. And it is believed that this well-known Indian makeup artist instagram has, has actually reviewed every single product she endorses. She also tells you more about tips, tricks and hacks with makeup and beauty that makes life easier; eyeliners to shadow, pouty lips to blush on the cheeks, she gives them all out. Her tutorials are edgy yet safe, and easy to follow!
@dressyourface
Follow Tamanna Roshan on this handle, and you would be one of the millions turning into a die hard fan of this girl. She is a legend in her own rights when it comes to makeup and beauty, and every tutorial, trick or beauty hack she gives out is a world class blessing, say her followers. Tamanna caters to one and all on beauty needs, makeup as well, which is why she is one of the most loved makeup artists on instagram.
@anchalmua
The UK based Indian makeup artist, Anchal shows us tips, tricks and hacks using makeup that can double up for other needs. For example; red eyeliners to contour the eyes with, or green lipsticks that help with concealing acne and pimples, and more, Anchal has a profile followed by millions across the globe. Her posts are updated everyday and she tries out new looks pretty often, keeping up with the trends and providing beauty inspiration to the girls that want to look like doting princesses at the end of the day.
@anu_malhi
If you are in the UK and would want to hire someone pretty highly talented for the wedding makeup, here's Anu Malhi. Anu is UK based and has the bridal touch on her, with regard to the fabulous bridal Indian makeup she comes up with. Across the instagram handle she owns, Anu shares her work of art which is nothing less than a super fabulous touch to behold, keeping most jaws wide open!
@himaniwright
Himani, the owner of this handle is rightly called the 'queen of DIY'and the tutorials she doles out are all au naturale and holistic. Every single beauty regime and treatment the Aussie born Indian girl gives can save you time and energy from costly parlor trips. This is why, she has a million followers waiting to receive advise and beauty tips from her. Blackheads to whiteheads, smoothies for the body to homemade skincare tips and more, Himani does it all for you; makes her one of the best artists on Instagram to follow!
@monasangha
Mona is a very popular VLogger on Youtube and has her own handle on instagram as well. She is known pretty well for being a reputed Instagram makeup artist, whose work has a million fan followers. DIY to professional tutorial services and more, Mona teaches PYTs across the world how to seek inspiration from her simple tips, tricks, hacks and makeup ideas.
@natasshapatel
She's known as one of the best top instagram makeup artists across the nation. Apart from makeup, Natasha dapples with doling our beauty and skincare regimes for her followers. Much appreciated, she also talks about using makeup the right way and not looking too loud in it, and you shouldn't miss out on the foil masks for beauty and skincare she teaches the world about!
Finally, if you carefully take a look around, you would find other eminent and popular instagrammers across the online world to dote on- @blueroseartistry, @purplehazeartistry and @captureyesstudio as the best top instagram makeup artists to follow.