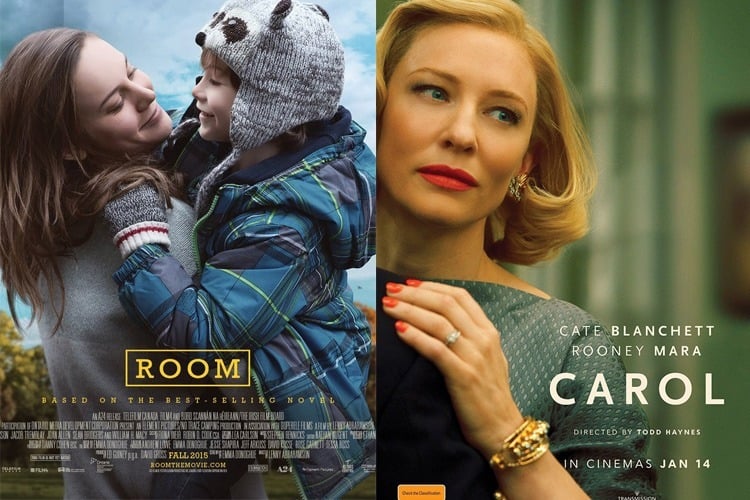 Every girl, woman and even men should bookmark this page. Not for any other reason, but for the nominees that have been recently announced for the 88th Academy Awards.
One thing is common at the Oscars this year too – fantastic performances that have been put up by a talented group of actors. But this time, you need to watch out for these five actresses who deserve to be nominated for Oscar 2016.
[Also Read: Golden Globe Awards Nominees List Is Out! Who Should Make The Cut?]
Jennifer Lawrence For The Film JOY
Jennifer has been nominated for the Best Actress for 'Joy'. This is yet another nomination after Jennifer Lawrence won the Oscar in 2012 in the leading role for the film 'Silver Linings Playbook'.
Interestingly, this makes her the second youngest recipient ever for Best Actress Award.
'Joy' is a film based on the life of self-made millionaire Joy Mangano. It goes without saying that this movie is inspirational as it portrays Jennifer who turns the tables around in the thick of adversity and builds an empire on her sole grit and determination. Goes to show that women are made of steel too, when it comes to battling the hardships of life.
Naturally, each woman should go and watch Jennifer Lawrence for the film 'Joy' and the moral strength it gives.
Brie Larson For The Film ROOM
This tale of survival based on the best-selling novel helps Brie Larson put up a memorable performance. Larson plays a young mother coping with life after tragedy that is shocking to many.
Among other things to watch out for in the film 'Room' are Brie's silent expressions that make it a must-watch. The best form of storytelling is when the story isn't put up in a matter-of-fact way but left for the audience to guess.
Cate Blanchett For The Film CAROL
With 7 Oscar nominations and 2 Oscar trophies under her belt, there is no doubting Cate Blanchett. Her impressive career needs tons and tons of printing paper it seems.
It was in the year 2013 that Cate won the Best Actress Oscar for her memorable role in the film 'Blue Jasmine'. Her role in that movie was all about a woman who refuses to accept reality.
Coming to the film 'Carol' by Todd Haynes, it is based on The Price of Salt, a novel written by Particia Highsmith.
[Also Read: Best Dressed Celebs At The Oscars 2016]
You will be surprised beyond doubt when you come to know the theme of the movie. Well, Carol is based on Cate Blanchett going through a divorce who falls in love with a woman younger to her in the movie.
The costumes in the movie done by Sandy Powell have also been nominated for an Oscar. Now you know the steam and punk of Carol?
[sc:mediad]
Sharmeen Obaid-Chinoy
The Pakistani director and journalist Sharmeen Obaid-Chinoy is back in the Oscar award winning spree this time. In 2012, Sharmeen won an Oscar for her documentary Saving Face.
This year, Chinoy has been nominated for her hard-hitting documentary pertaining to honour killings in Pakistan. The documentary is titled A Girl in the River: The Price of Forgiveness which has been nominated under Best Documentary – Short Subject.
Sharmeen's other popular must-watch documentaries are Song of Lahore and Pakistan's Taliban Generation.
Once again, it goes to show that women like to take up challenges, whether in real life or in motion pictures.
Amy Winehouse For The Film AMY
A documentary made by filmmaker Asif Kapadia, 'Amy' has been nominated under the Best Documentary feature category.
The film traces the life and death of the singer Amy Winehouse, who was the most memorable performers in the recent times.
Released in July 2015, the movie also focuses on Amy's journey in substance abuse. How it ended up affecting her career, and causing her untimely death when she was all of 27.
'Amy' since the time of its release last year has become the highest grossing British documentary till date.
Besides the above, here are other women who feature in the list of nominations.
Sandy Powell – for costume design in Cinderella (apart from her nomination for the same category in the film 'Carol')
Saoirse Ronan – Best Actress for Brooklyn
Jennifer Jason Leigh – Best Supporting Actress for The Hateful Eight
Lady Gaga –Best Original Song for Til It Happens To You
Now that you have seen a flashback of these women-oriented films nominated for Oscar 2016, hope you like them for the roles and the actresses who performed.
Do let us know which of these Oscar 2016 nominated films are those you hope grab an award.