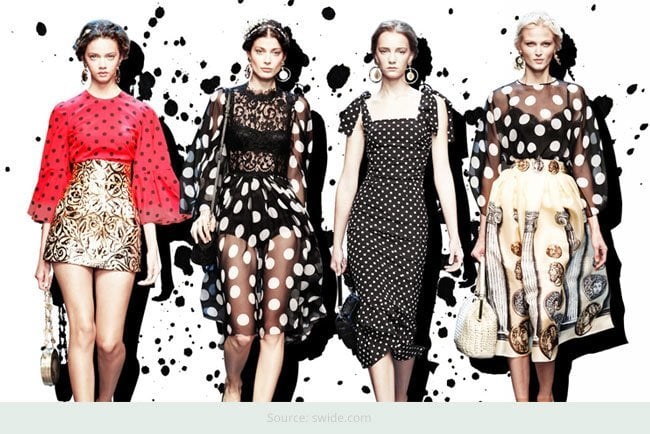 From scarves to iPhone cases, there is nothing denying that polka dots are back in vogue. But fashion enthusiasts dread styling polka dots. And why shouldn't one, when by sporting a style you can easily look like a cosplay enthusiast, you know there's extra caution you must adhere to! So what should one do? Perhaps get hold of a few ways to style this great pattern without going on an overkill. Today, we are dolling out some suave ways by which you can wear polka dots like a fashion-pro.
But first, let us know the things one needs to keep in mind while wearing polka dots:
Pairing polka dots with other prints and patterns must be done sparingly. You must know how much is too much and managing your look with nude pumps and jewellery should be a well-learnt art.
Manage other patterns with polka dots in your look by picking up an accent colour in a plaid or by keeping your floral pattern to the minimum.
Your body figure should decid the size of the polka dots you would wear. Small and petite framed girls must sport petite polka dots, whereas long and lean girl can go for larger sizes of polka dots.
Youe type of clothing and its silhouette must be kept in mind while sporting polka dots. Flirty sun-dresses or button-down blouses makes for a classic style statement look.
Polka headbands, scarves, shoes and accessories makes for an ultra-chic fashion statement, but remember subtlety is the buzzword.
5 Ways to Wear Polka Dots With Aplomb
1. The dotted blouse
A free-flowing, loose-fitted polka dot blouse is one of the most sensible ways of wearing this tricky pattern in style. However, make sure that you keep the cuts of the blouse to the minimum while choosing a good quality fabric. This style would mostly suit girls who are lean at top and would want to balance out their figure proportionately.
2. A vintage-style scarf
Want to soften up a classic bag look? Want to add a retro appeal with a polka-dotted head scarf along with your sunglasses the coming summer? You know your polka dots scarf would come handy. Polka dots and scarf make for a steamy combination. It is one versatile accessory you would perhaps want to buy once and stylise your outfit differently every time you wear it.
[sc:mediad]
3. The cute collar, necktie or belt combo
Collar necklaces in fun and colourful dots style makes for a super-hot combination. This is a chic style, which would pump up your cuteness factor by the roof. Fashion genuineness swear by the dotted collar and belt combination and this season-less style is indeed one of the classiest ways to add oomph to your dressing sense.
4. Jewellery for the pretty polka prints-cess
Just a classic hint of black and white polka dot pattern can easily reveal the creative side of your personality, even in the most fashion-restricting situations. Go adventurous and sport a pair of spot-pattern studs or retro-effect pendant earrings – a style, we bet won't hamper your business attire look, but still would keep your fashion-friendly sense high.
5. Big chunks of polka dots on sweater
Large pattern of polka dots is what fashion goddesses can dare and sport! Undoubtedly, one of the most unremarkable piece of fashion clothing, huge chunks of polka dots in your dress means keeping accessorizing and hairdo to the minimum. We suggest, you sport a pair of warm, chunky hose, your favourite high heeled boots and we are certain your pic would be worth a million 'hearts' on Instagram.
There you have it, some memorable ways to stylise polka dots in the chicest of ways. Add whimsy to any ensemble and we assure you this fun print can spice up your wardrobe staples this season. Go polka-dots crazy, darlings!