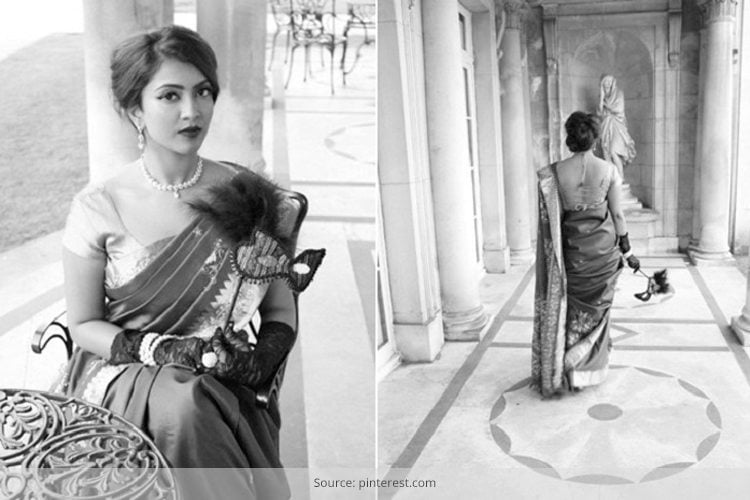 Indian fashion domain may not be confined within 9 yards, but its soul is definitely sheathed in its flawless pleats and elegant drapes. Yes, we're definitely talking about our traditional wear – saree, which has traveled the fashion spectrum with oomph and is now globally recognized as an independent fashion.
Indian fashion designers keep experimenting with this 9-yard fashion to conceive a dhoti saree or a bikini saree at times. The venture is still on to create innovative styles out of this piece, forcing you to wonder if they can be called as sarees at all.
Fashionlady takes a sneak-peak into the world of Indian fashion domain to share what designers have to say on this.
This edition is all about how fashion designers go on to justify their demeanor and motives behind revamping our traditional attire.
When India woke to the glamorized world i.e. westernized fashion trends, our age-old traditional wear was quite expected to meet its gradual end at the fashion runways.because why would anyone prefer to drape from head to toe when there were so many fashionable options already waiting for them at shopping arcades throughout India.
During those days when designers had also anticipated the same, nobody hardly knew that this particular cultural garment was something beyond the 9-yard drape. It was such a powerful fashion  iota that it rendered the same kind of comfort as a pair of trousers offered but with a touch of feminity and sensuality, which western outfits couldn't offer.
Blatantly discarding its critics, the saree started to rise in its simplicity, whilst gaining global recognition as an Indian garment.
Its willingness to change also kept saree maintain its state in the then rapidly evolving Indian fashion domain. While the 90's witnessed a myriad of sarees ruling the fashion runways with sheer pallus and typical kanjivaram style; the 20th century rather accepted this 9-yard cloth with a modern edge.
By then saree had become a fusion of trends , when fashion world realized the emergence of a gown fashioned from saree – pleated front side and elegant drape at the back being paired-up with a structured blouse-like sleeves. This style although westernized yet traditional within. the concept of reinventing sari was to gel with western fashion and keep comfort at its best.
The concept of redesigning it is very much similar to draping this 9-yard cloth in various styles. Today, the fashion designers aim at draping this piece of cloth into multiple international fashion fads to define someone's taste who is culturally rooted yet extremely fashionable.
Rocky S, one of India's leading fashion designers strongly feels that such innovations do not necessarily take advantage of being ethnic, but these are naturally headways in how the merchandise has evolved.
[sc:mediad]
The 2013 fashion shows witnessed a new style – the bikini saree, which was conceived by Narresh and Shivan. These designers were quite excited to introduce this innovative style into regular resort wear only to add Indian touch to the Western trends.
It is perhaps the rising popularity and the grand-scale nature of such experiments which enables these top designers to go for obscurity. Many fashion designers, including Mandira Wirk maintain that bikini saree has nothing to do to exploit/alter our traditional garment.
Moreover, this design smartly counter-fuses the sensuality of the Indian attire with the boldness a bikini has to endeavor. Mandira reasons that Indian women have best body, but no matter how bold the fashion becomes, women can never be comfortable in sporting a bikini.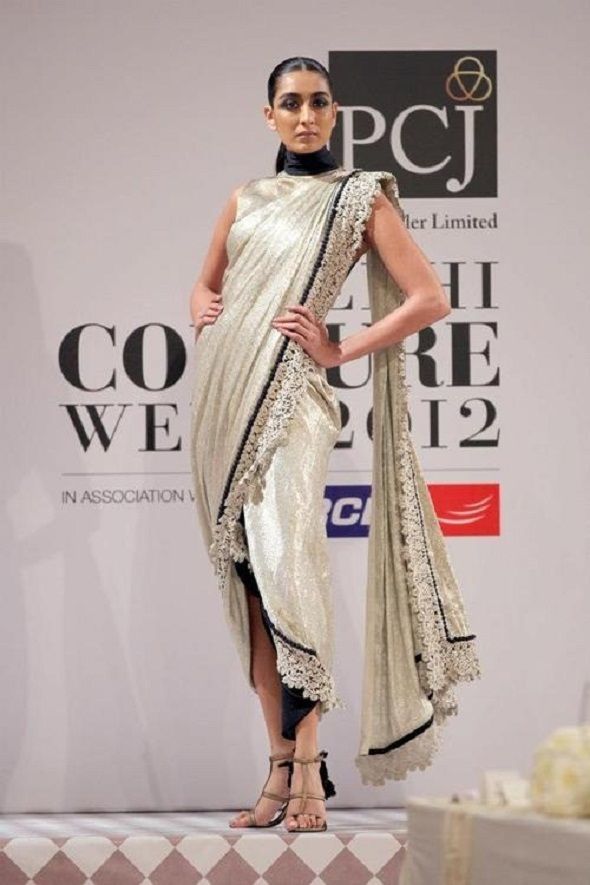 Another fast-emerging popular creation is the dhoti saree. Right from Asrtivijay Gupta and Masaba Gupta to Nachiket Barve, this style has deeply caught on.
While modernity has greatly helped these outfits become more flexible, you must be wondering if such western ideas are killing the essence of a saree. Designers' opinion vary on this. They feel that it may only go wrong if not played smartly or else nobody is taking away its beauty or misuse its worth.
I hope you found this post interesting!