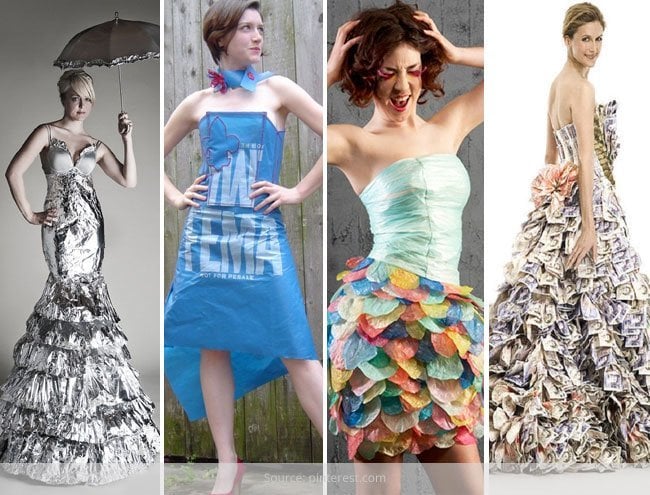 In prepping up for Independence Day, I got to start imagining about all the awesome modus operandi we can adopt to reuse materials which would normally be thrown out.
As I started looking for some eco yet chic inspirational ideas on how to make a dress from recycled materials, I came across some amazing dresses and outfits made from everything which we can tag as 'trash' from newspapers and aluminum foil to plastic bags and candy wrappers.
Here are my top picks on tacky fashion. Have a look!
1. Bread Tag Wedding Dress
Collecting bread tags for over 10 years may seem to be a cheap sake work, but the result was actually amazing. This dress made up of this bread tags looks equally beautifully as any regular wedding dress. The best things about these tags is that they have a best by date (expiry date), letting the dress to be some kind of story of the newly wedded couple's time spent together.
2. Subway Wrapper Dress
This dress was conceived out of the Project Subway, a eco-friendly campaign held recently. This dress is created from a Subway Lunch Box package, with floral detailing made from a Subway Cookie Bag. The looped skirt is made from Subway Cookie Bags; while half of them are made from recycled materials, the lunch box is made with 10% recycled material and SFI (Sustainable Forestry Initiative) fibers.
3. Keyboard Dress
And you though keyboards were only meant for typing…This dress is made from used and worn out keys of a keyboard. I specially loved the spacebar placing on it. Now you know what to do with broken keyboards.
4. Money Dress
I bet the moment you would see this dress, your reaction would be, "Hello lady, I really want to take your dress off!" Because this is not something which you would ever like to trash it away. This dress for sure makes a statement on how much texture of a dress is worth.
[sc:mediad]
5. Aluminum Foil Dress
Bling? Looks perfect for a Great Gatsby party. Luxe to Less in less than 40m. Just don't try to sneak up on anyone neither don't stand next to any electrical sockets.
6. Plastic Bag Dress
This recycled dress made by a student for her  GCSE art recycling project is an absolute cutie! It is made up of 138 supermarket bags and features two pieces – the bodice and the skirt.
7. FEMA-Issue Blue Tarp Dress
Skirt paired with a bustier and flower choker made from recycled FEMA-issue blue tarp which was found discarded on the streets of New Orleans last spring is an absolute stunner and is darn awesome.
8. Newspaper Dress
This gown made from newspapers is certainly a showstopper.
9. Plastic Party Dress
This little cute number made from plastic bags is certainly a great cocktail party dress. What say?
10. Toilet Roll Dress
You would definitely like to use one these…. Just imagine a bit of creativity and interest blend with effort can bring out what? This dress is the perfect example. Loved it!!
Next time before throwing way stuff which you feel useless can store it to create something like any of these mentioned above. I have a crazy hoarder habit of collecting tags of my apparels. Whenever I buy a new dress, I save the label too. May be some day I can come up something creative.
Meanwhile, take inspiration from the different products that are actually waste products and use them creatively to make something useful out of those. Recycled materials, like recycled fabrics are cheaper and make good show pieces. They also help you come up with creative idea's. And if you are a chocolate addict, here is an M&M inspired dress for you to get inspired from.