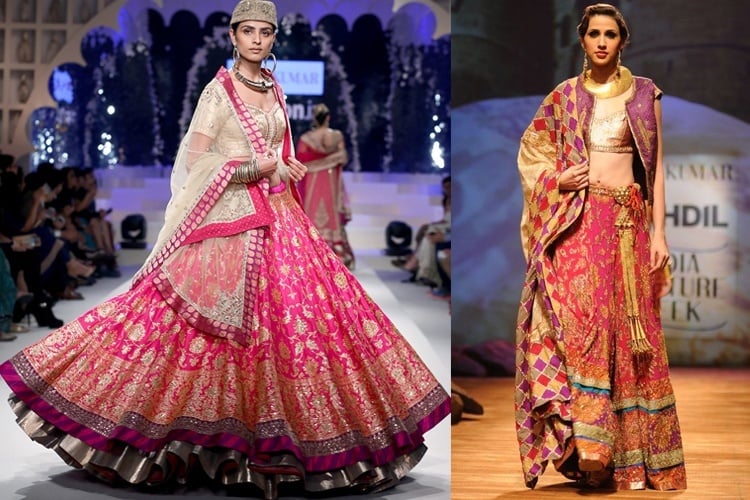 She is the grande dame of the fashion industry who has grown vintage with time. She is the one who introduced boutique culture in India. Her designer creations have won rave reviews in India and abroad. She has constantly kept herself ahead of the trends. She has done pioneering work in reviving Indian textile techniques.
Whether it is ethnic Indian or exquisite bridal or even contemporary wear, Ritu Kumar caters to Indian sensibilities in her unique signature way. Not only is she a Padmashree recipient, she is the one who has been designing for Miss India pageant for the past 20 years. Amidst all this, one outfit that you can't miss are bridal lehengas by Ritu Kumar.
What Made Ritu Kumar Plunge Into Fashion Designing For Indian Brides
It was in the early 70's that the Madame of Indian fashion designing, Ritu Kumar did a research project on Bengal-based zardozi embroidery workers. It was then that she realised the magnitude of skilled workers in the Bengal suburbs, villages and small towns outside Kolkata which had gone unnoticed.
This egged her on to re-introduce the Bengal weaving community to the excellent embroideries they did way back.
The next step was to create an ethnic market where Ritu Kumar started designing lehengas and the weavers put their embroidery skills into the designed creations. And so evolved Ritu Kumar bridal collection!
[Also Read: Ritu Kumar at LFW]
Fan Following Of Ritu Kumar Bridal Collection
Bollywood and fashion have an inherent connection and bonding. Which is why, it is easy to guess the hugely popular celeb names who have adorned creations designed by Ritu Kumar.
Guess the names? Princess Diana, Anoushka Shankar, Jemima Khan, Aishwarya Rai Bachchan, Priyanka Chopra, Dia Mirza, and many more. In fact, Ritu Kumar has been the official designer for 'Miss India' at the international beauty pageants.
[sc:mediad]
Clothing Lines Of Ritu Kumar
The 71-year old Ritu Kumar has two clothing brands to her credit – Ritu Kumar, LABEL. While the former one (which is the principal brand) focuses on traditional ethnic wear, the later brand is dedicated to international fashion products that are a celebration of Indian aesthetics.
LABEL aimed at the global young Indian diva who leads a contemporary lifestyle retails from Ritu Kumar stores and stand-alone stores too.
Bridal Lehngas Of Ritu Kumar
When you shop for Ritu Kumar lehenga collection, it is almost picking the finest thing a bride can possibly ask for.
[Also Read: Charismatic Hands Behind Ritu Kumar]
In combined tones of red and off-white, this Ritu Kumar lehenga collection has silk printing set with ari hand embroidery. It's a traditional and at the same time heavy bridal wear by Ritu Kumar which can be worn with kundan jewellery to get that stunning bridal look.
Zardozi cannot be separated from Ritu Kumar wedding collection. Check out this lehnga choli ensemble with sweetheart neck that comes in shades of royal blue and turquoise.
Experience the Red and Gold touch in this heavy burgundy Ritu Kumar lehenga collection made in velvet that has embroidered floral motifs.
Heavily embroidered with embellishments, bridal lehengas by ritu kumar go all the way in making the bride the queen at her wedding.
Achievements Of Ritu Kumar
Recognition has come to Ritu Kumar naturally and well-deservedly. And when you read the list, you will be left speechless.
In October 1999, Christies published her book "Costumes and Textiles of Royal India". It's a literary masterpiece that chronicles the history of Indian textiles and art design.
Besides this, Ritu Kumar has been awarded the 'Indira Gandhi Priyadarshini award' to commemorate her achievements and contribution in the fashion arena. It's a prestigious award that has been given to Late Mother Teresa, Pt. Birju Maharaj, Pt. Hari Prasad Chaurasia in the past.
[Also Read: Bollywood's Unofficial Wedding Designer]
This is just a tip of the iceberg. The French government has bestowed the veteran Ritu Kumar "chevalier des arts et des lettres' (knight of the order of arts and letters).
The last but not the least is Padma Shri Award 2013, the country's fourth highest civilian award which was given to Ritu Kumar for her distinguished service in the field of fashion, textile and craftsmanship.
Hope you have got reasonably thrilled and ecstatic at seeing bridal lehengas by Ritu Kumar. Let us know your thoughts about the same.