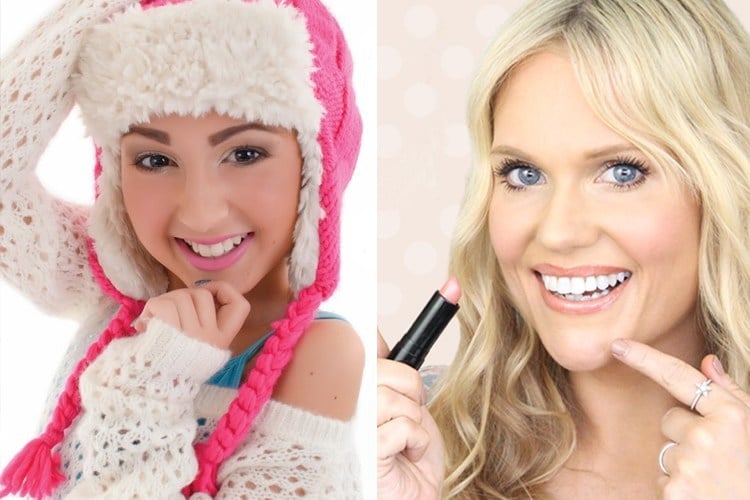 The YouTubing thing is picking up some fast popularity. And YouTubers are basically becoming social Media celebrities. Most of these vlogs, that is, video blogs are based on personal experiences, relationship advice, travel guides and the one which is speeding up vast in the on-demand list are the beauty vlogs. Listing out the best YouTube Beauty Gurus you might want to subscribe to.
[Also Read: Jewelry Designers Taking Up Instagram By Storm]
Best Beauty Vloggers On Youtube
These vlogs are put up by make-up gurus who make videos on various looks, attires, and make-up guides. Of late a large number of young girls have also entered the arena of beauty vlogging. Some of them might not be trained beauticians but are certainly perfectionists with what they lay their hands on. Mentioned below are some of the best beauty vloggers on youtube.
Sona Gasparian
Sona comes with the expertise of a professional makeup artist. She had started with creating basic videos to share her beauty skills and appetite of makeup with the viewers of YouTube. Sona has collaborated with Glamour and co-hosted a makeover series. She has also been featured in the prestigious ELLE magazine. This pretty YouTube beauty vlogger from San Diego showcases a detailed display of everything you need to know in the department of make-up and beauty.
Lauren Luke
Lauren is one of the best beauty vloggers on YouTube whose videos you must watch religiously. This lady is unbelievably original with her ideas, and her videos never fail to entertain you. She invents an amazing look every time she is in front of the camera. Lauren re-creates lots of celebrity looks and will give you ample of insight to celeb make-up tricks. Her best video that I have seen is the "Makeup Lucky Dips," and you will see in this one that she can just dive into her make – up products and create an excellent look out of whatever comes handy.
Sandi Ball
The plain nail painting is just so last decade. This time it's all about playful nail arts. And Sandi is here just to help you with that. She has some wonderful patterns of DIY nail art. Once you see a vlog of hers, you will almost be powerless to not subscribe to her. If you find her patterns complicated, you may star with the videos made for beginners. There are some real clever tips & tricks. Sandi will also teach you to perfect the character nail art. Her collection is endless and she also gives you some advice on how to grow and maintain healthy nails.
Beauty And The Boutique – Katie
Katie is another YouTube Beauty Vloggers who owns a channel that helps you with countless tips and tricks to help you enhance your features through make-up. Her tutorials are simple and cover one part at a time, like how you can apply mascara properly without messing up the corner of the eyes, how to put lipstick for creating certain illusions. This methods are totally do-able and even a 'know-nothing' like me can emulate them with ease and confidence.
[Also Read: Desi Instagram Accounts Everyone Must Follow]
Lisa Eldridge
For me, the best of the YouTube makeup gurus is Lisa Eldridge. Unlike a lot of YouTube Vloggers who speak what they have heard and do not have any real time exposure to it, Lisa knows every bit of the word that comes out of her mouth. Having worked on celebrities like Billie Piper and Emma Watson she is of course the real deal. Her videos are insightful and one can learn a lot through them. But what will glue you down to her channel will be her amicable personality.
[sc:mediad]
Vintageortacky
This is one of the best YouTube Beauty Gurus, especially for those who have a taste for vibrant make up and playing with colors. If you can walk down the street, flashing neon hues in your eyelids, this is a channel that will teach you how to do it with style and panache. Rocking those her rainbow colored locks Cora perfects some flawless bright looks! Her make-up will certainly make you stand out from the crowd, given that you have the confidence to walk the talk.
Taliajoy
One of the most popular YouTube beauty gurus was Talia Joy. Though most of the viewers visited her because she had cancer, it was her talent that made them stick around. She played with the make-up brush like a child's play but the results were miles away from anything like that. The gorgeous make-up artist no doubt had a gift and she didn't mind sharing her secrets with the world before biding it goodbye just at the age of 13. The subscriptions to her channel increased manifold after her untimely demise.
All of these Vloggers are loyal to their subscribers. They come up with innovative ideas every time they make a video and this is what makes them the Best YouTube Beauty Gurus in the world of make-up and glamour. Log on to their channel and enjoy their art. And don't forget to subscribe!