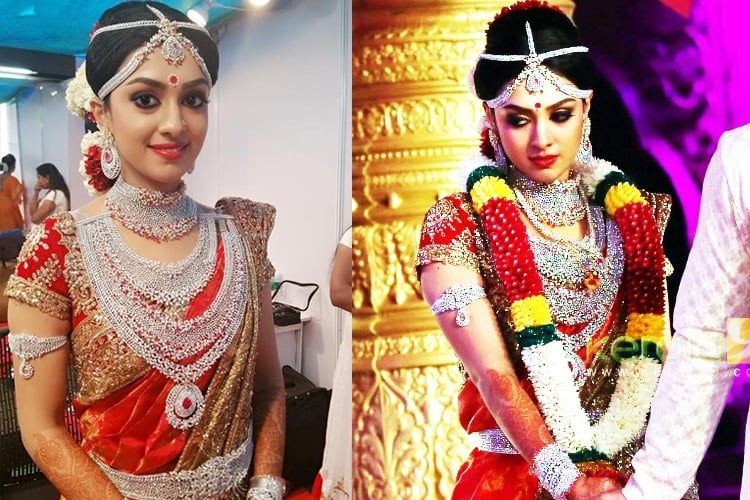 Just last month we took you all through a dream wedding that was fit for a Disney princess. Singer Angelababy's wedding that costed a whopping amount of HK$260 million dollars had soon become the talk at FashionLady cubicles. The amount of exuberance, extravagance and grandeur couldn't be unseen and everyone just had one thought in mind – oh wow!
[Read here: When Christian Dior Took 5 Months To Create A Wedding Dress For Angelababy!]
The 223 Cr wedding had surpassed all the heights of expensive weddings and we had decided that there would be no other wedding on such a LARGE scale – in the next 10 years at the least.
But BAM came the news of Ms. Pillai's wedding and shook the world. Her wedding was so grand that the tremors of it could be felt days after the wedding!
Before we divulge any details – take a look at how gorgeous Ms. Pillai looked for her wedding reception –
They make quite the happy and cute couple, don't they?
NOW! The actual details of the wedding. Dr. Arathi Pillai was dressed in a beautiful silk saree designed by Manish Malhotra. She styled herself with a traditional bridal up-do, on fleek makeup with well defined brows and dark lips. To round her look, she added diamonds and then kept adding them until we could sing – shine bright like a diamond!
The grand wedding cost Mr. Pillai a whopping Rs. 55 Cr and what he said about the expenses melted our hearts – "Nothing is too grand for my daughter". How adorable is that?
[sc:mediad]
Take a look at the grand mandap –
The entire wedding set was spread over 8 acres and cost about 20 Crs. 75 days of hard work and 200 team members working on it gave the fantastic result. The team was headed by the creative director of famous Bollywood movie – Bahubali.
Sabu Cyril said – "Various parts for this set were first moulded in clay in Mumbai, and then it was cast in plaster of Paris. It took us about 40 days to assemble the pre-fabricated structures here,"
At the end of the day Mr. Pillai – who happens to be one of the richest men in Kerala with a net worth of 19,200 Crs, was very happy with the grand outcome!
The guest list was pages long with people from all over the county lining up to attend the wedding. About 30,000 people made it including royal officials from middle east.
On the menu was a south Indian spread like never before! Entertaining the guests was Stephen Devassy's fusion music and Navya Nair's dance fusion. Manjari's ghazal recitals and Naga drama by actor Mukhesh and his wife Methil Devika were the highlight of the event!
Well, alls well that ends well!
We wish the happy couple a very happy married life!