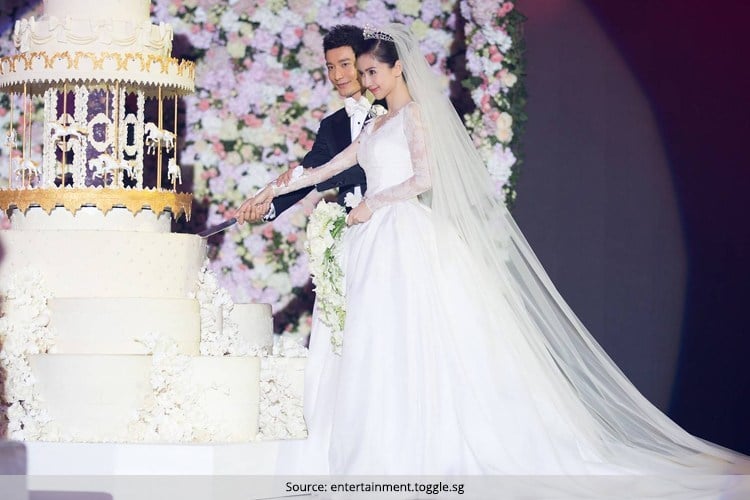 There are things in life which excite you for no rhyme or reason.
For us Indians, weddings-sheddings, naach-gaana and dhol-baraat induce such feelings. I mean, our neighbour could be getting married (whom we have never spoken to) and we could get high and excited. It's just our general nature I believe, to get excited over weddings.
Now with the above mentioned things you could get an idea of just HOW much we LOVE weddings. Imagine the level of excitement if it's your best friend, favourite cousin or your lovely sister who's getting married? Crazy right?
Imagine if you are getting married! Well, you would probably have some nerves, but all of those nerves would fly away when you'd know that Christian Dior is designing your wedding outfit!! It would be a dream come true!!
[Also Read: Christian Dior's "So Real" Sunnies Are The Latest Celebrity Trend]
One such dream came true for Hong Kong beauty – Angelababy.
She had the wedding of her dreams where she made sure that every little thing was personalised and utmost attention was given to small details. From the venue to the guest list, from the food to the wedding favours, everything had a hint of Angelababy and her now husband Huang Xiaoming.
Her wedding dress which was designed by the house of Christian Dior took about 5 months to get completed. And once you look at the dress, you'll know why –
As pretty as it looked in real life, it even looked good on paper –
This is what Dior had to say about the dress –
"After two fittings and nearly five months of meticulous work, discover a radiant Angelababy [in] her Dior bespoke ivory satin organza wedding dress. To create Angelababy's bespoke wedding dress, the toile was constructed and molded on a wooden body form matching the young woman's measurements."
[sc:mediad]
How dreamy!!
As dreamy as the dress is, we are even more excited about her wedding ring! Hubby Huang Xiaoming spoiled his princess (Angelababy) by giving her a ring that sized up to 6 carats! The pear shaped ring came from the house of Chaumet Josephine and had everyone drooling!
How lucky!
Before we go, a slight bit of information – Angelababy and husband Huang Xiaoming spent about HK$260 million on their dream wedding.
While we loved the elegance and exuberance of the event, we felt that the money could have been put to a better use.
Now we would like to ask you guys – would you prefer a close and intimate wedding with your nearest and dearest family and friends, or would you prefer the big fat Indian wedding?
As FashionLady, we would lean towards a small yet perfect wedding!